Abstract
Knowing the difficulties and limitations of surgery for rejuvenating the submental area during a cervicofacial rhytidectomy, we came up with the concept of the digastric corset, which is described in this article along with the surgical importance of the platysma, digastric and mylohyoid muscles based on anatomical dissections. A study of ten cadavers was conducted to describe precisely the limits of the submental area, the mandibular edge between the two Furnas ligaments, and the hyoid bone. Each anatomical item was dissected plane by plane: the skin, platysma, digastrics muscles, and mylohyoid muscle. The sliding of each muscle relative to the others was studied, photographed, and recorded. Feldman's corset technique was tested on two cadavers and a digastric corset was performed on eight cadavers. After suprahyoid fat lipectomy, we suture the digastric retaining ligaments to the mylohyoid muscles using a running suture, like a corset, then the platysma muscles are put aside on the median line followed by lateral platysma suspension. The different steps are presented and the results of 20 patients who underwent this procedure are presented after 1 year of follow-up. This study showed that the technique of a digastric corset anchored on the mylohyoid allows for one-step reconstruction of the floor of the mouth and a well-defined anterior cervical angle, a sign of a youthful-looking neck. This technique is indicated for difficult necks, when lateral repositioning of the platysma alone gives insufficient results.
Level of Evidence IV
This journal requires that authors assign a level of evidence to each article. For a full description of these Evidence-Based Medicine ratings, please refer to the Table of Contents or the online Instructions to Authors www.springer.com/00266.
This is a preview of subscription content, log in to check access.
Access options
Buy single article
Instant unlimited access to the full article PDF.
US$ 39.95
Price includes VAT for USA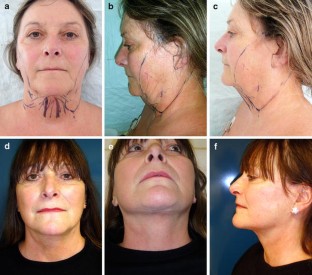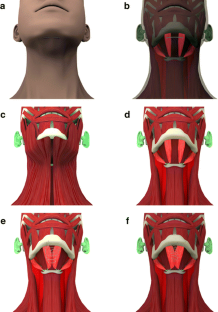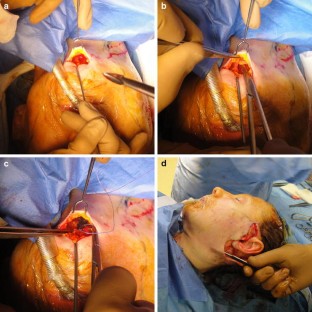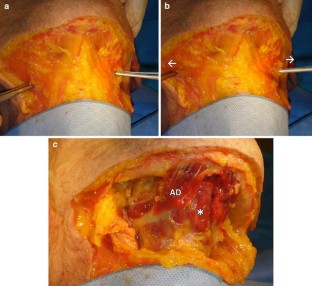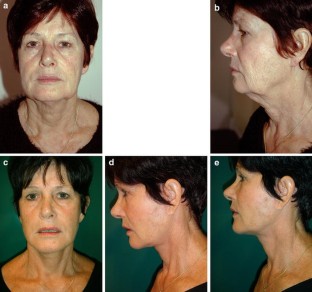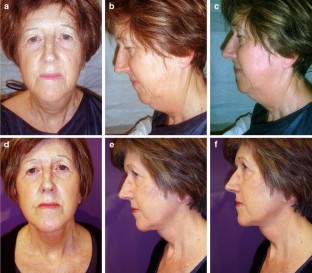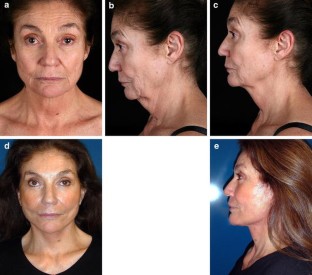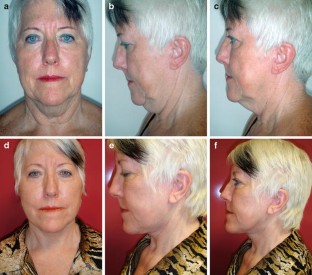 References
1.

Ellenbogen R, Karlin JV (1980) Visual criteria for success in restoring the youthful neck. Plast Reconstr Surg 66:826–837

2.

Giordano P, Mateu J, Rouif M, Laurent B (2011) Difficult necks. Diagnosis and treatment. Retrospective study of 145 cases using the method of Feldman. Ann Chir Plast Esthet 56:4–14

3.

Feldman JJ (2006) Neck lift. Quality Medical, St. Louis

4.

Mejia JD, Nahai FR, Nahai F, Momoh AO (2009) Isolated management of the aging neck. Semin Plast Surg 23:264–273

5.

Matarasso A, Matarasso SL, Brandt FS, Bellman B (1999) Botulinum A exotoxin for the management of platysma bands. Plast Reconstr Surg 103:645–652

6.

Matarasso A, Matarasso SL (2003) Botulinum A exotoxin for the management of platysma bands. Plast Reconstr Surg 112:138S–140S

7.

Le Louarn C, Buthiau D, Buis J (2006) Facial rejuvenation and concentric malar lift: the FACE RECURVE concept. Ann Chir Plast Esthet 51:99–121

8.

Kane MA (1999) Nonsurgical treatment of platysmal bands with injection of botulinum toxin A. Plast Reconstr Surg 103:656–663

9.

Brandt FS, Boker A (2004) Botulinum toxin for the treatment of neck lines and neck bands. Dermatol Clin 22:159–166

10.

Vandenbussche F (1992) My current options in cervicofacial lift. Results, disappointments and development from 1980 to 1990. Ann Chir Plast Esthet 37:107–113

11.

Knipper P, Mitz V, Maladry D, Saad G (1997) Is it necessary to suture the platysma muscles on the midline to improve the cervical profile? An anatomic study using 20 cadavers. Ann Plast Surg 39:566–572

12.

de Pina DP, Quinta WC (1991) Aesthetic resection of the submandibular salivary gland. Plast Reconstr Surg 88:779–787

13.

Connell BF, Semlacher RA (1997) Contemporary deep layer facial rejuvenation. Plast Reconstr Surg 100:1513–1523

14.

Goddio AS (1992) Suction lipectomy: the gold triangle at the neck. Aesthetic Plast Surg 16:27–32

15.

Sullivan PK, Freeman MB, Schmidt S (2006) Contouring the aging neck with submandibular gland suspension. Aesthet Surg J 26:465–471

16.

Connell BF, Shamoun JM (1997) The significance of digastric muscle contouring for rejuvenation of the submental area of the face. Plast Reconstr Surg 99:1586–1590

17.

Mustoe TA, Rawlani V, Zimmerman H (2011) Modified deep plane rhytidectomy with a lateral approach to the neck: an alternative to submental incision and dissection. Plast Reconstr Surg 127:357–370

18.

Singer DP, Sullivan PK (2003) Submandibular gland I: an anatomic evaluation and surgical approach to submandibular gland resection for facial rejuvenation. Plast Reconstr Surg 112:1150–1154

19.

Mahne A, El-Haddad G, Alavi A, Houseni M, Moonis G, Mong A, Hernandez-Pampaloni M, Torigian DA (2007) Assessment of age-related morphological and functional changes of selected structures of the head and neck by computed tomography, magnetic resonance imaging, and positron emission tomography. Semin Nucl Med 37:88–102

20.

Mashkevich G, Wang J, Rawnsley J, Keller GS (2009) The utility of ultrasound in the evaluation of submental fullness in aging necks. Arch Facial Plast Surg 11:240–245

21.

Knize DM (1998) Limited incision submental lipectomy and platysmaplasty. Plast Reconstr Surg 101:473–481

22.

Tang M, Ding M, Almutairi K, Morris SF (2011) Three-dimensional angiography of the submental artery perforator flap. J Plast Reconstr Aesthet Surg 64:608–613

23.

Zwetyenga N, Lutz JC, Vidal N, El-Bouihi M, Siberchicot F, Martin D (2007) The pedicled submental flap. Rev Stomatol Chir Maxillofac 108:210–214

24.

Knipper P, Mitz V, Lemerle JP (1996) Experimental cervicoplasty: correction of the cervicomental angle by postero-superior suspension of the hyoid bone. A study of 20 anatomical dissections. Ann Chir Plast Esthet 41:37–44
Acknowledgments
We thank Pr. Ephrem Salamé and the Anatomy Laboratory (Faculté de Médecine, Université de Caen, France) and Eric Thiboust (photographer, Caen). All patients gave their written consent about their participation in this study and publication of their photographs.
Conflict of interest
The authors have no conflicts of interest to disclose.
Electronic supplementary material
Below is the link to the electronic supplementary material.
Simulation of platysma suspension after digastric corset. With a strong hook placed on a key point, the surgeon is able perioperatively to test the efficacy of the digastric corset, completed by platysma suspension laterally. Staples were placed on the skin incision for demonstration (MP4 3448 kb)
Anterior belly of digastric muscle retaining ligaments. By moving the platysma we can observe the digastric muscles (subplatysmal fat is removed revealing the mylohyoid muscle between the digastrics). The digastric muscle is attached to the mylohyoid muscle, which limits its movements laterally while anteroposterior displacement is possible (MP4 10220 kb)
Anatomical principle of digastric corset. Medial traction on the digastric muscle creates a submandibular hammock (MP4 3865 kb)
About this article
Cite this article
Labbé, D., Giot, J. & Kaluzinski, E. Submental Area Rejuvenation by Digastric Corset: Anatomical Study and Clinical Application in 20 Cases. Aesth Plast Surg 37, 222–231 (2013) doi:10.1007/s00266-013-0083-7
Received:

Accepted:

Published:

Issue Date:
Keywords
Digastric muscle

Mylohyoid muscle

Neck rhytidectomy

Platysma suspension

Anterior cervical angle