Abstract
Background
Gynecomastia is a benign, excessive development of the male breast that occurs at an overall incidence of 32–36 %. The authors effectively removed peripheral fat tissues with power-assisted liposuction (PAL) and periareolar glandular tissues with a cartilage shaver in a series of patients. The small periareolar incisions were not easily recognized.
Methods
Between February 2010 and April 2012, the charts of 15 patients (28 breasts) treated with PAL and a cartilage shaver were retrospectively reviewed.
Results
The mean volume of fat tissue removed with liposuction was 319 mL, and the mean volume of glandular tissue removed with the cartilage shaver was 70 mL. The mean follow-up period was 11.2 months. No infection, nipple–areola complex necrosis, nipple retraction, or saucer deformity was encountered in this series. Intraoperative bleeding occurred in one patient. Mild asymmetries developed in three patients.
Conclusions
Use of PAL and a cartilage shaver for the treatment of gynecomastia allows for effective removal of both the fat and the glandular tissue of the breast through a minimal periareolar incision. This technique can achieve excellent aesthetic results with inconspicuous scarring.
Level of Evidence IV
This journal requires that authors assign a level of evidence to each article. For a full description of these Evidence-Based Medicine ratings, please refer to the Table of Contents or the online Instructions to Authors www.springer.com/00266.
This is a preview of subscription content, log in to check access.
Access options
Buy single article
Instant unlimited access to the full article PDF.
US$ 39.95
Price includes VAT for USA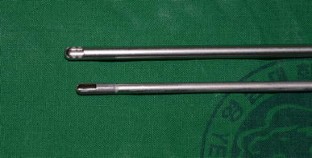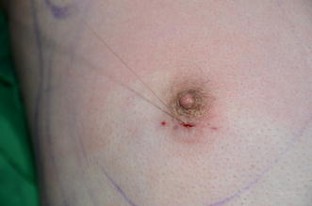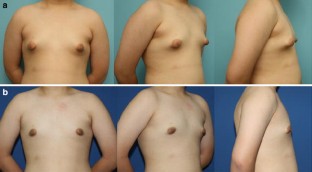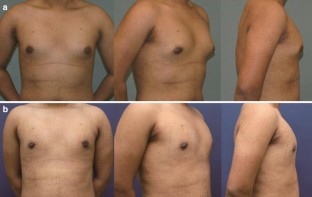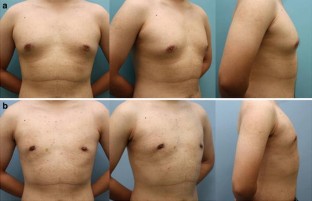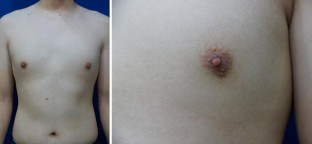 References
1.

Mathes SJ, Seyfer AE, Miranda EP (2006) Congenital anomalies of the chest wall. In: Mathes SJ (ed) Plastic surgery, 2nd edn. Saunders Elsevier, Philadelphia, pp 457–537

2.

Carlson HE (1980) Gynecomastia. N Engl J Med 303:795–799

3.

Nuttall FQ (1979) Gynecomastia as a physical finding in normal men. J Clin Endocrinol Metab 48:338–340

4.

Nydick M, Bustos J, Dale JH, Rawson RW (1961) Gynecomastia in adolescent boys. JAMA 178:449–454

5.

International Society of Aesthetic and Plastic Surgery international survey on aesthetic and cosmetic procedures performed in 2010 (2010). http://www.isaps.org/isaps-global-statistics.html. Accessed August 2012

6.

Morselli PG (1996) "Pull-through": a new technique for breast reduction in gynecomastia. Plast Recontr Surg 97:450–454

7.

Bracaglia R, Fortunato R, Gentileschi S, Seccia A, Farallo E (2004) Our experience with the so-called pull-through technique combined with liposuction for management of gynecomastia. Ann Plast Surg 53:22–26

8.

Karsner HT (1946) Gynecomastia. Am J Pathol 22:235–315

9.

Rohrich RJ, Ha RY, Kenkel JM, Adams WP Jr (2003) Classification and management of gynecomastia: defining the role of ultrasound-assisted liposuction. Plast Recontr Surg 111:909–923

10.

Wray RC Jr, Hoopes JE, Davis GM (1974) Correction of extreme gynaecomastia. Br J Plast Surg 27:39–41

11.

Webster JP (1990) Mastectomy for gynecomastia through a semicircular intraareolar incision. Ann Surg 12:557–575

12.

Huang TT, Hidalgo JE, Lewis SR (1982) A circumareolar approach in surgical management of gynecomastia. Plast Reconstr Surg 69:35–40

13.

Benito-Ruiz J, Raigosa M, Manzano M, Salvador L (2009) Assessment of a suction-assisted cartilage shaver plus liposuction for the treatment of gynecomastia. Aesthet Surg J 29:302–309

14.

Prado AC, Castillo PF (2005) Minimal surgical access to treat gynecomastia with the use of a power-assisted arthroscopic-endoscopic cartilage shaver. Plast Recontr Surg 115:939–942

15.

Song JY, Han BK, Kim CH (2009) The treatment of gynecomastia using XPS microresector (shaver). J Korean Soc Plast Reconstr Surg 36:806–810

16.

Goh T, Tan BK, Song C (2010) Use of the microdebrider for treatment of fibrous gynecomastia. J Plast Reconstr Aesthet Surg 63:506–510
Acknowledgments
The authors thank illustrator Hye-Seong Park. This research was supported by Yeungnam University grants in 2012.
Conflict of interest
The authors declare that they have no conflicts of interest.
Electronic supplementary material
Below is the link to the electronic supplementary material.
Supplementary material 1 (WMV 4130 kb)
About this article
Cite this article
Lee, J., Kim, I., Kim, T. et al. Surgical Correction of Gynecomastia with Minimal Scarring. Aesth Plast Surg 36, 1302–1306 (2012). https://doi.org/10.1007/s00266-012-9970-6
Received:

Accepted:

Published:

Issue Date:
Keywords
Gynecomastia

Liposuction

Scar