Why and how the early-life environment affects development of coping behaviours
Open Access
Invited Review
Abstract
Understanding the ways in which individuals cope with threats, respond to challenges, make use of opportunities and mediate the harmful effects of their surroundings is important for predicting their ability to function in a rapidly changing world. Perhaps one of the most essential drivers of coping behaviour of adults is the environment experienced during their early-life development. Although the study of coping, defined as behaviours displayed in response to environmental challenges, has a long and rich research history in biology, recent literature has repeatedly pointed out that the processes through which coping behaviours develop in individuals are still largely unknown. In this review, we make a move towards integrating ultimate and proximate lines of coping behaviour research. After broadly defining coping behaviours (1), we review why, from an evolutionary perspective, the development of coping has become tightly linked to the early-life environment (2), which relevant developmental processes are most important in creating coping behaviours adjusted to the early-life environment (3), which influences have been shown to impact those developmental processes (4) and what the adaptive significance of intergenerational transmission of coping behaviours is, in the context of behavioural adaptations to a fast changing world (5). Important concepts such as effects of parents, habitat, nutrition, social group and stress are discussed using examples from empirical studies on mammals, fish, birds and other animals. In the discussion, we address important problems that arise when studying the development of coping behaviours and suggest solutions.
Keywords
Early-life environment 
Developmental processes 
Personality 
Coping 
Intergenerational effects 
Parental effects 
The behaviours that animals display to respond to challenges in their environment—whether to avoid a threat or to utilise an opportunity—relate directly to their ability to survive and reproduce. This is especially the case in a quickly changing world (Lapiedra et al. 2017). As such, understanding these behaviours has been a topic of study not only in behavioural biology, but also in evolutionary and conservation biology. Coping is commonly considered as the behavioural and physiological efforts to master a challenging situation (Koolhaas et al. 1999). Despite a long research history, very little is known about the way coping behaviours develop in individuals (Belsky and Pluess 2009a; Rao et al. 2010; Stamps and Groothuis 2010; Gracceva et al. 2011; Groothuis and Trillmich 2011; Cowan et al. 2016). Much attention is currently focussed on finding evidence of individual differences in coping behaviours across different species (Bell and Stamps 2004; Dall et al. 2012; Ogden 2012), understanding the active-reactive axis on which (some of) such coping behaviours seem to fall (Sloan Wilson et al. 1994; Koski 2011; Pascual and Senar 2014), explaining the evolutionary mechanisms underlying individual differences (Dingemanse et al. 2002; Adriaenssens and Johnsson 2011; St-Hilaire et al. 2017) and integrating its implications for ecological and behavioural studies. While it is very important to correlate developmental influences with one or more behavioural traits and discover variables that shape adult coping behaviour, such lines of research do not provide sufficient clarity on the proximate and ultimate aspects of the development of coping behaviours (Groothuis and Trillmich 2011).
A great deal of developmental research has been devoted to understanding whether and how experiences in ontogeny shape behavioural development later in life, yet insufficient attention has been paid to why and how such cross-time influences should characterise animal (Skinner and Zimmer-Gembeck 2007; Groothuis and Trillmich 2011; Trillmich and Hudson 2011) or even human (Belsky 2007; Ellis and Boyce 2008; Haun et al. 2013) development, or how natural selection structures the early-life effects on development (Ellis and Boyce 2008). Despite extensive study on specific stressors and behaviours, no overarching developmental framework currently exists to explain why or how animals develop the strategies with which they respond to their environment (Skinner and Zimmer-Gembeck 2007; Hengartner 2017).
Within the development of coping behaviours (defined for the purpose of this review as the behaviours that individuals exhibit aimed at responding to environmental challenges), there is an important unexplored niche in the ways through which the environment during early-life development shapes coping behaviours used later in life (Trillmich and Hudson 2011; Miranda 2017; Zidar et al. 2017). Yet environmental stimuli during this early-life period are extremely relevant, as costs, limitations, opportunities and a variety of external factors experienced during ontogeny affect developmental processes that lead to coping behaviours (Skinner and Zimmer-Gembeck 2007; Stamps and Groothuis 2010). Environmental influences may begin prenatally and may be amplified postnatally as individuals come to occupy different niches within their surroundings, interact with conspecifics and cope with environmental challenges (Hudson et al. 2011; Trillmich and Hudson 2011). The pathway to either vulnerability or resilience is influenced by a complex matrix (Cicchetti 2010), in which environmental factors such as the social context, past and current experiences and timing of the experiences are key factors (Fawcett and Frankenhuis 2015). As such, the early-life environment has complex and long-lasting effects on later life behaviour (Burton and Metcalfe 2014; Cowan et al. 2016; Carlson 2017), directly affecting both the type and the dynamic range of behaviours individuals have available later in life (Rödel and Monclús 2011).
Especially in the light of global change and the increasing need of animals (and humans) to adapt to ever changing environments, it is essential to study coping behaviour and its causal factors, as coping behaviour directly relates to animals' ability to adapt to novel and changing environments (Taborsky 2017). While of course genetics is important for our understanding of the building blocks underlying coping behaviour, in the field of coping and animal personality (see "Coping behaviours: definitions and precursors" section), much of this work has already been done (Bouchard and Loehlin 2001; van Oers et al. 2005), while the complexity of developmental processes has not received as much attention as it should. One might argue that in times of great change, behaviour is the most immediate and effective way for individuals and populations to respond to environmental challenge (Kappeler et al. 2013), and the processes that lead to resilience and flexibility in coping behaviours in individuals become essential to our understanding of larger level trends in response to environmental pressure. Understanding the interplay between environmental influences and developmental processes assists in predicting which environmental influences can be harmful (and under which conditions), which types of maladaptive coping behaviours may be reversed and how interventions can facilitate such reversibility.
In this review, we offer an environmental perspective on the development of coping and simultaneously consider the process from an evolutionary angle—a novel synthetic approach that has been lacking so far. Without going too deeply into neurobiological details, we highlight the importance of the early-life environment on the development of coping behaviours and extensively review relevant literature to further an understanding of both ultimate (why) and proximate (how) causes of this essential role of the early-life environment in the way animals respond to challenges in their surroundings. The early-life environment is defined here as the non-genetic biotic or abiotic external factors that affect an animal in the period from conception to the time it can survive independently.
The review includes (1) a working definition of coping behaviours and a brief overview of components that are precursors to successful coping, (2) evolutionary reasons for the development of coping to be strongly affected by the early-life environment, (3) developmental processes through which the early-life environment affects later-life coping behaviours, (4) environmental influences shown to affect these developmental processes and (5) non-genetic intergenerational transmission of coping behaviours, an overarching topic that concerns both why and how coping behaviours are affected by the early-life environment, which we discuss in the context of behavioural adaptation to a rapidly changing world (see Fig. 
1
). In order to provide an extensive review of the literature, the ISI database and Google Scholar were searched, and all studies that matched inclusion criteria were listed in a comprehensive overview (see
Suppl. material
). A detailed overview of the reviewed literature can be found in the
Supplementary material
. This approach provides the starting parameters for a model to understand more closely why some environmental factors affect development of some coping behaviours differently than others, during different developmental stage and in what direction. With this review, we attempt to contribute to a better understanding of the challenges individuals face in adapting to new environments. To the best of our knowledge, this is the first review to attempt combining early-life influences with the processes through which coping behaviours are established.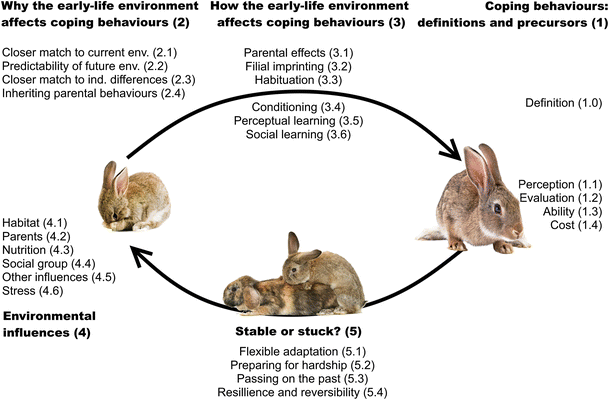 Notes
Acknowledgments
The study was funded by the Netherlands Organisation for Scientific Research (NWO) Grants 854.11.003 and 823.01.014 (to J.K.). We are grateful to Dr. Ana Duarte in providing helpful comments and discussion during the writing of this manuscript and to Katherine Kochen for her help in reviewing selected studies and providing an impartial opinion on their eligibility. We thank Prof. Dr. Barbara Taborsky and an anonymous referee for their invaluable and extensive comments, which contributed greatly to the robustness of this review.
Compliance with ethical standards
Conflict of interest
The authors declare that they have no conflict of interest.
Copyright information
© The Author(s) 2018
Open Access This article is distributed under the terms of the Creative Commons Attribution 4.0 International License (http://creativecommons.org/licenses/by/4.0/), which permits unrestricted use, distribution, and reproduction in any medium, provided you give appropriate credit to the original author(s) and the source, provide a link to the Creative Commons license, and indicate if changes were made.