Abstract
Current signaling theories predict that animal signals are generally honest, but each signaling system allows some admixture of deception. Male fiddler crabs fight aggressively through use of their greatly enlarged major claw, which grows on the left or right side. Some males have fragile regenerated claws (regenerated males) and others have robust original claws (original males), but crabs cannot visually discriminate between the two types. In the present study, we conducted field observations in a population of Uca lactea to investigate how regenerated males fight with their inferior weapons, and how other males deal with the potential deception. Regenerated males employed bluffing tactics; they pretended to be aggressive to deter opponents, but surrendered when the fight escalated. Regenerated males tended to choose smaller and opposite-handed opponents, probably because claws can be grappled tightly in same-handed fights. The bluffing tactics seemed to be partially successful, because regenerated males were not selectively challenged by other males and defeated original males in 41.7 % of the cases. However, original males developed counter-bluff tactics, such as choosing same-handed opponents and persisting in contests even when the opponent was larger. Consequently, original males defeated regenerated males equipped with longer a claw in 42.9 % of the cases. In the most striking case, an original male evicted a resident male from his burrow despite the 42.7 % longer regenerated claw. This counter-bluff tactic decreases the reliance on the signal of strength (weapon size) and limits the benefit of bluffing.
Significance statement
Male fiddler crab (Uca lactea) fight with their major claw, which grows on either the left or right side. However, males with fragile a regenerated claw (regenerated males) which were similar in size to an original claw made deception in the fights. Regenerated males employed bluffing tactics; they behaved aggressively to deter opponents, but surrendered when the fight escalated. They chose smaller and opposite-handed opponents, because claws can be grappled tightly in same-handed fights. As a result, they defeated males with an original claw (original males) in 41.7 % of the cases. Interestingly, however, original males developed a counter-bluff tactic: they chose same-handed opponents and persisted in contests even when the opponent was larger. Consequently, 42.9 % of original males defeated regenerated males equipped with a larger claw. This counter-bluff tactic serves to "call the bluff" and limit the benefits of bluffing.
This is a preview of subscription content, log in to check access.
Access options
Buy single article
Instant unlimited access to the full article PDF.
US$ 39.95
Price includes VAT for USA
Subscribe to journal
Immediate online access to all issues from 2019. Subscription will auto renew annually.
US$ 99
This is the net price. Taxes to be calculated in checkout.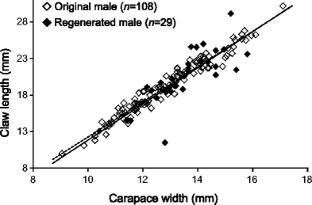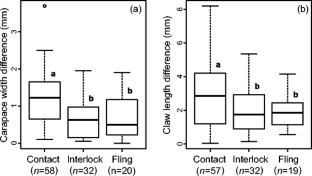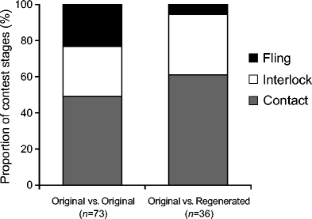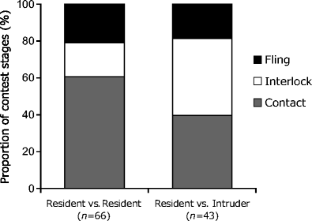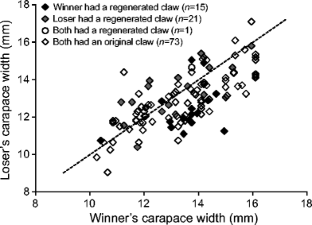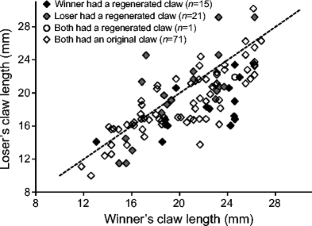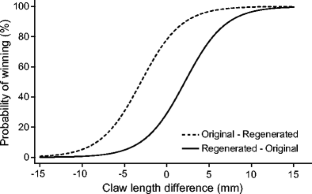 References
Adams ES, Caldwell RL (1990) Deceptive communication in asymmetric fights of the stomatopod crustacean Gonodactylus bredini. Anim Behav 39:706–716

Angilletta MJ Jr, Wilson RS (2012) Cryptic asymmetry: unreliable signals mask asymmetric performance of crayfish weapons. Biol Lett 8:551–553

Arnott G, Elwood RW (2009) Assessment of fighting ability in animal contests. Anim Behav 77:991–1004

Arnott G, Ashton C, Elwood RW (2011) Lateralization of lateral displays in convict cichlids. Biol Lett 7:683–685

Backwell PRY, Christy JH, Telford SR, Jennions MD, Passmore NI (2000) Dishonest signalling in a fiddler crab. P Roy Soc Lond B Bio 267:719–724

Backwell PRY, Matsumasa M, Double M, Roberts A, Murai M, Keogh JS, Jennions MD (2007) What are the consequences of being left-clawed in a predominantly right-clawed fiddler crab? P Roy Soc Lond B Bio 274:2723–2729

Bolton J, Backwell PRY, Jennions MD (2013) Density dependence and fighting in species with indeterminate growth: a test in a fiddler crab. Anim Behav 85:1367–1376

Bywater CL, Angilletta MJ, Wilson RS (2008) Weapon size is a reliable indicator of strength and social dominance in female slender crayfish (Cherax dispar). Funct Ecol 22:311–316

Bywater CL, White CR, Wilson RS (2014) Metabolic incentives for dishonest signals of strength in the fiddler crab Uca vomeris. J Exp Biol 217:2848–2850

Callander S, Bolton J, Jennions MD, Backwell PRY (2012) A farewell to arms: males with regenerated claws fight harder over resources. Anim Behav 84:619–622

Callander S, Kahn AT, Maricic T, Jennions MD, Backwell PRY (2013) Weapons or mating signals? Claw shape and mate choice in a fiddler crab. Behav Ecol Sociobiol 67:1163–1167

Candolin U (2000) Increased signalling effort when survival prospects decrease: male-male competition ensures honesty. Anim Behav 60:417–422

Elwood RW, Arnott G (2012) Understanding how animals fight with Lloyd Morgan's canon. Anim Behav 84:1095–1102

Elwood RW, Pothanikat RME, Briffa M (2006) Honest and dishonest displays, motivational state and subsequent decisions in hermit crab shell fights. Anim Behav 72:853–859

Elwood RW, Stoilova V, McDonnell A, Earley RL, Arnott G (2014) Do mirrors reflect reality in agonistic encounters? A test of mutual cooperation in displays. Anim Behav 97:63–67

Enquist M, Leimar O, Ljungberg T, Mallner Y, Segerdahl N (1990) A test of the sequential assessment game: fighting in the cichlid fish Nannacara anomala. Anim Behav 40:1–14

Fisher J (1954) Evolution and bird sociality. In: Huxley J, Hardy A, Ford E (eds) Evolution As a Process. London, Allen and Unwin. 84:71-83

Games PA, Howell JF (1976) Pairwise multiple comparison procedures with unequal n's and/or variances: a Monte Carlo study. J Educ Stat 1:113–125

Goncalves D, Matos R, Fagundes T, Oliveira R (2005) Bourgeois males of the peacock blenny, Salaria pavo, discriminate female mimics from females? Ethology 111:559–572

Gross MR (1996) Alternative reproductive strategies and tactics: diversity within sexes. Trends Ecol Evol 11:92–98

Hyatt GW, Salmon M (1978) Combat in the fiddler crabs Uca pugilator and U. pugnax: a quantitative analysis. Behaviour 65:182–211

Jaroensutasinee M, Jaroensutasinee K (2003) Male body size influences female choice and male-male competition in the fiddler crab, Uca paradussumieri Bott, 1973 (Decapoda, Brachyura, Ocypodidae). Crustaceana 76:177–186

Jaroensutasinee M, Tantichodok P (2003) Effects of size and residency on fighting outcomes in the fiddler crab, Uca vocans hesperiae (Decapoda, Brachyura, Ocypodidae). Crustaceana 75:1107–1117

Jennions MD, Backwell PRY (1996) Residency and size affect fight duration and outcome in the fiddler crab Uca annulipes. Biol J Linn Soc 57:293–306

Johnstone RA, Grafen A (1993) Dishonesty and the handicap principle. Anim Behav 46:759–764

Krupa JJ (1989) Alternative mating tactics in the Great Plains toad. Anim Behav 37:1035–1043

Kvarnemo C (1995) Size-assortative nest choice in the absence of competition in males of the sand goby, Pomatoschistus minutus. Environ Biol of Fish 43:233–239

Lailvaux SP, Reaney LT, Backwell PRY (2009) Dishonest signalling of fighting ability and multiple performance traits in the fiddler crab Uca mjoebergi. Funct Ecol 23:359–366

Luttbeg B (2004) Female mate assessment and choice behavior affect the frequency of alternative male mating tactics. Behav Ecol 15:239–247

Maynard Smith J, Harper D (2003) Animal signals. Oxford University Press, Oxford

McLain DK, McBrayer LD, Pratt AE, Moore S (2010) Performance capacity of fiddler crab males with regenerated versus original claws and success by claw type in territorial contests. Ethol Ecol Evol 22:37–49

Mills SC, Reynolds JD (2003) Operational sex ratio and alternative reproductive behaviours in the European bitterling, Rhodeus sericeus. Behav Ecol Sociobiol 54:98–104

Morrell LJ, Backwell PRY, Metcalfe NB (2005) Fighting in fiddler crabs Uca mjoebergi: what determines duration? Anim Behav 70:653–662

Munoz A, Aparicio JM, Bonal R (2008) Male barn swallows use different resource allocation rules to produce ornamental tail feathers. Behav Ecol Sociobiol 19:404–409

Muramatsu D (2010a) Temporary loss of a sexual signal (claw loss) affects the frequency of sand structure construction in the fiddler crab, Uca lactea. Ethol Ecol Evol 22:87–93

Muramatsu D (2010b) Sand structure construction in Uca lactea (De Haan, 1835) is related to tidal cycle but not to male or female densities. Crustaceana 83:29–37

Muramatsu D (2011a) For whom the male waves: four types of claw-waving display and their audiences in the fiddler crab, Uca lactea. J Ethol 29:3–8

Muramatsu D (2011b) The function of the four types of waving display in Uca lactea: effects of audience, sand structure, and body size. Ethology 117:408–415

Pope DS (2005) Waving in a crowd: fiddler crabs signal in networks. In: McGregor PK (ed) Animal Communication Networks. Cambridge University Press, Cambridge

Pratt AE, McLain DK (2002) Antisymmetry in male fiddler crabs and the decision to feed or breed. Funct Ecol 16(1):89–98

Pratt AE, McLain DK (2006) How dear is my enemy: intruder-resident and resident-resident encounters in male sand fiddler crabs (Uca pugilator). Behaviour 143:597–617

Pratt AE, McLain DK, Lathrop GR (2003) The assessment game in sand fiddler crab contests for breeding burrows. Anim Behav 65:945–955

R Core Team (2015) R: a language and environment for statistical computing. R Foundation for Statistical Computing, Vienna, Austria, http://www.R-project.org. Accessed 20 September 2015

Raihani G, Serrano-Meneses MA, Cordoba-Aguilar A (2008) Male mating tactics in the American rubyspot damselfly: territoriality, nonterritoriality and switching behavior. Anim Behav 75:1851–1860

Reaney LT, Milner RNC, Detto T, Backwell PRY (2008) The effects of claw regeneration on territory ownership and mating success in the fiddler crab Uca mjoebergi. Anim Behav 75:1473–1478

Robins A, Lippolis G, Bisazza A, Vallortigara G, Rogers LJ (1998) Lateralized agonistic responses and hindlimb use in toads. Anim Behav 56:875–881

Rosenberg MS (2001) The systematics and taxonomy of fiddler crabs: a phylogeny of the genus Uca. J Crust Biol 21:839–869

Sato T, Hirose M, Taborsky M, Kimura S (2004) Size-dependent male alternative reproductive tactics in the shell-brooding cichlid fish Lamprologus callipterus in Lake Tanganyika. Ethology 110:49–62

Searcy WA, Nowicki S (2005) The evolution of animal communication: reliability and deception in signaling systems. Princeton University Press, New Jersey

Semple S, McComb K (1996) Behavioural deception. Trends Ecol Evol 11:434–437

Shine R, Langkilde T, Mason RT (2003) The opportunistic serpent: male garter snakes adjust courtship tactics to mating opportunities. Behaviour 140:1509–1526

Steger R, Caldwell RL (1983) Intraspecific deception by bluffing a defense strategy of newly molted stomatopods (Arthropoda, Crustacea). Science 221:558–560

Stuart-Fox D (2005) Deception and the origin of honest signals. Trends Ecol Evol 20:521–523

Taylor PW, Elwood RW (2003) The mismeasure of animal contests. Anim Behav 65:1195–1202

Temeles EJ (1994) The role of neighbors in territorial systems; when are they 'dear enemies'? Anim Behav 47:339–350

Tsubaki Y, Ono T (1986) Competition for territorial sites and alternative mating tactics in the dragonfly, Nannophya pygmaea Rambur (Odonata: Libellulidae). Behaviour 97:234–252

Walter GM, van Uitregt VO, Wilson RS (2011) Social control of unreliable signals of strength in male but not female crayfish, Cherax destructor. J Exp Biol 214:3294–3299

Wilson RS, Angilletta MJ, James RS, Navas C, Seebacher F (2007) Dishonest signals of strength in male slender crayfish (Cherax dispar) during agonistic encounters. Am Nat 170:284–291

Yamaguchi T (1973) Asymmetry and dimorphism of chelipeds in the fiddler crab, Uca lactea De Haan. Zool Mag 82:154–158

Yamaguchi T (2001) The breeding period of the fiddler crab, Uca lactea (Decapoda, Brachyura, Ocypodidae). Crustaceana 74:285–293

Zeil J, Hemmi JM, Backwell PRY (2006) Fiddler crabs. Curr Biol 16:40–41
Acknowledgments
We thank Professor S. Kohshima at Kyoto University for critical comments on this study. We also thank Y. Endo and H. Sakuragi at Kyoto University for editing the manuscript's English. This research was financially supported in part by JSPS Core-to-Core Program, A. Advanced Research Networks "Tropical Biodiversity Conservation" Wildlife Research Center, Kyoto University.
Ethics declarations
Ethical approval
All procedures performed in this study involving animals were conducted in accordance with the ethical standards of the Guidelines for Animal Studies in the Wild issued by the Wildlife Research Center of Kyoto University. This article does not contain any study with human participants.
Electronic supplementary material
Below is the link to the electronic supplementary material.
Examples of same-handed and opposite-handed fights. Claws can be tightly clamped in same-handed fights, but it appears to be mechanically challenging to interlock claws in opposite-handed fights. (MPG 2104 kb)
Example of a fight involving a regenerated male trying to escape from a claw interlock. (MPG 1930 kb)
Example of a fight in which the largest claw difference (7.35 mm) was observed and the fight was won by the male with the shorter (original) claw. (MPG 2842 kb)
About this article
Cite this article
Muramatsu, D., Koga, T. Fighting with an unreliable weapon: opponent choice and risk avoidance in fiddler crab contests. Behav Ecol Sociobiol 70, 713–724 (2016). https://doi.org/10.1007/s00265-016-2094-2
Received:

Revised:

Accepted:

Published:

Issue Date:
Keywords
Contest

Claw asymmetry

Bluff

Dishonesty

Weapon

Uca