Abstract
Communication of feeding locations is widespread in social animals. Many ants use pheromone trails to guide nestmates to food sources, but trail properties and how they are used vary. The ant Pheidole oxyops retrieves prey cooperatively using multiple workers. The recruited workers are guided to the prey by a pheromone trail laid by the initial discoverer. In comparison to other ants, this trail has extreme properties. Despite being laid by just one ant, freshly laid trails are followed very accurately (84.4 % correct choices at a bifurcation), but decay in only 5–7 min. This extreme accuracy and short duration probably reflect adaptations to underlying differences in feeding ecology. In particular, P. oxyops needs to rapidly recruit nestmates to a precise location in a competitive environment. Rapid decay combined with a natural walking speed of 1.4 m/min should set an upper limit of 4 m (an 8-m round trip) on recruitment range. However, experimentally placed food items up to 8 m from the nest entrance were cooperatively retrieved. This greater range is due to the trail having a dual recruitment role. It not only recruits from the nest but also intercepts ants already outside the nest, causing them to join the trail. Seventy-five per cent of ants joining the trail then followed it towards the food item. Even when direct recruitment from the nest was prevented, this secondary recruitment action resulted in seven times as many ants locating a food source than by chance discovery and in items being moved 46 % sooner.
This is a preview of subscription content, log in to check access.
Access options
Buy single article
Instant unlimited access to the full article PDF.
US$ 39.95
Price includes VAT for USA
Subscribe to journal
Immediate online access to all issues from 2019. Subscription will auto renew annually.
US$ 99
This is the net price. Taxes to be calculated in checkout.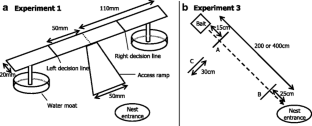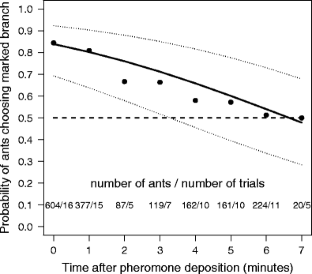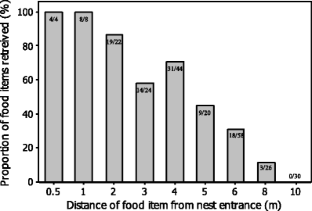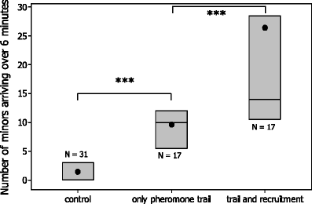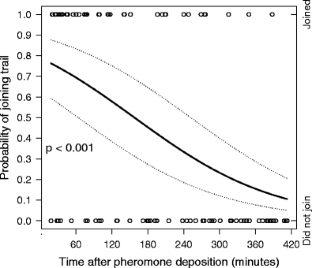 References
Bates D, Sarkar D, Bates MD, Matrix LT (2007) The lme4 package. Linear mixed-effects models using S [Internet] 4. http://cran.r-project.org/web/packages/lme4/index.html. Accessed 23 April 2010

Beekman M, Sumpter DJT, Ratnieks FLW (2001) Phase transition between disordered and ordered foraging in Pharaoh's ants. Proc Natl Acad Sci 98:9703–9706

Bolker BM, Brooks ME, Clark CJ, Geange SW, Poulsen JR, Stevens MHH, White J-SS (2009) Generalized linear mixed models: a practical guide for ecology and evolution. Trends Ecol Evol 24:127–135

Cerdá X, Retana J, Cros S (1998) Critical thermal limits in Mediterranean ant species: trade–off between mortality risk and foraging performance. Funct Ecol 12:45–55

Collett TS, Collett M (2002) Memory use in insect visual navigation. Nat Rev Neurosci 3:542–552

Czaczkes TJ, Ratnieks FLW (2011) Simple rules result in the adaptive turning of food items to reduce drag during cooperative food transport in the ant Pheidole oxyops. Insect Soc 58:91–96

Czaczkes TJ, Nouvellet P, Ratnieks FLW (2010) Cooperative food transport in the neotropical ant, Pheidole oxyops. Insect Soc 58:153–161

Czaczkes TJ, Grüter C, Jones SM, Ratnieks FLW (2011) Synergy between social and private information increases foraging efficiency in ants. Biol Lett 7:521–524

Detrain C, Deneubourg J-L (1997) Scavenging by Pheidole pallidula: a key for understanding decision-making. Anim Behav 53:537–547

Dussutour A, Nicolis SC, Shephard G, Beekman M, Sumpter DJT (2009) The role of multiple pheromones in food recruitment by ants. J Exp Biol 212:2337–2348

Evison SEF, Petchey OL, Beckerman AP, Ratnieks FLW (2008) Combined use of pheromone trails and visual landmarks by the common garden ant Lasius niger. Behav Ecol Sociobiol 63:261–267

Fowler HG (1984) Recruitment, group retrieval and major worker behavior in Pheidole oxyops Forel (Hymenoptera: Formicidae). Rev Brasil Biol 44:21–24

Greene MJ, Gordon DM (2007) How patrollers set foraging direction in harvester ants. Am Nat 170:943–948

Grüter C, Czaczkes TJ, Ratnieks FLW (2010) Decision making in ant foragers (Lasius niger) facing conflicting private and social information. Behav Ecol Sociobiol 64:141–148

Holldobler B (1982) Interference strategy of Iridomyrmex pruinosum (Hymenoptera: Formicidae) during foraging. Oecologia 52:208–213

Hölldobler B, Stanton RC, Markl H (1978) Recruitment and food-retrieving behavior in Novomessor (Formicidae, Hymenoptera): I. Chemical signals. Behav Ecol Sociobiol 4:163–181

Jackson DE, Martin SJ, Holcombe M, Ratnieks FLW (2006) Longevity and detection of persistent foraging trails in Pharaoh's ants, Monomorium pharaonis (L.). Anim Behav 71:351–359

Jeanson R, Ratnieks FLW, Deneubourg JL (2003) Pheromone trail decay rates on different substrates in the Pharaoh's ant, Monomorium pharaonis. Physiol Entomol 28:192–198

Lee A (1998) VirtualDub 1.8.8. http://www.virtualdub.org/index.html. Accessed 9 July 2009

Moffett MW (1988) Cooperative food transport by an Asiatic ant. Natl Geogr Res 4:386–394

Pontin AJ (1963) Further considerations of competition and the ecology of the ants Lasius flavus (F.) and L. niger (L.). J Anim Ecol 32:565–574

R Development Core Team (2009) R: a language and environment for statistical computing. Vienna, Austria: R Foundation for Statistical Computing. http://www.R-project.org. Accessed 8 June 2010

Robinson EJH, Green KE, Jenner EA, Holcombe M, Ratnieks FLW (2008) Decay rates of attractive and repellent pheromones in an ant foraging trail network. Insect Soc 55:246–251

Salo O, Rosengren R (2001) Memory of location and site recognition in the ant Formica uralensis (Hymenoptera: Formicidae). Ethology 107:737–752

Smith CC, Reichman OJ (1984) The evolution of food caching by birds and mammals. Ann Rev Ecol Syst 15:329–351

Sudd JH (1960a) The transport of prey by an ant, Pheidole crassinoda EM. Behavior 16:295–308

Sudd JH (1960b) The foraging method of Pharaoh's ant, Monomorium pharaonis (L.). Anim Behav 8:67–75

Sudd JH (1965) Transport of prey by ants. Behavior 15:234–271

Traniello JFA (1983) Social organization and foraging success in Lasius neoniger (Hymenoptera: Formicidae): behavioral and ecological aspects of recruitment communication. Oecologia 59:94–100

Traniello JFA (1987) Comparative foraging ecology of North Temperate ants: the role of worker size and cooperative foraging in prey selection. Insect Soc 34:118–130

Weidenmuller A, Seeley TD (1999) Imprecision in waggle dances of the honeybee (Apis mellifera) for nearby food sources: error or adaptation? Behav Ecol Sociobiol 46:190–199

Zuur AF, Ieno EN, Walker NJ, Saveliev AA, Smith GM (2009) Mixed effects models and extensions in ecology with R. Springer, Berlin
Acknowledgments
We thank Dr. Paulo Nogueira-Neto for allowing us to stay and work at Fazenda Aretuzina, Dr B. Czaczkes for help with data management, and Drs. Katja Rex, Margaret Couvillon and our anonymous reviewers for comments on the manuscript. T.C was funded by a Biotechnology and Biological Sciences Research Council doctoral studentship.
Disclosures
The experiments reported here comply with the current laws of the country in which they were performed. The authors declare that they have no conflict of interest.
Additional information
Communicated by W. O. H. Hughes
Electronic supplementary material
Below is the link to the electronic supplementary material.
This video shows a foraging bout. The nest entrance is on the left; a 20 × 20 × 1-mm food item is placed about 55 cm to the right. The video begins with a scout ant, which has discovered the item and has been attempting to move it, giving up and leaving the item in the direction of the nest, laying a pheromone trail. It reaches the nest by 15 s. Ants begin to leave the nest and follow the deposited pheromone trail 2 s later. Nineteen seconds into the video, a second ant leaves the food item in the direction of the nest, also laying a pheromone trail. Forty-one seconds in, the first major workers appear. After 49 s, sufficient ants have assembled around the item to begin cooperative transport. The entire process, from the beginning of recruitment to the item reaching the nest, takes 2 min and 40 s. Parts of the transport phase are omitted for brevity (MPG 38216 kb)
This video shows a foraging bout. The nest entrance is on the left; a 20 × 20 × 1-mm food item is placed about 55 cm to the right. The video begins with a scout ant, which has discovered the item and has been attempting to move it, giving up and leaving the item in the direction of the nest, laying a pheromone trail. It reaches the nest by 15 s. Ants begin to leave the nest and follow the deposited pheromone trail 2 s later. Nineteen seconds into the video, a second ant leaves the food item in the direction of the nest, also laying a pheromone trail. Forty-one seconds in, the first major workers appear. After 49 s, sufficient ants have assembled around the item to begin cooperative transport. The entire process, from the beginning of recruitment to the item reaching the nest, takes 2 min and 40 s. Parts of the transport phase are omitted for brevity (MPG 38216 kb)
About this article
Cite this article
Czaczkes, T.J., Ratnieks, F.L.W. Pheromone trails in the Brazilian ant Pheidole oxyops: extreme properties and dual recruitment action. Behav Ecol Sociobiol 66, 1149–1156 (2012). https://doi.org/10.1007/s00265-012-1367-7
Received:

Revised:

Accepted:

Published:

Issue Date:
Keywords
Trail pheromones

Recruitment

Ants

Foraging organisation

Communication

Pheidole oxyops