Abstract
Grasshoppers of the Chorthippus albomarginatus-group, which is outstanding with respect to its complex courtship song, were studied at fifteen localities in the Ukraine and Moldova. The analysis of the courtship songs revealed two species: C. albomarginatus in north-eastern Ukraine and Chorthippus oschei in the south-western Ukraine and Moldova. In a belt about 200 km wide, not only were one or the other pure species found, but also males with intermediate song characters. C. albomarginatus and C. oschei were hybridised in the laboratory, and F1 hybrid males as well as F2 hybrid males produced intermediate song patterns, quite similar to those recorded in the field. We defined a "hybrid song score" for intermediate songs. The score showed a bimodal distribution with most songs resembling one or other parental type, but with only a few intermediates. At several localities, where hybrids with songs similar to one of the parental species dominated, some individual males sang more similarly to the other species. In one locality, two hybrid populations only 3 km apart had different parental types. Hybrid songs can contain novel elements, even more complex than the parental ones, which may offer a new starting point for sexual selection. We suggest that genetic introgression occurs between the two sibling species C. albomarginatus and C. oschei within a wide hybrid zone stretching over a distance of several hundred kilometres, but with a patchy spatial distribution.
This is a preview of subscription content, log in to check access.
Access options
Buy single article
Instant unlimited access to the full article PDF.
US$ 39.95
Price includes VAT for USA
Subscribe to journal
Immediate online access to all issues from 2019. Subscription will auto renew annually.
US$ 99
This is the net price. Taxes to be calculated in checkout.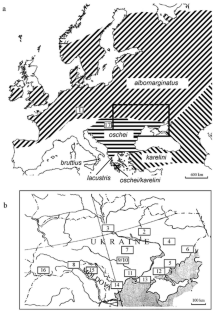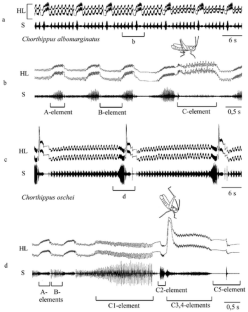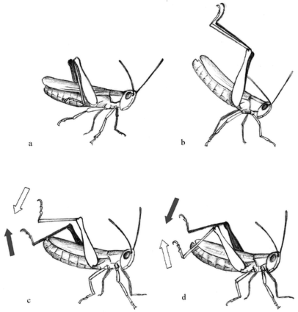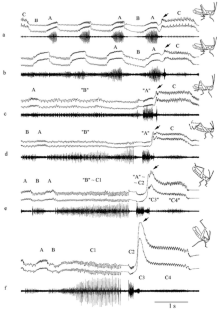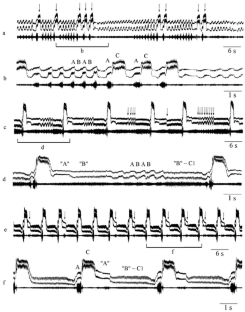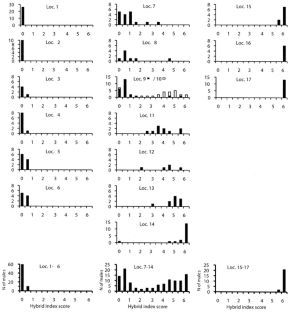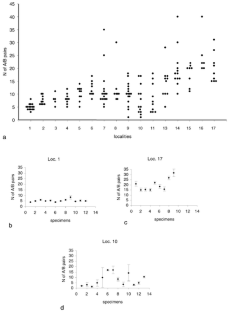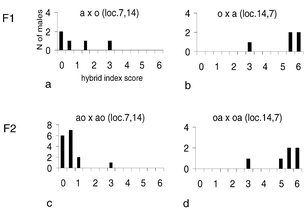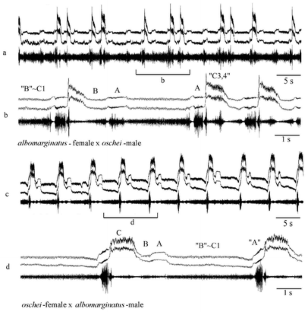 References
Andersson M (1994) Sexual selection. Princeton University Press, Princeton

Barton NH, Hewitt GM (1989) Adaptation, speciation and hybrid zones. Nature 341:497–503

Bei-Bienko GY, Mistshenko LL (1951) Locusts and grasshoppers of the USSR and adjacent countries, part II (in Russian). Keys to the fauna of the USSR. vol 40. Zoological Institute of the USSR, Academy of Sciences, Moscow Leningrad, pp 381–667. (English translation: 1964. Israel Program for Scientific Translation, Jerusalem)

Bridle JR, Butlin RK (2002) Mating signal variation and bimodality in a mosaic hybrid zone between Chorthippus grasshopper species. Evolution 56:1184–1198

Bridle JR, Vass-De-Zomba J, Butlin RK (2002) Fine-scale ecological and genetic variation in a Chorthippus grasshopper hybrid zone. Ecol Entomol 27:499–504

Butlin R (1998) What do hybrid zones in general, and the Chorthippus parallelus zone in particular, tell us about speciation? In: Howard DJ, Berlocher H (eds) Endless forms – species and speciation. Oxford University Press, New York, pp 367–378

Butlin RK, Hewitt GM (1985) A hybrid zone between Chorthippus parallelus parallelus and Chorthippus parallelus erythropus (Orthoptera:Acrididae): morphological and electrophoretic characters. Biol J Linn Soc 26:269–285

Faber A (1953) Laut- und Gebärdensprache bei Insekten, Orthoptera. I. Vergleichende Darstellung von Ausdrucksformen als Zeitgestalten und ihre Funktion. Staatliches Museum für Naturkunde, Stuttgart

Fisher RA (1958) The genetical theory of natural selection, 2nd edn. Dover, New York

Fontana P, La Greca M (1999) Descrizione e prime osservazioni sulla bioacustica di Chorthippus bruttius sp. n. di Calabria (Italia meridionale) (Insecta Orthoptera Acrididae). Atti Acc. Rov. Agiati, a. 249, ser. VII, vol. IX, B, pp 19–35

Gerhardt HC (1991) Female mate choice in treefrogs: static and dynamic acoustic criteria. Anim Behav 42:615–635

Hall WP, Selander RK (1972) Hybridization of karyotypically differentiated populations in the Sceloporus grammicus complex (Iguanidae). Evolution 27:226–242

Hamilton WD, Zuk M (1982) Heritable true fitness and bright birds: a role for parasites? Science 218:384–387

Harrison RG (1986) Pattern and process in a narrow hybrid zone. Heredity 56:337–349

Harrison RG (1993) Hybrids and hybrid zones: historical perspective. In: Harrison RG (ed) Hybrid zones and the evolutionary process. Oxford University Press, Oxford, pp 3–12

Harrison RG, Rand DM (1989) Mosaic hybrid zones and the nature of species boundaries. In: Harrison RG (ed) Hybrid zones and evolutionary process. Oxford University Press, Oxford, pp 46–69

Harz K (1957) Die Geradflügler Mitteleuropas. G. Fischer, Jena

Helversen D von, Helversen O von (1975) Verhaltensgenetische Untersuchungen am akustischen Kommunikationssystem der Feldheuschrecken (Orthoptera, Acrididae). J Comp Physiol 104:273–323

Helversen D von, Helversen O von (1983) Species recognition and acoustic localisation in acridid grasshoppers: a behavioural approach. In: Huber F, Markl H (eds) Neuroethology and behavioural physiology. Springer, Berlin Heidelberg New York, pp 95–107

Helversen O von (1986) Gesang und Balz bei Feldheuschrecken der Chorthippus albomarginatus-Gruppe (Orthoptera: Acrididae). Zool Jahrb Syst 113:319–342

Helversen O von, Elsner N (1977) The stridulatory movements of acridid grasshoppers recorded with an opto-electronic device. J Comp Physiol 122:53–64

Helversen O von, Helversen D von (1994) Forces driving coevolution of song and song recognition in grasshoppers. In: Schildberger K, Elsner N (eds) Neural basis of behavioural adaptations. Fortschr Zool 39:253–284

Hewitt GM, Nichols RA, Barton NH (1987) Homogamy in a hybrid zone in the alpine grasshopper Podisma pedestris. Heredity 59:457–466

Ingrisch S (1995) Evolution of the Chorthippus bigutulus group (Orthoptera, Acrididae) in the Alps, based on morphology and stridulation. Rev Suisse Zool 100:475–535

Jackson JF (1972) The phenetics and ecology of a narrow hybrid zone. Evolution 27:58–68

Jiggins CD, Mallet J (2000) Bimodal hybrid zones and speciation. Trends Ecol Evol 15:250–255

Kirkpatrick M, Ryan MJ (1991) The evolution of mating preferences and the paradox of the lek. Nature 350:33–38

La Greca M, Messina A (1975) Il genere Chorthippus s. str. in Grecia, con descrizione di una nuova specie. Animalia 2:67–77

MacCallum CJ, Nürnberger B, Barton NH, Szymura JM (1998) Habitat preference in Bombina hybrid zone in Croatia. Evolution 52:227–239

Maynard Smith JM (1991) Theories of sexual selection. Trends Ecol Evol 6:146–151

McMillan WO, Weigt LA, Palumbi SR (1999) Colour pattern evolution, assortative mating, and genetic differentiation in brightly coloured butterfly fishes (Chaetodontidae). Evolution 53:247–260

Perdeck AC (1957) The isolating value of specific song patterns in two sibling species of grasshoppers (Chorthippus brunneus Thunb. and C. biguttulus L.). Brill, Leiden

Ragge D (1981) An unusual song pattern in the Chorthippus mollis group (Orthoptera: Acrididae): local variant or hybrid population? J Nat Hist 15:995–1002

Ragge D (1984) The Le Broc grasshopper population: further evidence of its hybrid status (Orthoptera: Acrididae). J Nat Hist 18:921–925

Ragge DR, Reynolds WJ (1998) The songs of the grasshoppers and crickets of western Europe. Harley Books, London

Ritchie MG, Phillips SDF (1998) The genetics of sexual isolation. In: Howard DJ, Berlocher H (eds) Endless forms—species and speciation. Oxford University Press, New York, pp 291–308

Searcy WA, Andersson M (1986) Sexual selection and the evolution of song. Annu Rev Syst 17:507–533

Stumpner A, Helversen O von (1994) Song production and song recognition in a group of sibling grasshopper species (Chorthippus dorsatus, Ch. dichrous and Ch. loratus: Orthoptera, Acrididae). Bioacoustics 6:1-23

Vedenina VY, Zhantiev RD (1990) Recognition of acoustic signals in sympatric species of grasshoppers (in Russian). Zool Zh 69 (2):36–45

Vedenina VY, Heinrich R, Elsner N (2001) Pharmacological activation of stridulation in the grasshopper Chorthippus albomarginatus (Orthoptera: Gomphocerinae) (in Russian). J Evol Biochem Phys 37: 293–300

West-Eberhard MJ (1983) Sexual selection, social competition and speciation. Q Rev Biol 58:155–183

Zahavi A (1987) The theory of signal selection and some of its implications. In: Delfino VP (ed) Proceedings of international symposium on biology and evolution. Adriatrica Editrica, Bari, pp 305–325
Acknowledgements
We thank Nikolai Mugue, Boris Medvedovskii, Ruth Walther, Tatjana Troshina and Oleg Podgornyi for their help in grasshopper collection in Ukraine. Kirill M. Orci supplied us with grasshoppers from Hungary. Our thanks to Maria Bauer and Wolfram Schulze for technical help in recording and preparation of the figures and video-clips, and to Dagmar von Helversen, Frieder Mayer, Nikolai Mugue and Fer Willemse for critical and helpful discussions. We are much indebted to Roger Butlin and three anonymous reviewers for comments that improved the manuscript. The research was supported by grants from INTAS, DAAD and the Alexander von Humboldt Foundation.
Additional information
Communicated by D. Gwynne
About this article
Cite this article
Vedenina, V.Y., von Helversen, O. Complex courtship in a bimodal grasshopper hybrid zone. Behav Ecol Sociobiol 54, 44–54 (2003) doi:10.1007/s00265-003-0595-2
Received:

Revised:

Accepted:

Published:

Issue Date:
Keywords
Bimodal hybrid zone

Courtship song

Stridulatory pattern

Temporal song parameters

Sexual selection