Abstract
Objective
To verify whether the pedicle screw placement (PSP) skills of young surgeons receiving immersive virtual reality surgical simulator (IVRSS) training could be improved effectively and whether the IVRSS-PSP training mode could produce a real clinical value in clinical surgery.
Methods
Twenty-four young surgeons were equally randomized to a VR group and a NON-VR group. Participants in VR group received IVRSS-PSP training, and those in NON-VR group used the conventional model of observing a spinal model first and then watching a teaching video of spinal surgery for 40 minutes x five. The nailing outcome of the participants before and after training was evaluated by statistical analysis in both groups.
Results
Post-training data analysis showed that the success rate and accuracy rate of screw placement in VR group and NON-VR group were 82.9% and 69.6% vs. 74.2% and 55.4%, respectively, showing statistically significant differences between the two groups by chi-square test (P < 0.05).
Conclusion
The present study demonstrated that IVRSS-PSP was helpful to improve the success rate of PSP for young surgeons, and may provide valuable reference for PSP training of young surgeons. In addition, our study also showed a promising potential of the VR technology in surgical simulation training.
This is a preview of subscription content, log in to check access.
Access options
Buy single article
Instant access to the full article PDF.
US$ 39.95
Price includes VAT for USA
Subscribe to journal
Immediate online access to all issues from 2019. Subscription will auto renew annually.
US$ 199
This is the net price. Taxes to be calculated in checkout.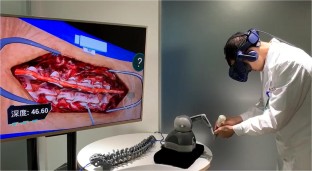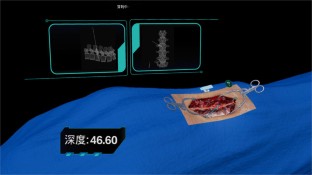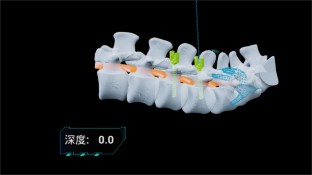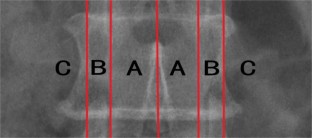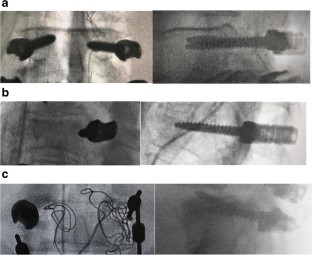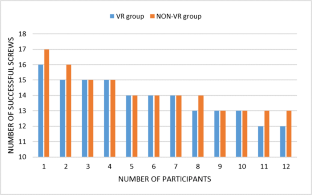 Abbreviations
IVRSS:

Immersive virtual reality surgical simulator

PSP:

Pedicle screw placement

VR:

Virtual reality
References
1.

Gorman PJ, Meier AH, Rawn C, Krummel TM (2000) The future of medical education is no longer blood and guts, it is bits and bytes. Am J Surg 180(5):353–356

2.

Issenberg SB, McGaghie WC, Hart IR et al (1999) Simulation technology for health care professional skills training and assessment. Jama. 282(9):861–866

3.

Risucci D, Cohen JA, Garbus JE, Goldstein M, Cohen MG (2001) The effects of practice and instruction on speed and accuracy during resident acquisition of simulated laparoscopic skills. Curr Surg 58(2):230–235

4.

Haluck RS, Krummel TM. Computers and virtual reality for surgical education in the 21st century. Archives of surgery (Chicago, Ill : 1960). 2000;135(7):786–92

5.

Marescaux J, Clement JM, Tassetti V et al (1998) Virtual reality applied to hepatic surgery simulation: the next revolution. Ann Surg 228(5):627–634

6.

Yang M, Zhao Q, Hao D, Chang Z, Liu S, Yin X (2019) Comparison of clinical results between novel percutaneous pedicle screw and traditional open pedicle screw fixation for thoracolumbar fractures without neurological deficit. Int Orthop 43(7):1749–1754

7.

Rahyussalim AJ, Saleh I, Armin MF, Kurniawati T, Safri AY (2016) Pedicle screw position changing policy for nerve injury problems during screw insertion on thoracolumbar compression fractures. Int J Surg Case Rep 28:155–160

8.

Gao S, Lv Z. Robot-assisted and conventional freehand pedicle screw placement: a systematic review and meta-analysis of randomized controlled trials. 2018;27(4):921–30

9.

Hlubek RJ, Bohl MA, Cole TS et al (2018) Safety and accuracy of freehand versus navigated C2 pars or pedicle screw placement. The spine journal: official journal of the North American Spine Society 18(8):1374–1381

10.

Xin B, Chen G, Wang Y et al (2018) The efficacy of immersive virtual reality surgical simulator training for pedicle screw placement: a randomized double-blind controlled trial. World neurosurgery

11.

Ferrick MR, Kowalski JM, Simmons ED Jr (1997) Reliability of roentgenogram evaluation of pedicle screw position. Spine. 22(11):1249–1252 discussion 53

12.

Schatlo B, Molliqaj G, Cuvinciuc V, Kotowski M, Schaller K, Tessitore E (2014) Safety and accuracy of robot-assisted versus fluoroscopy-guided pedicle screw insertion for degenerative diseases of the lumbar spine: a matched cohort comparison. J Neurosurg Spine 20(6):636–643

13.

Miyamoto H, Ikeda T, Akagi M (2019) Radiologic analysis of pedicle marker for the cervical spine. J Orthop Sci 24(1):24–29

14.

Karapinar L, Erel N, Ozturk H, Altay T, Kaya A (2008) Pedicle screw placement with a free hand technique in thoracolumbar spine: is it safe? J Spinal Disord Tech 21(1):63–67

15.

Kim YJ, Lenke LG, Bridwell KH, Cho YS, Riew KD (2004) Free hand pedicle screw placement in the thoracic spine: is it safe? Spine. 29(3):333–342 discussion 42

16.

Kotil K, Bilge T (2008) Accuracy of pedicle and mass screw placement in the spine without using fluoroscopy: a prospective clinical study. Spine J 8(4):591–596

17.

Theologou M, Theologou T, Zevgaridis D, Skoulios N, Matejic S, Tsonidis C (2017) Pedicle screw placement accuracy impact and comparison between grading systems. Surg Neurol Int 8:131

18.

Newell R, Esfandiari H, Anglin C, Bernard R, Street J, Hodgson AJ (2018) An intraoperative fluoroscopic method to accurately measure the post-implantation position of pedicle screws. Int J Comput Assist Radiol Surg 13(8):1257–1267

19.

Dusad T, Kundnani V, Dutta S, Patel A, Mehta G, Singh M (2018) Comparative prospective study reporting intraoperative parameters, pedicle screw perforation, and radiation exposure in navigation-guided versus non-navigated fluoroscopy-assisted minimal invasive transforaminal lumbar interbody fusion. Asian Spine J 12(2):309–316

20.

Sugand K, Akhtar K, Khatri C, Cobb J, Gupte C (2015) Training effect of a virtual reality haptics-enabled dynamic hip screw simulator. Acta Orthop 86(6):695–701

21.

Thomsen AS, Bach-Holm D, Kjaerbo H et al (2017) Operating room performance improves after proficiency-based virtual reality cataract surgery training. Ophthalmology. 124(4):524–531

22.

Hou Y, Lin Y, Shi J, Chen H, Yuan W. Effectiveness of the thoracic pedicle screw placement using the virtual surgical training system: a cadaver study. Operative neurosurgery (Hagerstown, Md). 2018;15(6):677–85
Ethics declarations
The research plan was approved by the ethics committee of our hospital; this article does not contain any studies with human participants or animals performed by any of the authors. The experiment was conducted with relevant guidelines and regulations, and all the participants singed informed consent. The manuscript submitted does not contain information about medical device(s)/drugs. No funds were received in support of this work. No relevant financial activities outside the submitted work. We declare that we have no conflict of interest.
Additional information
Publisher's note
Springer Nature remains neutral with regard to jurisdictional claims in published maps and institutional affiliations.
About this article
Cite this article
Xin, B., Huang, X., Wan, W. et al. The efficacy of immersive virtual reality surgical simulator training for pedicle screw placement: a randomized double-blind controlled trial. International Orthopaedics (SICOT) (2020). https://doi.org/10.1007/s00264-020-04488-y
Received:

Accepted:

Published:
Keywords
Virtual reality

Pedicle screw instrumentation

Immersive virtual reality surgical simulator

Pedicle screw placement

Clinical study