Abstract
Purpose
Proximal humerus is a common site for ABC and frequently associated with varus deformity that limits shoulder abduction. A prospective study was conducted to evaluate the use of intramedullary non-vascularised autogenous fibular strut graft for reconstruction without internal fixation.
Methods
A total of 20 patients (12 girls, 8 boys) were managed for proximal humeral ABC with varus deformity by extended curettage, osteotomy, intramedullary fibular graft and composite bone substitute. Their ages ranged from 10 to 17 years (average, 13.3 years). The lesion was juxtaphyseal in 16 patients and metaphyseal in 4. All cysts were active and centrally located type 2. The modified Enneking scoring system was used for final functional evaluation. Radiological assessment was done for the extent of defect healing, incorporation of the fibula and correction of the deformity.
Results
After a mean follow-up of 41.2 months (range, 24–74) most of patients were satisfied and resumed daily activities without pain and with good range of shoulder movement. One patient complained of shoulder pain 10 months after surgery and was attributed to local recurrence. Limitation of recreational activity was experienced by one patient. There were no cases of deep infection, nerve deficit or pathological fracture. No cases of failed healing or incorporation of the fibula was detected. The improved shoulder abduction was closely related to the mean correction of the neck shaft angle.
Conclusions
The technique is proved to be effective in controlling disease, correcting deformity and improving function.
This is a preview of subscription content, log in to check access.
We're sorry, something doesn't seem to be working properly.
Please try refreshing the page. If that doesn't work, please contact support so we can address the problem.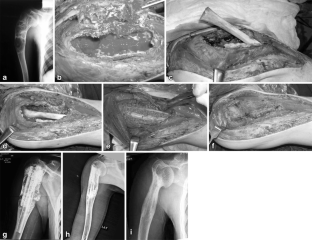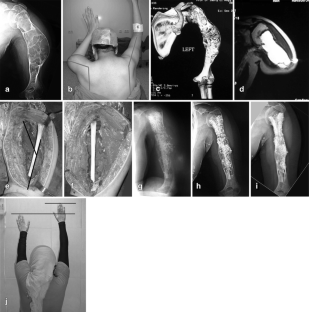 References
1.

Cottalorda J, Kohler R, Sales de Gauzy J, Chotel F, Mazda K, Lefort G, Louahem D, Bourelle S, Dimeglio A (2004) Epidemiology of aneurysmal bone cyst in childrn: a multicenter study and literature review. J Pediatr Orthop B 13:389–394

2.

Martinez V, Sissons HA (1988) Aneurysmal bone cyst: a review of 123 cases including primary lesions and those secondary to other bone pathology. Cancer 61:2291–2304

3.

Cottalorda J, Bourelle S (2007) Modern concepts of primary aneurysmal bone cyst. Arch Orthop Trauma Surg 127:105–114

4.

Rapp TB, Ward JP, Alaia MJ (2012) Aneurysmal bone cyst: review article. J Am Acad Orthop Surg 20:233–241

5.

Varshney MK, Rastogi S, Khan SA, Trikha V (2010) Is sclerotherapy better than intralesional excision for treating aneurysmal bone cysts? Clin Orthop Relat Res 468(6):1649–1659

6.

Topouchian V, Mazda K, Hamze B, Laredo JD, Pennecot GF (2004) Aneurysmal bone cysts in children: complications of fibrosing agent injection. Radiology 232(2):522–526

7.

Peraud A, Drake JM, Armstrong D, Hedden D, Babyn P, Wilson G (2004) Fatal ethibloc embolization of vertebrobasilar system following percutaneous injection into aneurysmal bone cyst of the second cervical vertebra. AJNR Am J Neuroradiol 25(6):1116–1120

8.

Rossi G, Rimondi E, Bartalena T, Gerardi A, Alberghini M, Staals EL, Errani C, Bianchi G, Toscano A, Mercuri M, Vanel D (2010) Selective arterial embolization of 36 aneurysmal bone cysts of the skeleton with N-2-butyl cyanoacrylate. Skelet Radiol 39:161–167

9.

Mavrogenis AF, Rossi G, Rimondi E, Ruggieri P (2011) Aneurysmal bone cyst of the acromion treated by selective arterial embolization. J Pediatr Orthop B 20(5):354–358

10.

Rossi G, Mavrogenis AF, Papagelopoulos PJ, Rimondi E, Ruggieri P (2012) Successful treatment of aggressive aneurysmal bone cyst of the pelvis with serial embolization. Orthopedics 35(6):e963–e968

11.

Mavrogenis AF, Angelini A, Rossi G, Rimondi E, Guerra G, Ruggieri P (2014) Successful NBCA embolization of a T2 aneurysmal bone cyst. Acta Orthop Belg 80:126–131

12.

Marcove RC, Sheth DS, Takemoto S, Healey JH (1995) The treatment of aneurysmal bone cyst. Clin Orthop Relat Res 311:157–163

13.

Schreuder HW, Veth RP, Pruszczynski M, Lemmens JA, Koops HS, Molenaar WM (1997) Aneurysmal bone cysts treated by curettage, cryotherapy and bone grafting. J Bone Joint Surg (Br) 79:20–25

14.

Ramirez AR, Stanton RP (2002) Aneurysmal bone cyst in 29 children. J Pediatr Orthop 22:533–539

15.

Cottalorda J, Kohler R, Chotel F, de Gauzy JS, Lefort G, Louahem D, Bourelle S, Dimeglio A (2005) Recurrence of aneurysmal bone cysts in young children: a multicentre study. J Pediatr Orthop B 4(3):212–218

16.

Flont P, Kolacinska-Flont M, Niedzielski K (2013) A comparison of cyst wall curettage and en bloc excision in the treatment of aneurysmal bone cysts. World J Surg Oncol 11:109. doi:10.1186/1477-7819-11-109

17.

Dormans JP, Hanna BG, Johnston DR, Khurana JS (2004) Surgical treatment and recurrence rate of aneurysmal bone cysts in children. Clin Orthop Relat Res 421:205–211

18.

Cimmings JE, Smith RA, Heck RK Jr (2010) Argon beam coagulator as adjuvant treatment after curettage of aneurysmal bone cysts. Clin Orthop Relat Res 468:231–23

19.

Schindler OS, Cannon SR, Briggs TWR, Blunn GW (2008) Composite ceramic bone graft substitute in the treatment of locally aggressive benign bone tumors. J Orthop Surg 16(1):66–74

20.

Yanguizawa M, Taberner GS, Aihara AY, Yamaguchi CK, Guimaraes MC, Rosenfeld A, Fernandes JL, Fernandes ARC (2008) Imaging of growth plate injuries. Radiol Bras 41(3):199–204

21.

Nascimento D, Suchard G, Hatem M, de Abreu A (2014) The role of magnetic resonance imaging in the evaluation of bone tumors and tumor-like lesions. Insights Imaging 5:419–440

22.

Capanna R, Bettelli G, Biagini R, Ruggieri P, Bertoni F, Campanacci M (1985) Aneurysmal bone cysts of long bones. Ital J Orthop Traumatol 11:409–417

23.

Enneking WF (1986) A system of staging musculoskeletal neoplasms. Clin Orthop Relat Res 204:9–24

24.

Enneking WF, Duncham W, Gebhardt MC, Malawer M, Pritchard DJ (1993) A system for the functional evaluation of reconstructive procedures after surgical treatment of tumors of the musculoskeletal system. Clin Orthop Relat Res 286:241–246

25.

Shih HN, Shih LY, Cheng CY, Hsu KY, Chang CH (2002) Reconstructing humerus defects after tumor resection using an intra-medullary cortical allograft strut. Chang Gung Med J 25(10):656–662

26.

Mankin HJ, Hornicek FJ, Ortiz-Cruz E, Villafuerte J, Gebhardt MC (2005) Aneurysmal bone cyst: a review of 150 patients. J Clin Oncol 23:6756–6762

27.

Vergel De Dios AM, Bond JR, Shives TC, McLeod RA, Unni KK (1992) Aneurysmal bone cyst: a clinicopathological study of 238 cases. Cancer 69(12):2921–2931

28.

Glancy GL, Brugiori DJ, Eilet RE, Chang FM (1991) Autograft versus allograft for benign lesions in children. Clin Orthop Relat Res 262:28–33

29.

Grzegorzewski A, Pogonowicz E, Sibinski M, Marciniak M, Synder M (2010) Treatment of benign lesions of humerus with resection and non-vascularised, autologous fibular graft. Int Orthop 34:1267–1272

30.

Ghert M, Cotterjohn N, Manfrini M (2007) The use of free vascuralized fibular grafts in skeletal reconstruction for bone tumors in children. J Am Acad Orthop Surg 15(10):577–587

31.

Arai K, Toh S, Tsubo K, Nishikawa S, Narita S, Miura H (2002) Complications of vascularized fibula graft for reconstruction of long bones. Plast Reconstr Surg 109(7):2301–2306

32.

Guven M, Demirel M, Ozler T, Bassorgun IC, Ipek S, Kara S (2012) An aggressive aneurysmal bone cyst of the proximal humerus and related complications in a pediatric patient. Strat Traum Limb Recon 7:51–56

33.

Ozcanli H, Aydin AT, Yeter B, Akyildiz FF, Gurer EI (2008) A new technique for aneurysmal bone cysts of the proximal humerus: Cortical collapsing. Acta Orthop Traumatol Turc 42(3):161–165

34.

Wright TW, Miller GJ, Vander Griend RA, Wheeler D, Dell PC (1993) Reconstruction of the humerus with an intramedullary fibular graft: a clinical and biomechanical study. J Bone Joint Surg (Br) 75:804–807

35.

Lin PP, Brown C, Raymond AK, Deavers MT, Yasko AW (2008) Aneurysmal bone cysts recur at juxtaphyseal locations in skeletally immature patients. Clin Orthop Relat Res 466:722–728

36.

Abuhassan FO, Shannak A (2010) Non-vascularized fubular graft reconstruction after resection of giant aneurysmal bone cyst (ABC). Strat Trauma Limb Recon 5:149–154
Conflicts of interest
No benefits of any form have been or will be received from a commercial party related directly or indirectly to the subject of this manuscript.
Electronic supplementary material
Below is the link to the electronic supplementary material.
About this article
Cite this article
Mostafa, M.F., Fawzy, S.I. Fibular strut graft for humeral aneurysmal bone cyst with varus deformity. International Orthopaedics (SICOT) 39, 1391–1398 (2015). https://doi.org/10.1007/s00264-015-2746-2
Received:

Accepted:

Published:

Issue Date:
Keywords
Fibular strut

Aneurysmal

Varus deformity