Abstract
Purpose of the study
Adequate treatment of forearm nonunion should achieve both biological stimulation of the bone and mechanical stability. The use of bone graft could enhance the healing of a nonunion providing osteogenic, osteoconductive and osteoinductive stimulation and an optimal stability of the fixation. We retrospectively reviewed two cohorts of patients affected by forearm nonunion and treated with plate and opposite bone graft to determine whether the use of autograft versus allograft differs in terms of (1) rate of healing of the nonunion and (2) time of healing.
Materials and methods
Thirty-four patients were treated for aseptic forearm nonunion with cortical graft strut with opposite plate and intercalary graft in case of segmental bone defect. In 20 patients an autograft harvest from the fibula (group A) and in 14 (group B) an allograft provided by the bone bank of our institution were used.
Results
All the nonunions healed in a mean of four months in both groups, ranging from two to 12 months in group A and from three to ten months in group B. At the latest follow up forearm function and pain were satisfactory in both groups.
Conclusion
The use of plate and opposite bone graft demonstrated to be effective in promoting the healing of forearm nonunions, without significant differences in terms of rate and time of healing in the two groups. Considering the higher surgical time and the comorbidity of the donor site, if a bone bank is available, we suggest to use homologous cortical bone strut graft with opposite plate and screw fixation for the treatment of aseptic forearm nonunion rather than autograft.
This is a preview of subscription content, log in to check access.
Access options
Buy single article
Instant unlimited access to the full article PDF.
US$ 39.95
Price includes VAT for USA
Subscribe to journal
Immediate online access to all issues from 2019. Subscription will auto renew annually.
US$ 199
This is the net price. Taxes to be calculated in checkout.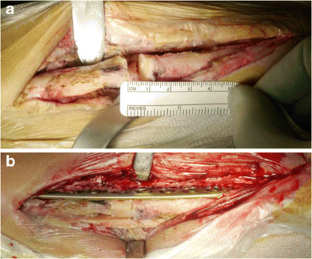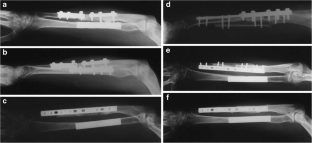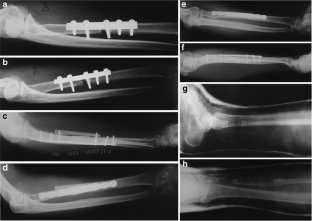 References
1.

Kloen P, Buijze GA, Ring D (2012) Management of forearm nonunions: current concepts. Strateg Trauma Limb Reconstr 7:1–11. doi:10.1007/s11751-011-0125-0

2.

Richard MJ, Ruch DS, Aldridge JM (2007) Malunions and nonunions of the forearm. Hand Clin 23:235–243. doi:10.1016/j.hcl.2007.02.005, vii

3.

Naimark A, Miller K, Segal D, Kossoff J (1981) Nonunion. Skelet Radiol 6:21–25

4.

Giannoudis PV, Einhorn TA, Marsh D (2007) Fracture healing: the diamond concept. Injury 38(Suppl 4):S3–S6

5.

Hernigou P (2015) Bone transplantation and tissue engineering. Part II: bone graft and osteogenesis in the seventeenth, eighteenth and nineteenth centuries (Duhamel, Haller, Ollier and MacEwen). Int Orthop 39:193–204. doi:10.1007/s00264-014-2578-5

6.

Finkemeier CG (2002) Bone-grafting and bone-graft substitutes. J Bone Joint Surg Am 84-A:454–464

7.

Hinsenkamp M, Collard J-F (2015) Growth factors in orthopaedic surgery: demineralized bone matrix versus recombinant bone morphogenetic proteins. Int Orthop 39:137–147. doi:10.1007/s00264-014-2562-0

8.

Khan SN, Cammisa FP, Sandhu HS et al (2005) The biology of bone grafting. J Am Acad Orthop Surg 13:77–86

9.

Precheur HV (2007) Bone graft materials. Dent Clin N Am 51:729–746. doi:10.1016/j.cden.2007.03.004, viii

10.

Nodzo SR, Kaplan NB, Hohman DW, Ritter CA (2014) A radiographic and clinical comparison of reamer-irrigator-aspirator versus iliac crest bone graft in ankle arthrodesis. Int Orthop 38:1199–1203. doi:10.1007/s00264-014-2348-4

11.

Stevenson S (1998) Enhancement of fracture healing with autogenous and allogeneic bone grafts. Clin Orthop 355(Suppl):239–246

12.

Faldini C, Miscione MT, Acri F et al (2011) Use of homologous bone graft in the treatment of aseptic forearm nonunion. Musculoskelet Surg 95:31–35. doi:10.1007/s12306-011-0117-8

13.

Thompson JE (1918) Anatomical methods of approach in operations on the long bones of the extremities. Ann Surg 68:309–329

14.

Szabo RM, Weber SC (1988) Comminuted intraarticular fractures of the distal radius. Clin Orthop 230:39–48

15.

Bronstein AJ, Trumble TE, Tencer AF (1997) The effects of distal radius fracture malalignment on forearm rotation: a cadaveric study. J Hand Surg 22:258–262. doi:10.1016/S0363-5023(97)80160-8

16.

Anderson LD, Sisk D, Tooms RE, Park WI (1975) Compression-plate fixation in acute diaphyseal fractures of the radius and ulna. J Bone Joint Surg Am 57:287–297

17.

Chapman MW, Gordon JE, Zissimos AG (1989) Compression-plate fixation of acute fractures of the diaphyses of the radius and ulna. J Bone Joint Surg Am 71:159–169

18.

Kloen P, Wiggers JK, Buijze GA (2010) Treatment of diaphyseal non-unions of the ulna and radius. Arch Orthop Trauma Surg 130:1439–1445. doi:10.1007/s00402-010-1071-x

19.

Tzioupis C, Giannoudis PV (2007) Prevalence of long-bone non-unions. Injury 38(Suppl 2):S3–S9

20.

Kanakaris NK, Paliobeis C, Nlanidakis N, Giannoudis PV (2007) Biological enhancement of tibial diaphyseal aseptic non-unions: the efficacy of autologous bone grafting, BMPs and reaming by-products. Injury 38(Suppl 2):S65–S75

21.

Christensen NO (1973) Küntscher intramedullary reaming and nail fixation for non-union of fracture of the femur and the tibia. J Bone Joint Surg (Br) 55-B:312–318

22.

Dabezies EJ, Stewart WE, Goodman FG, Deffer PA (1971) Management of segmental defects of the radius and ulna. J Trauma 11:778–788

23.

Grace TG, Eversmann WW (1980) The management of segmental bone loss associated with forearm fractures. J Bone Joint Surg Am 62:1150–1155

24.

Han CS, Wood MB, Bishop AT, Cooney WP (1992) Vascularized bone transfer. J Bone Joint Surg Am 74:1441–1449

25.

Hong G, Cong-Feng L, Hui-Peng S et al (2006) Treatment of diaphyseal forearm nonunions with interlocking intramedullary nails. Clin Orthop 450:186–192. doi:10.1097/01.blo.0000214444.87645.75

26.

Ilizarov GA, Kaplunov AG, Degtiarev VE, Lediaev VI (1972) Treatment of pseudarthroses and ununited fractures, complicated by purulent infection, by the method of compression-distraction osteosynthesis. Ortop Travmatol Protez 33:10–14

27.

Jupiter JB (1990) Complex non-union of the humeral diaphysis. Treatment with a medial approach, an anterior plate, and a vascularized fibular graft. J Bone Joint Surg Am 72:701–707

28.

Moroni A, Caja VL, Sabato C et al (1995) Composite bone grafting and plate fixation for the treatment of nonunions of the forearm with segmental bone loss: a report of eight cases. J Orthop Trauma 9:419–426

29.

Moroni A, Rollo G, Guzzardella M, Zinghi G (1997) Surgical treatment of isolated forearm non-union with segmental bone loss. Injury 28:497–504

30.

Nicoll EA (1956) The treatment of gaps in long bones by cancellous insert grafts. J Bone Joint Surg (Br) 38-B:70–82

31.

Ring D, Allende C, Jafarnia K et al (2004) Ununited diaphyseal forearm fractures with segmental defects: plate fixation and autogenous cancellous bone-grafting. J Bone Joint Surg Am 86-A:2440–2445

32.

Scaglietti O, Stringa G, Mizzau M (1965) Bone grafting in nonunion of the forearm. Clin Orthop 43:65–76

33.

Shelton WR, Sage FP (1981) Modified Nicoll-graft treatment of gap non-unions in the upper extremity. J Bone Joint Surg 63:226–231

34.

Spira E (1954) Bridging of bone defects in the forearm with iliac graft combined with intramedullary nailing. J Bone Joint Surg (Br) 36-B:642–646

35.

Williamson DM, Copeland SA, Landi A (1989) Pseudarthrosis of the radius treated by free vascularised bone graft. J Hand Surg Br 14:221–225

36.

Sen MK, Miclau T (2007) Autologous iliac crest bone graft: should it still be the gold standard for treating nonunions? Injury 38(Suppl 1):S75–S80. doi:10.1016/j.injury.2007.02.012
Electronic supplementary material
Below is the link to the electronic supplementary material.
About this article
Cite this article
Faldini, C., Traina, F., Perna, F. et al. Surgical treatment of aseptic forearm nonunion with plate and opposite bone graft strut. Autograft or allograft?. International Orthopaedics (SICOT) 39, 1343–1349 (2015) doi:10.1007/s00264-015-2718-6
Received:

Accepted:

Published:

Issue Date:
Keywords
Forearm nonunion

Aseptic nonunion

Surgical treatment

Bone graft