Abstract
Purpose
Primary malignant bone tumours and soft tissue sarcomas of the chest wall are exceedingly rare entities. The aim of this study was a retrospective two-institutional analysis of surgical therapy with respect to the kind and amount of the resection performed, the type of reconstruction and the oncological outcome.
Methods
Between September 1999 and August 2010 31 patients (seven women and 24 men) were treated due to a primary malignant bone tumour or soft tissue sarcoma of the chest wall in two centres. Eight low-grade sarcomas were noted as well as 23 highly malignant sarcomas. The tumours originated from the sternum in six cases, from the ribs in 12 cases, from the soft tissues of the thoracic wall in 11 cases and from a vertebral body and the clavicle in one case each.
Results
In 26 cases wide resection margins were achieved, while four were intralesional and one was marginal. In all 31 cases the defect of the chest wall was reconstructed using mesh grafts. At a mean follow-up of 51 months 20 patients were without evidence of disease, three were alive with disease, seven patients had died and one patient was lost to follow-up. One recurrence was detected after wide resection of a malignant triton tumour.
Conclusions
Primary malignant bone tumour or soft tissue sarcoma of the chest wall should be treated according to the same surgical oncological principles as established for the extremities. Reconstruction with mesh grafts and musculocutaneous flaps is associated with a low morbidity.
This is a preview of subscription content, log in to check access.
Access options
Buy single article
Instant unlimited access to the full article PDF.
US$ 39.95
Price includes VAT for USA
Subscribe to journal
Immediate online access to all issues from 2019. Subscription will auto renew annually.
US$ 199
This is the net price. Taxes to be calculated in checkout.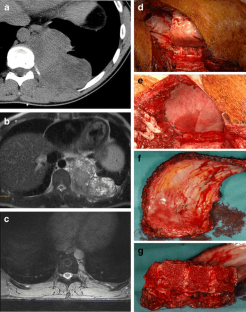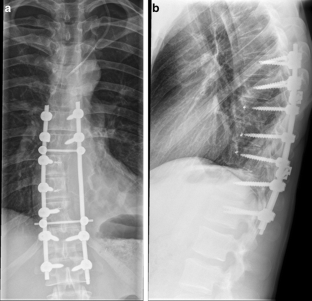 References
1.

McAfee MK, Pairolero PC, Bergstralh EJ, Piehler JM, Unni KK, McLeod RA, Bernatz PE, Payne WS (1985) Chondrosarcoma of the chest wall: factors affecting survival. Ann Thorac Surg 40(6):535–541

2.

van Geel AN, Wouters MW, Lans TE, Schmitz PI, Verhoef C (2011) Chest wall resection for adult soft tissue sarcomas and chondrosarcomas: analysis of prognostic factors. World J Surg 35(1):63–69

3.

Walsh GL, Davis BM, Swisher SG, Vaporciyan AA, Smythe WR, Willis-Merriman K, Roth JA, Putnam JB Jr (2001) A single-institutional, multidisciplinary approach to primary sarcomas involving the chest wall requiring full-thickness resections. J Thorac Cardiovasc Surg 121(1):48–60

4.

Widhe B, Bauer HC, Scandinavian Sarcoma Group (2009) Surgical treatment is decisive for outcome in chondrosarcoma of the chest wall: a population-based Scandinavian Sarcoma Group study of 106 patients. J Thorac Cardiovasc Surg 137(3):610–614

5.

Widhe B, Bauer HC (2011) Diagnostic difficulties and delays with chest wall chondrosarcoma: a Swedish population based Scandinavian Sarcoma Group study of 106 patients. Acta Oncol 50(3):435–440

6.

Burt M, Fulton M, Wessner-Dunlap S, Karpeh M, Huvos AG, Bains MS, Martini N, McCormack PM, Rusch VW, Ginsberg RJ (1992) Primary bony and cartilaginous sarcomas of chest wall: results of therapy. Ann Thorac Surg 54(2):226–232

7.

King RM, Pairolero PC, Trastek VF, Piehler JM, Payne WS, Bernatz PE (1986) Primary chest wall tumors: factors affecting survival. Ann Thorac Surg 41(6):597–601

8.

Rascoe PA, Reznik SI, Smythe WR (2011) Chondrosarcoma of the thorax. Sarcoma 2011:342879

9.

Burt M (1994) Primary malignant tumors of the chest wall. The Memorial Sloan-Kettering Cancer Center experience. Chest Surg Clin N Am 4(1):137–154

10.

Graeber GM, Snyder RJ, Fleming AW, Head HD, Lough FC, Parker JS, Zajtchuk R, Brott WH (1982) Initial and long-term results in the management of primary chest wall neoplasms. Ann Thorac Surg 34(6):664–673

11.

Smith SE, Keshavjee S (2010) Primary chest wall tumors. Thorac Surg Clin 20(4):495–507

12.

Kucharczuk JC (2012) Chest wall sarcomas and induction therapy. Thorac Surg Clin 22(1):77–81, vii

13.

Berquist TH, Sheedy PF 2nd, Stanson AW, Brown LR, Payne WS (1978) Systemic artery-to-pulmonary vein fistula in osteogenic sarcoma of the chest wall. Cardiovasc Radiol 1(4):261–263

14.

Coonar AS, Qureshi N, Smith I, Wells FC, Reisberg E, Wihlm JM (2009) A novel titanium rib bridge system for chest wall reconstruction. Ann Thorac Surg 87(5):e46–e48

15.

Briccoli A, De Paolis M, Campanacci L, Mercuri M, Bertoni F, Lari S, Balladelli A, Rocca M (2002) Chondrosarcoma of the chest wall: a clinical analysis. Surg Today 32(4):291–296

16.

Fong YC, Pairolero PC, Sim FH, Cha SS, Blanchard CL, Scully SP (2004) Chondrosarcoma of the chest wall: a retrospective clinical analysis. Clin Orthop Relat Res 427:184–189

17.

Sabanathan S, Shah R, Mearns AJ (1997) Surgical treatment of primary malignant chest wall tumours. Eur J Cardiothorac Surg 11(6):1011–1016

18.

Yang JC, Chang AE, Baker AR, Sindelar WF, Danforth DN, Topalian SL, DeLaney T, Glatstein E, Steinberg SM, Merino MJ et al (1998) Randomized prospective study of the benefit of adjuvant radiation therapy in the treatment of soft tissue sarcomas of the extremity. J Clin Oncol 16(1):197–203
Conflict of interest
The authors declare that they have no conflict of interest.
About this article
Cite this article
Friesenbichler, J., Leithner, A., Maurer-Ertl, W. et al. Surgical therapy of primary malignant bone tumours and soft tissue sarcomas of the chest wall: a two-institutional experience. International Orthopaedics (SICOT) 38, 1235–1240 (2014). https://doi.org/10.1007/s00264-014-2304-3
Received:

Accepted:

Published:

Issue Date:
Keywords
Sarcoma

Thoracic wall

Mesh graft

Surgical margin