Abstract
Purpose
Tumours of the calcaneus are exceedingly rare and the correct diagnosis is often missed. X-rays are the standard clinical examination tool and therefore we wanted to discover whether X-rays alone were a sufficient diagnostic tool for these tumours. Diard's classification was applied to define whether different types of lesions were characteristically distributed in the bone and in addition we analysed whether type and/or duration of symptoms were possible indicators of malignancy.
Methods
Ninety-two patients' files (59 men and 33 women) were retrospectively reviewed. Seventy-five patients with a mean age at surgery of 28 years (range five to 78) were surgically treated. Parameters analysed were sex, age at surgery, side, type and duration of symptoms, tentative diagnosis, biopsy prior to surgery, operative procedure, recurrence rate, revision and localisation of the lesion according to Diard. For each lesion the first documented radiological diagnosis and—in cases of malignancy—Enneking's classification was applied.
Results
Discrepancies between the radiological and definitive histological diagnosis occurred in 38 (41 %) of 92 cases. In eight (osteosarcoma n = 5, Ewing's sarcoma n = 2, metastases n = 1) of 17 malignant cases radiological examination initially gave no evidence of malignancy, resulting in an unplanned excision ("whoops procedure") in three cases of osteosarcoma. Applying Diard's system trabecular area 6 (radiolucent area) was highly affected in 64 (80 %) of 80 investigated plain X-rays, whereas areas 1 and 5 were affected in nine (11 %) and 16 (20 %) cases only.
Conclusions
In each case of an osteolytic lesion of the calcaneus a malignant tumour must be ruled out, and thus preoperative plain X-rays in two planes alone are not sufficient and should therefore be followed by magnetic resonance imaging. Applying the Diard system different types of lesions are not characteristically distributed in the bone. Increasing pain for more than ten days without previous trauma should always justify further examinations.
This is a preview of subscription content, log in to check access.
Access options
Buy single article
Instant unlimited access to the full article PDF.
US$ 39.95
Price includes VAT for USA
Subscribe to journal
Immediate online access to all issues from 2019. Subscription will auto renew annually.
US$ 199
This is the net price. Taxes to be calculated in checkout.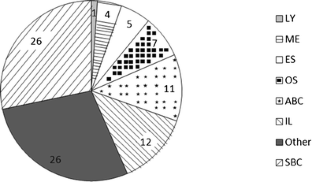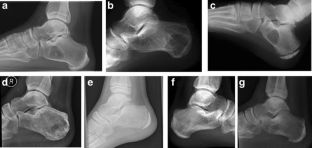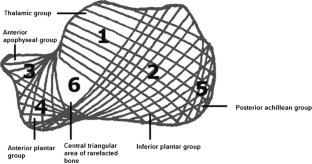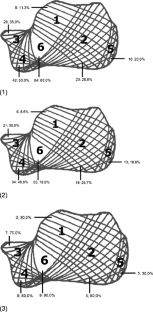 References
1.

Kilgore WB, Parrish WM (2005) Calcaneal tumors and tumor-like conditions. Foot Ankle Clin 10:541–565

2.

Pogoda P, Priemel M, Linhart W et al (2004) Clinical relevance of calcaneal bone cysts: a study of 50 cysts in 47 patients. Clin Orthop Relat Res 424:202–210

3.

Radl R, Leithner A, Machacek F et al (2004) Intraosseous lipoma: retrospective analysis of 29 patients. Int Orthop 28:374–378

4.

Adkins CD, Kitaoka HB, Seidl RK, Pritchard DJ (1997) Ewing's sarcoma of the foot. Clin Orthop Relat Res 343:173–182

5.

Biscaglia R, Gasbarrini A, Bohling T et al (1998) Osteosarcoma of the bones of the foot–an easily misdiagnosed malignant tumor. Mayo Clin Proc 73:842–847

6.

Windhager R, Kastner N, Leithner A (2006) Benigne Knochentumoren und tumorähnliche Läsionen. Monatsschr Kinderheilkd 154:20–31

7.

Diard F, Hauger O, Moinard M et al (2007) Pseudo-cysts, lipomas, infarcts and simple cysts of the calcaneus: are there different or related lesions? JBR-BTR 90:315–324

8.

Enneking WF (1986) A system of staging musculoskeletal neoplasms. Clin Orthop Relat Res 204:9–24

9.

Enneking WF, Spanier SS, Goodman MA (1980) A system for the surgical staging of musculoskeletal sarcoma. Clin Orthop Relat Res 153:106–120

10.

Milgram JW (1988) Intraosseous lipomas. A clinicopathologic study of 66 cases. Clin Orthop Relat Res 231:277–302

11.

Milgram JW (1988) Intraosseous lipomas: radiologic and pathologic manifestations. Radiology 167:155–160

12.

Leithner A, Bodo K, Scheipl S et al (2004) Two cases of calcaneal osteosarcomas presenting as aneurysmal bone cysts. Foot Ankle Int 25:815–818

13.

Leithner A, Scheipl S, Maurer-Ertl W et al (2007) Osteolytische Läsionen des Calcaneus: eine Serie von 18 Patienten. MOT 1:57–60

14.

Salzer-Kuntschik M, Brand G, Delling G (1983) Bestimmung des morphologischen Regressionsgrades nach Chemotherapie bei malignen Knochentumoren. Pathologe 4:135–141

15.

Marsh E, Egan H, Cave R, Long J, Abudu A, Grimer RJ (2011) Impact of whoops procedure on outcome of primary osteosarcoma. J Bone Joint Surg Br 93-B(SUPP III):316-a, 1

16.

Leithner A, Maurer-Ertl W, Windhager R (2009) Biopsy of bone and soft tissue tumours: hints and hazards. Recent Results Cancer Res 179:3–10

17.

Hanna SJ, Dasic D, Floyd A (2004) Simple bone cysts of the calcaneus: a report of five cases and a review of the literature. Foot Ankle Int 25:680–684

18.

Pogoda P, Priemel M, Catalá-Lehnen P et al (2004) Kalkaneuszysten: Differentialdiagnose und Therapie. Unfallchirurg 107:680–689

19.

Vergel De Dios AM, Bond JR, Shives TC et al (1992) Aneurysmal bone cyst. A clinicopathologic study of 238 cases. Cancer 69:2921–2931

20.

Grumbine NA, Clark GD (1986) Unicameral bone cyst in the calcaneus with pathologic fracture. A literature review and case report. J Am Podiatr Med Assoc 76:96–99

21.

Choong PF, Qureshi AA, Sim FH, Unni KK (1999) Osteosarcoma of the foot: a review of 52 patients at the Mayo Clinic. Acta Orthop Scand 70:361–364

22.

Tsuji Y, Kusuzaki K, Kanemitsu K et al (2000) Calcaneal osteosarcoma associated with Werner syndrome. A case report with mutation analysis. J Bone Joint Surg Am 82:1308–1313

23.

Wagner A, Venbrocks RA, Fuhrmann RA (2007) Chondrosarcoma of the calcaneus: amputation or resection with limb preservation: a case report. Foot Ankle Int 28:1090–1094

24.

Chou LB, Malawer MM (2007) Osteosarcoma of the calcaneus treated with prosthetic replacement with twelve years of followup: a case report. Foot Ankle Int 28:841–844

25.

Young PS, Bell SW, MacDuff EM, Mahendra A (2013) Primary osseous tumors of the hindfoot: why the delay in diagnosis and should we be concerned? Clin Orthop Relat Res 471(3):871–877

26.

Anninga JK, Picci P, Fiocco M, Kroon HMJA, Vanel D, Alberghini M et al (2012) Osteosarcoma of the hands and feet: a distinct clinico-pathological subgroup. Virchows Arch 462(1):109–120
About this article
Cite this article
Weger, C., Frings, A., Friesenbichler, J. et al. Osteolytic lesions of the calcaneus: results from a multicentre study. International Orthopaedics (SICOT) 37, 1851–1856 (2013). https://doi.org/10.1007/s00264-013-2042-y
Received:

Accepted:

Published:

Issue Date:
Keywords
Calcaneus

Osteolytic lesions

Malignancy

Diard system

Pain

Enneking classification