Abstract
Purpose
The aim of the study was to investigate outcome differences between female and male patients after implantation of low-contact-stress (LCS) mobile-bearing total knee prostheses at a minimum follow-up of five years with respect to clinical and radiological parameters.
Methods
We retrospectively analysed 128 prostheses in 126 patients (90 women and 34 men) using our hospital database. Data was extracted with respect to range of motion (ROM), the Western Ontario and McMaster Universities Osteoarthritis Index (WOMAC) score, the Knee Society Score (KSS) and radiolucent lines on conventional X-rays.
Results
At follow-up, we observed no significant differences between female and male patients after LCS total knee prostheses. Benefit after implantation of LCS total knee prostheses after five years of minimum follow-up was not significantly different between female and male patients in terms of clinical outcome or radiolucent lines.
Conclusions
We found no factors in favour of gender-specific total knee prostheses.
This is a preview of subscription content, log in to check access.
Access options
Buy single article
Instant unlimited access to the full article PDF.
US$ 39.95
Price includes VAT for USA
Subscribe to journal
Immediate online access to all issues from 2019. Subscription will auto renew annually.
US$ 199
This is the net price. Taxes to be calculated in checkout.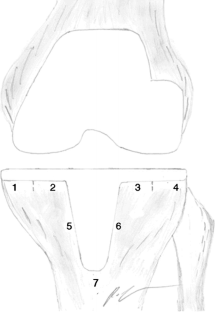 References
1.

Buechel FF, Pappas MJ, D'Alessio J (2001) Twenty-year evaluation of meniscal bearing and rotating platform knee replacements. Clin Orthop Relat Res 388:41–50

2.

Callaghan JJ, Squire MW, Goetz DD, Sullivan PM, Johnston RC (2000) Cemented rotating-platform total knee replacement. J Bone Joint Surg Am 82–1:705–11

3.

Stiehl JB (2002) World experience with low contact stress mobile-bearing total knee arthroplasty: a literature review. Orthopaedics 25:s213–17

4.

Parsch D, Krüger M, Moser MT, Geiger F (2009) Follow-up of 11–16 years after modular fixed-bearing TKA. IntOrthop 33:431–435

5.

Sadoghi P, Leithner A, Weber P, Friesenbichler J, Gruber G, Kastner N, Pohlmann K, Jansson V, Wegener B (2011) Radiolucent lines in low-contact-stress mobile-bearing total knee arthroplasty: a blinded and matched case control study. BMC Musculoskelet Disord 12:142

6.

Buechel FF (2001) My platform moveth and that´s all that´s needed! Orthopaedics 24:890–2

7.

World Health Organisation: The burden of musculoskeletal conditions at the start of the new millenium. Report of a WHO Scientific Group. WHO Technical Report Series No. 919 2003 [http://whqlibdoc.who.int/trs/WHO_TRS_919.pdf]. Geneva: WHO (accessed 4th December 2007)

8.

Andersen RE, Crespo CJ, Ling SM, Bathon JM, Bartlett SJ (1999) Preva- lence of significant knee pain among older Americans: results from the Third National Health and Nutrition Examination Survey. J Am Geriatr Soc 47:1435–8

9.

Thomas E, Peat G, Harris L, Wilkie R, Croft PR (2004) The prevalence of pain and pain interference in a general population of older adults: cross-sectional findings from the North Staffordshire Osteoarthritis Project (NorStOP). Pain 110:361–8

10.

Dillon CF, Rasch EK, Gu Q, Hirsch R (2006) Prevalence of knee osteoarthritis in the United States: arthritis data from the Third National Health and Nutrition Examination Survey 1991–94. J Rheumatol 33:2271–9

11.

Peat G, Thomas E, Duncan R, Wood L, Wilkie R, Hill J, Hay EM, Croft P (2007) Estimating the probability of radiographic osteoarthritis in the older patient with knee pain. Arthritis Rheum 57:794–802

12.

Duncan RC, Hay EM, Saklatvala J, Croft PR (2006) Prevalence of radiographic knee osteoarthritis – it all depends on your point of view. Rheumatology 45:757–60

13.

Vignon E, Valat J-P, Rossignol M, Avouac B, Rozenberg S, Thoumie P, Avouac J, Nordin M, Hilliquin P (2006) Osteoarthritis of the knee and hip and activity: a systematic international review and synthesis (OASIS). Joint Bone Spine 73:442–55

14.

Lacey RJ, Thomas E, Duncan RC, Peat G (2008) Gender difference in symptomatic radiographic knee osteoarthritis in the Knee Clinical Assessment – CAS(K): A prospective study in the general population. BMC Musculoskelet Disord 9:82

15.

Munzinger UK, Maffiuletti NA, Guggi T, Bizzini M, Preiss S, Drobny T (2010) Five-year results of the Innex total knee arthroplasty system. Int Orthop 34:1159–1165

16.

Levels of evidence according to the Journal of Bone and Joint Surgery – American volume. http://www.jbjs.org/public/instructionsauthors.aspx

17.

Orthopaedic Scores. http://www.orthopaedicscores.com/

18.

Ewald FC (1989) The Knee Society total knee arthroplasty roentgenographic evaluation and scoring system. Clin Orthop Relat Res 248:9–12

19.

Goslings JC, Gouma DJ (2008) What is a surgical complication? World J Surg 32:952

20.

Hoening JM, Heisey DM (2001) The abuse of power: The pervasive fallacy of power calculations for data analysis. The American Statistician 55(1):19–24

21.

Chin KR, Dalury DF, Zurakowski D, Scott RD (2002) Intraoperative measurements of male and female distal femurs during primary total knee arthroplasty. J Knee Surg 15:213–217

22.

Hitt K, Shurman JR 2nd, Greene K, McCarthy J, Moskal J, Hoeman T, Mont MA (2003) Anthropometric measurements of the human knee: correlation to the sizing of current knee arthroplasty systems. J Bone Joint Surg Am 85:115–122

23.

Booth RE Jr (2006) Sex and the total knee: gender-sensitive designs. Orthopedics 29:836–838

24.

Robertsson O, Dunbar M, Pehrsson T, Knutson K, Lidgren L (2000) Patient satisfaction after knee arthroplasty: a report on 27,372 knees operated on between 1981 and 1995 in Sweden. Acta Orthop Scand 71:262–267

25.

Harrysson OLA, Robertsson O, Nayfeh JF (2004) Higher cumulative revision rate of knee arthroplasties in younger patients with osteoarthritis. Clin Orthop Relat Res 421:162–168
Competing interests
There exist no financial or non-financial competing interests in case of any author of this manuscript. No benefits or funds were received in support for the study.
Additional information
Level of evidence
Level III – retrospective comparative analysis
About this article
Cite this article
Kastner, N., Gruber, G., Aigner, B.A. et al. Sex-related outcome differences after implantation of low-contact-stress mobile-bearing total knee arthroplasty. International Orthopaedics (SICOT) 36, 1393–1397 (2012). https://doi.org/10.1007/s00264-012-1486-9
Received:

Accepted:

Published:

Issue Date:
Keywords
Total Knee Arthroplasty

Pantoprazole

Knee Society Score

Radiolucent Line

WOMAC Score