Abstract
Commercially available DOTAP is a racemic mixture of two enantiomers. The adjuvanticity of each isomer was examined using a peptide/lipid complex as a therapeutic vaccine in an established murine cervical cancer model. This simple vaccine consists of a cationic lipid (DOTAP) and a major histocompatibility complex (MHC) class I–restricted epitope of the Human Papillomavirus (HPV) 16 protein E7. Dose-dependent tumor regression experiments have been completed for racemic DOTAP/E7, (R)-DOTAP/E7 and (S)-DOTAP/E7. Tumor-bearing mice treated with (R)-DOTAP/E7 complexes have shown tumor regression in a dose-dependent manner comparable to those mice treated with a racemic DOTAP with E7 peptide. These data are supported by IFN-γ production by CD8+ splenocytes, in vivo cytotoxic T-lymphocytes (CTL) response, CD8+ tumor-infiltrating lymphocytes (TIL), and IFN-γ production by CD8+ TIL in (R)-DOTAP/E7-vaccinated mice. When (S)-DOTAP/E7 is delivered, tumor progression is delayed. While IFN-γ production is absent from CD8+ splenocytes in mice vaccinated with (S)-DOTAP/E7, IFN-γ production by CD8+ TIL is present, supporting our hypothesis that (S)-DOTAP has limited activity. Activation of bone marrow-derived dendritic cells by the enantiomeric formulations has also been evaluated, as well as cytokine production and toxicity with no considerable differences between the groups. The results show the DOTAP enantiomers act differently as adjuvants in vivo, with (R)-DOTAP being more effective at stimulating a CD8+ anti-tumor response.
This is a preview of subscription content, log in to check access.
Access options
Buy single article
Instant access to the full article PDF.
US$ 39.95
Price includes VAT for USA
Subscribe to journal
Immediate online access to all issues from 2019. Subscription will auto renew annually.
US$ 199
This is the net price. Taxes to be calculated in checkout.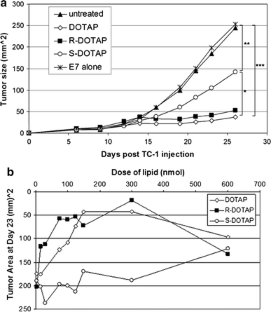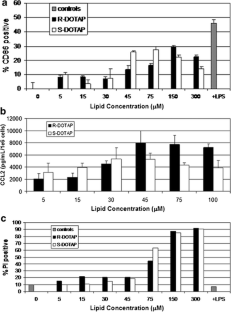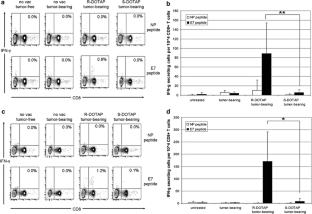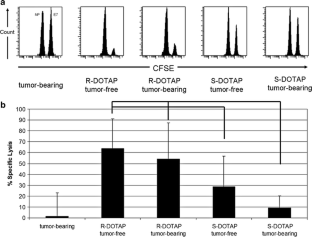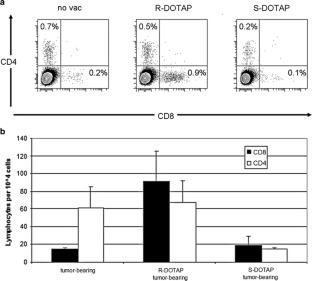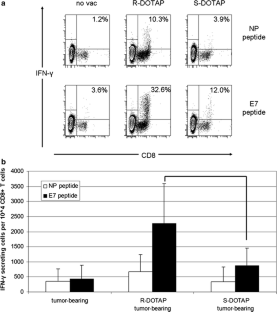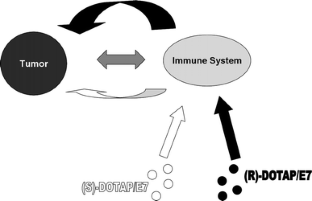 Abbreviations
BMDC:

Bone marrow-derived dendritic cells

CCL2:

Chemokine C–C motif ligand 2

CFSE:

Carboxyfluorescein succinimidyl ester

(R)-DOTAP:

(R)-1,2-dioleoyl-3-trimethylammonium-propane

(S)-DOTAP:

(S)-1,2-dioleoyl-3-trimethylammonium-propane

HPV:

Human Papillomavirus

IFN-γ:

Interferon gamma

MHC:

Major histocompatibility complex

ROS:

Reactive oxygen species

TIL:

Tumor-infiltrating lymphocytes
References
1.

Palena C, Schlom J (2010) Vaccines against human carcinomas: strategies to improve antitumor immune responses. J Biomed Biotechnol 2010:380697

2.

Nestle FO, Alijagic S, Gilliet M et al (1998) Vaccination of melanoma patients with peptide- or tumor lysate-pulsed dendritic cells. Nat Med 4:328–332

3.

Hsu FJ, Benike C, Fagnoni F et al (1996) Vaccination of patients with B-cell lymphoma using autologous antigen-pulsed dendritic cells. Nat Med 2:52–58

4.

Syrengelas AD, Chen TT, Levy R (1996) DNA immunization induces protective immunity against B-cell lymphoma. Nat Med 2:1038–1041

5.

De Gregorio E, Tritto E, Rappuoli R (2008) Alum adjuvanticity: unraveling a century old mystery. Eur J Immunol 38:2068–2071

6.

Harper DM, Franco EL, Wheeler C et al (2004) Efficacy of a bivalent L1 virus-like particle vaccine in prevention of infection with human papillomavirus types 16 and 18 in young women: a randomised controlled trial. Lancet 364:1757–1765

7.

Francotte ER (2001) Enantioselective chromatography as a powerful alternative for the preparation of drug enantiomers. J Chromatogr A 906:379–397

8.

FDA's policy statement for the development of new stereoisomeric drugs (1992) Chirality 4:338–340

9.

Simonyi M (1984) On chiral drug action. Med Res Rev 4:359–413

10.

Schlossman SF, Herman J, Yaron A (1969) Antigen recognition: in vitro studies on the specificity of the cellular immune response. J Exp Med 130:1031–1045

11.

Barbier P, Benezra C (1982) Stereospecificity of allergic contact dermatitis (ACD) induced by two natural enantiomers, (+)- and (−)-frullanolides, in guinea pigs. Naturwissenschaften 69:296–297

12.

Chen W, Yan W, Huang L (2008) A simple but effective cancer vaccine consisting of an antigen and a cationic lipid. Cancer Immunol Immunother 57:517–530

13.

Yan W, Chen W, Huang L (2007) Mechanism of adjuvant activity of cationic liposome: phosphorylation of a MAP kinase, ERK and induction of chemokines. Mol Immunol 44:3672–3681

14.

Lin KY, Guarnieri FG, Staveley-O'Carroll KF et al (1996) Treatment of established tumors with a novel vaccine that enhances major histocompatibility class II presentation of tumor antigen. Cancer Res 56:21–26

15.

Byers AM, Kemball CC, Moser JM, Lukacher AE (2003) Cutting edge: rapid in vivo CTL activity by polyoma virus-specific effector and memory CD8+ T cells. J Immunol 171:17–21

16.

Chen W, Huang L (2008) Induction of cytotoxic T-lymphocytes and antitumor activity by a liposomal lipopeptide vaccine. Mol Pharm 5:464–471

17.

Xu Y, Szoka FC Jr (1996) Mechanism of DNA release from cationic liposome/DNA complexes used in cell transfection. Biochemistry 35:5616–5623

18.

Yan W, Chen W, Huang L (2008) Reactive oxygen species play a central role in the activity of cationic liposome based cancer vaccine. J Control Release 130:22–28
Acknowledgments
Angela Yang's assistance with tissue processing and formatting of figures is greatly appreciated. This research was supported by PDS Biotechnology Corporation and by NIH grant CA129421. EAV is supported by a Pre-Doctoral Fellowship in Pharmaceutics from the PhRMA Foundation.
Conflict of interest
Grants from PDS Biotechnology Corporation and the NIH have funded this research. LH is a co-founder and on the scientific board of advisors of PDS Biotechnology Corporation, in addition to financial interests in the company. EAV, WC, and LH are named in a US pending patent on the technology described in this paper.
About this article
Cite this article
Vasievich, E.A., Chen, W. & Huang, L. Enantiospecific adjuvant activity of cationic lipid DOTAP in cancer vaccine. Cancer Immunol Immunother 60, 629–638 (2011). https://doi.org/10.1007/s00262-011-0970-1
Received:

Accepted:

Published:

Issue Date:
Keywords
Therapeutic vaccine

Cervical cancer

Enantiomers

Cationic lipid