Abstract
Contrast-enhanced ultrasound (CEUS) is gaining ever-increasing acceptance in the preoperative and postoperative evaluation of liver-transplanted patients. While indications are still a matter of research, CEUS is used in tertiary centers to supplement ultrasound (US) and Color Doppler US examination, with the potential of providing a comprehensive first-line ultrasound-based diagnosis. Alternatively, CEUS is used as a problem-solving tool when previous cross-sectional or US imaging was inconclusive, especially in assessing hepatocellular carcinoma, parenchymal perfusion abnormalities, the vascular status, and even the biliary tree. This review describes the potential use for CEUS in the setting of orthotopic liver transplantation (OLT).
This is a preview of subscription content, log in to check access.
Access options
Buy single article
Instant unlimited access to the full article PDF.
US$ 39.95
Price includes VAT for USA
Subscribe to journal
Immediate online access to all issues from 2019. Subscription will auto renew annually.
US$ 99
This is the net price. Taxes to be calculated in checkout.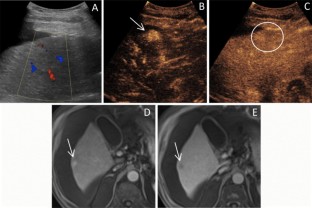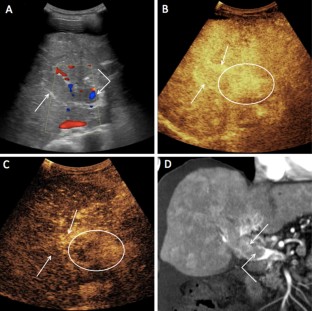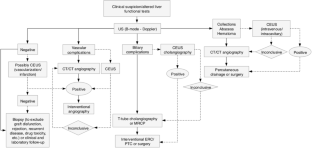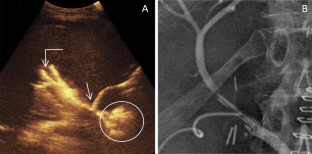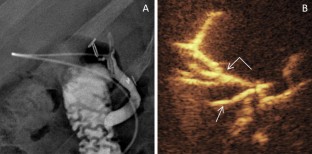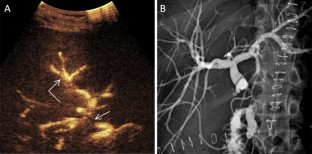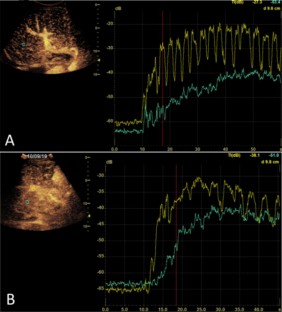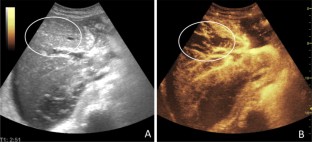 References
1.

Girometti R, Pancot M, Como G, Zuiani C (2017) Imaging of liver transplantation. Eur J Radiol 93:295-307.

2.

Cosgrove D (2006) Ultrasound contrast agents: an overview. Eur J Radiol 60(3):324-30.

3.

Claudon M, Dietrich ChF, Choi BI, Cosgrove DO, Kudo M, Nolsøe CP, Piscaglia F, Wilson SR, et al. (2012) Guidelines and good clinical practice recommendations for contrast enhanced ultrasound (CEUS) in the liver --update 2012: a WFUMB-EFSUMB initiative in cooperation with representatives of AFSUMB, AIUM, ASUM, FLAUS and ICUS Ultraschall in der Medizin 39(2):187-210.

4.

Paefgen V, Doleschel D, Kiessling F (2015) Evolution of contrast agents for ultrasound imaging and ultrasound-mediated drug delivery Front Pharmacol 6:197.

5.

Rafailidis V, Huang DY, Yusuf GT, Sidhu PS (2019) General principles and overview of vascular contrast-enhanced ultrasonography. Ultrasonography 2019 Jun 25. Epub ahead of print.

6.

Korenaga K, Korenaga M, Furukawa M et al (2009) Usefulness of Sonazoid contrast-enhanced ultrasonography for hepatocellular carcinoma: comparison with pathological diagnosis and superparamagnetic iron oxide magnetic resonance images. J Gastroenterol 44:733-741.

7.

Dietrich ChF, Averkiou M, Westerway S et al (2017) How to perform Contrast-Enhanced Ultrasound (CEUS). Ultrasound Int Open 3:E2–E15.

8.

Eisenbrey J R, Daecher A, Kramer M R, Forsberg F (2015) Effects of Needle and catheter size on commercially available ultrasound contrast agents. J Ultrasound Med 34:1961-1968.

9.

CEUS LI-RADS® v2017 CORE (For CEUS with Pure Blood Pool Agents), ACR (2017).

10.

Pang E, Chan A, Ho S, Harris A (2018) Contrast-Enhanced Ultrasound of the Liver: Optimizing Technique and Clinical Applications. Am J Roentgenol 210:320-332.

11.

Cantisani V, Bertolotto M, D'Ambrosio F et al (2015) Growing indications for CEUS: The kidney, testis, lymph nodes, thyroid, prostate, and small bowel. Eur J Radiol 84(9):1675-84.

12.

Ren J, Wu T, Zheng B, Tan Y, Zheng R, Chen G (2016) Application of contrast-enhanced ultrasound after liver transplantation: Current status and perspectives. World J Gastroenterol 22(4):1607-1616.

13.

Wilson SR, Greenbaum LD, Goldberg BB (2009) Contrast-enhanced ultrasound: what is the evidence and what are the obstacles? Am J Roentgenol 193(1):55-60.

14.

Piscaglia F, Bolondi L (2006) The safety of Sonovue in abdominal applications: retrospective analysis of 23188 investigations. Ultrasound Med Biol 32:1369–1375.

15.

Huang DY, Yusuf GT, Daneshi M, Ramnarine R, Deganello A, Sellars ME, Sidhu PS (2018) Contrast-enhanced ultrasound (CEUS) in abdominal intervention. Abdomin Radiol 43:960-976.

16.

Bonini G, Pezzotta G, Morzenti C, Agazzi R, Nani R (2007) Contrast-enhanced ultrasound with SonoVue in the evaluation of postoperative complications in pediatric liver transplant recipients. J Ultrasound 10:99-106.

17.

Girometti R, Como G, Bazzocchi M, Zuiani C (2014) Post-operative imaging in liver transplantation: state-of-the-art and future perspectives. World J Gastroenterol 20(20): 6180–6200.

18.

Dietrich CF, Ignee A, Greis C, Cui XW, Schreiber-Dietrich DG, Hocke M (2014) Artifacts and pitfalls in contrast-enhanced ultrasound of the liver. Ultraschall Med 35(2):108-25.

19.

Urade T, Fukumoto T, Tanaka M, Kido M, Takebe A, Kuramitsu K, Chuma M, Matsumoto I, Ajiki T, Ku Y (2014) Contrast-Enhanced Intraoperative Ultrasonic Cholangiography for Real-Time Biliary Navigation In Hepatobiliary Surgery. J Am Coll Surg 218(2):e43-e50.

20.

EASL Clinical Practice Guidelines: Management of hepatocellular carcinoma. (2018) J Hepatol 69(1):182-236.

21.

Marrero JA, Kulik LM, Sirlin CB, Zhu AX, Finn RS, Abecassis MM, Roberts LR, Heimbach JK (2018) Diagnosis, Staging, and Management of Hepatocellular Carcinoma: 2018 Practice Guidance by the American Association for the Study of Liver Diseases. Hepatology 68(2): 723-50.

22.

Terzi E, Iavarone M, Pompili M, Veronese L, Cabibbo G, Fraquelli M, Riccardi L, De Bonis L, Sangiovanni A, Leoni S, Zocco MA, Rossi S, Alessi N, Wilson SR, Piscaglia F, et al (2018) Contrast ultrasound LI-RADS LR-5 identifies hepatocellular carcinoma in cirrhosis in a multicenter restropective study of 1,006 nodules. J Hepatol 68:485–492.

23.

Aubé C, Oberti F, Lonjon J, Pageaux G, Seror O, N'Kontchou G, Rode A, Radenne S, Cassinotto C, Vergniol J, Bricault I, Leroy V, Ronot M, Castera L, Michalak S, Esvan M, Vilgrain V; CHIC Group (2017) EASL and AASLD recommendations for the diagnosis of HCC to the test of daily practice. Liver Int 37(10):1515-1525.

24.

Bartolotta TV, Taibbi A, Midiri M, Lagalla R (2019) Contrast-enhanced ultrasound of hepatocellular carcinoma: where do we stand? Ultrasonography 38 (3): 200-214.

25.

Tarantino L, Ambrosino P, Di Minno MN (2015) Contrast-enhanced ultrasound in differentiating malignant from benign portal vein thrombosis in hepatocellular carcinoma. World J Gastroenterol 21(32):9457-60.

26.

Rossi S, Ghittoni G, Ravetta V, Torello Viera F, Rosa L, Serassi M, Scabini M, Vercelli A, Tinelli C, Dal Bello B, Burns PN, Calliada F (2008) Contrast-enhanced ultrasonography and spiral computed tomography in the detection and characterization of portal vein thrombosis complicating hepatocellular carcinoma. Eur Radiol 18(8):1749-56.

27.

Zheng RQ, Mao R, Ren J, Xu EJ, Liao M, Wang P, Lu MQ, Yang Y, Cai CJ, Chen GH (2010) Contrast-enhanced ultrasound for the evaluation of hepatic artery stenosis after liver transplantation: potential role in changing the clinical algorithm. Liver Transpl 16: 729-735.

28.

Ma L, Lu Q, Luo Y (2016) Vascular complications after adult living donor liver transplantation: Evaluation with ultrasonography. World J Gastroenterol 22(4):1617-1626.

29.

Hom BK, Shrestha R, Palmer SL, Katz MD, Selby RR, Asatryan Z, Wells JK, Grant EG (2006) Prospective evaluation of vascular complications after liver transplantation: comparison of conventional and microbubble contrast-enhanced US. Radiology 241(1):267-274.

30.

Herold C, Reck T, Ott R, Schneider HT, Becker D, Schuppan D, Hahn EG (2001) Contrast-enhanced ultrasound improves hepatic vessel visualization after orthotopic liver transplantation. Abdom Imaging 26(6):597-600.

31.

Fetzer DT, Rafailidis V, Peterson C, Grant EG, Sidhu P, Barr RG (2018) Artifacts in Contrast-Enhanced Ultrasound: A Pictorial Essay. Abdom Radiol 43 (4):977-997.

32.

Berstad AE, Brabrand K, Foss A (2009) Clinical utility of microbubble contrast-enhanced ultrasound in the diagnosis of hepatic artery occlusion after liver transplantation. Transpl Int 22(10): 954-960.

33.

Lu Q, Zhong XF, Huang ZX, Yu BY, Ma BY, Ling WW, Wu H, Yang JY, Luo Y (2012) Role of contrast-enhanced ultrasound in decision support for diagnosis and treatment of hepatic artery thrombosis after liver transplantation. Eur J Radiol 81:e338–e343.

34.

García-Criado A, Gilabert R, Nicolau C, Real I, Arguis P, Bianchi L, Vilana R, Salmerón JM, García-Valdecasas JC, Brú C (2001) Early detection of hepatic artery thrombosis after liver transplantation by Doppler ultrasonography: prognostic implications. J Ultrasound Med 20:51-58.

35.

Zhu XS, Gao YH, Wang SS, Cheng Q, Ling Y, Fan L, Huo F, Pu MS, Li P (2012) Contrast-enhanced ultrasound diagnosis of splenic artery steal syndrome after orthotopic liver transplantation. Liver Transpl 18:966-971.

36.

Tamsel S, Demirpolat G, Killi R, Aydin U, Kilic M, Zeytunlu M, Parildar M, Oran I, Ucar H (2007) Vascular complications after liver transplantation: evaluation with Doppler US. Abdom Imaging 32:339-347.

37.

Clevert DA, Stickel M, Minaifar N, Löhe F, Graeb C, Jauch KW, Reiser M (2009) Contrast-enhanced ultrasound in liver transplant: first results and potential for complications in the postoperative period. Clin Hemorheol Microcirc 43: 83–94.

38.

Rossi S, Rosa L, Ravetta V, Cascina A, Quaretti P, Azzaretti A, Scagnelli P, Tinelli C, Dionigi P, Calliada F (2006) Contrast-enhanced versus conventional and color Doppler sonography for the detection of thrombosis of the portal and hepatic venous systems. Am J Roentgenol 186:763-773.

39.

Rennert J, Dornia C, Georgieva M, Roehrl S, Fellner C, Schleder S, Stroszczynski C, Jung EM (2012) Identification of early complications following liver transplantation using contrast enhanced ultrasound (CEUS). First results. J Gastrointestin Liver Dis 21:407-412.

40.

Sidhu PS, Marshall MM, Ryan SM, Ellis SM (2000) Clinical use of Levovist, an ultrasound contrast agent, in the imaging of liver transplantation: assessment of the pre- and post-transplant patient. Eur Radiol 10: 1114-1126.

41.

Park YS, Kim KW, Kim SY, Lee SJ, Lee J, Kim JH, Lee JS, Kim HJ, Song GW, Hwang S, Lee SG (2012) Obstruction at middle hepatic venous tributaries in modified right lobe grafts after living-donor liver Transplantation: diagnosis with contrast-enhanced US. Radiology 265:617-626.

42.

Chopra SS, Eisele R, Stelter L, Seehofer D, Grieser C, Warnick P, Denecke T (2012) Contrast enhanced ultrasound cholangiography via T-tube following liver transplantation. Ann Transplant 17:108-112.

43.

Ren J, Zheng BW, Wang P, Liao M, Zheng RQ, Lu MD, Lu Y, Zeng J, Zhang YL (2013) Revealing impaired blood supply to the bile ducts on contrast-enhanced ultrasound: a novel diagnosis method to ischemic-type biliary lesions after orthotropic liver transplantation. Ultrasound Med Biol 39:753-760.

44.

Fontanilla T, Noblejas A, Cortes C, Minaya J, Mendez S, Van den Brule E, Hernando CG, Alfageme M, Baños I, Aguirre E (2013) Contrast-enhanced ultrasound of liver lesions related to arterial thrombosis in adult liver transplantation. J Clin Ultrasound 41:493–500.
Additional information
Publisher's Note
Springer Nature remains neutral with regard to jurisdictional claims in published maps and institutional affiliations.
About this article
Cite this article
Como, G., Montaldo, L., Baccarani, U. et al. Contrast-enhanced ultrasound applications in liver transplant imaging. Abdom Radiol (2020) doi:10.1007/s00261-020-02402-z
Keywords
Transplantation

Liver

Ultrasound imaging

Contrast-enhanced ultrasound

Complications

Postoperative