Abstract
Purpose
The purpose of this study was to determine whether the measured size of active gastrointestinal hemorrhage was useful in predicting subsequent positive findings at catheter angiography.
Materials and methods
This was a single-institution retrospective study consisting of 32 patients with computed tomography angiography (CTA) positive for gastrointestinal bleeding who went on to receive catheter angiography. Each CTA was reviewed, with axial measurements of the anterior–posterior and transverse dimensions of the largest foci of hemorrhage recorded. Volumetric analysis was used to measure the volume of hemorrhage. These measurements were performed for both the arterial and portal venous phases. Additionally, the interval growth between the arterial and portal venous phase was also calculated.
Results
There was a statistically significant difference in the absolute size of the maximum transverse dimension on portal venous phase imaging (mean = 19.8 mm, p < 0.001), as well as an interval increase in transverse (mean = 8.5 mm, p < 0.001) and anteriorposterior (mean = 5.4 mm, p = 0.027) size between arterial and portal venous phases in patients with positive catheter angiography versus negative catheter angiography. There was a statistically significant difference in the volume of hemorrhage on arterial (mean = 1.72 cm3, p = 0.020) and portal venous phases (mean = 5.89 cm3, p = 0.016), as well as an interval change in the size of hemorrhage between the two phases (mean = 4.17 cm3, p = 0.020) in patients with positive catheter angiography versus patients in the negative catheter angiography group.
Conclusions
The absolute axial size and volume of hemorrhage, as well as the interval change between the arterial and portal venous phases of CTA imaging is predictive of subsequent positive catheter angiography.
This is a preview of subscription content, log in to check access.
Access options
Buy single article
Instant access to the full article PDF.
US$ 39.95
Price includes VAT for USA
Subscribe to journal
Immediate online access to all issues from 2019. Subscription will auto renew annually.
US$ 99
This is the net price. Taxes to be calculated in checkout.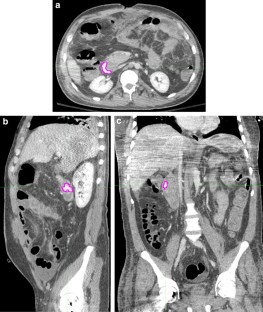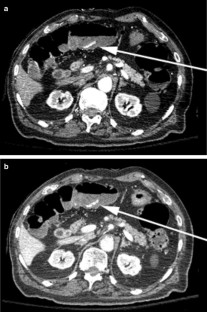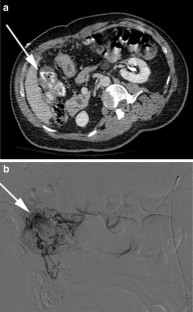 References
1.

Scheffel H, Pfammatter T, Wildi S, Bauerfeind P, Marincek B, Alkadhi H. Acute gastrointestinal bleeding: detection of source and etiology with multi-detector-row CT. Eur Radiol. 2007;17(6):1555-65.

2.

Yoon W, Jeong YY, Shin SS, et al. Acute massive gastrointestinal bleeding: detection and localization with arterial phase multi-detector row helical CT. Radiology. 2006;239(1):160-7

3.

Ernst O, Bulois P, Saint-drenant S, Leroy C, Paris JC, Sergent G. Helical CT in acute lower gastrointestinal bleeding. Eur Radiol. 2003;13(1):114-7

4.

Tew K, Davies RP, Jadun CK, Kew J. MDCT of acute lower gastrointestinal bleeding. AJR Am J Roentgenol. 2004;182(2):427-30

5.

Martí M, Artigas JM, Garzón G, Alvarez-sala R, Soto JA. Acute lower intestinal bleeding: feasibility and diagnostic performance of CT angiography. Radiology. 2012;262(1):109-16

6.

García-blázquez V, Vicente-bártulos A, Olavarria-delgado A, et al. Accuracy of CT angiography in the diagnosis of acute gastrointestinal bleeding: systematic review and meta-analysis. Eur Radiol. 2013;23(5):1181-90

7.

Jacovides CL, Nadolski G, Allen SR, Martin ND, Holena DN, Reilly PM, Trerotola S, Braslow BM, Kaplan LJ, Pascual JL. Arteriography for lower gastrointestinal hemorrhage: role of preceding abdominal computed tomographic angiogram in diagnosis and localization.

8.

Shukla PA, Zybulewski A, Kolber MK, Berkowitz E, Silberzweig J, Hayim M. No catheter angiography is needed in patients with an obscure acute gastrointestinal bleed and negative CTA. Clin Imaging. 2017;43:106-109

9.

He B, Yang J, Xiao J, et al. Diagnosis of lower gastrointestinal bleeding by multi-slice CT angiography: A meta-analysis. Eur J Radiol. 2017;93:40-45

10.

Kuhle WG, Sheiman RG. Detection of active colonic hemorrhage with use of helical CT: findings in a swine model. Radiology. 2003;228(3):743-52

11.

Wildgruber M, Wrede CE, Zorger N, et al. Computed tomography versus digital subtraction angiography for the diagnosis of obscure gastrointestinal bleeding. Eur J Radiol. 2017;88:8-14

12.

Anderson SW, Soto JA, Lucey BC, Burke PA, Hirsch EF, Rhea JT. Blunt trauma: feasibility and clinical utility of pelvic CT angiography performed with 64-detector row CT. Radiology. 2008;246(2):410-9

13.

Wu TC, Chen TY, Shiue YL, et al. Added value of delayed computed tomography angiography in primary intracranial hemorrhage and hematoma size for predicting spot sign. Acta Radiol. 2018;59(4):485-490

14.

Brinjikji W, Demchuck AM, et al. Neurons over nephrons: systematic review and meta-analysis of contrast-induced nephropathy in patients with acute stroke. Stroke. 2017 Jul; 48(7): 1862-68

15.

He H, Chen XR, et al. Elevation myocardial infarction (STEMI) undergoing percutaneous coronary intervention (PCI): a meta-analysis. Journal of Interventional Cardiology. 2019 Aug 25: 2750173

16.

Oakland K, Isherwood J, et al. Diagnostic and therapeutic tyreatment modalities for acute lower gastrointestinal bleeding: a systematic review. Endoscopy International Open. 2017 Oct; 5(10): 959-73

17.

Nagata N, Niikura R, Aoki T et al. Role of urgent contrast-enhanced multidetector computed tomography for acute lower gastrointestinal bleeding in patients undergoing early colonoscopy. J Gastroenterol. 2015;50:1162–1172
Ethics declarations
Conflict of interest
The authors declare that they have no relevant relationships.
Additional information
Publisher's Note
Springer Nature remains neutral with regard to jurisdictional claims in published maps and institutional affiliations.
About this article
Cite this article
Hsu, M., Shah, N., Bernal-Fernandez, M. et al. CTA measurements of acute lower gastrointestinal bleeding size predict subsequent positive catheter angiography. Abdom Radiol 45, 615–622 (2020). https://doi.org/10.1007/s00261-019-02386-5
Keywords
Gastrointestinal bleed

Computed tomography angiography

Catheter angiography

Volumetric analysis