Abstract
Accurate early detection of recurrent prostate cancer after surgical or nonsurgical treatment is increasingly relevant in the era of evolving options for salvage therapy. The importance of differentiating between local tumor recurrence, distant metastatic disease, and a combination of both in a patient with biochemical recurrence of prostate cancer is essential for appropriate treatment selection. Magnetic resonance imaging (MRI) is the best test for localization and characterization of locally residual or recurrent prostate cancer. It is essential for the radiologist involved in prostate MRI interpretation to be familiar with key imaging findings and advantages of different sequences to reach a confident diagnosis in the post-treatment setting. In this pictorial review, we present imaging findings of post-treatment prostate MRI including expected post-treatment anatomy and imaging characteristics, and the typical appearances of local tumor recurrence after radical prostatectomy, radiation therapy, and focal therapy for prostate cancer. While a multi-parametric MRI approach remains key just as in the treatment-naïve gland, this review emphasizes the much greater importance of the dynamic contrast-enhanced MRI sequence for evaluation in the post-treatment setting.
This is a preview of subscription content, log in to check access.
Access options
Buy single article
Instant access to the full article PDF.
US$ 39.95
Price includes VAT for USA
Subscribe to journal
Immediate online access to all issues from 2019. Subscription will auto renew annually.
US$ 99
This is the net price. Taxes to be calculated in checkout.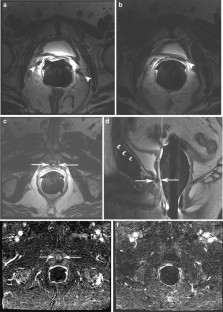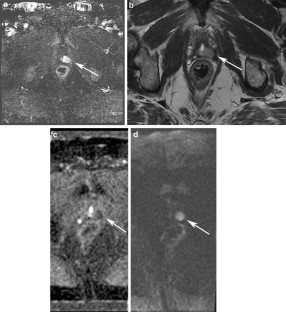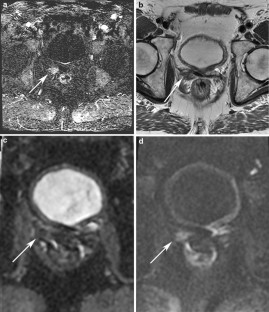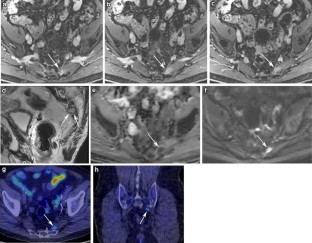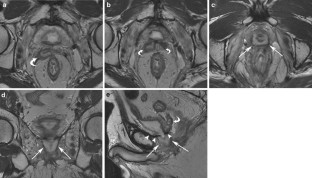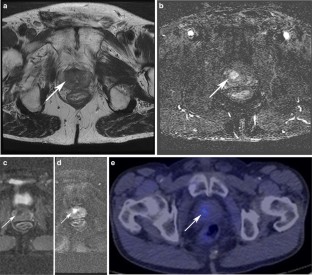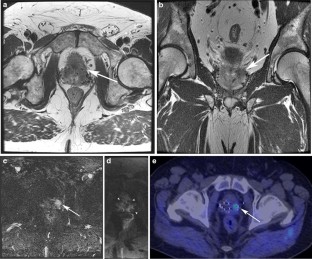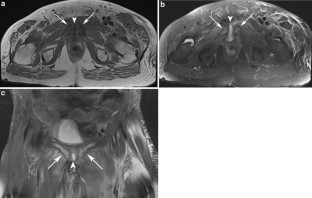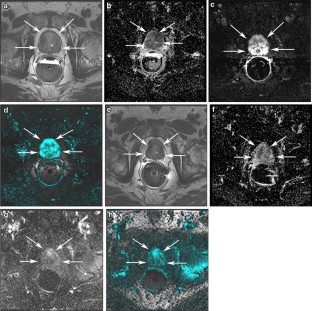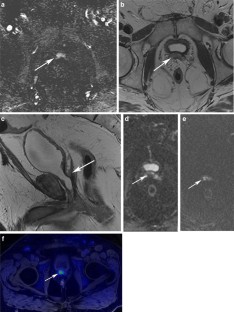 References
1.

Panebianco V, Barchetti F, Sciarra A, et al (2013) Prostate cancer recurrence after radical prostatectomy: the role of 3T diffusion imaging in multiparametric magnetic resonance imaging. Eur Radiol 23(6):1745-1752.

2.

Wu LM, Xu JR, Gu HY, et al (2012) Role of magnetic resonance imaging in the detection of local prostate cancer recurrence after external beam radiotherapy and radical prostatectomy. Clin Oncol 25(4):252-264.

3.

Kitajima K, Hartman RP, Froemming AT, et al (2015) Detection of local recurrence of prostate cancer after radical prostatectomy using endorectal coil MRI at 3T: addition of DWI and dynamic contrast enhancement to T2-weighted MRI. AJR Am J Roentgenol 205(4)807-816.

4.

Cooperberg MR and Carroll PR (2015) Trends in management for patients with localized prostate cancer, 1990-2013. JAMA 314:80-82.

5.

Walz J, Chun FKH, Klein EA, et al (2009) Nomogram predicting the probability of early recurrence after radical prostatectomy for prostate cancer. J Urol 181:601-608.

6.

Cooperberg MR, Hilton JF, Carroll PR (2011) The CAPRA-S score: a straightforward tool for improved prediction of outcomes after radical prostatectomy. Cancer 117:5039-46.

7.

Khan MA and Partin AW (2004) Management of patients with an increasing prostate-specific antigen after radical prostatectomy. Curr Urol Rep 5(3)179-187.

8.

Cirillo S, Petracchini M, Scotti L, et al (2009) Endorectal magnetic resonance imaging at 1.5 Tesla to assess local recurrence following radical prostatectomy using T2-weighted and contrast-enhanced imaging. Eur Radiol 19(3):761-769.

9.

Linder BJ, Kawashima A, Woodrum DA, et al (2014) Early localization of recurrent prostate cancer after prostatectomy by endorectal coil magnetic resonance imaging. Can J Urol 21(3):7283-7289.

10.

Sharma V, Nehra A, Colicchia M, et al (2018) Multiparametric magnetic resonance imaging is an independent predictor of salvage radiotherapy outcomes after radical prostatectomy. Eur Urol 73:879-887.

11.

Capek S, Howe BM, Amrami KK, and Spinner RJ (2015) Perineural spread of pelvic malignancies to the lumbosacral plexus and beyond: clinical and imaging patterns. Neurosurg Focus 39(3):1-12.

12.

Odisho AY, Washington SL 3rd, MEng MV, et al (2013) Benign prostate glandular tissue at radical prostatectomy surgical margins. Urology 82(1):154-159.

13.

Shah R, Bassily N, Wei J, et al (2000) Benign prostatic glands at surgical margins of radical prostatectomy specimens: frequency and associated risk factors. Urology 56:721-725.

14.

Kohl SK, Balaji KC, Smith LM, et al (2007) Clinical significance of benign glands at surgical margins in robotic radical prostatectomy specimens. Urology 69:1112-1116.

15.

Kernek KM, Koch MO, Daggy JK, et al (2005) The presence of benign prostatic glandular tissue at surgical margins does not predict PSA recurrence. J Clin Pathol 58:725-728.

16.

Yoshida K, Takahashi N, Karnes RJ, and Froemming AT (2019) Prostatic remnant after prostatectomy: MR findings and prevalence in clinical practice. AJR Am J Roentgenol epub ahead of print.

17.

Roach M 3rd, Hanks G, Thames H Jr, et al (2006) Defining biochemical failure following radiotherapy with or without hormonal therapy in men with clinically localized prostate cancer: recommendations of the RTOG-ASTRO Phoenix Consensus Conference. Int J Radiat Oncol Biol Phys 65(4):965-974.

18.

Roy C, Foudi F, Charton J, et al (2013) Comparative sensitivities of functional MRI sequences in detection of local recurrence of prostate carcinoma after radical prostatectomy or external-beam radiotherapy. AJR Am J Roentgenol 200(4):W361-368.

19.

Sexton SJ, Lavien G, Said N, et al (2019) Magnetic resonance imaging features of pubic symphysis urinary fistula with pubic bone osteomyelitis in the treated prostate cancer patient. Abdom Radiol 44(4):1453-1460.

20.

Padhani AR, Gapinski CJ, Macvicar DA, et al (2001) Effects of androgen deprivation on prostatic morphology and vascular permeability evaluated with MR imaging. Radiology 218:365-74.

21.

Hotker AM, Mazaheri Y, Zheng J, et al (2015) Prostate cancer: assessing the effects of androgen-deprivation therapy using quantitative multi-parametric MRI. Eur Radiol 25(9):2665-2672.

22.

Chen M, Hricak H, Kalbhen CL, et al (1996) Hormonal ablation of prostate cancer: effects on prostate morphology, tumor detection, and staging by endorectal coil MR imaging. AJR Am J Roentgenol 166:1157-63.

23.

Valerio M, Ahmed HU, Emberton M, et al (2014) The role of focal therapy in the management of localized prostate cancer: a systematic review. Eur Urol 66:732-751.

24.

Baydoun A, Traughber B, Morris N, et al (2017) Outcomes and toxicities in patients treated with definitive focal therapy for primary prostate cancer: systematic review. Future Oncol 13:649-663.

25.

Sanda MG, Cadeddu JA, Kirkby E, et al (2018) Clinically Localized Prostate Cancer: AUA/ASTRO/SUO Guideline. Part II: Recommended Approaches and Details of Specific Care Options. J Urol 199(4):990-997.

26.

Kitajima K, Murphy RC, Nathan MA, et al (2014) Detection of recurrent prostate cancer after radical prostatectomy: comparison of 11C-choline PET/CT with pelvic multiparametric MR imaging with endorectal coil. J Nucl Med 55: 223-32.

27.

Woo S, Kim SY, Kim SH, and Cho JY (2016) Identification of bone metastasis with routine prostate MRI: a study of patients with newly diagnosed prostate cancer. Am J Roentgenol AJR 206:1156-1163.
Acknowledgement
This project was performed at the Departments of Radiology at Duke University Medical Center and Mayo Clinic—Rochester. There is no external or internal funding for this project.
Ethics declarations
Conflicts of interest
Rajan T. Gupta, M.D. declares that he has no conflict of interest. In the interest of full disclosure, Dr. Gupta is a consultant for Invivo Corp. Drs. Potretzke and Froemming declare that neither has a conflict of interest.
Additional information
Publisher's Note
Springer Nature remains neutral with regard to jurisdictional claims in published maps and institutional affiliations.
About this article
Cite this article
Potretzke, T.A., Froemming, A.T. & Gupta, R.T. Post-treatment prostate MRI. Abdom Radiol (2019). https://doi.org/10.1007/s00261-019-02348-x
Keywords
Prostate cancer

Magnetic resonance imaging

Neoplasm recurrence

Prostatectomy