Abstract
Purpose
To assess the safety and efficacy of placing thoraco-abdominal drainage catheters under CT-guidance using a curved trocar technique.
Methods
A retrospective study of 182 CT/CT-fluoroscopy-guided thoraco-abdominal catheter drainages was conducted; half were performed by residents or fellows under the supervision of one radiologist (Group 1) and the other half under the supervision of 10 other radiologists (Group 2). Group 1 procedures employed a curved catheter assembly placed using trocar technique (n = 44) or straight catheters placed with Seldinger technique (n = 47). Group 2 procedures employed a straight catheter placed using trocar technique (n = 16) or straight catheters placed with Seldinger technique (n = 75). Technical success, procedure time, radiation dose (CT Dose Index CTDIvol), and adverse events (Common Terminology Criteria for Adverse Events, 4.0) were compared between techniques and groups using Student's t test, Fisher's exact test or Chi-square analysis.
Results
All procedures in groups 1 and 2 were technically successful. Mean procedure time for Group 1 curved trocar technique (28 ± 8 min) was shorter than groups 1 and 2 Seldinger technique (37 ± 11 min, p = .00002). Mean CTDIvol for Group 1 curved trocar technique (107.8 ± 54.2 mGy) was lower than groups 1 and 2 Seldinger technique (136.1 ± 99.7 mGy, p = 0.032). Adverse event rates for curved trocar, straight trocar, and Seldinger techniques were 2.3% (1/44), 0% (0/16), and 3.3% (4/122), respectively (p = 1); all were grade 1 or 2, and no catheter malfunctions occurred.
Conclusions
The curved catheter trocar technique is a safe and effective modification of the standard trocar technique that may facilitate CT-guided procedures impeded by CT gantry size limitations.
This is a preview of subscription content, log in to check access.
We're sorry, something doesn't seem to be working properly.
Please try refreshing the page. If that doesn't work, please contact support so we can address the problem.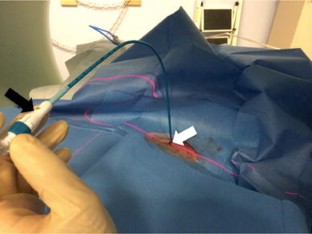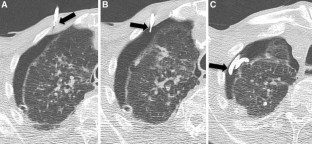 References
1.

Jaffe TA, Nelson RC (2016) Image-guided percutaneous drainage: a review. Abdom Radiol 41:629–636

2.

Duszak RL Jr, Levy JM, Akins EW, et al. (2000) Percutaneous catheter drainage of infected intraabdominal fluid collections. American College of Radiology. ACR Appropriateness Criteria. Radiology 215:1067–1075

3.

Maher MM, Gervais DA, Kalra MK, et al. (2004) The inaccessible or undrainable abscess: how to drain it. Radiographics 24:717–735

4.

McDermott S, Levis DA, Arellano RS (2012) Approaches to the difficult drainage and biopsy. Semin Intervent Radiol 29:256–263

5.

Gervais DA, Brown SD, Connolly SA, et al. (2004) Percutaneous imaging-guided abdominal and pelvic abscess drainage in children. Radiographics 24:737–754

6.

Silverman SG, Tuncali K, Adams DF, et al. (1999) CT fluoroscopy-guided abdominal interventions: techniques, results, and radiation exposure. Radiology 212:673–681

7.

Nawfel RD, Judy PF, Silverman SG, et al. (2000) Patient and personnel ex- posure during CT fluoroscopy-guided interven- tional procedures. Radiology 216:180–184

8.

Carlson SK, Bender CE, Classic KL, et al. (2001) Benefits and safety of CT fluoroscopy in interventional radiologic procedures. Radiology 219:515–520

9.

Paulson EK, Sheafor DH, Enterline DS, McAdams HP, Yoshizumi TT (2001) CT fluoroscopy-guided interventional procedures: techniques and radiation dose to radiologists. Radiology 220:161–167
Ethics declarations
Funding
No funding was received for this study.
Conflict of interest
The authors declare that they have no conflict of interest.
Ethical approval
All procedures performed in studies involving human participants were in accordance with the ethical standards of the institutional and/or national research committee and with the 1964 Helsinki declaration and its later amendments or comparable ethical standards. For this type of study, formal consent is not required.
Informed consent
Statement of informed consent was not applicable since the manuscript does not contain any patient data.
Additional information
This study was approved by the institutional review board.
Electronic supplementary material
Below is the link to the electronic supplementary material.
Supplementary material 1 (MOV 25028 kb)
About this article
Cite this article
Young, A.S., Shyn, P.B., Johnson, O.W. et al. Bending percutaneous drainage catheters to facilitate CT-guided insertion using curved trocar technique. Abdom Radiol 42, 2160–2167 (2017). https://doi.org/10.1007/s00261-017-1108-5
Keywords
Catheter drainage

CT-guided

Trocar

Abdominal abscess

Pneumothorax