Abstract
Giant fibrovascular polyps of the esophagus are rare, benign mesenchymal intraluminal lesions that arise from the cervical esophagus and can reach a very large size. Surgical excision is the treatment of choice, since endoscopic removal alone is not always feasible due to the presence of a very much vascularized stalk in most cases. We present two archetypal cases emphasizing the fact that these lesions can grow to huge masses with various and bizarre clinical presentation and they can arise (although rarely) at the level of the hypopharynx. We also aim to point out the role of imaging in defining the exact origin and characteristics of the stalk (width, vascularization) and the polyp structure (tissue components), thus providing useful information for planning the most appropriate surgical approach.
This is a preview of subscription content, log in to check access.
Access options
Buy single article
Instant unlimited access to the full article PDF.
US$ 39.95
Price includes VAT for USA
Subscribe to journal
Immediate online access to all issues from 2019. Subscription will auto renew annually.
US$ 99
This is the net price. Taxes to be calculated in checkout.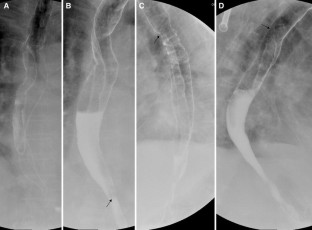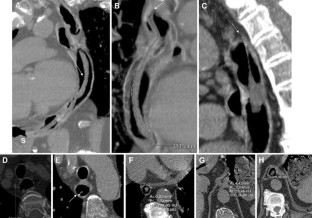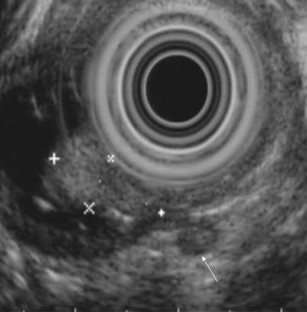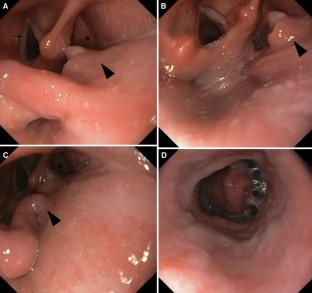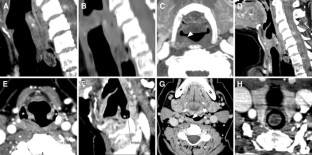 References
1.

Schuhmacher C, Becker K, Dittler HJ, et al. (2000) Fibrovascular esophageal polyp as a diagnostic challenge. Dis Esophagus 13(4):324–327

2.

Bayram AS, Erol MM, Saraydaroglu O (2004) Giant fibrovascular polyp of the esophagus—case report. Indian J Thorac Cardiovasc Surg 20(2):104–105. doi:10.1007/s12055-004-0055-2

3.

Whitman GJ, Borkowski GP (1989) Giant fibrovascular polyp of the esophagus: CT and MR findings. AJR Am J Roentgenol 152(3):518–520

4.

Seshul MJ, Wiatrak BJ, Galliani CA, Odrezin GT (1998) Pharyngeal fibrovascular polyp in a child. Ann Otol Rhinol Laryngol 107(9 Pt 1):797–800

5.

Watanabe H, Jass JR, Sabin LH (1990) World health organization: histological typing of esophageal and gastric tumors, 2nd edn. Berlin: Springer-Verlag

6.

Lee SY, Chan WH, Sivanandan R, Lim DT, Wong WK (2009) Recurrent giant fibrovascular polyp of the oesophagus. World J Gastroenterol 15(29):3697–3700

7.

Chourmouzi D, Drevelegas A (2008) Giant fibrovascular polyp of the oesophagus: a case report and review of the literature. J Med Case Rep 2:337. doi:10.1186/1752-1947-2-337

8.

Kim TS, Song SY, Han J, Shim YM, Jeong HS (2005) Giant fibrovascular polyp of the oesophagus: CT findings. Abdom Imaging 30(6):653–655

9.

Jakowski JD, Wakely PEJr (2009) Rhabdomyomatous well-differentiated liposarcoma arising in giant fibrovascular polyp of the oesophagus. Ann Diagn Pathol 13(4):263–268

10.

Yannopoulos P, Manes K (2009) Giant fibrovascular polyp of the oesophagus—imaging techniques can localize, preoperatively, the origin of the stalk and designate the way of surgical approach: a case report. Cases J 2:6854. http://casesjournal.com/casesjournal/article/view/6854

11.

Ridge C, Geoghegan T, Govender P, McDermontt R, Torreggiani W (2006) Giant oesophageal fibrovascular polyp. Eur Radiol 16(3):764–766

12.

Solito B, Anselmino M, Tognetti A, Vignati S, Rossi M (2002) Rare case of inflammatory fibrous polyp of the esophagus. Dis Esophagus 15(4):326–329
Electronic supplementary material
Below is the link to the electronic supplementary material.
Supplementary material 1 (MPG 7236 kb)
About this article
Cite this article
Vagli, P., Solito, B., Neri, E. et al. Giant fibrovascular polyp of the esophagus—imaging techniques for proper treatment planning: report of two cases. Abdom Imaging 37, 512–518 (2012). https://doi.org/10.1007/s00261-011-9787-9
Keywords
Giant fibrovascular polyp

Esophageal polyp

Fibroepithelial polyps

Endoscopy

Computed tomography

Ultrasound