Abstract
Background
68Ga prostate specific membrane antigen PET/CT (68Ga-PSMA PET/CT) may be superior to multiparametric MRI (mpMRI) for localisation of prostate cancer tumour foci, however the concordance and differences between 68Ga-PSMA PET/CT and mpMRI when applied to all biopsied patients and potential benefit in patients with negative mpMRI is unclear.
Methods
Retrospective analysis of patients undergoing mpMRI, prostate biopsy and 68Ga-PSMA PET/CT over a 3-year period. Diagnostic performance of 68Ga-PSMA PET/CT and mpMRI were assessed using biopsy histopathology for the entire cohort and radical prostatectomy specimen in a subset of patients. Lesion concordance and additional detection of each modality were determined, including in a dedicated cohort of patients with mpMRI PIRADS 2 scans.
Results
A total of 144 patients were included in the study. Index lesion/foci detection was similar between 68Ga-PSMA PET/CT and mpMRI (sensitivity 83.1% vs 90.1%; p = 0.267), however lesions missed by mpMRI were larger (1.66 cm3 vs 0.72 cm3; p = 0.034). Lesion detection rates were similar across the biopsy histopathology and radical prostatectomy specimen subset, with a high concordance for index (80.1%) and a moderate concordance for total (67%) lesions between the 2 imaging modalities. The additional detection yield favoured 68Ga-PSMA PET/CT over mpMRI for index (13.5% vs 4.3%) and total (18.2% vs 5.4%) lesions; both modalities missed 2.1% and 12.3% of index and total lesions, respectively. 68Ga-PSMA PET/CT identified 9 of 11 patients with PIRADS 2 mpMRI but subsequently diagnosed with Gleason ≥ 3 + 4 disease.
Conclusions
Despite high concordance rates, 68Ga-PSMA PET/CT incrementally improved tumour localisation compared with mpMRI. These results suggest that 68Ga-PSMA PET/CT may have an incremental value to that of mpMRI in the diagnostic process for prostate.
This is a preview of subscription content, log in to check access.
Access options
Buy single article
Instant unlimited access to the full article PDF.
US$ 39.95
Price includes VAT for USA
Subscribe to journal
Immediate online access to all issues from 2019. Subscription will auto renew annually.
US$ 199
This is the net price. Taxes to be calculated in checkout.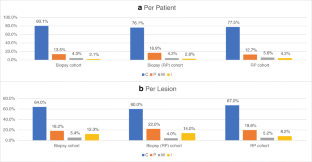 Ethics declarations
Conflict of interest
The authors declare that they have no conflict of interest.
Ethical approval
The study was approved by the Ethics Committee of the Royal Brisbane and Women's Hospital (RBWH) Human Research Ethics Committee (approval number HREC/17/QRBW/644).
Informed consent
Informed consent was not deemed necessary by the Ethics Committee of the Royal Brisbane and Women's Hospital (RBWH) Human Research Ethics Committee.
Additional information
Publisher's note
Springer Nature remains neutral with regard to jurisdictional claims in published maps and institutional affiliations.
This article is part of the Topical Collection on Oncology – Genitourinary
Electronic supplementary material
About this article
Cite this article
Donato, P., Morton, A., Yaxley, J. et al. 68Ga-PSMA PET/CT better characterises localised prostate cancer after MRI and transperineal prostate biopsy: Is 68Ga-PSMA PET/CT guided biopsy the future?. Eur J Nucl Med Mol Imaging (2020). https://doi.org/10.1007/s00259-019-04620-0
Received:

Accepted:

Published:
Keywords
Prostatic neoplasms

Positron-emission tomography

Magnetic resonance imaging

Glutamate carboxypeptidase II

Human

Prostatectomy

Prostate specific membrane antigen