Yttrium-90 TOF PET scan demonstrates high-resolution biodistribution after liver SIRT
Keywords
Colorectal Liver Metastasis 
Scatter Correction 
Necrotic Core 
Gastroduodenal Artery 
Head Camera 
These keywords were added by machine and not by the authors. This process is experimental and the keywords may be updated as the learning algorithm improves.
The decay of
90
Y has a minor branch to the 0
+
excited state [
1
], followed by an internal e
+
e
−
creation which happens in 32 out of one million decays [
2
]. Consequently,
90
Y PET scan was proposed in order to assess the biodistribution [
3
] of
90
Y-labelled therapeutic agents. A 61-year-old woman was referred for treatment of chemorefractory colorectal liver metastasis. Based on the pretreatment evaluation (including a diagnostic FDG PET/CT scan on day 1, and a prophylactic embolization of the right gastric and gastroduodenal arteries followed by a
99m
Tc-MAA SPECT/CT scan on day 8), 1.3 GBq of
90
Y-labelled SIR-Spheres were administered by sequential catheterization of both liver lobes (day 15). Subsequently, a 30-min
90
Y TOF PET/CT scan was performed using a Philips GEMINI TF camera. In order to prevent saturation of the detectors, a copper ring of 2.5 mm thickness was inserted into the gantry to absorb the bremsstrahlung x-rays. The TOF data were reconstructed with attenuation and scatter correction using Philips RAMLA software (eight iterations, three subsets). An additional 20 min bremsstrahlung
90
Y-SPECT was acquired using a Trionix XLT20 triple head camera (medium energy collimator, 30% window centred on 90 keV). Data were reconstructed using OSEM (four iterations, six subsets). As illustrated, despite the differences in their respective uptake mechanism,
90
Y-PET better reflects the tumour heterogeneity assessed by FDG PET/CT (a necrotic core surrounded by active tumour margins) than traditional bremsstrahlung
90
Y-SPECT. This gain in resolution should therefore contribute to increasing the accuracy of the dose distribution into the tumours and their surrounding healthy tissues.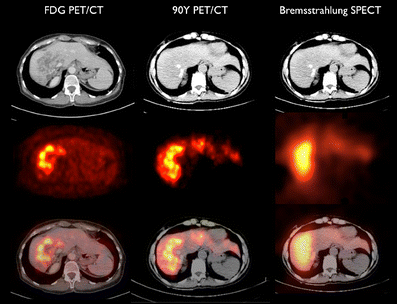 References
1.

2.

Selwyn RG, Nickles RJ, Thomadsen BR, DeWerd LA, Micka JA. A new internal pair production branching ratio of 90Y: the development of a non-destructive assay for 90Y and 90Sr. Appl Radiat Isot 2007;65:318–27.

PubMed

CrossRef

Google Scholar

3.

Nickles RJ, Roberts AD, Nye JA, Converse AK, Barnhart TE, Avila-Rodriguez MA. Assaying and PET imaging of yttrium-90: 1>>34 ppm>0. IEEE Nuclear Science Symposium Record 2004;6:3412–14.

CrossRef

Google Scholar