Abstract
Purpose
The purpose of the study was to report on the prognostic value of 99mTc-hydrazinonicotinamide (HYNIC) Annexin-V single-photon emission computed tomography (SPECT) imaging in patients suffering from primary squamous cell carcinoma of the head and neck.
Methods
Twenty-nine patients diagnosed with a primary untreated head and neck squamous cell carcinoma were included in this study. In all patients, 99mTc-HYNIC Annexin-V scintigraphy SPECT was performed before treatment instigation. Tumour-to-background ratios (T/N) of the primary tumour, derived from reconstructed images, as well as clinical variables were obtained in all patients and related to patient outcome. Median follow-up was 22.6 months (range 4.1–55.8 months).
Results
On univariate as well as multivariate analysis, only the 99mTc-HYNIC Annexin-V T/N ratio dichotomized using the group median as cutoff value (T/N ratio of 2) was predictive of recurrence-free survival (respectively, p = 0.0000 and 0.000). On univariate analysis, only lymph node status dichotomized according to N0 vs N1–N2–N3 disease and the 99mTc-HYNIC Annexin-V T/N ratio dichotomized using the group median as cutoff value (T/N ratio of 2) were predictive of overall survival (p = 0.0051 and 0.0000). When both factors were included in the multivariate model, both N status and the 99mTc-HYNIC Annexin-V T/N ratio showed an independent association with overall survival (p = 0.001 for lymph node status and 0.000 for dichotomized 99mTc-HYNIC Annexin-V T/N ratio).
Conclusion
99mTc-HYNIC Annexin-V T/N ratios derived from SPECT provides independent prognostic information on disease-free survival and overall survival.
This is a preview of subscription content, log in to check access.
Access options
Buy single article
Instant unlimited access to the full article PDF.
US$ 39.95
Price includes VAT for USA
Subscribe to journal
Immediate online access to all issues from 2019. Subscription will auto renew annually.
US$ 199
This is the net price. Taxes to be calculated in checkout.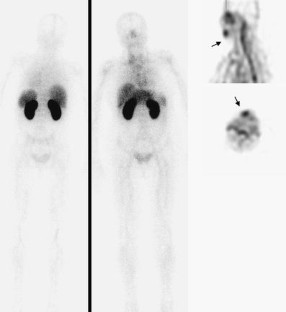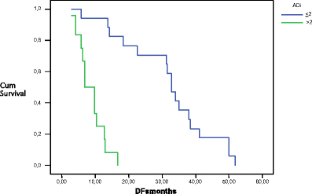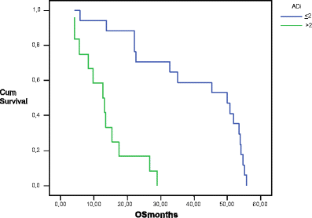 References
1.

Parkin D, Läärä E, Muir C. Estimates of the worldwide frequency of sixteen major cancers in 1980. Int J Cancer 1988;41:184–97.

2.

Chin D, Boyle G, Porceddu S, Theik D, Parsons P, Coman W. Head and neck cancer: past, present and future. Expert Rev Anticancer Ther 2006;6:1111–8.

3.

Stoll C, Baretton G, Ahrens C, Lohrs U. Prognostic significance of apoptosis and associated factors in oral squamous cell carcinoma. Virchows Arch 2000;436:102–8.

4.

van Engeland M, Nieland L, Ramaekers F, Schutte B, Reutelingsperger C. Annexin-V-affinity assay: a review on an apoptosis detection system based on phosphatidylserine exposure. Cytometry 1998;31:1–9.

5.

Narula J, Acio ER, Narula N, Samuels L, Fyfe B, Wood D, et al. Annexin-V imaging for noninvasive detection of cardiac allograft rejection. Nature Med 2001;7:1347–52.

6.

Hofstra L, Liem I, Dumont EA, Boersma H, van Heerde W, Doevendans P, et al. Visualization of cell death in vivo in patients with acute myocardial infarction. Lancet 2000;356:209–12.

7.

Blankenberg F, Vriens P, Tait J. Non-invasive detection and quantification of acute heart transplant rejection using 99mTc radiolabeled annexin V. Radiology 1998;103 (abstr 1337).

8.

Narula J, Acia E, Narula N. Phase-I Tc99m-Annexin-V imaging study in heart transplant rejection: can noninvasive detection of apoptosis in cardiac allografts obviate the need for endomyocardial biopsy. Circulation 2000;102 (abstr 3714).

9.

Van de Wiele C, Lahorte C, Vermeersch H, Loose D, Mervillie K, Steinmetz N, et al. Quantitative tumor apoptosis imaging using 99mTc-HYNIC Annexin single photon emission computerized tomography. J Clin Oncol 2003;21:3483–7.

10.

Vermeersch H, Ham H, Rottey S, Lahorte C, Corsetti F, Dierckx R, et al. Intra-observer, inter-observer and day-to-day reproducibility of quantitative 99mTc-HYNIC Annexin V imaging in head and neck carcinoma. Cancer Biother Radiopharm 2004;2:205–10.

11.

Rottey S, Slegers G, Van Belle S, Goethals I, Van de Wiele C. Sequential 99mTc-hydrazinonicotinamide-annexin V imaging for predicting response to chemotherapy. J Nucl Med 2006;47:1813–8.

12.

Hall P. Assessing apoptosis: a critical survey. Endocr-Relat Cancer 1999;6:3–8.

13.

Mundle S, Gao X, Khan S, Gregory S, Preisler H, Razza A. Two in situ end labeling techniques reveal different patterns of DNA fragmentation during spontaneous apoptosis in vivo and induced apoptosis in vitro. Anticancer Res 1995;15:1895–904.

14.

Hotz M, Bosq J, Zbaeren P, Reed J, Schwab G, Krajewski S, et al. Spontaneous apoptosis and the expression of p53 and Bcl-2 family proteins in locally advanced head and neck cancer. Arch Otolaryngol Head Neck Surg 1999;125:417–22.

15.

Naresh K, Lakshminarayanan K, Pai S, Borges A. Apoptosis index is a predictor of metastatic phenotype in patients with early stage squamous carcinoma of the tongue. Cancer 2001;91:578–84.

16.

Xie X, De Angelis P, Clausen O, Boysen M. Prognostic significance of proliferative and apoptotic markers in oral tongue squamous cell carcinomas. Oral Oncol 1999;35:502–9.

17.

Hirvikoski P, Virtaniemi J, Kumpulainen E, Johansson R, Kosma V. Supraglottic and glottic carcinomas: clinically and biologically distinct entities. Eur J Cancer 2002;38:1717–23.

18.

Teppo H, Soini Y, Melkko J, Koivunen P, Alho P. Prognostic factors in laryngeal carcinoma: the role of apoptosis, p53, proliferation (Ki-67) and angiogenesis. APMIS 2003;111:451–7.

19.

Jäckel M, Dorudian M, Marx D, Brinck U, Schauer A, Steiner W. Spontaneous apoptosis in laryngeal squamous cell carcinoma is independent of bcl-2 and bax protein expression. Cancer 1999;85:591–9.

20.

Gastman B. Apoptosis and its clinical impact. Head Neck 2001;23:409–25.

21.

Gastman B, Atarshi Y, Reichert T, Saito T, Balkir L, Rabinowich H, et al. Fas ligand is expressed on human squamous cell carcinomas of the head and neck, and it promotes apoptosis of T lymphocytes. Cancer Res 1991;59:5356–64.
About this article
Cite this article
Loose, D., Vermeersch, H., De Vos, F. et al. Prognostic value of 99mTc-HYNIC Annexin-V imaging in squamous cell carcinoma of the head and neck. Eur J Nucl Med Mol Imaging 35, 47–52 (2008) doi:10.1007/s00259-007-0577-0
Received:

Accepted:

Published:

Issue Date:
Keywords
Annexin V

Apoptosis imaging

Molecular imaging

Oncology

Prognosis