Abstract
Introduction
Skip metastases have been described with osteosarcoma, Ewing sarcoma and rarely chondrosarcoma. The aim of this study was to determine the incidence of skip metastases on whole bone MRI in all primary high-grade sarcomas of the major long bones.
Materials and method
Retrospective review of patients from April 2007 to April 2019 with high-grade primary bone sarcomas of the humerus, radius, ulna, femur, tibia or fibula who had whole bone MRI at initial staging. Data collected included age, sex, tumour type, presence and location of skip metastases based on whole bone MRI and presence of distant metastases (the skeleton and lung).
Results
The study included 216 males and 171 females with mean age 30.6 years (range 4–92 years). Tumour types were as follows: High-grade osteosarcoma n = 202, Ewing sarcoma n = 68, high-grade chondrosarcoma n = 44, dedifferentiated chondrosarcoma n = 37, high-grade spindle cell sarcoma n = 29 and angiosarcoma n = 7. Skip lesions were identified in 63 (16.3%). However, after taking into account the presence of distant skeletal (n = 11) and pulmonary (n = 33) metastases, the overall incidence of skip metastases was 6.5%, occurring in 15 (7.5%) high-grade osteosarcomas, 3 (4.5%) Ewing sarcoma, 1 (2.8%) high-grade chondrosarcoma, 4 (10.8%) dedifferentiated chondrosarcomas, and 2 (6.9%) high-grade spindle cell sarcomas. A false positive MRI diagnosis of skip metastasis was made in 4 cases, 3 enchondromata and one focal nodular marrow hyperplasia.
Conclusion
The current study has documented the incidence of skip metastases in common types of high-grade primary bone sarcoma. The possibility of false positive skip metastases has also been highlighted.
This is a preview of subscription content, log in to check access.
Access options
Buy single article
Instant unlimited access to the full article PDF.
US$ 39.95
Price includes VAT for USA
Subscribe to journal
Immediate online access to all issues from 2019. Subscription will auto renew annually.
US$ 199
This is the net price. Taxes to be calculated in checkout.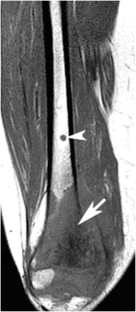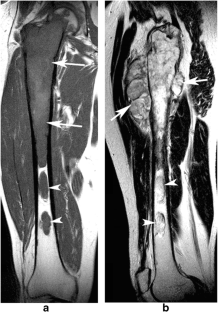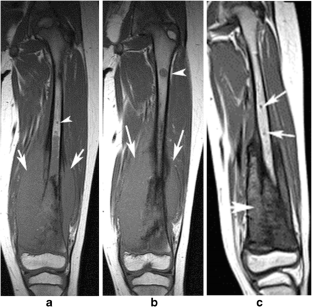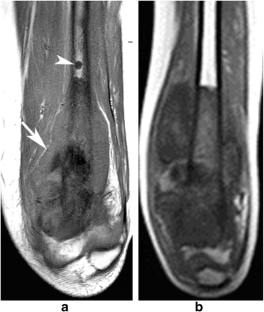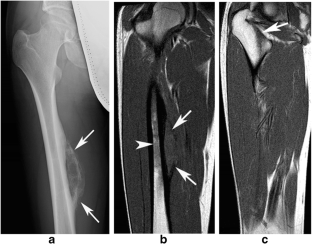 References
1.

Enneking WF, Kagan A. The implications of "skip" metastases in osteosarcoma. Clin Orthop Relat Res. 1975;111:33–41.

2.

Enneking WF, Kagan A. "Skip" metastases in osteosarcoma. Cancer. 1975;36(6):2192–205.

3.

Wuisman P, Enneking WF. Prognosis for patients who have osteosarcoma with skip metastasis. J Bone Joint Surg Am. 1990;72(1):60–8.

4.

Sajadi KR, Heck RK, Neel MD, Rao BN, Daw N, Rodriguez-Galindo C, et al. The incidence and prognosis of osteosarcoma skip metastases. Clin Orthop. 2004;426:92–6.

5.

Kager L, Zoubek A, Kastner U, Kempf-Bielack B, Potratz J, Kotz R, et al. Skip metastases in osteosarcoma: experience of the cooperative osteosarcoma study group. J Clin Oncol. 2006;24(10):1535–41.

6.

Davies AM, Makwana NK, Grimer RJ, Carter SR. Skip metastases in Ewing's sarcoma: a report of three cases. Skelet Radiol. 1997;26(6):379–84.

7.

Jiya TU, Wuisman PI. Long-term follow-up of 15 patients with non-metastatic Ewing's sarcoma and a skip lesion. Acta Orthop. 2005;76(6):899–903.

8.

Damron TA, Sim FH, Unni KK. Multicentric chondrosarcomas. Clin Orthop Relat Res. 1996;328:211–9.

9.

Chow LT, Ng AW, Wong SK. Focal nodular and diffuse haematopoietic marrow hyperplasia in patients with underlying malignancies: a radiological mimic of malignancy in need of recognition. Clin Radiol. 2017;72(3):265.e7–265.e23. https://doi.org/10.1016/j.crad.2016.10.015.

10.

Brenner W, Bohuslavizki KH, Eary JF. PET imaging of osteosarcoma. J Nucl Med. 2003;44(6):930–42.

11.

Hurley C, McCarville MB, Shulkin BL, et al. Comparison of (18) F-FDG-PET-CT and bone scintigraphy for evaluation of osseous metastases in newly diagnosed and recurrent osteosarcoma. Pediatr Blood Cancer. 2016;63(8):1381–6. https://doi.org/10.1002/pbc.26014.

12.

Saifuddin A, Sharif B, Gerrand C, Whelan J. The current status of MRI in the pre-operative assessment of intramedullary conventional appendicular osteosarcoma. Skelet Radiol. 2018. https://doi.org/10.1007/s00256-018-3079-1.

13.

Nascimento D, Suchard G, Hatem M, de Abreu A. The role of magnetic resonance imaging in the evaluation of bone tumours and tumour-like lesions. Insights Imaging. 2014;5(4):419–40. https://doi.org/10.1007/s13244-014-0339-z.

14.

Staals EL, Bacchini P, Bertoni F. Dedifferentiated central chondrosarcoma. Cancer. 2006;106(12):2682–91.

15.

Grimer RJ, Gosheger G, Taminiau A, et al. Dedifferentiated chondrosarcoma: prognostic factors and outcome from a European group. Eur J Cancer. 2007;43(14):2060–5.

16.

Strotman PK, Reif TJ, Kliethermes SA, Sandhu JK, Nystrom LM. Dedifferentiated chondrosarcoma: a survival analysis of 159 cases from the SEER database (2001-2011). J Surg Oncol. 2017;116(2):252–7. https://doi.org/10.1002/jso.24650.

17.

Liu C, Xi Y, Li M, Jiao Q, Zhang H, Yang Q, et al. Dedifferentiated chondrosarcoma: radiological features, prognostic factors and survival statistics in 23 patients. PLoS One. 2017;12(3):e0173665. https://doi.org/10.1371/journal.pone.0173665eCollection 2017.

18.

Pakos EE, Grimer RJ, Peake D, et al. The 'other' bone sarcomas: prognostic factors and outcomes of spindle cell sarcomas of bone. J Bone Joint Surg (Br). 2011;93(9):1271–8. https://doi.org/10.1302/0301-620X.93B9.27166.

19.

Palmerini E, Maki RG, Staals EL, et al. Primary angiosarcoma of bone: a retrospective analysis of 60 patients from 2 institutions. Am J Clin Oncol. 2014;37(6):528–34. https://doi.org/10.1097/COC.0b013e31827defal.

20.

Thariat J, Peyrottes I, Chibon F, et al. Primary multicentric angiosarcoma of bone: true entity or metastases from an unknown primary? Value of comparative genomic hybridisation on paraffin embedded tissues. Rare Tumours. 2013;5:e53.

21.

Walden MJ, Murphey MD, Vidal JA. Incidental enchondromas of the knee. Am J Roentgenol. 2008;190(6):1611–5.

22.

Hong ED, Carrino JA, Weber KL, Fayad LM. Prevalence of shoulder enchondromas on routine MR imaging. Clin Imaging. 2011;35(5):378–84.

23.

Pui M, Tan M, Kuan J, Pho R. Haematopoietic marrow hyperplasia simulating transarticular skip metastasis in osteosarcoma. Australas Radiol. 1995;39:303–5.

24.

van Vucht N, Santiago R, Lottmann B, et al. The Dixon technique for MRI of the bone marrow. Skelet Radiol. 2019. https://doi.org/10.1007/s00256-019-03271-4.
Ethics declarations
Conflict of interest
The authors declare that they have no conflict of interest.
Additional information
Publisher's note
Springer Nature remains neutral with regard to jurisdictional claims in published maps and institutional affiliations.
About this article
Cite this article
Saifuddin, A., Sharif, B., Oliveira, I. et al. The incidence of skip metastases on whole bone MRI in high-grade bone sarcomas. Skeletal Radiol (2020). https://doi.org/10.1007/s00256-019-03369-9
Received:

Revised:

Accepted:

Published:
Keywords
Sarcoma

High-grade bone sarcoma

Skip metastases

Magnetic resonance imaging