Abstract
Purpose
To determine the value of anesthetic injection during hip MR arthrography (anesthetic MRA) to differentiate between intra- and extra-articular pathology in patients with hip pain.
Materials and methods
This retrospective study was IRB-approved and HIPAA-compliant. We included 75 consecutive adult patients (46 women, mean age 38 ± 13 years) who were referred for MRA. All patients underwent a focused hip examination including active flexion, passive flexion, and passive flexion with internal and external rotation, immediately prior to injection. Anesthetic MRA was performed following fluoroscopically guided intra-articular injection of contrast mixed with anesthetic. Following the injection, the hip examination was repeated, and the pain response was recorded. Clinical records, including response to corticosteroid injections, physical therapy notes, and operative reports were reviewed for verification of intra- and extra-articular pathology as the source of hip pain (gold standard). The positive (PPV) and negative predictive values (NPP) of anesthetic MRA to differentiate between intra- and extra-articular pathology were calculated.
Results
On MRI, 41 patients had only intra-articular and 5 patients only extra-articular pathology, while 29 patients had both, intra- and extra-articular pathology. Forty-three patients had pain relief and 32 patients had no pain relief after anesthetic injection. PPV of anesthetic MRA to detect intra-articular pathology was 91% and NPV was 67%.
Conclusion
Anesthetic MRA can be used as an adjunct to define the origin of hip pain. A positive response suggests intra-articular pathology which can be helpful to localize the source of pain in equivocal cases where both intra- and extra-articular pathology are evident on MRI.
This is a preview of subscription content, log in to check access.
Access options
Buy single article
Instant access to the full article PDF.
US$ 39.95
Price includes VAT for USA
Subscribe to journal
Immediate online access to all issues from 2019. Subscription will auto renew annually.
US$ 199
This is the net price. Taxes to be calculated in checkout.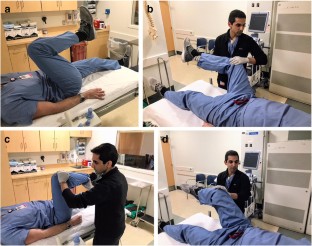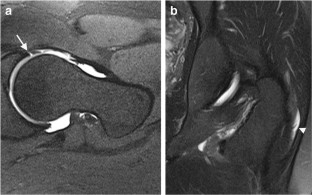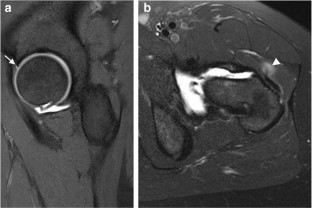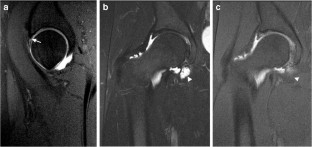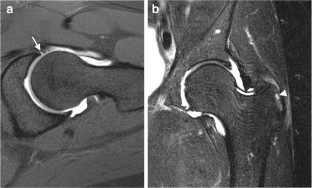 References
1.

Jonasson P, Halldin K, Karlsson J, Thoreson O, Hvannberg J, Sward L, et al. Prevalence of joint-related pain in the extremities and spine in five groups of top athletes. Knee Surg Sports Traumatol Arthrosc. 2011;19(9):1540–6.

2.

Lynch TS, Bedi A, Larson CM. Athletic hip injuries. J Am Acad Orthop Surg. 2017;25(4):269–79.

3.

Schmaranzer F, Cerezal L, Llopis E. Conventional and arthrographic magnetic resonance techniques for hip evaluation: what the radiologist should know. Semin Musculoskelet Radiol. 2019;23(3):227–51.

4.

Naraghi A, White LM. MRI of labral and chondral lesions of the hip. AJR Am J Roentgenol. 2015;205(3):479–90.

5.

Sutter R, Dietrich TJ, Zingg PO, Pfirrmann CW. How useful is the alpha angle for discriminating between symptomatic patients with cam-type femoroacetabular impingement and asymptomatic volunteers? Radiology. 2012;264(2):514–21.

6.

Byrd JW, Jones KS. Diagnostic accuracy of clinical assessment, magnetic resonance imaging, magnetic resonance arthrography, and intra-articular injection in hip arthroscopy patients. Am J Sports Med. 2004;32(7):1668–74.

7.

Martin RL, Irrgang JJ, Sekiya JK. The diagnostic accuracy of a clinical examination in determining intra-articular hip pain for potential hip arthroscopy candidates. Arthroscopy. 2008;24(9):1013–8.

8.

Jacobson JA, Bedi A, Sekiya JK, Blankenbaker DG. Evaluation of the painful athletic hip: imaging options and imaging-guided injections. AJR Am J Roentgenol. 2012;199(3):516–24.

9.

Kivlan BR, Martin RL, Sekiya JK. Response to diagnostic injection in patients with femoroacetabular impingement, labral tears, chondral lesions, and extra-articular pathology. Arthroscopy. 2011;27(5):619–27.

10.

Crespo-Rodriguez AM, De Lucas-Villarrubia JC, Pastrana-Ledesma M, Hualde-Juvera A, Mendez-Alonso S, Padron M. The diagnostic performance of non-contrast 3-Tesla magnetic resonance imaging (3-T MRI) versus 1.5-Tesla magnetic resonance arthrography (1.5-T MRA) in femoro-acetabular impingement. Eur J Radiol. 2017;88:109–16.

11.

Sutter R, Zubler V, Hoffmann A, Mamisch-Saupe N, Dora C, Kalberer F, et al. Hip MRI: how useful is intraarticular contrast material for evaluating surgically proven lesions of the labrum and articular cartilage? AJR Am J Roentgenol. 2014;202(1):160–9.

12.

Tian CY, Wang JQ, Zheng ZZ, Ren AH. 3.0 T conventional hip MR and hip MR arthrography for the acetabular labral tears confirmed by arthroscopy. Eur J Radiol. 2014;83(10):1822–7.

13.

Pfirrmann CW, Duc SR, Zanetti M, Dora C, Hodler J. MR arthrography of acetabular cartilage delamination in femoroacetabular cam impingement. Radiology. 2008;249(1):236–41.

14.

Pfirrmann CW, Mengiardi B, Dora C, Kalberer F, Zanetti M, Hodler J. Cam and pincer femoroacetabular impingement: characteristic MR arthrographic findings in 50 patients. Radiology. 2006;240(3):778–85.

15.

Agten CA, Sutter R, Buck FM, Pfirrmann CW. Hip imaging in athletes: sports imaging series. Radiology. 2016;280(2):351–69.

16.

Gerhardt MB, Romero AA, Silvers HJ, Harris DJ, Watanabe D, Mandelbaum BR. The prevalence of radiographic hip abnormalities in elite soccer players. Am J Sports Med. 2012;40(3):584–8.

17.

Hawkins RD, Hulse MA, Wilkinson C, Hodson A, Gibson M. The association football medical research programme: an audit of injuries in professional football. Br J Sports Med. 2001;35(1):43–7.

18.

Hegazi TM, Belair JA, McCarthy EJ, Roedl JB, Morrison WB. Sports injuries about the hip: what the radiologist should know. Radiographics. 2016;36(6):1717–45.

19.

Martin RL, Kelly BT, Leunig M, Martin HD, Mohtadi NG, Philippon MJ, et al. Reliability of clinical diagnosis in intraarticular hip diseases. Knee Surg Sports Traumatol Arthrosc. 2010;18(5):685–90.

20.

Register B, Pennock AT, Ho CP, Strickland CD, Lawand A, Philippon MJ. Prevalence of abnormal hip findings in asymptomatic participants: a prospective, blinded study. Am J Sports Med. 2012;40(12):2720–4.

21.

Larson CM, Safran MR, Brcka DA, Vaughn ZD, Giveans MR, Stone RM. Predictors of clinically suspected intra-articular hip symptoms and prevalence of hip pathomorphologies presenting to sports medicine and hip preservation orthopaedic surgeons. Arthroscopy. 2018;34(3):825–31.

22.

Byrd JW. Hip arthroscopy: surgical indications. Arthroscopy. 2006;22(12):1260–2.

23.

Wang D, Camp CL, Ranawat AS, Coleman SH, Kelly BT, Werner BC. The timing of hip arthroscopy after intra-articular hip injection affects postoperative infection risk. Arthroscopy. 2017;33(11):1988–94 e1.

24.

Ladd LM, Keene JS, Del Rio AM, Rosas HG. Correlation between hip arthroscopy outcomes and preoperative anesthetic hip joint injections, MR arthrogram imaging findings, and patient demographic characteristics. AJR Am J Roentgenol. 2016;207(5):1062–9.

25.

Ayeni OR, Farrokhyar F, Crouch S, Chan K, Sprague S, Bhandari M. Pre-operative intra-articular hip injection as a predictor of short-term outcome following arthroscopic management of femoroacetabular impingement. Knee Surg Sports Traumatol Arthrosc. 2014;22(4):801–5.

26.

Lynch TS, Steinhaus ME, Popkin CA, Ahmad CS, Rosneck J. Outcomes after diagnostic hip injection. Arthroscopy. 2016;32(8):1702–11.
Funding
This study was supported by NIH grant K24 DK-109940.
Ethics declarations
Conflict of interest
The authors declare that they have no conflict of interest.
Ethical approval
All procedures performed in studies involving human participants were in accordance with the ethical standards of the institutional and/or national research committee and with the 1964 Helsinki declaration and its later amendments or comparable ethical standards.
Informed consent
Informed consent was waived for this retrospective study.
Additional information
Publisher's note
Springer Nature remains neutral with regard to jurisdictional claims in published maps and institutional affiliations.
This study [Bredella M, Zoga A, Vicentini JT, Torriani M, Kheterpal A. Value of response to anesthetic injection during hip MR arthrography to differentiate between intra- and extra-articular pathology. Skelet Radiol. 2019 Mar;48(3):488] was presented at the Annual Meeting of the Society of Skeletal Radiology in Scottsdale, AZ.
About this article
Cite this article
Kheterpal, A.B., Bunnell, K.M., Husseini, J.S. et al. Value of response to anesthetic injection during hip MR arthrography to differentiate between intra- and extra-articular pathology. Skeletal Radiol 49, 555–561 (2020). https://doi.org/10.1007/s00256-019-03323-9
Received:

Revised:

Accepted:

Published:

Issue Date:
Keywords
Hip

MR arthrography

Anesthetic

Injection

Intra-articular

Extra-articular