Abstract
Objective
To determine if new onset of low back pain in adults could be secondary to lumbar spondylolysis by establishing the age-related prevalence in the general population by examining patients undergoing computed tomography (CT) for reasons unrelated to back pain.
Materials and methods
The records of 2,555 patients who had undergone abdominal and pelvic CT in 2008 were reviewed electronically. In order to determine a true representation of the general population, we reviewed all indications for CT, excluding patients with a primary complaint of low back pain as the primary indication for imaging. Equal numbers of patients were separated into age groups by decade to ensure an even distribution of ages for statistical analysis. Patients older than 70 years were grouped together to provide case numbers comparable to those of the other decades. Logistic regression analysis was performed to evaluate the significance of the results. Three board-certified radiologists, including two musculoskeletal fellows and a radiology resident, retrospectively evaluated CT scans for lumbar spondylolysis, including unilateral and bilateral defects.
Results
Of the 2,555 cases evaluated, there were 203 positive cases of defects of the lumbar pars interarticularis. This corresponded to an overall prevalence of 8.0%. Prevalence per decade was fairly evenly distributed and ranged from 7.0%( ages 30–39 years) to 9.2% (ages 70 years and above). Prevalence of ages 20–49 years was 7.9%, and that of ages 50 years and older was 8.0%. Male to female ratio was 1.5:1. Logistic regression showed no significant increase in spondylolysis based on age.
Conclusion
No significant increase in the prevalence of lumbar spondylolysis was demonstrated in patients older than 20 years. This suggests that the development of symptomatic lumbar pars defects do not occur in this population and should not be considered as a rare but potentially treatable cause of new onset low back pain in adults. This study demonstrated an overall prevalence of pars defects of 8.0% in our population. As demonstrated in previous studies, the male to female ratio of 1.5:1 was a statistically significant difference.
This is a preview of subscription content, log in to check access.
Access options
Buy single article
Instant access to the full article PDF.
US$ 39.95
Price includes VAT for USA
Subscribe to journal
Immediate online access to all issues from 2019. Subscription will auto renew annually.
US$ 199
This is the net price. Taxes to be calculated in checkout.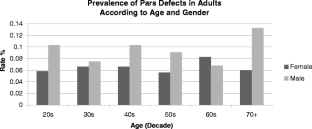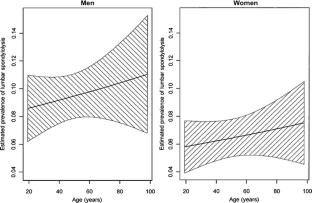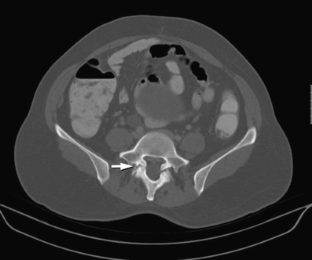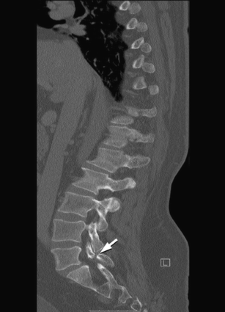 References
1.

Iwamoto J, Abe H, Tsukimura Y, Wakano K. Relationship between radiographic abnormalities of lumbar spine and incidence of low back pain in high school rugby players: a prospective study. Scand J Med Sci Sports. 2005;15:163–8.

2.

Lundin DA, Wiseman DB, Shaffrey CI. Spondylolysis and spondylolisthesis in the athlete. Clin Neurosurg. 2002;49:528–47.

3.

Hensinger RN. Spondylolysis and spondylolisthesis in children and adolescents. J Bone Joint Surg Am. 1989;71:1098–107.

4.

Kalichman L, Kim DH, Li L, Guermazi A, Berkin V, Hunter DJ. Spondylolysis and spondylolisthesis: prevalence and association with low back pain in the adult community-based population. Spine. 2009;34:199–205.

5.

Sonne-Holm S, Jacobsen S, Rovsing HC, Monrad H, Gebuhr P. Lumbar spondylolysis: a life long dynamic condition? A cross sectional survey of 4.151 adults. Eur Spine J. 2007;16:821–8.

6.

Teplick JG, Laffey PA, Berman A, Haskins, ME. Diagnosis and evaluation of spondylolisthesis and/or spondylolysis on axial CT. AJNR Am J Neuroradiol. 1986;7:479–91.

7.

Belfi L, Ortiz O, Katz D. Computed tomography evaluation of spondylolysis and spondylolisthesis of asymptomatic patients. Spine. 2006;31:E907–10.

8.

Fredricksen BE, Baker D, McHolick WJ, Yuan, HA, Lubicky, JP. The natural history of spondylolysis and spondylolisthesis. J Bone Joint Surg Am. 1984;66:699–706.

9.

Harvey CJ, Richenberg JL, Saifuddin A, Wolman, RL. The radiological investigation of lumbar spine spondylolysis. Clin Radiol. 1998;53:723–8.

10.

Leone A, Cerase A, Aulisa AG, Tamburrelli, F. Imaging of lumbar spondylolysis. Radiologist. 2001;8:73–86.

11.

Rauch RA, Jinkins JR. Lumbosacral spondylolisthesis associated with spondylolysis. Neuroradiol Clin North Am. 1993;3:543–53.
About this article
Cite this article
Brooks, B.K., Southam, S.L., Mlady, G.W. et al. Lumbar spine spondylolysis in the adult population: using computed tomography to evaluate the possibility of adult onset lumbar spondylosis as a cause of back pain. Skeletal Radiol 39, 669–673 (2010). https://doi.org/10.1007/s00256-009-0825-4
Received:

Revised:

Accepted:

Published:

Issue Date:
Keywords
Spondylolysis

Pars interarticularis defect

Spondylolisthesis

Computed tomography