Abstract
Objective
To evaluate the efficacy of MRI in classifying PFFD and to compare MRI to radiographic classification of PFFD.
Design
Radiographic and MRI classification of the cases was performed utilizing the Amstutz classification system.
Patients
Retrospective evaluation of radiographs and MRI exams in nine hips of eight patients with proximal focal femoral deficiency was performed by two radiologists.
Results
The cases were classified by radiographs as Amstutz 1: n=3, Amstutz 3: n=3, Amstutz 4: n=1 and Amstutz 5: n=2. The classifications based on MRI were Amstutz 1: n=6, Amstutz 2: n=1, Amstutz 3: n=0, Amstutz 4: n=2 and Amstutz 5: n=0. Three hips demonstrated complete agreement. There were six discordant hips. In two of the discordant cases, follow-up radiographs of 6 months or greater intervals were available and helped to confirm MRI findings. Errors in radiographic evaluation consisted of overestimating the degree of deficiency.
Conclusion
MRI is more accurate than radiographic evaluation for the classification of PFFD, particularly early on, prior to the ossification of cartilaginous components in the femurs. Since radiographic evaluation tends to overestimate the degree of deficiency, MRI is a more definitive modality for evaluation of PFFD.
This is a preview of subscription content, log in to check access.
Access options
Buy single article
Instant access to the full article PDF.
US$ 39.95
Price includes VAT for USA
Subscribe to journal
Immediate online access to all issues from 2019. Subscription will auto renew annually.
US$ 199
This is the net price. Taxes to be calculated in checkout.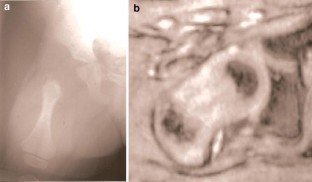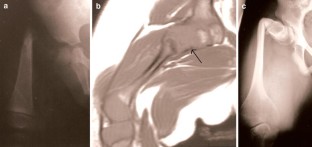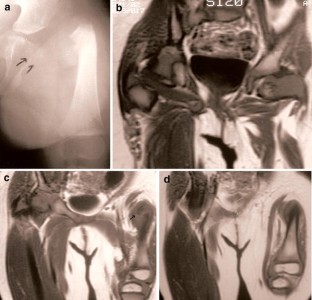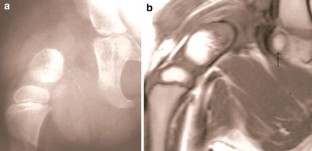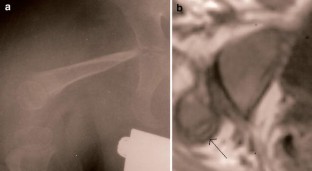 References
1.

Johansson E, Apirisi T. Missing cruciate ligament in congenital short femur. J Bone Joint Surg 1983;65A:1109–15.

2.

Panting AL, Williams PF. Proximal focal femoral deficiency. J Bone Joint Surg 1978;60:46–52.

3.

Bailey JA, Beightin P. Bilateral femoral dysgenesis. Clin Pediatr 1970;9:668–74.

4.

Hillman JS, Mesgarzadeh M, Revesz G, Bonakdarpour A, Clancy M, Betz R. Proximal femoral focal deficiency: radiologic analysis of anaysis of 49 cases. Radiology 1987;165:769–73.

5.

Epps CH Jr. Current concepts review: proximal femoral focal deficiency. J Bone Joint Surg (Am) 1983;65:867–70.

6.

Krajbich I. Proximal femoral focal deficiency. In: Kalamchi A (ed) Congenital lower limb deficiencies. Springer Berlin Heidelberg New York 1989;108–27.

7.

Ponseti IV. Growth and development of the acetabulum in the normal child: Anatomical, histological, and roentgenographic studies. J Bone Joint Surg Am. 1978;60(5):575–85, Jul.
About this article
Cite this article
Maldjian, C., Patel, T.Y., Klein, R.M. et al. Efficacy of MRI in classifying proximal focal femoral deficiency. Skeletal Radiol 36, 215–220 (2007). https://doi.org/10.1007/s00256-006-0218-x
Received:

Revised:

Accepted:

Published:

Issue Date:
Keywords
Femur

Deficiency

Congenital

Hip

MRI