Abstract
Recent research has shown that plants can uptake long dsRNAs and dsRNA-derived siRNAs that target important genes of infecting fungi or viruses when applied on the surface of plant leaves. The external RNAs were capable of local and systemic movement inducing plant resistance against the pathogens. Few studies have been made for plant gene regulation by foliar application of RNAs. In this study, several types of ssRNA and siRNA duplexes targeting the neomycin phosphotransferase II (NPTII) transgene were in vitro-synthesized and externally applied to the leaf surface of 4-week-old transgenic Arabidopsis thaliana plants. External application of the synthetic NPTII-encoding siRNAs down-regulated NPTII transcript levels in transgenic A. thaliana 1 and 7 days post-treatment with a higher and more consistent effect being observed for siRNAs methylated at 3′ ends. We also analyzed the effects of external NPTII-encoding dsRNA precursors and a dsRNA-derived heterogenous siRNA mix. Digestion of the NPTII-dsRNA to the heterogeneous siRNAs did not improve efficiency of the transgene suppression effect.
Key Points• Foliar application of siRNAs down-regulated a commonly used transgene in Arabidopsis.
• A more consistent effect was observed for methylated siRNAs.
• The findings are important for development of plant gene regulation approaches.
This is a preview of subscription content, log in to check access.
Access options
Buy single article
Instant unlimited access to the full article PDF.
US$ 39.95
Price includes VAT for USA
Subscribe to journal
Immediate online access to all issues from 2019. Subscription will auto renew annually.
US$ 199
This is the net price. Taxes to be calculated in checkout.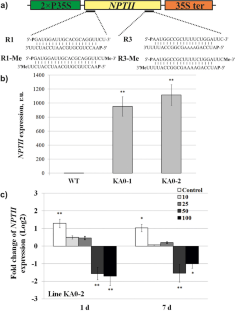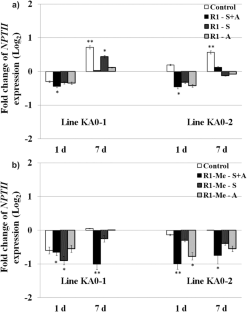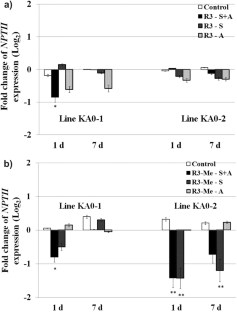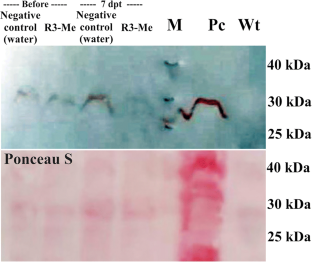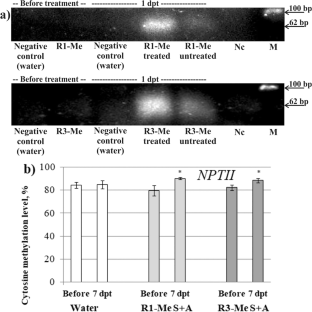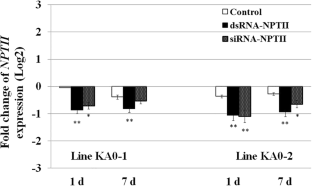 References
Bhat A, Ryu CM (2016) Plant perceptions of extracellular DNA and RNA. Mol Plant 9:956–958

Borges F, Martienssen RA (2015) The expanding world of small RNAs in plants. Nat Rev Mol Cell Biol 16:727–741

Czechowski T, Stitt M, Altmann T, Udvardi MK, Scheible WR (2005) Genome-wide identification and testing of superior reference genes for transcript normalization in Arabidopsis. Plant Physiol 139:5–17

Dalakouras A, Wassenegger M, McMillan JN, Cardoza V, Maegele I, Dadami E, Runne M, Krczal G, Wassenegger M (2016) Induction of silencing in plants by high-pressure spraying of in vitro-synthesized small RNAs. Front Plant Sci 7:1327

Dheemanth TL, Ramachandra RK, Chavan M, Prakash BG (2017) RNA interference in crop improvement. Trends Biosci 10(46):9322–9335

Dubrovina AS, Kiselev KV (2019) Exogenous RNAs for gene regulation and plant resistance. Int J Mol Sci 20:2282

Dubrovina AS, Kiselev KV, Khristenko VS, Aleynova OA (2015) VaCPK20, a calcium-dependent protein kinase gene of wild grapevine Vitis amurensis Rupr., mediates cold and drought stress tolerance. J Plant Physiol 185:1–12

Dubrovina AS, Aleynova OA, Kalachev AV, Suprun AR, Ogneva ZV, Kiselev KV (2019) Induction of transgene suppression in plants via external application of synthetic dsRNA. Int J Mol Sci 20:1585

Gogoi A, Sarmah N, Kaldis A, Perdikis D, Voloudakis A (2017) Plant insects and mites uptake double-strandedRNA upon its exogenous application on tomato leaves. Planta 246:1233–1241

Gu KX, Song XS, Xiao XM, Duan XX, Wang JX, Duan YB, Hou YP, Zhou MG (2019) A β2-tubulin dsRNA derived from Fusarium asiaticum confers plant resistance to multiple phytopathogens and reduces fungicide resistance. Pest Biochem Physiol 153:36–46

Jiang L, Ding L, He B, Shen J, Xu Z, Yin M, Zhang X (2014) Systemic gene silencing in plants triggered by fluorescent nanoparticle-delivered double-stranded RNA. Nanoscale 6:9965–9969

Kaldis A, Berbati M, Melita O, Reppa C, Holeva M, Otten P, Voloudakis A (2018) Exogenously applied dsRNA molecules deriving from the Zucchini yellow mosaic virus (ZYMV) genome move systemically and protect cucurbits against ZYMV. Mol Plant Pathol 19:883–895

Kamthan A, Chaudhuri A, Kamthan M, Datta A (2016) Genetically modified (GM) crops: milestones and new advances in crop improvement. Theor Appl Genet 129(9):1639–1655

Kiselev KV, Dubrovina AS, Bulgakov VP (2009) Phenylalanine ammonia-lyase and stilbene synthase gene expression in rolB transgenic cell cultures of Vitis amurensis. Appl Microbiol Biotechnol 82:647–655

Kiselev KV, Dubrovina AS, Shumakova OA, Karetin YA, Manyakhin AY (2013) Structure and expression profiling of a novel calcium-dependent protein kinase gene, CDPK3a, in leaves, stems, grapes, and cell cultures of wild-growing grapevine Vitis amurensis Rupr. Plant Cell Rep 32:431–442

Koch A, Biedenkopf D, Furch A, Weber L, Rossbach O, Abdellatef E, Linicus L, Johannsmeier J, Jelonek L, Goesmann A, Cardoza V, McMillan J, Mentzel T, Kogel KH (2016) An RNAi-based control of Fusarium graminearum infections through spraying of long dsRNAs involves a plant passage and is controlled by the fungal silencing machinery. PLoS Pathog 12:e1005901

Konakalla NC, Kaldis A, Berbati M, Masarapu H, Voloudakis AE (2016) Exogenous application of double-stranded RNA molecules from TMV p126 and CP genes confers resistance against TMV in tobacco. Planta 244:961–969

Lau SE, Schwarzacher T, Othman RY, Harikrishna JA (2015) dsRNA silencing of an R2R3-MYB transcription factor affects flower cell shape in a Dendrobium hybrid. BMC Plant Biol 15:194

Lee B, Park YS, Lee S, Song GC, Ryu CM (2016) Bacterial RNAs activate innate immunity in Arabidopsis. New Phytol 209:785–797

Li H, Guan R, Guo H, Miao X (2015) New insights into an RNAi approach for plant defence against piercing-sucking and stem-borer insect pests. Plant Cell Environ 38:2277–2285

Livak KJ, Schmittgen TD (2001) Analysis of relative gene expression data using real-time quantitative PCR and the 2(-Delta Delta C(T)) method. Methods 25:402–408

McLoughlin AG, Wytinck N, Walker PL, Girard IJ, Rashid KY, de Kievit T, Fernando WGD, Whyard S, Belmonte MF (2018) Identification and application of exogenous dsRNA confers plant protection against Sclerotinia sclerotiorum and Botrytis cinerea. Sci Rep 8:7320

Mitter N, Worrall EA, Robinson KE, Li P, Jain RG, Taochy C, Fletcher SJ, Carroll BJ, Lu GQ, Xu ZP (2017) Clay nanosheets for topical delivery of RNAi for sustained protection against plant viruses. Nature Plants 3:16207

Niehl A, Wyrsch I, Boller T, Heinlein M (2016) Double-stranded RNAs induce a pattern-triggered immune signaling pathway in plants. New Phytol 211:1008–1019

Numata K, Ohtani M, Yoshizumi T, Demura T, Kodama Y (2014) Local gene silencing in plants via synthetic dsRNA and carrier peptide. Plant Biotechnol J 12:1027–1034

Ogneva ZV, Suprun AR, Dubrovina AS, Kiselev KV (2019) The effect of 5-azacytidine induced DNA demethylation on abiotic stress tolerance in Arabidopsis thaliana. Plant Protect Sci 55:73–80

Paungfoo-Lonhienne C, Lonhienne TG, Mudge SR, Schenk PM, Christie M, Carroll BJ, Schmidt S (2010) DNA is taken up by root hairs and pollen, and stimulates root and pollen tube growth. Plant Physiol 153:799–805

Rosa C, Kuo YW, Wuriyanghan H, Falk BW (2018) RNA interference mechanisms and applications in plant pathology. Annu Rev Phytopathol 56:581–610

Sambrook JF, Russell DW (2001) Molecular cloning: a laboratory manual, 3rd edn. Cold Spring Harbor Laboratory Press, Cold Spring Harbor, p 2100

Sammons R, Ivashuta S, Liu H, Wang D, Feng P, Kouranov A, Andersen S. Polynucleotide molecules for gene regulation in plants. Patent US 20110296556 A1. 2011

Sanagala R, Moola AK, Bollipo Diana RK (2017) A review on advanced methods in plant gene targeting. J Gen Eng Biotechnol 15:317–321

Singh A, Gautam V, Singh S, Sarkar Das S, Verma S, Mishra V, Mukherjee S, Sarkar AK (2018) Plant small RNAs: advancement in the understanding of biogenesis and role in plant development. Planta 248:545–558

Song XS, Gu KX, Duan XX, Xiao XM, Hou YP, Duan YB, Wang JX, Yu N, Zhou MG (2018a) Secondary amplification of siRNA machinery limits the application of spray-induced gene silencing. Mol Plant Pathol 19:2543–2560

Song XS, Gu KX, Duan XX, Xiao XM, Hou YP, Duan YB, Wang JX, Zhou MG (2018b) A myosin5 dsRNA that reduces the fungicide resistance and pathogenicity of Fusarium asiaticum. Pest Biochem Physiol 150:1–9

Tzfira T, Tian GW, Lacroix B, Vyas S, Li J, Leitner-Dagan Y, Krichevsky A, Taylor T, Vainstein A, Citovsky V (2005) pSAT vectors: a modular series of plasmids for autofluorescent protein tagging and expression of multiple genes in plants. Plant Mol Biol 57:503–516

Varkonyi-Gasic E, Wu R, Wood M, Walton EF, Hellens RP (2007) Protocol: a highly sensitive RT-PCR method for detection and quantification of microRNAs. Plant Methods 3:12

Vermeersch L, De Winne N, Depicker A (2010) Introns reduce transitivity proportionally to their length, suggesting that silencing spreads along the pre-mRNA. Plant J 64:392–401

Wang M, Jin H (2017) Spray-induced gene silencing: a powerful innovative strategy for crop protection. Trends Microbiol 25:4–6

Wang M, Weiberg A, Lin FM, Thomma BP, Huang HD, Jin H (2016) Bidirectional cross-kingdom RNAi and fungal uptake of external RNAs confer plant protection. Nature Plants 2:16151

Wang M, Thomas N, Jin H (2017) Cross-kingdom RNA trafficking and environmental RNAi for powerful innovative pre- and post-harvest plant protection. Curr Opin Plant Biol 38:133–141

Worrall EA, Bravo-Cazar A, Nilon AT, Fletcher SJ, Robinson KE, Carr JP, Mitter N (2019) Exogenous application of RNAi-inducing double-stranded RNA inhibits aphid-mediated transmission of a plant virus. Front Plant Sci 10:265

Yakushiji S, Ishiga Y, Inagaki Y, Toyoda K, Shiraishi T, Ichinose Y (2009) Bacterial DNA activates immunity in Arabidopsis thaliana. J Gen Plant Pathol 75:227–234

Zhang X, Henriques R, Lin S, Niu Q, Chua N (2006) Agrobacterium-mediated transformation of Arabidopsis thaliana using the floral dip method. Nature Protocols 1 (2):641-646
Ethics declarations
Conflict of interest
The authors declare that they have no conflict of interest.
Ethical approval
This article does not contain any studies with human participants or animals performed by any of the authors.
Additional information
Publisher's note
Springer Nature remains neutral with regard to jurisdictional claims in published maps and institutional affiliations.
About this article
Cite this article
Dubrovina, A.S., Aleynova, O.A., Suprun, A.R. et al. Transgene suppression in plants by foliar application of in vitro-synthesized small interfering RNAs. Appl Microbiol Biotechnol (2020). https://doi.org/10.1007/s00253-020-10355-y
Received:

Revised:

Accepted:

Published:
Keywords
siRNA

RNAi

Foliar application

Transgene suppression

Neomycin phosphotransferase II (NPTII)

Arabidopsis thaliana

Transgenic plants