Abstract
This paper focuses on the production of a high-affinity monoclonal antibody (mAb) that can efficiently detect and block purinergic ligand-gated ion channel 7 receptor (P2X7R). To achieve this goal, the extracellular domain of human P2X7R, P2X7R-ECD, was used as an immunogen for BALB/c mice, inducing them to produce spleen lymphocytes that were subsequently fused with myeloma cells. Screening of the resultant hybridoma clones resulted in the selection of one stable positive clone that produced a qualified mAb, named 4B3A4. Sodium dodecyl sulfate-polyacrylamide gel electrophoresis analysis demonstrated that the purity of the purified 4B3A4 mAb was above 85%, with prominent bands corresponding to molecular weights of 55 kDa (heavy chain) and 25 kDa (light chain), and the BCA assay showed that the concentration of the purified 4B3A4 mAb was 0.3 mg/mL. Western blot analysis revealed that the 4B3A4 mAb could specifically recognize and bind both P2X7R-ECD and the full-length P2X7R protein. Laser scanning confocal microscopy (LSCM) revealed that the 4B3A4 mAb specifically bound to P2X7R on the membrane of human peripheral blood mononuclear cells (PBMCs). P2X7R expression was significantly different between healthy individuals and people with certain cancers as determined by flow cytometry (FCM). In addition, the 4B3A4 mAb significantly reduced ATP-stimulated Ca2+ entry and YO-PRO-1 uptake, which indicated that the 4B3A4 mAb effectively blocked P2X7R activity. These data indicate that the 4B3A4 mAb can be further used as not only an antibody to detect cell surface P2X7R but also as a therapeutic antibody to target P2X7R-related signaling pathways.
This is a preview of subscription content, log in to check access.
Access options
Buy single article
Instant unlimited access to the full article PDF.
US$ 39.95
Price includes VAT for USA
Subscribe to journal
Immediate online access to all issues from 2019. Subscription will auto renew annually.
US$ 199
This is the net price. Taxes to be calculated in checkout.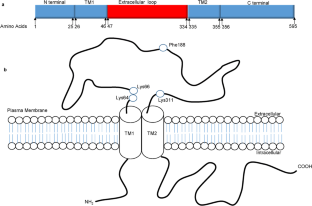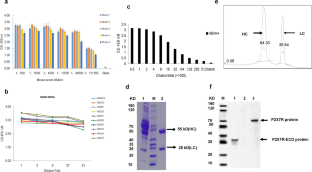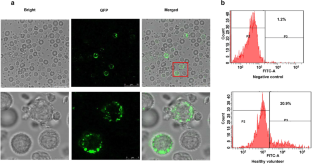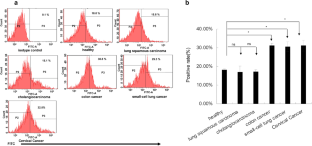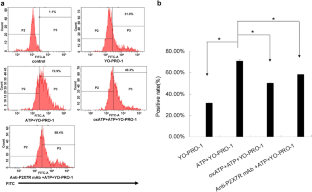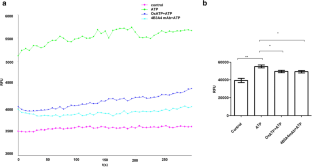 References
Adinolfi E, Raffaghello L, Giuliani AL, Cavazzini L, Capece M, Chiozzi P, Bianchi G, Kroemer G, Pistoia V, Di Virgilio F (2012) Expression of P2X7 receptor increases in vivo tumor growth. Cancer Res 72:2957–2969. https://doi.org/10.1158/0008-5472.CAN-11-1947

Amakishi E, Hayashi T, Koh Y, Matsuyama N, Ishii H, Matsukura H, Yasui K, Hirayama F (2014) A new transfectant panel cell line-based MoAb-independent antigen capture assay system for detection of CD36 antibody. Vox Sang 106(4):368–371. https://doi.org/10.1111/vox.12118

Beigi RD, Kertesy SB, Aquilina G, Dubyak GR (2003) Oxidized ATP (oATP) attenuates proinflammatory signaling via P2 receptor-independent mechanisms. Br J Pharmacol 140(3):507–519. https://doi.org/10.1038/sj.bjp.0705470

Bergamin LS, Capece M, Salaro E, Sarti AC, Falzoni S, Pereira MSL, De Bastiani MA, Scholl JN, Battastini AMO, Di Virgilio F (2019) Role of the P2X7 receptor in in vitro and in vivo glioma tumor growth. Oncotarget 10(47):4840–4856. https://doi.org/10.18632/oncotarget.27106

Bishayee A (2014) The role of inflammation in liver cancer. Adv Exp Med Biol 816:401–435. https://doi.org/10.1007/978-3-0348-0837-8_16

Boldrini L, Giordano M, Alì G, Melfi F, Romano G, Lucchi M, Fontanini G (2015) P2X7 mRNA expression in non-small cell lung cancer:MicroRNA regulation and prognostic value. Oncol Lett 9(1):449–453. https://doi.org/10.3892/ol.2014.2620

Booth JW, Tam FW, Unwin RJ (2012) P2 purinoceptors: renal pathophysiology and therapeutic potential. Clin Nephrol 78(2):154–163. https://doi.org/10.5414/cn107325

Bretschneider F, Klapperstück M, Löhn M, Markwardt F (1995) Nonselective cationic currents elicited by extracellular ATP in human B-lymphocytes. Pflugers Arch 429(5):691–698. https://doi.org/10.1007/bf00373990

Buell G, Chessell IP, Michel AD, Collo G, Salazzo M, Herren S, Gretener D, Grahames C, Kaur R, Kosco-Vilbois MH, Humphrey PP (1998) Blockade of human P2X7 receptor function with a monoclonal antibody. Blood 92:3521–3528

Cao F, Hu LQ, Yao SR, Hu Y, Wang DG, Fan YG, Pan GX, Tao SS, Zhang Q, Pan HF, Wu GC (2019) P2X7 receptor: a potential therapeutic target for autoimmune diseases. Autoimmun Rev 18(8):767–777. https://doi.org/10.1016/j.autrev.2019.06.009

Caprilli R, Angelucci E, Cocco A (2005) Early or late guided missile in the treatment of Crohn's disease? Dig Liver Dis 37(12):973–979. https://doi.org/10.1016/j.dld.2005.07.003

Catterall W, Epstein PN (1992) Ion channels. Diabetologia 35(Suppl 2):S23–S33. https://doi.org/10.1007/bf00586276

De Marchi E, Orioli E, Dal Ben D, Adinolfi E (2016) P2X7 receptor as a therapeutic target. Adv Protein Chem Struct Biol 104:39–79. https://doi.org/10.1016/bs.apcsb.2015.11.004

Dhuna K, Felgate M, Bidula SM, Walpole S, Bibic L, Cromer BA, Angulo J, Sanderson J, Stebbing MJ, Stokes L (2019) Ginsenosides act as positive modulators of P2X4 receptors. Mol Pharmacol 95(2):210–221. https://doi.org/10.1124/mol.118.113696

Di Virgilio F, Chiozzi P, Falzoni S, Ferrari D, Sanz JM, Venketaraman V, Baricordi OR (1998) Cytolytic P2X purinoceptors. Cell Death Differ 5(3):191–199. https://doi.org/10.1038/sj.cdd.4400341

Di Virgilio F, Falzoni S, Chiozzi P, Sanz JM, Ferrari D, Buell GN (1999) ATP receptors and giant cell formation. J Leukoc Biol 66(5):723–726. https://doi.org/10.1002/jlb.66.5.723

Di Virgilio F, Ferrari D, Adinolfi E (2009) P2X7: a growth-promoting receptorimplications for cancer. Purinergic Signal 5:251–256. https://doi.org/10.1007/s11302-009-9145-3

Di Virgilio F (2003) Novel data point to a broader mechanism of action of oxidized ATP: the P2X7 receptor is not the only target. Br J Pharmacol 140(3):441–443. https://doi.org/10.1038/sj.bjp.0705469

Di Virgilio F, Schmalzing G, Markwardt F (2018) The elusive P2X7 macropore. Trends Cell Biol 28(5):392–404. https://doi.org/10.1016/j.tcb.2018.01.005

Duan L, Hu GH, Li YJ, Zhang CL, Jiang M (2018) P2X7 receptor is involved in lung injuries induced by ischemia-reperfusion in pulmonary arterial hypertension rats. Mol Immunol 101:409–418. https://doi.org/10.1016/j.molimm.2018.07.027

Faisal M, Standish IF, Vogelbein MA, Millard EV, Kaattari SL (2019) Production of a monoclonal antibody against of muskellunge (Esox masquinongy) IgM heavy chain and its use in development of an indirect ELISA for titrating circulating antibodies against VHSV-IVB. Fish Shellfish Immunol 88:464–471. https://doi.org/10.1016/j.fsi.2019.03.002

Ferrari D, Pizzirani C, Adinolfi E, Lemoli RM, Curti A, Idzko M, Panther E, Di Virgilio F (2006) The P2X7 receptor: a key player in IL-1 processing and release. J Immunol 176(7):3877–3883. https://doi.org/10.4049/jimmunol.176.7.3877

Gartland A, Buckley KA, Bowler WB, Gallagher JA (2003) Blockade of the pore forming P2X7 receptor inhibits formation of multinucleated human osteoclasts in vitro. Calcif Tissue Int 73(4):361–369. https://doi.org/10.1007/s00223-002-2098-y

Giuliani AL, Colognesi D, Ricco T, Roncato C, Capece M, Amoroso F, Wang QG, De Marchi E, Gartland A, Di Virgilio F, Adinolfi E (2014) Trophic activity of human P2X7 receptor isoforms A and B in osteosarcoma. PLoS One 9(9):e107224. https://doi.org/10.1371/journal.pone.0107224

Guerra Martinez C (2019) P2X7 receptor in cardiovascular disease: the heart side. Clin Exp Pharmacol Physiol 46(6):513–526. https://doi.org/10.1111/1440-1681.13079

He YQ, Chen J, Lu XJ, Shi YH (2013) Characterization of P2X7R and its function in the macrophages of ayu, Plecoglossus altivelis. PLoS One 8(2):e57505. https://doi.org/10.1371/journal.pone.0057505

Jia LN, Peng XX, Li MX, Luo SP, Zhang YF, Zhao RL (2019) Cloning, expression, purification and identification of P2X7 receptor extracellular protein. Chin J Immun 35(19):2369–2374. https://doi.org/10.3969/j.issn.1000-484X.2019.19.012

Jursik C, Sluyter R, Georgiou JG, Fuller SJ, Wiley JS, Gu BJ (2007) A quantitative method for routine measurement of cell surface P2X7 receptor function in leucocyte subsets by two-colour time-resolved flow cytometry. J Immunol Methods 325(1–2):67–77. https://doi.org/10.1016/j.jim.2007.06.002

Khakh BS, North RA (2006) P2X receptors as cell-surface ATP sensors in health and disease. Nature 442(7102):527–532. https://doi.org/10.1038/nature04886

Khatun H, Yamaoka Y, Matsushima Y, Matsunaga S, Kimura H, Ho J, Shuda M, Ryo A (2018) Production and characterization of monoclonal antibodies specific for major capsid VP1 protein of trichodysplasia spinulosa-associated polyomavirus. Microbiol Immunol 62(12):763–773. https://doi.org/10.1111/1348-0421.12662

Leeson HC, Chan-Ling T, Lovelace MD, Brownlie JC, Gu BJ, Weible MW (2019) P2X7 receptor signaling during adult hippocampal neurogenesis. Neural Regen Res 14(10):1684–1694. https://doi.org/10.4103/1673-5374.257510

Mantovani A (2010) Molecular pathways linking inflammation and cancer. Curr Mol Med 10(4):369–373. https://doi.org/10.2174/156652410791316968

Mehta N, Kaur M, Singh M, Chand S, Vyas B, Silakari P, Bahia MS, Silakari O (2014) Purinergic receptor P2X7: a novel target for anti-inflammatory therapy. Bioorg Med Chem 22(1):54–88. https://doi.org/10.1016/j.bmc.2013.10.054

Mulford DA, Jurcic JG (2004) Antibody-based treatment of acute myeloid leukaemia. Expert Opin Biol Ther 4(1):95–105. https://doi.org/10.1517/14712598.4.1.95

Neves AR, Castelo-Branco MT, Figliuolo VR, Bernardazzi C, Buongusto F, Yoshimoto A, Nanini HF, Coutinho CM, Carneiro AJ, Coutinho-Silva R, de Souza HS (2014) Overexpression of ATP-activated P2X7 receptors in the intestinal mucosa is implicated in the pathogenesis of Crohn's disease. Inflamm Bowel Dis 20:444–457. https://doi.org/10.1097/01.MIB.0000441201.10454.06

Ojima I (2008) Guided molecular missiles for tumor-targeting chemotherapy--case studies using the second-generation taxoids as warheads. Acc Chem Res 41(1):108–119. https://doi.org/10.1021/ar700093f

Peng L, Yang H, Zhang Q (2003) Detection of P2z/P2x7 receptors. Sichuan Da Xue Xue Bao Yi Xue Ban[Article in Chinese] 34(1):148–150

Piscopiello M, Sessa M, Anzalone N, Castellano R, Maisano F, Ferrero E, Chiesa R, Alfieri O, Comi G, Ferrero ME, Foglieni C (2013) P2X7 receptor is expressed in human vessels and might play a role in atherosclerosis. Int J Cardiol 168:2863–2866. https://doi.org/10.1016/j.ijcard.2013.03.084

Portillo Jose-Andres C, Lopez Corcino Y, Dubyak George R, Kern Timothy S, Matsuyama S, Subauste Carlos S (2016) Ligation of CD40 in human Müller cells induces P2X7 receptor-dependent death of retinal endothelial cells. Invest Ophthalmol Vis Sci 57(14):6278–6286. https://doi.org/10.1167/iovs.16-20301

Scarpellino G, Genova T, Munaron L (2019) Purinergic P2X7 receptor: a cation channel sensitive to tumor microenvironment. Recent Pat Anticancer Drug Discov 14(1):32–38. https://doi.org/10.2174/1574892814666190116122256

Sluyter R (2017) The P2X7 receptor. Adv Exp Med Biol 1051:17–53. https://doi.org/10.1007/5584_2017_59

Smith RA, Alvarez AJ, Estes DM (2001) The P2X7 purinergic receptor on bovine macrophages mediates mycobacterial death. Vet Immunol Immunopathol 78(3–4):249–262. https://doi.org/10.1016/s0165-2427(01)00245-8

Souza CO, Santoro GF, Figliuolo VR, Nanini HF, de Souza HS, Castelo-Branco MT, Abalo AA, Paiva MM, Coutinho CM, Coutinho-Silva R (2012) Extracellular ATP induces cell death in human intestinal epithelial cells. Biochim Acta 1820:1867–1878. https://doi.org/10.1016/j.bbagen.2012.08.013

Surprenant A, Rassendren F, Kawashima E, North RA, Buell G (1996) The cytolytic P2Z receptor for extracellular ATP identified as a P2X receptor (P2X7). Science 272(5262):735–738. https://doi.org/10.1126/science.272.5262.735

Territo PR, Meyer JA, Peters JS, Riley AA, McCarthy BP, Gao M, Wang M, Green MA, Zheng QH, Hutchins GD (2017) Characterization of 11C-GSK1482160 for targeting the P2X7 receptor as a biomarker for neuroinflammation. J Nucl Med 58(3):458–465. https://doi.org/10.2967/jnumed.116.181354

White N, Burnstock G (2006) P2 receptors and cancer. Trends Pharmacol Sci 27:211–217. https://doi.org/10.1016/j.tips.2006.02.004

Wootla B, Denic A, Rodriguez M (2014) Polyclonal and monoclonal antibodies in clinic. Methods Mol Biol 1060:79–110. https://doi.org/10.1007/978-1-62703-586-6_5

Wulff H, Christophersen P, Colussi P, Chandy KG, Yarov-Yarovoy V (2019) Antibodies and venom peptides: new modalities for ion channels. Nat Rev Drug Discov 18(5):339–357. https://doi.org/10.1038/s41573-019-0013-8

Zanini D, Manfredi LH, Pelinson LP, Pimentel VC, Cardoso AM, Carmo Araújo Gonçalves VD, Santos CBD, Gutierres JM, Morsch VM, Leal DBR, Schetinger MRC (2019) ADA activity is decreased in lymphocytes from patients with advanced stage of lung cancer. Med Oncol 36(9):78. https://doi.org/10.1007/s12032-019-1301-1

Zarjou A, Agarwal A (2011) ATP as a death factor: purinergic signaling in renal epithelial-fibroblast cross talk. Am J Physiol Ren Physiol 300(1):F60–F61. https://doi.org/10.1152/ajprenal.00593.2010

Zhang CM, Huang X, Lu HL, Meng XM, Song NN, Chen L, Kim YC, Chen J, Xu WX (2019b) Diabetes-induced damage of gastric nitric oxide neurons mediated by P2X7R in diabetic mice. Eur J Pharmacol 851:151–160. https://doi.org/10.1016/j.ejphar..02.033

Zhang GX, Wang MX, Nie W, Liu DW, Zhang Y, Liu HB (2017a) P2X7R blockade prevents NLRP3 inflammasome activation and pancreatic fibrosis in a mouse model of chronic pancreatitis. Pancreas 46(10):1327–1335. https://doi.org/10.1097/MPA.0000000000000928

Zhang Y, Ding J, Wang L (2019a) The role of P2X7 receptor in prognosis and metastasis of colorectal cancer. Adv Med Sci 64(2):388–394. https://doi.org/10.1016/j.advms.2019.05.002

Zhang Y, Zhang Y, Li H, Jia X, Zhang X, Xia Y, Wang Y, Fu L, Xiao C, Geng D (2017b) Increased expression of P2X7 receptor in peripheral blood mononuclear cells correlates with clinical severity and serum levels of Th17-related cytokines in patients with myasthenia gravis. Clin Neurol Neurosurg 157:88–94. https://doi.org/10.1016/j.clineuro.2017.04.012
Ethics declarations
Conflict of interest
The authors declare that they have no competing interests.
Ethical approval
All experiments involving mice were performed in accordance with the Chinese National Laboratory Animal-Guideline for Ethical Review of Animal Welfare and approved by the Institutional Animal Care and Use Committee of Weifang Medical University. All applicable international, national, and institutional guidelines for the care and use of animals were strictly followed. All patients and healthy volunteers enrolled in this study were from the Department of Laboratory at the affiliated hospital of Weifang Medical University. Informed consent was obtained from all subjects. The study was approved by the Ethics Committee of Weifang Medical University, and all research methods were in compliance with the relevant regulations and guidelines.
Additional information
Publisher's note
Springer Nature remains neutral with regard to jurisdictional claims in published maps and institutional affiliations.
About this article
Cite this article
Li, M., Luo, S., Zhang, Y. et al. Production, characterization, and application of a monoclonal antibody specific for the extracellular domain of human P2X7R. Appl Microbiol Biotechnol (2020) doi:10.1007/s00253-019-10340-0
Received:

Revised:

Accepted:

Published:
Keywords
Monoclonal antibody

P2X7R

Hybridoma

PBMCs