Abstract
The ability of Baculoviruses to hyper-express very late genes as polyhedrin, the major component of occlusion bodies (OBs) or polyhedra, has allowed the evolution of a system of great utility for biotechnology. The main function of polyhedra in nature is to protect Baculovirus in the environment. The possibility of incorporating foreign proteins into the crystal by fusing them to polyhedrin (POLH) opened novel potential biotechnological uses. In this review, we summarize different applications of Baculovirus chimeric OBs. Basically, the improvement of protein expression and purification with POLH as a fusion partner; the use of recombinant polyhedra as immunogens and antigens, and the incorporation of proteins into polyhedra to improve Baculoviruses as bioinsecticides. The results obtained in each area and the future trends in these topics are also discussed.
This is a preview of subscription content, log in to check access.
Access options
Buy single article
Instant access to the full article PDF.
US$ 39.95
Price includes VAT for USA
Subscribe to journal
Immediate online access to all issues from 2019. Subscription will auto renew annually.
US$ 199
This is the net price. Taxes to be calculated in checkout.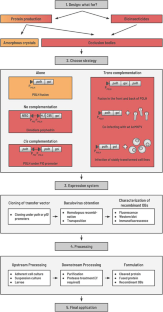 References
Ali MP, Kato T, Park EY (2015) Improved insecticidal activity of a recombinant baculovirus expressing spider venom cyto-insectotoxin. Appl Microbiol Biotechnol 99(23):10261–10269. https://doi.org/10.1007/s00253-015-6846-0

Ardisson-Araujo DM, Rocha JR, da Costa MH, Bocca AL, Dusi AN, de Oliveira Resende R, Ribeiro BM (2013) A Baculovirus-mediated strategy for full-length plant virus coat protein expression and purification. Virol J 10:262. https://doi.org/10.1186/1743-422X-10-262

Bae SM, Kim HJ, Lee JB, Choi JB, Shin TY, Koo HN, Choi JY, Lee KS, Je YH, Jin BR, Yoo SS, Woo SD (2013) Hyper-enhanced production of foreign recombinant protein by fusion with the partial polyhedrin of nucleopolyhedrovirus. PLoS One 8(4):e60835. https://doi.org/10.1371/journal.pone.0060835

Bae SM, Gwak WS, Lee SH, Shin TY, Choi JB, Han BK, Woo SD (2017) A minimum fragment of polyhedrin for higher expression of foreign proteins in a baculovirus expression system. J Asia Pac Entomol 20(2):591–597. https://doi.org/10.1016/j.aspen.2017.03.021

Carstens EB, Williams GV, Faulkner P, Partington S (1992) Analysis of polyhedra morphology mutants of Autographa californica nuclear polyhedrosis virus: molecular and ultrastructural features. J Gen Virol 71:3035–3040

Chang JH, Choi JY, Jin BR, Roh JY, Olszewski JA, Seo SJ, O'Reilly DR, Je YH (2003) An improved baculovirus insecticide producing occlusion bodies that contain Bacillus thuringiensis insect toxin. J Invertebr Pathol 84(1):30–37

Chen L, Xiang X, Yang R, Hu X, Cao C, Malik FA, Wu X (2013) Immobilization of foreign protein in BmNPV polyhedra by fusion expression with partial polyhedrin fragments. J Virol Methods 194(1–2):185–189. https://doi.org/10.1016/j.jviromet.2013.08.020

Chiu E, Coulibaly F, Metcalf P (2012) Insect virus polyhedra, infectious protein crystals that contain virus particles. Curr Opin Struc Biol 22(2):234–240. https://doi.org/10.1016/j.sbi.2012.02.003

Choi JY, Jung M-P, Park HH, Tao XY, Byung R, Je YH (2013) Insecticidal activity of recombinant baculovirus co-expressing Bacillus thuringiensis crystal protein and Kunitz-type toxin isolated from the venom of bumblebee Bombus ignites. J Asia Pac Entomol 16:75–80

Contreras-Gomez A, Sanchez-Miron A, Garcia-Camacho F, Molina-Grima E, Chisti Y (2014) Protein production using the Baculovirus-insect cell expression system. Biotechnol Prog 30(1):1–18. https://doi.org/10.1002/btpr.1842

Coulibaly F, Chiu E, Gutmann S, Rajendran C, Haebel PW, Ikeda K, Mori H, Ward VK, Schulze-Briese C, Metcalf P (2009) The atomic structure of Baculovirus Polyhedra reveals the independent emergence of infectious crystals in DNA and RNA viruses. Proc Natl Acad Sci U S A 106(52):22205–22210. https://doi.org/10.1073/pnas.0910686106

Fraser MJ, Rosen ED, Ploplis VA (1989) Recombinant baculovirus occlusion bodies and biological insecticides. US Patent 4,870,023, 26 Sep 1989

Gombart AF, Pearson MN, Rohrmann GF, Beaudreau GS (1989) A Baculovirus polyhedral envelope-associated protein: genetic location, nucleotide sequence, and immunocytochemical characterization. Virology 169(1):182–193

Granados RR, Lawler KA (1981) In vivo pathway of Autographa californica baculovirus invasion and infection. Virology 108:297–308. https://doi.org/10.1016/0042-6822(81)90438-4

Gross CH, Rohrmann GF (1993) Analysis of the role of 5′ promoter elements and 3′ flanking sequences on the expression of a Baculovirus polyhedron envelope protein gene. Virology 192(1):273–281. https://doi.org/10.1006/viro.1993.1030

Gross CH, Russell RLQ, Rohrmann GF (1994) The Orgyia pseudotsugata baculovirus p10 and polyhedron envelope protein genes: analysis of their relative expression levels and role in polyhedron structure. J Gen Virol 75:1115–1123

Guo ZJ, Yu MH, Dong XY, Wang WL, Tian T, Yu XY, Tang XD (2017) Protein composition analysis of polyhedra matrix of Bombyx mori nucleopolyhedrovirus (BmNPV) showed powerful capacity of polyhedra to encapsulate foreign proteins. Sci Rep 7(1):8768. https://doi.org/10.1038/s41598-017-08987-8

Haase S, Sciocco-Cap A, Romanowski V (2015) Baculovirus insecticides in Latin America: historical overview, current status and future perspectives. Viruses 7(5):2230–2267. https://doi.org/10.3390/v7052230

Inceoglu AB, Kamita SG, Hammock BD (2006) Genetically modified Baculoviruses: a historical overview and future outlook. Adv Virus Res 68:323–360. https://doi.org/10.1016/S0065-3527(06)68009-3

Jarvis DL, Bohlmeyer DA, Garcia A Jr (1991) Requirements for nuclear localization and supramolecular assembly of a Baculovirus polyhedrin protein. Virology 185(2):795–810

Je YH, Jin BR, Roh JY, Chang JH, Kang SK (2000) Construction of a novel baculovirus Autographa californica nuclear polyhedrosis virus producing the fluorescent polyhedra. Int J Ind Entomol 1:19–23

Je YH, Jin BR, Park HW, Roh JY, Chang JH, Seo SJ, Olszewski JA, O'Reilly DR, Kang SK (2003) Baculovirus expression vectors that incorporate the foreign protein into viral occlusion bodies. Biotechniques 34:81–87

Jehle JA, Blissard GW, Bonning BC, Cory S, Herniou EA, Rohrmann GR, Theilmann DA, Theim SM, Vlak JM (2006) On the classification and nomenclature of baculoviruses: a proposal for revision. Arch Virol 151(2006):1257–1266. https://doi.org/10.1007/s00705-006-0763-6

Ji X, Sutton G, Evans G, Axford D, Owen R, Stuart DI (2010) How Baculovirus polyhedra fit square pegs into round holes to robustly package viruses. EMBO J 29(2):505–514. https://doi.org/10.1038/emboj.2009.352

Jung MP, Choi JY, Tao XY, Jin BR, Je YH, Park HH (2012) Insecticidal activity of recombinant baculovirus expressing both spider toxin isolated from Araneus ventricosus and Bacillus thuringiensis crystal protein fused to a viral polyhedron. Entomol Res 42:339–346

Kim JS, Choi JY, Chang JH, Shim HJ, Roh JY, Jin BR, Je YH (2005) Characterization of an improved recombinant baculovirus producing polyhedra that contains Bacillus thuringiensis Cry1Ac crystal protein. J Microbiol Biotechnol 15:710–715

Kim JS, Choi JY, Roh JY, Lee HY, Jang SS, Je YH (2007) Production of recombinant polyhedra containing Cry1Ac fusion protein in insect cell lines. J Microbiol Biotechnol 17:739–744

Kim BY, Lee KS, Sohn MR, Woo SD, Yoo SS, Je YH, Jin BR (2012) Production of Aujeszky's disease (pseudorabies) virus envelope glycoproteins gB and gC as recombinant polyhedra in baculovirus-infected silkworm larvae. J Asia Pac Entomol 15:114–120. https://doi.org/10.1016/j.aspen.2011.10.001

Kroemer JA, Bonning BC, Harrison RL (2015) Expression, delivery and function of insecticidal proteins expressed by recombinant Baculoviruses. Viruses 7(1):422–455. https://doi.org/10.3390/v7010422

Lee TC, Yu SM, Chao YC (2005) Fusion of foreign protein genes to the occlusion body gene of the baculovirus to assist protein isolation and antibody production. J Genet Mol Biol 16:138–150

Lee KS, Sohn MR, Kim BY, Choo YM, Woo SD, Yoo SS, Je YH, Choi JY, Roh JY, Koo HN, Jin BR (2012) Production of classical swine fever virus envelope glycoprotein E2 as recombinant polyhedra in Baculovirus-infected silkworm larvae. Mol Biotechnol 50(3):211–220. https://doi.org/10.1007/s12033-011-9431-5

Lee JB, Bae SM, Shin TY, Woo SD (2015) Expression of porcine circovirus type 2 capsid protein fused with partial polyhedrin using baculovirus. Int J Indust Entomol 30(2):50–57. https://doi.org/10.7852/ijie.2015.30.2

Lin GY, Zhong J, Wang XZ (2000) Abnormal formation of polyhedra resulting from a single mutation in the polyhedrin gene of Autographa californica multicapsid nucleopolyhedrovirus. J Invertebr Pathol 76(1):13–19

Lopez MG, Alfonso V, Carrillo E, Taboga O (2011) Description of a novel single mutation in the AcMNPV polyhedrin gene that results in abnormally large cubic polyhedra. Arch Virol 156(4):695–699. https://doi.org/10.1007/s00705-010-0885-8

Lopez MG, Pallares HM, Alfonso V, Carmona SJ, Farber M, Taboga O, Wilkowsky SE (2018) Novel biotechnological platform based on Baculovirus occlusion bodies carrying Babesia bovis small antigenic peptides for the design of a diagnostic enzyme-linked immunosorbent assay (ELISA). Appl Microbiol Biotechnol 102(2):885–896. https://doi.org/10.1007/s00253-017-8662-1

Makino Y, Tadano M, Anzai T, Ma SP, Yasuda S, Fukunaga T (1989) Detection of dengue 4 virus core protein in the nucleus. II. Antibody against dengue 4 core protein produced by a recombinant Baculovirus reacts with the antigen in the nucleus. J Gen Virol 70(Pt 6):1417–1425. https://doi.org/10.1099/0022-1317-70-6-1417

Marumoto Y, Sato Y, Fujiwara H, Sakano K, Saeki Y, Agata M, Furusawa M, Maeda S (1987) Hyperproduction of polyhedrin-Igf ii fusion protein in silkworm larvae infected with recombinant Bombyx mori nuclear polyhedrosis virus. J Gen Virol 68(Pt 10):2599–2606. https://doi.org/10.1099/0022-1317-68-10-2599

McLinden JH, Ploplis VA, Fraser MJ, Rosen ED (1992) Expression of foreign epitopes on recombinant occlusion bodies of Baculoviruses. Vaccine 10(4):231–237

McWilliam A (2007) Environmental impact of Baculoviruses. FAO R7299_FTR_ anx3 Online: http://www.fao.org/docs/eims/upload/agrotech/2003/R7299_FTR_anx3.pdf

Mitsuhashi W (2018) Analysis of the viral lytic polysaccharide monooxygenase fusolin and its potential application to pest control. In: Kumar D, Gong C (eds) Trends in insect molecular biology and biotechnology. Springer, Cham

Molina GN, Tavarone E, Taboga O, Molinari P (2016) Two distinctive phenotypes of AcMNPV display different immune abilities and intracellular destiny. PLoS One 11(12):e0168939. https://doi.org/10.1371/journal.pone.0168939

Moscardi F (1999) Assessment of the application of Baculoviruses for control of Lepidoptera. Annu Rev Entomol 44:257–289

Nyunoya H, Ogura T, Kikuchi M, Iwamoto H, Yamashita K, Maekawa M, Takebe Y, Miyamura K, Yamazaki S, Shimotohno K (1990) Expression of HTLV-I envelope protein fused to hydrophobic amino-terminal peptide of baculovirus polyhedrin in insect cells and its application for serological assays. AIDS Res Hum Retrovir 6(11):1311–1321. https://doi.org/10.1089/aid.1990.6.1311

Ono C, Kamagata T, Taka H, Sahara K, Asano S, Bando H (2012) Phenotypic grouping of 141 BmNPVs lacking viral gene sequences. Virus Res 165:197–206. https://doi.org/10.1016/j.virusres.2012.02.016

Pennock GD, Shoemaker C, Miller LK (1984) Strong and regulated expression of Escherichia coli beta-galactosidase in insect cells with a baculovirus vector. Mol Cell Biol 4(3):399–406

Ribeiro BM, Generino AP, Acacio CN, Kalapothakis E, Bao SN (2009) Characterization of a new Autographa californica multiple nucleopolyhedrovirus (AcMNPV) polyhedra mutant. Virus Res 140(1–2):1–7. https://doi.org/10.1016/j.virusres.2008.10.010

Roh JY, Choi JY, Kang JN, Wang Y, Shim HJ, Liu Q, Tao X, Xu HG, Hyun JH, Woo SD, Jin BR, Je YH (2010) Simple purification of a foreign protein using polyhedrin fusion in a Baculovirus expression system. Biosci Biotechnol Biochem 74(8):1522–1526. https://doi.org/10.1271/bbb.100016

Rohrmann GF (1986) Polyhedrin structure. J Gen Virol 67:1499–1513. https://doi.org/10.1099/0022-1317-67-8-1499

Rohrmann GF (2013) Polyhedrin Structure. J Gen Virol 67 (Pt 8) (1986):1499–513. In Baculovirus Molecular Biology, edited by rd. Bethesda (MD)

Royer M, Hong SS, Gay B, Cerutti M, Boulanger P (1992) Expression and extracellular release of human immunodeficiency virus type 1 Gag precursors by recombinant baculovirus-infected cells. J Virol 66(5):3230–3235

Russell RL, Rohrmann GF (1990) A Baculovirus polyhedron envelope protein: immunogold localization in infected cells and mature polyhedra. Virology 174(1):177–184

Sampieri A, Luz-Madrigal A, Zepeda J, Vaca L (2015) Identification of fragments from Autographa californica polyhedrin protein essential for self-aggregation and exogenous protein incorporation. BMC Biochem 16:5. https://doi.org/10.1186/s12858-015-0034-9

Seo JH, Li L, Yeo JS, Cha HJ (2003) Baculoviral polyhedrin as a novel fusion partner for formation of inclusion body in Escherichia coli. Biotechnol Bioeng 84(4):467–473. https://doi.org/10.1002/bit.10798

Seo JH, Yeo JS, Cha HJ (2005) Baculoviral polyhedrin-Bacillus thuringiensis toxin fusion protein: a protein-based bio-insecticide expressed in Escherichia coli. Biotechnol Bioeng 92(2):166–172. https://doi.org/10.1002/bit.20592

Shen Y, Wang H, Xu W, Wu X (2018) Bombyx mori nucleopolyhedrovirus orf133 and orf134 are involved in the embedding of occlusion-derived viruses into polyhedra. J Gen Virol. https://doi.org/10.1099/jgv.0.0010

Shim HJ, Choi JY, Li M, Wang Y, Roh JY, Woo SD, Jin BR, Je YH (2009) A novel recombinant baculovirus expressing insect neurotoxin and producing occlusion bodies that contain Bacillus thuringiensis Cry toxin. J Asia Pac Entomol 12(4):217–220. https://doi.org/10.1016/j.aspen.2009.04.001

Shim HJ, Choi JY, Wang Y, Tao XY, Liu Q, Roh JY, Kim JS, Kim WJ, Woo SD, Jin BR (2013) NeuroBactrus, a novel, highly effective, and environmentally friendly recombinant baculovirus insecticide. Appl Environ Microbiol 79:141–149. https://doi.org/10.1128/AEM.02781-12

Slack J, Arif BM (2007) The baculoviruses occlusion-derived virus: virion structure and function. Adv Virus Res 69:99–165. https://doi.org/10.1016/S0065-3527(06)69003-9

Targovnik AM, Arregui MB, Bracco LF, Urtasun N, Baieli MF, Segura MM, Simonella MA, Fogar M, Wolman FJ, Cascone O, Miranda MV (2016) Insect larvae: a new platform to produce commercial recombinant proteins. Curr Pharm Biotechnol 17(5):431–438

Tiedje JM, Colwell RK, Grossman YC, Hodson RE, Lenski RE, Mack RN, Regal PJ (1989) The planned introduction of genetically engineered microorganisms: ecological considerations and recommendations. Ecology 70:298–315

Vaca Domínguez LA (2011) Polihedrina modificada, polihedras y productos biotecnológicos obtenidos a partir de la misma. Mexican patent 2010005637, 19 May 2011

Van Oers MM, Vlak JM (1997) The Baculovirus 10-Kda protein. J Invertebr Pathol 70(1):1–17. https://doi.org/10.1006/jipa.1997.4675

Van Oers MM, Pijlman GP, Vlak JM (2015) Thirty years of Baculovirus-insect cell protein expression: from dark horse to mainstream technology. J Gen Virol 96(1):6–23. https://doi.org/10.1099/vir.0.067108-0

Wei Q, Kim YS, Seo JH, Jang WS, Lee IH, Cha HJ (2005) Facilitation of expression and purification of an antimicrobial peptide by fusion with Baculoviral polyhedrin in Escherichia coli. Appl Environ Microbiol 71(9):5038–5043. https://doi.org/10.1128/AEM.71.9.5038-5043.2005

Whitt MA, Manning JS (1988) A phosphorylated 34-Kda protein and a subpopulation of polyhedrin are thiol linked to the carbohydrate layer surrounding a Baculovirus occlusion body. Virology 163(1):33–42

Wood HA (1980) Isolation and replication of an occlusion body mutant of the Autographa californica nuclear polyhedrosis virus. Virology 105:338–344. https://doi.org/10.1016/0042-6822(80)90035-5

Xiang X, Yang R, Chen Lin HX, Yu S, Cao C, Wu X (2012) Immobilization of foreign protein into polyhedra of Bombyx mori nucleopolyhedrovirus (BmNPV). J Zhejiang Univ-Sci B 13:111–117

Yang S, Zhao L, Ma R, Fang W, Hu J, Lei C, Sun X (2017) Improving baculovirus infectivity by efficiently embedding enhancing factors into occlusion bodies. Appl Environ Microbiol 83:e00595–e00517. https://doi.org/10.1128/AEM.00595-17

Yu H, Xu J, Liu Q, Liu TX, Wang D (2015) Ha83, a chitin binding domain encoding gene, is important to Helicoverpa armigera nucleopolyhedrovirus budded virus production and occlusion body assembling. Sci Rep 5:11088. https://doi.org/10.1038/srep11088
Acknowledgements
The authors would like to thank Dr. Julia Sabio y García for English language editing.
Ethics declarations
Conflict of interest
The authors declare that they have no conflict of interest.
Ethical statement
This article does not contain any studies with human participants or animals performed by any of the authors.
Additional information
MGL, VA, and OT are members of CIC CONICET, Buenos Aires, Argentina.
About this article
Cite this article
López, M.G., Diez, M., Alfonso, V. et al. Biotechnological applications of occlusion bodies of Baculoviruses. Appl Microbiol Biotechnol 102, 6765–6774 (2018). https://doi.org/10.1007/s00253-018-9130-2
Received:

Revised:

Accepted:

Published:

Issue Date:
Keywords
Baculovirus

Occlusion bodies

Polyhedrin

Fusions

Recombinant proteins

BEVS