Abstract
Baculoviruses are large DNA virus of insects principally employed in recombinant protein expression. Its ability to form occlusion bodies (OBs), which are composed mainly of polyhedrin protein (POLH), makes them biotechnologically attractive, as these crystals (polyhedra) can incorporate foreign peptides and can be easily isolated. On the other hand, peptide microarrays allow rapid and inexpensive high-throughput serological screening of new candidates to be incorporated to OBs. To integrate these 2 biotechnological approaches, we worked on Babesia bovis, one of the causative agents of bovine babesiosis. Current molecular diagnosis of infection with B. bovis includes enzyme-linked immunosorbent assay (ELISA) techniques, which use merozoite lysate obtained from infected bovine erythrocytes. However, it is important to produce recombinant antigens that replace the use of crude antigens. Here, we describe a new biotechnological platform for the design of indirect ELISAs based on 5 antigenic peptides of 15 amino acid residues of B. bovis (ApBb), selected from a peptide microarray and expressed as a fusion to POLH. An Sf9POLHE44G packaging cell line infected with recombinant baculoviruses carrying POLH-ApBb fusions yielded higher levels of chimeric polyhedra, highlighting the advantage of a trans-contribution of a mutant copy of polyhedrin. Finally, the use of dissolved recombinant polyhedra as antigens was successful in an ELISA assay, as B. bovis-positive sera recognized the fusion POLH-ApBb. Thus, the use of this platform resulted in a promising alternative for molecular diagnosis of relevant infectious diseases.
This is a preview of subscription content, log in to check access.
Access options
Buy single article
Instant access to the full article PDF.
US$ 39.95
Price includes VAT for USA
Subscribe to journal
Immediate online access to all issues from 2019. Subscription will auto renew annually.
US$ 199
This is the net price. Taxes to be calculated in checkout.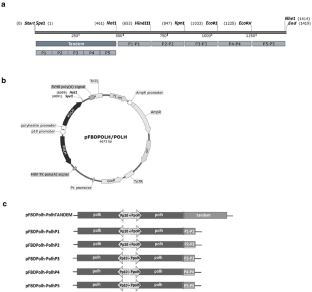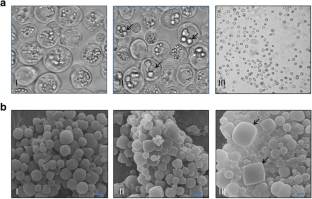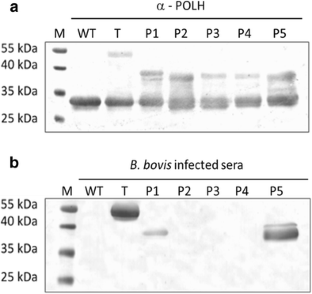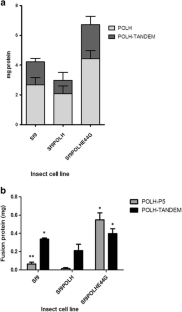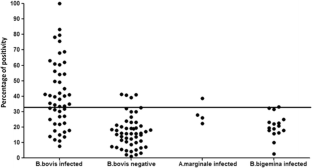 References
Blissard GW, Rohrmann GF (1990) Baculovirus diversity and molecular biology. Annu Rev Entomol 35(1):127–155. https://doi.org/10.1146/annurev.en.35.010190.001015

Bock R, Jackson L, de Vos A, Jorgensen W (2004) Babesiosis of cattle. Parasitology 129(Suppl):S247–S269. https://doi.org/10.1017/S0031182004005190

Brayton KA, Lau AO, Herndon DR, Hannick L, Kappmeyer LS, Berens SJ, Feldblum T (2007) Genome sequence of Babesia bovis and comparative analysis of apicomplexan hemoprotozoa. PLoS Pathog 3(10):e148. https://doi.org/10.1371/journal.ppat.0030148

Carmona SJ, Sartor PA, Leguizamon MS, Campetella OE, Agüero F (2012) Diagnostic peptide discovery: prioritization of pathogen diagnostic markers using multiple features. PLoS One 7(12):e50748. https://doi.org/10.1371/journal.pone.0050748

Chang JH, Choi JY, Jin BR, Roh JY, Olszewski JA, Seo SJ, O'Reilly DR, Je YH (2003) An improved baculovirus insecticide producing occlusion bodies that contain Bacillus thuringiensis insect toxin. J Invertebr Pathol 84(1):30–37. https://doi.org/10.1016/S0022-2011(03)00121-6

Chen C, Fan W, Jia X, Li J, Bi Y, Liu W (2013) Development of a recombinant N-Gp5c fusion protein-based ELISA for detection of antibodies to porcine reproductive and respiratory syndrome virus. J Virol Methods 189(1):213–220. https://doi.org/10.1016/j.jviromet.2013.02.003

Coulibaly F, Chiu E, Gutmann S, Rajendran C, Haebel PW, Ikeda K, Mori H, Ward VK, Schulze-Briese C, Metcalf P (2009) The atomic structure of baculovirus polyhedra reveals the independent emergence of infectious crystals in DNA and RNA viruses. Proc Natl Acad Sci 106(52):22205–22210. https://doi.org/10.1073/pnas.0910686106

De Echaide ST, Echaide IE, Gaido AB, Mangold AJ, Lugaresi CI, Vanzini VR, Guglienmone A (1995) Evalutaion of an enzyme-linked immunosorbent assay kit to detect Babesia bovis in cattle. Prev Vet Med 24(4):277–283. https://doi.org/10.1016/0167-5877(95)00485-F

Gaffar FR, Yatsuda AP, Franssen FF, de Vries E (2004) Erythrocyte invasion by Babesia bovis merozoites is inhibited by polyclonal antisera directed against peptides derived from a homologue of Plasmodium falciparum apical membrane antigen 1. Infect Immun 72(5):2947–2955. https://doi.org/10.1128/IAI.72.5.2947-2955.2004

Je YH, Jin BR, Park HW, Roh JY, Chang JH, Seo SJ, Olszewski JA, O'Reilly DR, Kang SK (2003) Baculovirus expression vectors that incorporate the foreign protein into viral occlusion bodies. BioTechniques 34(1):81–87

Ji X, Sutton G, Evans G, Axford D, Owen R, Stuart DI (2010) How baculovirus polyhedra fit square pegs into round holes to robustly package viruses. EMBO J 29(2):505–514. https://doi.org/10.1038/emboj.2009.352

Kim JS, Choi JY, Roh JY, Lee HY, Jang SS, Je YH (2007) Production of recombinant polyhedra containing Cry1Ac fusion protein in insect cell lines. J Microbiol Biotechnol 17(5):739–744

List C, Qi W, Maag E, Gottstein B, Muller N, Felger I (2010) Serodiagnosis of Echinococcus spp. infection: explorative selection of diagnostic antigens by peptide microarray. PLoS Negl Trop Dis 4(8):e771

López MG, Alfonso V, Carrillo E, Taboga O (2010) Trans-complementation of polyhedrin by a stably transformed Sf9 insect cell line allows occ- baculovirus occlusion and larval per os infectivity. J Biotechnol 145(2):199–205. https://doi.org/10.1016/j.jbiotec.2009.10.015

López MG, Alfonso V, Carrillo E, Taboga O (2011) Description of a novel single mutation in the AcMNPV polyhedrin gene that results in abnormally large cubic polyhedra. Arch Virol 156(4):695–699. https://doi.org/10.1007/s00705-010-0885-8

Mahoney DF, Ross DR (1972) Epizootiological factors in the control of bovine babesiosis. Aust Vet J 48:292–298

Mastropaolo M, Torioni de Echaide S, Cuatrín A, Arece H, Lobato S, Mangold, AJ (2009) Situación de la babesiosis y anaplasmosis de los bovinos en el sudoeste de la provincia del Chaco. FAVE 8(1):29–35

Molloy JB, Bowles PM, Jeston PJ, Bruyeres AG, Bowden JM, Bock RE, Jorgensen WK, Blight GW, Dalgliesh RJ (1998) Development of an enzyme-linked immunosorbent assay for detection of antibodies to Babesia bigemina in cattle. Parasitol Res 84(8):651–656. https://doi.org/10.1007/s004360050465

Nguyen T, Zhou M, Ruttayaporn N (2014) Veterinary parasitology diagnostic value of the recombinant tandem repeat antigen TeGM6-4r for surra in water buffaloes. Vet Parasitol 201(1-2):18–23. https://doi.org/10.1016/j.vetpar.2014.01.009

O'Reilly DR, Miller LK, Luckow VA (1994) Baculovirus expression vectors: a laboratory manual. W. H. Freeman, New York

OIE (2009) Bovine babesiosis. In: Manual of Diagnostic Tests and Vaccines for Terrestrial Animals, chapter 2. 4. 2. Online (http://www.oie.int/fileadmin/Home/eng/Health_standards/tahm/2008/pdf/2.04.02_BOVINE_BABESIOSIS.pdf)

Pellois JP, Zhou X, Srivannavit O, Zhou T, Gulari E, Gao X (2002) Individually addressable parallel peptide synthesis on microchips. Nat Biotechnol 20(9):922–926. https://doi.org/10.1038/nbt723

Sampieri A, Luz-Madrigal A, Zepeda J, Vaca L (2015) Identification of fragments from Autographa californica polyhedrin protein essential for self-aggregation and exogenous protein incorporation. BMC Biochem 16(1):5. https://doi.org/10.1186/s12858-015-0034-9

Waltisbuhl DJ, Goodger BV, Wright IG, Commins MA, Mahoney DF (1987) An enzyme linked immunosorbent assay to diagnose Babesia bovis infection in cattle. Parasitol Res 73(2):126–131. https://doi.org/10.1007/BF00536468
Acknowledgements
We acknowledge Dr. Julia Sabio y García for the English language editing.
Funding
This work was funded by the Agencia Nacional de Promoción Científica y Tecnológica (ANPCyT), grant number PICT 2013-1048, and the Instituto Nacional de Tecnología Agropecuaria (INTA), grant number PNBIO 1131032.
Ethics declarations
Conflict of interest
The authors declare that they have no conflict of interest.
Ethical approval
This article does not contain studies with human participants performed by any of authors. The protocol for animal handling and venipuncture was performed following the guidelines of the Institutional Committee for the Use and Care of Experimentation Animals (protocol approval No. 025/2011). All samples came from privately owned herds and were sampled with the approval of the owners.
Electronic supplementary material
About this article
Cite this article
López, M.G., Pallarés, H.M., Alfonso, V. et al. Novel biotechnological platform based on baculovirus occlusion bodies carrying Babesia bovis small antigenic peptides for the design of a diagnostic enzyme-linked immunosorbent assay (ELISA). Appl Microbiol Biotechnol 102, 885–896 (2018). https://doi.org/10.1007/s00253-017-8662-1
Received:

Revised:

Accepted:

Published:

Issue Date:
Keywords
Baculovirus

Occlusion bodies

Antigenic peptides

ELISA

Babesia bovis