Abstract
Systemic candidiasis remains a major complication among patients suffering from hematological malignancies and favors the development of hepatic metastasis. To contribute to the understanding of the underlying mechanisms, the aim of this study was to identify molecules that may increase tumor cell adhesion to hepatic endothelial cells. To this end, a well-established in vitro model was used to determine the enhancement of tumor cell adhesion induced by Candida albicans and its fractions. Different fractions were obtained according to their molecular weight (M r) (five) or to their isoelectric point (pI) (four), using preparative electrophoresis and preparative isoelectric focusing, respectively, followed by affinity chromatography. The fraction that most enhanced melanoma cell adhesion to endothelium had an M r range from 45 to 66 kDa. It was characterized using two-dimensional electrophoresis, and 14 proteins were identified by peptide mass fingerprinting: Dor14p, Fba1p, Pdi1p, Pgk1p, Idh2p, Mpg1p, Sfa1p, Ape3p, Ilv5p, Tuf1p, Act1p, Eno1p, Qcr2p, and Adh1p. Of these, several are related to the immunogenic response, and the latter seven belonged to the most reactive fraction according to their pI range, from 5 to 5.6. These findings could represent a step forward in the search for new targets, to suppress the pro-metastatic effect of C. albicans.
This is a preview of subscription content, log in to check access.
Access options
Buy single article
Instant access to the full article PDF.
US$ 39.95
Price includes VAT for USA
Subscribe to journal
Immediate online access to all issues from 2019. Subscription will auto renew annually.
US$ 199
This is the net price. Taxes to be calculated in checkout.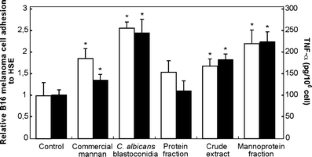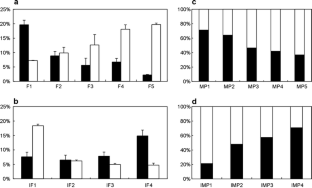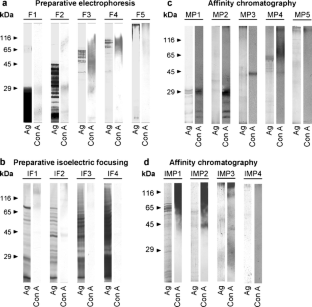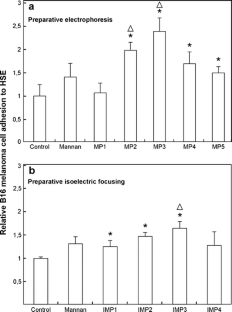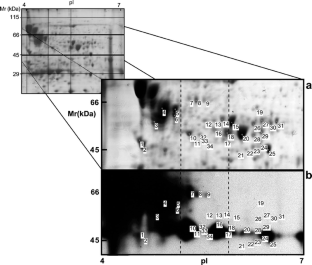 References
Anttila VJ, Ruutu P, Bondestam S, Jansson SE, Nordling S, Färkkilä M, Sivonen A, Castren M, Ruutu T (1994) Hepatosplenic yeast infection in patients with acute-leukemia-a diagnostic problem. Clin Infect Dis 18:979–981

Asumendi A, Alvarez A, Martinez I, Smedsrod B, VidalVanaclocha F (1996) Hepatic sinusoidal endothelium heterogeneity with respect to mannose receptor activity is interleukin-1 dependent. Hepatology 23:1521–1529

Bohme A, Ruhnke M, Buchheidt D, Cornely OA, Einsele H, Enzensberger R, Hebart H, Heinz W, Junghanss C, Karthaus M, Krüger W, Krug U, Kubin T, Penack O, Reichert D, Reuter S, Silling G, Südhoff T, Ullmann AJ, Maschmeyer G (2009) Treatment of invasive fungal infections in cancer patients—recommendations of the Infectious Diseases Working Party (AGIHO) of the German Society of Hematology and Oncology (DGHO). Ann Hematol 88:97–110

Buckley HR, Richardson MD, Evans EGV, Wheat LJ (1992) Immunodiagnosis of invasive fungal infection. J Med Vet Mycol 30:249–260

Caldas TD, El Yaagoubi A, Richarme G (1998) Chaperone properties of bacterial elongation factor EF-Tu. J Biol Chem 273:11478–11482

Canback B, Andersson SGE, Kurland CG (2002) The global phylogeny of glycolytic enzymes. Proc Natl Acad Sci U S A 99:6097–6102

Chaffin WL, Lopez-Ribot JL, Casanova M, Gozalbo D, Martinez JP (1998) Cell wall and secreted proteins of Candida albicans: identification, function, and expression. Microbiol Mol Biol Rev 62:130–180

Chung CW, Nickerson WJ (1954) Polysaccharide syntheses in growing yeasts. J Biol Chem 208:395–407

Coler RN, Skeiky YAW, Bernards K, Greeson K, Carter D, Cornellison CD, Modabber F, Campos-Neto A, Reed SG (2002) Immunization with a polyprotein vaccine consisting of the T-cell antigens thiol-specific antioxidant, Leishmania major stress-inducible protein 1, and Leishmania elongation initiation factor protects against leishmaniasis. Infect Immun 70:4215–4225

Coussens LM, Werb Z (2002) Inflammation and cancer. Nature 420:860–867

Crowe JD, Sievwright IK, Auld GC, Moore NR, Gow NA, Booth NA (2003) Candida albicans binds human plasminogen: identification of eight plasminogen-binding proteins. Mol Microbiol 47:1637–1651

de Pauw B (2004) Preventative use of antifungal drugs in patients treated for cancer. J Antimicrob Chemother 53:130–132

Derepentigny L, Kaufman L, Cole GT, Kruse D, Latgé JP, Matthews RC (1994) Immunodiagnosis of invasive fungal-infections. J Med Vet Mycol 32:239–252

Fernandez-Arenas E, Molero G, Nombela C, Diez-Orejas R, Gil C (2004) Contribution of the antibodies response induced by a low virulent Candida albicans strain in protection against systemic candidiasis. Proteomics 4:1204–1215

Gobom J, Nordhoff E, Mirgorodskaya E, Ekman R, Roepstorff P (1999) Sample purification and preparation technique based on nano-scale reversed-phase columns for the sensitive analysis of complex peptide mixtures by matrix-assisted laser desorption/ionization mass spectrometry. J Mass Spectrom 34:105–116

Gozalbo D, Gil-Navarro I, Azorin I, Renau-Piqueras J, Martínez JP, Gil ML (1998) The cell wall-associated glyceraldehyde-3-phosphate dehydrogenase of Candida albicans is also a fibronectin and laminin binding protein. Infect Immun 66:2052–2059

Haas G, Karaali G, Ebermayer K, Metzger WG, Lamer S, Zimny-Arndt U, Diescher S, Goebel UB, Vogt K, Roznowski AB, Wiedenmann BJ, Meyer TF, Aebischer T, Jungblut PR (2002) Immunoproteomics of Helicobacter pylori infection and relation to gastric disease. Proteomics 2:313–324

Hernando FL, Calvo E, Abad A, Ramírez A, Rementería A, Sevilla MJ, Pontón J (2007) Identification of protein and mannoprotein antigens of Candida albicans of relevance for the serodiagnosis of invasive candidiasis. Int Microbiol 10:103–108

Iborra S, Soto M, Carrion J, Nieto A, Fernández E, Alonso C, Requena JM (2003) The Leishmania infantum acidic ribosomal protein P0 administered as a DNA vaccine confers protective immunity to Leishmania major infection in BALB/c mice. Infect Immun 71:6562–6572

Jong AY, Chen SHM, Stins MF, Kim KS, Tuan TL, Huang SH (2003) Binding of Candida albicans enolase to plasmin(ogen) results in enhanced invasion of human brain microvascular endothelial cells. J Med Microbiol 52:615–622

Klotz SA, Pendrak ML, Hein RC (2001) Antibodies to alpha(5)beta(1), and alpha(v)beta(3) integrins react with Candida albicans alcohol dehydrogenase. Microbiology 147:3159–3164

Lain A, Moragues MD, Ruiz JC, Mendoza J, Camacho A, Del Palacio A, Pontón J (2007) Evaluation of a novel enzyme-linked immunosorbent assay to detect immunoglobulin G antibody to enolase for serodiagnosis of invasive candidiasis. Clin Vaccine Immunol 14:318–319

Lamaris GA, Esmaeli B, Chamilos G, Desai A, Chemaly RF, Raad II, Safdar A, Lewis RE, Kontoyiannis DP (2008) Fungal endophthalmitis in a tertiary care cancer center: a review of 23 cases. Eur J Clin Microbiol Infect Dis 27:343–347

Lim DB, Hains P, Walsh B, Bergquist P, Nevalainen H (2001) Proteins associated with the cell envelope of Trichoderma reesei: a proteomic approach. Proteomics 1:899–909

Marques MAM, Chitale S, Brennan PJ, Pessolani MCV (1998) Mapping and identification of the major cell wall-associated components of Mycobacterium leprae. Infect Immun 66:2625–2631

Martinez JP, Gil ML, Lopez-Ribot JL (1998) Serologic response to cell wall mannoproteins and proteins of Candida albicans. Clin Microbiol Rev 11:121–141

Martínez-López R, Nombela C, Diez-Orejas R, Monteoliva L, Gil C (2008) Immunoproteomic analysis of the protective response obtained from vaccination with Candida albicans ecm33 cell wall mutant in mice. Proteomics 8:2651–2664

Masuoka J, Glee PM, Hazen KC (1998) Preparative isoelectric focusing and preparative electrophoresis of hydrophobic Candida albicans cell wall proteins with in-line transfer to polyvinylidene difluoride membranes for sequencing. Electrophoresis 19:675–678

Matsuda K, Sakaguchi K, Kobayashi S, Tominaga M, Hirayama K, Kadosawa T, Taniyama H (2009) Systemic candidiasis and Mesenteric mast cell tumor with multiple metastases in a dog. J Vet Med Sci 71:229–232

Mendoza L, Olaso E, Anasagasti MJ, Fuentes AM, Vidal-Vanaclocha F (1998) Mannose receptor-mediated endothelial cell activation contributes to B16 melanoma cell adhesion and metastasis in liver. J Cell Physiol 174:322–330

Nishizawa M, Yasuhara T, Nakai T, Fujiki Y, Ohashi A (1994) Molecular-cloning of the aminopeptidase Y gene of Saccharomyces cerevisiae-sequence-analysis and gene disruption of a new aminopeptidase. J Biol Chem 269:13651–13655

Oliveira SC, Splitter GA (1996) Immunization of mice with recombinant L7/L12 ribosomal protein confers protection against Brucella abortus infection. Vaccine 14:959–962

Pagano L, Larocca LM, Marra R, Pizzigallo E, Leone G (1992) A leukemic patient with hepatosplenic abscesses due to coagulase-negative staphylococci. Clin Infect Dis 14:364–365

Pardo M, Ward M, Pitarch A, Sánchez M, Nombela C, Blackstock W, Gil C (2000) Cross-species identification of novel Candida albicans immunogenic proteins by combination of two-dimensional polyacrylamide gel electrophoresis and mass spectrometry. Electrophoresis 21:2651–2659

Parvez T (2003) Fungal infections in neutropenic cancer patients. J Coll Physicians Surg Pak 13:669–673

Pemán J, Cantón E, Orero A, Viudes A, Frasquet J, Gobernado M (2002) Epidemiology of candidemia in Spain—multicenter study. Rev Iberoam Micol 19:30–35

Pitarch A, Diez-Orejas R, Molero G, Pardo M, Sánchez M, Gil C, Nombela C (2001) Analysis of the serologic response to systemic Candida albicans infection in a murine model. Proteomics 1:550–559

Pitarch A, Sanchez M, Nombela C, Gil C (2002) Sequential fractionation and two-dimensional gel analysis unravels the complexity of the dimorphic fungus Candida albicans cell wall proteome. Mol Cell Proteomics 1:967–982

Pitarch A, Abian J, Carrascal M, Sánchez M, Nombela C, Gil C (2004) Proteomics-based identification of novel Candida albicans antigens for diagnosis of systemic candidiasis in patients with underlying hematological malignancies. Proteomics 4:3084–3106

Rafailidis PI, Kapaskelis A, Christodoulou C, Galani E, Falagas ME (2008) Concurrent M-tuberculosis, Klebsiella pneumoniae, and Candida albicans infection in liver metastasis of bowel carcinoma. Eur J Clin Microbiol Infect Dis 27:753–755

Ribeiro LA, Azevedo V, Le Loir Y, Oliveira SC, Dieye Y, Piard JC, Gruss A, Langella P (2002) Production and targeting of the Brucella abortus antigen L7/L12 in Lactococcus lactis: a first step towards food-grade live vaccines against brucellosis. Appl Environ Microbiol 68:910–916

Rodrigo L, Gil F, Hernandez AF, Lopez O, Pla A (2003) Identification of paraoxonase 3 in rat liver microsomes: purification and biochemical properties. Biochem J 376:261–268

Rodriguez-Cuesta J, Vidal-Vanaclocha F, Mendoza L, Valcárcel M, Gallot N, Martínez de Tejada G (2005) Effect of asymptomatic natural infections due to common mouse pathogens on the metastatic progression of B16 murine melanoma in C57BL/6 mice. Clin Exp Metastasis 22:549–558

Rodriguez-Cuesta J, Hernando FL, Mendoza L, Gallot N, de Cerio AA, Martínez-de-Tejada G, Vidal-Vanaclocha F (2010) Candida albicans enhances experimental hepatic melanoma metastasis. Clin Exp Metastasis 27:35–42

Ruhnke M, Maschmeyer G (2002) Management of mycoses in patients with hematologic disease and cancer—review of the literature. Eur J Med Res 7:227–235

Sanchez-Campillo M, Bini L, Comanducci R, Raggiaschi R, Marzocchi B, Pallini V, Ratti G (1999) Identification of immunoreactive proteins of Chlamydia trachomatis by Western blot analysis of a two-dimensional electrophoresis map with patient sera. Electrophoresis 20:2269–2279

Saxena A, Calderone R (1990) Purification and characterization of the extracellular C3d-binding protein of Candida albicans. Infect Immun 58:309–314

Schlesinger A, Paul M, Gafter-Gvili A, Rubinovitch B, Leibovici L (2009) Infection-control interventions for cancer patients after chemotherapy: a systematic review and meta-analysis. Lancet Infect Dis 9:97–107

Shen HD, Choo KB, Tang RB, Lee CF, Yeh JY, Han SH (1989) Allergenic components of Candida albicans identified by immunoblot analysis. Clin Exp Allergy 19:191–195

Sundstrom P, Jensen J, Balish E (1994) Humoral and cellular immune-responses to enolase after alimentary-tract colonization or intravenous immunization with Candida albicans. J Infect Dis 170:390–395

Swoboda RK, Bertram G, Hollander H, Greenspan D, Greenspan JS, Gow NA, Gooday GW, Brown AJ (1993) Glycolytic-enzymes of Candida albicans are nonubiquitous immunogens during candidiasis. Infect Immun 61:4263–4271

Urban C, Sohn K, Lottspeich F, Brunner H, Rupp S (2003) Identification of cell surface determinants in Candida albicans reveals Tsa1p, a protein differentially localized in the cell. FEBS Lett 544:228–235

van Deventer H, Goessens W, van Vliet A, Verbrugh H (1996) Anti-enolase antibodies partially protective against systemic candidiasis in mice. Clin Microbiol Infect 2:36–43

Vidal-Vanaclocha F, Rocha M, Asumendi A, Barbera-Guillem E (1993) Isolation and enrichment of two sublobular compartment-specific endothelial cell subpopulations from liver sinusoids. Hepatology 18:328–339

Vidal-Vanaclocha F, Fantuzzi G, Mendoza L, Fuentes AM, Anasagasti MJ, Martín J, Carrascal T, Walsh P, Reznikov LL, Kim SH, Novick D, Rubinstein M, Dinarello CA (2000) IL-18 regulates IL-1 beta-dependent hepatic melanoma metastasis via vascular cell adhesion molecule-1. Proc Natl Acad Sci U S A 97:734–739

Walsh TJ, Hathorn JW, Sobel JD, Merz WG, Sanchez V, Maret SM, Buckley HR, Pfaller MA, Schaufele R, Sliva C, Navarro E, Lecciones J, Chandrasekar P, Lee J, Pizzo PA (1991) Detection of circulating candida enolase by immunoassay in patients with cancer and invasive candidiasis. N Engl J Med 324:1026–1031

Xin H, Dziadek S, Bundle DR, Cutler JE (2008) Synthetic glycopeptide vaccines combining beta-mannan and peptide epitopes induce protection against candidiasis. Proc Natl Acad Sci U S A 105:13526–13531
Acknowledgments
This work has been partially supported by a SAIOTEK Grant (S-PE09UN41) and a Consolidated Research Group IT343/10 of Basque Government, and two grants from the University of the Basque Country/Pharmakine SL (UE 03/04 and UE 08/14). Andoni Ramírez was supported by a fellowship from the Government of the Basque Country. We thank JG Fenn, PhD and Ideas Need Communicating Languages Services SL for proofreading and correcting the English text. We are grateful to the CIC bioGUNE Proteomics Core Facility (member of CIBERehd and ProteoRed) and the Proteomics Unit at the University of the Basque Country (member of ProteoRed) for performing the Mass Spectrometry Analysis.
Conflict of interest
All authors declare no conflict of interest.
About this article
Cite this article
Ramirez-Garcia, A., Gallot, N., Abad, A. et al. Molecular fractionation and characterization of a Candida albicans fraction that increases tumor cell adhesion to hepatic endothelium. Appl Microbiol Biotechnol 92, 133–145 (2011). https://doi.org/10.1007/s00253-011-3540-8
Received:

Revised:

Accepted:

Published:

Issue Date:
Keywords
Cancer

Candida albicans

Endothelium

Mannoproteins

Melanoma