Abstract
Ethical and technical difficulties for in vivo studies on gut microbiotas argue for the development of alternative in vitro models: here, we describe a system simulating the proximal part of a human colon both nutritionally and physico-chemically with a procedure aimed to limit experimental variations over the time (Proximal Environmental Control System For Intestinal Microbiota—P-ECSIM). The continuous culture system P-ECSIM is first inoculated by a −20°C glycerol stock established from the batch culture of a stool-inoculated medium. The anaerobic atmosphere is self-maintained by the gases produced in the ordinary metabolism of fermentations. The monitoring of metabolic activities and microbial constitutions indicates that different steady states are obtained according to the dilution rate. Finally, the glycerol conservation of the batch culture-derived inoculum gives a similar differential response between the two dilution rates (D = 0.08 h−1 and D = 0.04 h−1) after a 1-year storage time as well for their metabolism and constitution in steady states, but with a lower abundance. Molecular fingerprints of the microbiota reveal however alterations over the time. Further efforts are needed concerning the preservation of standardized inoculums in order to improve the process for intra- and inter-lab comparison. Combined with appropriate analytical techniques, this system provides an efficient alternative means of studying functionally human microbiota in its constitution, metabolism and adaptation to environmental changes, particularly nutritional.
This is a preview of subscription content, log in to check access.
Access options
Buy single article
Instant access to the full article PDF.
US$ 39.95
Price includes VAT for USA
Subscribe to journal
Immediate online access to all issues from 2019. Subscription will auto renew annually.
US$ 199
This is the net price. Taxes to be calculated in checkout.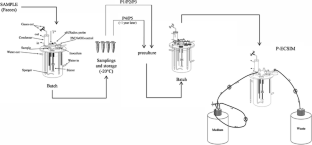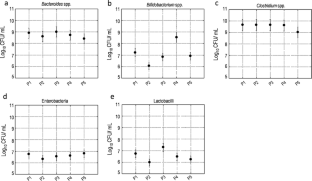 References
Allison C, McFarlan C, MacFarlane GT (1989) Studies on mixed populations of human intestinal bacteria grown in single-stage and multistage continuous culture systems. Appl Environ Microbiol 55(3):672–678

Bearne CA, Mallett AK, Rowland IR, Brennan-Craddock WE (1990) Continuous culture of human faecal bacteria as an in vitro model for the colonic microflora. Toxicol In Vitro 4(4–5):522–525

Beerens H (1991) Detection of bifidobacteria by using propionic acid as a selective agent. Appl Environ Microbiol 57(8):2418–2419

Brugere JF, Mihajlovski A, Missaoui M, Peyret P (2009) Tools for stools: the challenge of assessing human intestinal microbiota using molecular diagnostics. Expert Rev Mol Diagn 9(4):353–365

Cardinale M, Brusetti L, Quatrini P, Borin S, Puglia AM, Rizzi A, Zanardini E, Sorlini C, Corselli C, Daffonchio D (2004) Comparison of different primer sets for use in automated ribosomal intergenic spacer analysis of complex bacterial communities. Appl Environ Microbiol 70(10):6147–6156

Child MW, Kennedy A, Walker AW, Bahrami B, Macfarlane S, Macfarlane GT (2006) Studies on the effect of system retention time on bacterial populations colonizing a three-stage continuous culture model of the human large gut using FISH techniques. FEMS Microbiol Ecol 55(2):299–310

Cinquin C, Le Blay G, Fliss I, Lacroix C (2004) Immobilization of infant fecal microbiota and utilization in an in vitro colonic fermentation model. Microb Ecol 48(1):128–138

Claesson MJ, O'Sullivan O, Wang Q, Nikkila J, Marchesi JR, Smidt H, de Vos WM, Ross RP, O'Toole PW (2009) Comparative analysis of pyrosequencing and a phylogenetic microarray for exploring microbial community structures in the human distal intestine. PLoS One 4(8):e6669

Cummings JH, Pomare EW, Branch WJ, Naylor CP, Macfarlane GT (1987) Short chain fatty acids in human large intestine, portal, hepatic and venous blood. Gut 28(10):1221–1227

Cummings JH, Bingham SA, Heaton KW, Eastwood MA (1992) Fecal weight, colon cancer risk, and dietary intake of nonstarch polysaccharides (dietary fiber). Gastroenterology 103(6):1783–1789

Dethlefsen L, Huse S, Sogin ML, Relman DA (2008) The pervasive effects of an antibiotic on the human gut microbiota, as revealed by deep 16S rRNA sequencing. PLoS Biol 6(11):e280

Eckburg PB, Bik EM, Bernstein CN, Purdom E, Dethlefsen L, Sargent M, Gill SR, Nelson KE, Relman DA (2005) Diversity of the human intestinal microbial flora. Science 308(5728):1635–1638

Gibson GR, Fuller R (2000) Aspects of in vitro and in vivo research approaches directed toward identifying probiotics and prebiotics for human use. J Nutr 130(2S Suppl):391S–395S

Gibson GR, Cummings JH, Macfarlane GT (1988) Use of a three-stage continuous culture system to study the effect of mucin on dissimilatory sulfate reduction and methanogenesis by mixed populations of human gut bacteria. Appl Environ Microbiol 54(11):2750–2755

Hopkins MJ, Sharp R, Macfarlane GT (2001) Age and disease related changes in intestinal bacterial populations assessed by cell culture, 16S rRNA abundance, and community cellular fatty acid profiles. Gut 48(2):198–205

Le Blay G, Rytka J, Zihler A, Lacroix C (2009) New in vitro colonic fermentation model for Salmonella infection in the child gut. FEMS Microbiol Ecol 67(2):198–207

Macfarlane GT, Macfarlane S, Gibson GR (1998) Validation of a three-stage compound continuous culture system for investigating the effect of retention time on the ecology and metabolism of bacteria in the human colon. Microb Ecol 35(2):180–187

Mihajlovski A, Alric M, Brugere JF (2008) A putative new order of methanogenic Archaea inhabiting the human gut, as revealed by molecular analyses of the mcrA gene. Res Microbiol 159(7–8):516–521

Mihajlovski A, Doré J, Levenez F, Alric M, Brugère J-F (2010) Molecular evaluation of the human gut methanogenic archaeal microbiota reveals an age-associated increase of the diversity. Environ Microbiol Rep 2:272–280

Minekus M, Smeets-Peeters M, Bernalier A, Marol-Bonnin S, Havenaar R, Marteau P, Alric M, Fonty G, Huis in't Veld JH (1999) A computer-controlled system to simulate conditions of the large intestine with peristaltic mixing, water absorption and absorption of fermentation products. Appl Microbiol Biotechnol 53(1):108–114

Mitsuoka T, Hayakawa K (1973) The fecal flora in man. I. Composition of the fecal flora of various age groups. Zentralbl Bakteriol Orig A 223(2):333–342

Molly K, Vande Woestyne M, Verstraete W (1993) Development of a 5-step multi-chamber reactor as a simulation of the human intestinal microbial ecosystem. Appl Microbiol Biotechnol 39(2):254–258

Probert CJ, Emmett PM, Heaton KW (1993) Intestinal transit time in the population calculated from self made observations of defecation. J Epidemiol Community Health 47(4):331–333

Qin J, Li R, Raes J, Arumugam M, Burgdorf KS, Manichanh C, Nielsen T, Pons N, Levenez F, Yamada T, Mende DR, Li J, Xu J, Li S, Li D, Cao J, Wang B, Liang H, Zheng H, Xie Y, Tap J, Lepage P, Bertalan M, Batto JM, Hansen T, Le Paslier D, Linneberg A, Nielsen HB, Pelletier E, Renault P, Sicheritz-Ponten T, Turner K, Zhu H, Yu C, Li S, Jian M, Zhou Y, Li Y, Zhang X, Li S, Qin N, Yang H, Wang J, Brunak S, Dore J, Guarner F, Kristiansen K, Pedersen O, Parkhill J, Weissenbach J, Bork P, Ehrlich SD, Wang J (2010) A human gut microbial gene catalogue established by metagenomic sequencing. Nature 464(7285):59–65

Rajilić-Stojanović M, Maathuis A, Heilig HG, Venema K, de Vos WM, Smidt H (2010) Evaluating the microbial diversity of an in vitro model of the human large intestine by phylogenetic microarray analysis. Microbiology 156(11):3270–3281

Rumney CJ, Rowland IR (1992) In vivo and in vitro models of the human colonic flora. Crit Rev Food Sci Nutr 31(4):299–331

Tap J, Mondot S, Levenez F, Pelletier E, Caron C, Furet JP, Ugarte E, Munoz-Tamayo R, Paslier DL, Nalin R, Dore J, Leclerc M (2009) Towards the human intestinal microbiota phylogenetic core. Environ Microbiol 11(10):2574–2584

Van den Abbeele P, Grootaert C, Marzorati M, Possemiers S, Verstraete W, Gerard P, Rabot S, Bruneau A, El Aidy S, Derrien M, Zoetendal E, Kleerebezem M, Smidt H, Van de Wiele T (2010) Microbial community development in a dynamic gut model is reproducible, colon region specific, and selective for Bacteroidetes and Clostridium cluster IX. Appl Environ Microbiol 76(15):5237–5246

Woodmansey EJ (2007) Intestinal bacteria and ageing. J Appl Microbiol 102(5):1178–1186

Yu Z, Morrison M (2004) Improved extraction of PCR-quality community DNA from digesta and fecal samples. Biotechniques 36(5):808–812

Zhang H, DiBaise JK, Zuccolo A, Kudrna D, Braidotti M, Yu Y, Parameswaran P, Crowell MD, Wing R, Rittmann BE, Krajmalnik-Brown R (2009) Human gut microbiota in obesity and after gastric bypass. Proc Natl Acad Sci U S A 106(7):2365–2370

Zoetendal EG, Rajilic-Stojanovic M, de Vos WM (2008) High-throughput diversity and functionality analysis of the gastrointestinal tract microbiota. Gut 57(11):1605–1615
Acknowledgements
This work was supported by a postdoctoral scholarship support from the European Union (UE) and the Auvergne Council, to DF-G. (FEDER). We thank Pascal Vandekerckove from Lesaffre SA and Zsolt Popse from Global Process Concept (France) for their support. J-FB thanks Céline Vidal and Claire Ardaens for their technical help. The authors are grateful of the assistance of Meghan Schaut (Michigan State University) and William Tottey for their remarks on the English version of the manuscript.
About this article
Cite this article
Feria-Gervasio, D., Denis, S., Alric, M. et al. In vitro maintenance of a human proximal colon microbiota using the continuous fermentation system P-ECSIM. Appl Microbiol Biotechnol 91, 1425–1433 (2011). https://doi.org/10.1007/s00253-011-3462-5
Received:

Revised:

Accepted:

Published:

Issue Date:
Keywords
Gut microbiota

Human colon

In vitro digestive system