Spaceflight and modeled microgravity effects on microbial growth and virulence
Abstract
For unsuspecting bacteria, the difference between life and death depends upon efficient and specific responses to various stressors. Facing a much larger world, microbes are invariably challenged with ever-changing environments where temperature, pH, chemicals, and nutrients are in a constant state of flux. Only those that are able to rapidly reprogram themselves and express subsets of genes needed to overcome the stress will survive and outcompete neighboring microbes. Recently, low shear stress, emulating microgravity (MG) experienced in space, has been characterized in a number of microorganisms including fungi and prokaryotes ranging from harmless surrogate organisms to bona fide pathogens. Interestingly, MG appears to induce a plethora of effects ranging from enhanced pathogenicity in several Gram-negative enterics to enhanced biofilm formation. Furthermore, MG-exposed bacteria appeared better able to handle subsequent stressors including: osmolarity, pH, temperature, and antimicrobial challenge while yeast exhibited aberrant budding post-MG-exposure. This review will focus on MG-induced alterations of virulence in various microbes with the emphasis placed on bacteria.
Keywords
Space microbiology 
Microgravity 
Low-shear modeled microgravity 
Virulence 
Bacteria 
Introduction
Microbes are highly evolved and occupy unique environmental niches. In order for the plethora of microbes to persist and thrive, they must be highly responsive to changes in their local environments. Some of these environmental changes are experienced in the form of temperature, oxidative, host cell induced, and/or chemical stresses. Only those microbes which can readily reprogram themselves (in response to the stress) will be successful in staying the course and enjoying the benefits of post-stress conditions. Spaceflight poses two unique microbial space-like stresses (SLSs): microgravity (MG) as well as other low shear environments and space irradiation from various sources. Both of the aforementioned stresses could be experienced by either normal flora microbes (i.e., resident flora present on astronauts) or by exogenous and sometimes unavoidable sources of contamination ferried beyond the Earth's atmosphere during spaceflight. One of the potential fears is that through SLS-induced responses, resident flora could become opportunistic and function more as a pathogen. Opportunistic infection coupled with compromised immune responses of space-bound astronaut hosts could have potentially life-threatening consequences. This mini-review will be primarily focused on the former SLS, MG, and other low shear environments, and the physiological and genetic changes exerted on microbes.
Table 1
Comparison of modeled microgravity and actual space flight-mediated effects on transcriptome expression, LD50, and induced mortality of S. typhimurium in murine models of infection
| Condition | Differentially expressed genes | Up-regulated genes | Down-regulated genes | Murine model (%) mortality and LD50 |
| --- | --- | --- | --- | --- |
| MG/HARV (Wilson et al. 2002a) | 163 | 68 | 97 | LD50 NG S.t = 2.2 × 107 CFU/ml vs. LD50 MG S.t = 4.3 × 106 CFU/ml (Nickerson et al. 2000) |
| MG/HARV (Chopra et al. 2006) | 125 | 35 | 33 | 60% NG mouse mortality after 2–3 days post-NG S.t infection (1 × 107 CFU/ml) vs. 100% MG mouse mortality (AOS model) after 2–3 days post-MG S.t infection (1 × 106 CFU/ml) |
| Spaceflight (Wilson et al. 2007) | 167 | 69 | 98 | 45% mouse mortality post-NG S.t infection (1 × 107 CFU/ml) vs. 95% mouse mortality post-spaceflight grown S.t infection (1 × 107 CFU/ml) [LD50 NG S.t = 12.5 × 106 CFU/ml vs. LD50 spaceflight S.t = 4.5 × 106 CFU/ml] |
Recently, several important studies have demonstrated a key role for microgravity and the low fluid shear dynamics associated with microgravity in the regulation of microbial gene expression, physiology, and even pathogenesis (Nickerson et al. 2003; Nickerson et al. 2004). In fact, some studies employ MG as a means to study changes at the evolutionary levels to better understand how gravity itself has helped shaped life on our planet.
Normal/ground gravity vs. low-shear modeled microgravity
In order to emulate MG on Earth, National Aeronautics and Space Administration (NASA) researchers developed a high-aspect ratio vessel (HARV) bioreactor; HARVs as well as other rotating wall vessels (RWV) are now commercially available (Synthecon, Inc. Houston, TX). The HARV bioreactor produces an environmental condition in which the gravitational vectors are randomized over the surface of the cells. This randomization emulates a state of constant free-fall and reduction in gravity creating a sustained low-shear modeled microgravity (LSMMG) environment for cell growth. Although designed to create a LSMMG environment, the RWV can also be used to grow cells under normal gravity by simply changing the position of the bioreactor (Fig. 
1
).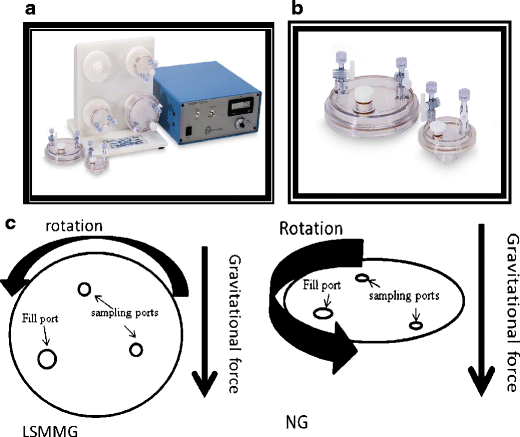 Responses of bacteria to LSMMG
Notes
Acknowledgements
We would like to thank Duane L. Pierson, C. Mark Ott, and Ashok K. Chopra for discussion and guidance in our pursuit of space microbiology knowledge. We would also like to thank Dieter Haas, Shishir Shishodia, and Hector Miranda for valuable feedback and criticism. Work on this manuscript was supported by the National Aeronautics and Space Administration (NASA) cooperative agreement NNX08B4A47A, and Texas Southern University Start-Up Grant Sg0609.