Abstract
In this study, we investigated the ability of the yeast Trichosporon asahii SBUG-Y 833 to assimilate phenylalkanes with alkyl chain lengths from 7 to 12 carbon atoms, and we describe for the first time the formation of coumarines via a novel degradation pathway other than the normal terminal and ß-oxidation pathway of the alkyl residues. Besides benzoic acid and its further oxidation products, six new metabolites were identified. These were the three coumarines—4-hydroxycoumarin, 4,6-dihydroxycoumarin, 4,8-dihydroxycoumarin—and the three alkyl substituted aromatic acids—7-phenylheptanoic acid, 2-hydroxyphenylheptanoic acid, and 2-hydroxyphenylpropanoic acid. 4-Hydroxycoumarin was the main extracellular metabolite during the degradation of both odd- and even-chain phenylalkanes and was also produced during further biotransformation of 2-hydroxyphenylpropanoic acid and trans-2-hydroxycinnamic acid. Due to the ability of T. asahii to form hydroxylated coumarines, the transformation of 7-hydroxycoumarin and 2,4-dihydroxyphenylpropanoic acid was investigated. Yeast cells supplemented with 7-hydroxycoumarin formed 6,7-dihydroxycoumarin and 4,7-dihydroxycoumarin. The transformation of 2,4-dihydroxyphenylpropanoic acid yielded to 4,7-dihydroxycoumarin as the main product. All hydroxylated coumarines were continuously accumulated and are very resistant to further oxidation. The high potential of the yeast T. asahii SBUG-Y 833 to form different hydroxylated coumarines from alkylaromatics suggests possible applications in the biotechnological production of coumarine structures with medical potential as anticoagulative and antitumor pharmaceutical.
This is a preview of subscription content, log in to check access.
Access options
Buy single article
Instant access to the full article PDF.
US$ 39.95
Price includes VAT for USA
Subscribe to journal
Immediate online access to all issues from 2019. Subscription will auto renew annually.
US$ 199
This is the net price. Taxes to be calculated in checkout.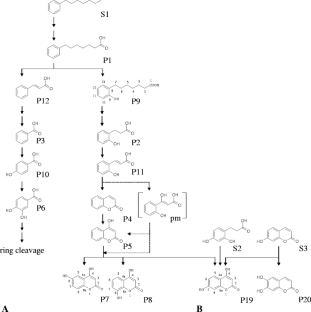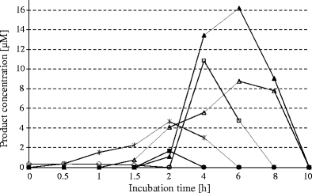 References
Ammund OO, Higgins IJ (1985) The degradation of 1-phenylalkanes by an oil-degrading strain of Acinetobacter lwoffi. Antonie Van Leeuwenhoek 51:45–56

Awe S, Mikolasch A, Hammer E, Schauer F (2008) Degradation of phenylalkanes and characterization of aromatic intermediates acting as growth inhibiting substances in hydrocarbon utilizing yeast Candida maltosa. Int Biodeter Biodegr 62:408–414

Barnett JA, Payne RW, Yarrow D (2000) Yeasts, characteristics and identification, 3rd edn. Cambridge University Press, Cambridge, UK, p 752

Bellis DM, Spring MS, Stoker JR (1966) The biosynthesis of dicoumarol. Biochem J 103:202–206

Buswell JA (2001) Fungal biodegradation of chlorinated monoaromatics and BTEX compounds. In: Gadd GM (ed) Fungi in bioremediation. Cambridge University Press, Cambridge, UK, pp 113–135

Chagas-Neto TC, Chaves GM, Colombo AL (2008) Update on the genus Trichosporon. Mycopathol 166:121–132

Cowan MM (1999) Plant products as antimicrobial agents. Clin Microbiol Rev 12:564–582

Davis JB, Raymond RL (1961) Oxidation of alkyl-substituted cyclic hydrocarbons by a Nocardia during growth on n-alkanes. Appl Microbiol 9:383–388

De Boer TD, Backer HJ (1956) Diazomethane. In: Leonard NJ (ed) Organic synthesis, vol 36. Wiley, New York, pp 14–16

Dutta TK (2005) Origin, occurrence, and biodegradation of long-side-chain alkyl compounds in the environment: a review. Environ Geochem Health 27:271–284

Dutta TK, Harayama S (2001a) Analysis of long-side chain alkylaromatics in crude oil for evaluation of their fate in the environment. Environ Sci Technol 35:102–107

Dutta TK, Harayama S (2001b) Biodegradation of n-alkylcycloalkanes and n-alkylbenzenes via new pathways in Alcanivorax sp. Strain MBIC 4326. Appl Environ Microbiol 67:1970–1974

Faber BW, van Gorcom RFM, Duine JA (2001) Purification and characterization of benzoate-para-hydroxylase, a cytochrome P450 (CYP53A1), from Aspergillus niger. Arch Biochem Biophys 394:245–254

Fedorak PM, Westlake DWS (1986) Fungal metabolism of n-alkylbenzenes. Appl Environ Microbiol 51:435–437

Fyfe D (ed) (1998) Oil Market Report, International Energy Agency. Available via http://omrpublic.iea.org/omrarchive/08dec98tab.pdf

Fyfe D (ed) (2008) Oil Market Report, International Energy Agency. Available via http://omrpublic.iea.org/omrarchive/11dec08tab.pdf

Guého E, Smith MT, de Hoog GS, Billon-Grand G, Christen R, der Vegte WH Batenburg-van (1992) Contributions to a revision of the genus Trichosporon. Antonie Van Leeuwenhoek 61:289–316

Guého E, Smith MT, de Hoog GS (1998) Trichosporon Behrend. In: Kurtzman CP, Fell JW (eds) The yeasts, a taxonomic study. Elsevier, Amsterdam, pp 854–872

Hornei S, Köhler M, Weide H (1972) Das Fettsäurespektrum eines Candida-Stammes nach Kultur auf n-Alkanen. Zeitschrift für Mikrobiologie 12:19–27

Johnson JS, Barry DA, Christofi N, Patel D (2001) Potential for anaerobic biodegradation of linear alkylbenzene cable oils: Literature review and preliminary investigation. Land Cont Reclam 9:279–291

Manolov I, Maichle-Moessmer C, Danchev N (2006) Synthesis, structure, toxicological and pharmacological investigations of 4-hydroxycoumarin derivatives. Eur J Med Chem 41:882–890

Matsuzaki F, Wariishi H (2005) Molecular characterization of cytochrome P450 catalyzing hydroxylation of benzoates from the white-rot fungus Phanaerochaete chrysosporium. Biochem Biophys Res Commun 334:1184–1190

Middelhoven WJ (1993) Catabolism of benzene compounds by ascomycetous and basidiomycetous yeasts and yeast-like fungi. Antonie Van Leeuwenhoek 63:125–144

Middelhoven WJ, Scorzetti G, Fell JW (2000) Trichosporon veenhuisii sp. nov., an alkane-assimilating anamorphic basidiomycetous yeast. Intern J System Evol Microbiol 50:381–387

Middelhoven WJ, Scorzetti G, Fell JW (2001) Trichosporon porosum comb. nov., an anamorphic basidiomycetous yeast inhibiting soil, related to the loubieri/laibachii group of species that assimilate hemicelluloses and phenolic compounds. FEMS Yeast Res 1:15–22

Middelhoven WJ (2003) Identification of clinically relevant Trichosporon species. Mycoses 46:7–11

Mingot JM, Peñalva MA, Fernández-Cañόn JM (1999) Disruption of phacA, an Aspergillus nidulans gene encoding a novel cytochrome P450 monooxygenase catalyzing phenylacetate 2-hydroxylation, results in penicillin overproduction. J Biol Chem 274(21):14545–14550

Penteado JC, Bruns RE, Franco de Carvalho LR (2006) Factorial design optimization of solid phase microextraction conditions for gas chromatography-mass spectrometry (GC-MS) analysis of linear alkylbenzenes (LABs) in detergents. Anal Chim Acta 562:152–157

Poulton JE, McRee DE, Conn EE (1980) Intracellular localization of two enzymes involved in coumarine biosynthesis in Melilotus alba. Plant Physiol 65:171–175

Rontani JF, Bertrand JC, Blanc F, Giusti G (1986) Gas chromatography and gas chromatography/mass spectrometry applied to the determination of a new pathway of pristane degradation by a marine mixed bacterial population. Mar Chem 18:9–16

Sariaslani FS, Harper DB, Higgins IJ (1974) Microbial degradation of hydrocarbons. Catabolism of 1-phenylalkanes by Nocardia salmonicolor. Biochem J 140:31–45

Schunck WH, Mauersberger S, Huth J, Riege P, Müller HG (1987) Function and regulation of cytochrome P-450 in alkane-asimilating yeast. I. Selective inhibition with carbon monoxide in growing cells. Arch Microbiol 147:240–244

Sietmann R, Hammer E, Moody J, Cerniglia CE, Schauer F (2000) Hydroxylation of biphenyl by the yeast Trichosporon mucoides. Arch Microbiol 174:353–361

Sietmann R, Hammer E, Schauer F (2002) Biotransformation of biarylic compounds by yeasts of the genus Trichosporon. System. Appl Microbiol 25:332–339

Smith MR, Ratledge C (1989) Catabolism of alkylbenzenes by Pseudomonas sp. NCIB 10643. Appl Microbiol Biotechnol 32:68–75

Spring MS, Stoker JR (1969) The biosynthesis of 4-hydroxycoumarin by Penicillium jenseni. Can J Biochem 47:301–304

Stoker JR (1964) The biosynthesis of coumarine in Melilotus alba. Biochem Biophys Res Commun 14(1):17–20

Van der Walt JP, Van Kerken AE (1961) The wine yeast of the cape. Part V. Studies on the occurrence of Brettanomyces intermedius and Brettanomyces schanderlii. Antonie van Leeuwenhoek 27:81–90
About this article
Cite this article
Awe, S., Mikolasch, A. & Schauer, F. Formation of coumarines during the degradation of alkyl substituted aromatic oil components by the yeast Trichosporon asahii . Appl Microbiol Biotechnol 84, 965–976 (2009). https://doi.org/10.1007/s00253-009-2044-2
Received:

Revised:

Accepted:

Published:

Issue Date:
Keywords
Degradation

Alkylbenzenes

Coumarines

4-Hydroxycoumarin

Yeasts