Abstract
The sponge-associated actinomycetes were isolated from the marine sponge Dendrilla nigra, collected from the southwest coast of India. Eleven actinomycetes were isolated depending upon the heterogeneity and stability in subculturing. Among these, Nocardiopsis dassonvillei MAD08 showed 100% activity against the multidrug resistant pathogens tested. The culture conditions of N. dassonvillei MAD08 was optimized under submerged fermentation conditions for enhanced antimicrobial production. The unique feature of MAD08 includes extracellular amylase, cellulase, lipase, and protease production. These enzymes ultimately increase the scope of optimization using broad range of raw materials which might be efficiently utilized. The extraction of the cell free supernatant with ethyl acetate yielded bioactive crude extract that displayed activity against a panel of pathogens tested. Analysis of the active thin layer chromatography fraction by Fourier transform infrared and gas chromatography-mass spectrometry evidenced 11 compounds with antimicrobial activity. The ammonium sulfate precipitation of the culture supernatant at 80% saturation yielded an anticandidal protein of molecular weight 87.12 kDa. This is the first strain that produces both organic solvent and water soluble antimicrobial compounds. The active extract was non-hemolytic and showed surface active property envisaging its probable role in inhibiting the attachment of pathogens to host tissues, thus, blocking host–pathogen interaction at an earlier stage of pathogenesis.
This is a preview of subscription content, log in to check access.
Access options
Buy single article
Instant access to the full article PDF.
US$ 39.95
Price includes VAT for USA
Subscribe to journal
Immediate online access to all issues from 2019. Subscription will auto renew annually.
US$ 199
This is the net price. Taxes to be calculated in checkout.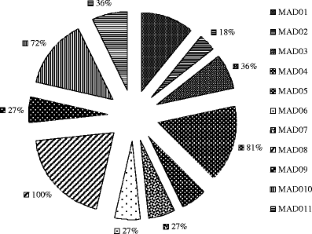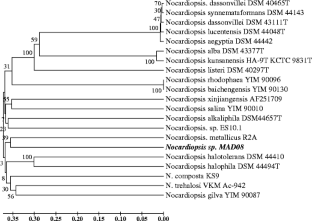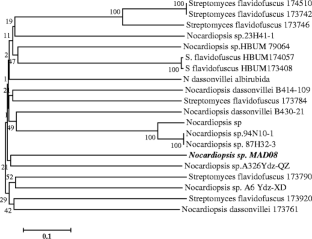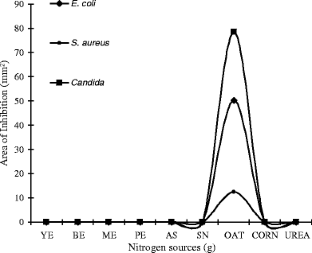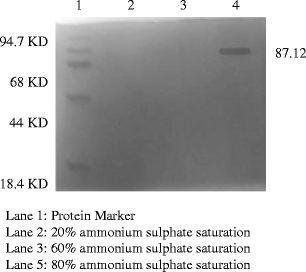 References
Altschul SF, Gise W, Miller W, Myers EW, Lipman DJ (1990) Basic local alignment tool. J Mol Biol 215:403–410

Altschul SF, Thomas LM, Alejandro AS, Zhang J, Zhang Z, Miller W, Lipman DJ (1997) Gapped BLAST and PSI-BLAST: a new generation of protein database search programs. Nucleic Acids Res 25:3389–3402

Argoudelis A, Baczyneky DL, Duo MT, Laborde AI, Sabek OK, Truesdel SK, Shillidag FB (1987) In vitro studies of arginomycin and its biodegradation products. J Antibio 40:750–760

Bernfield P (1955) Amylase, alpha and beta. Methods of Enzymol 1:149–158

Black RE, Brown KD, Becker S, Yunus M (1982) Longitudinal Studies of infectious diseases and physical growth of children in rural Bangladesh. Am J Epidemiol 115:305–314

Claeson AS, Sunnesson AL (2005) Identification using versatile sampling and analytical methods of volatile compounds from S. albidoflavus grown on four humid building materials and one synthetic medium. Indoor Air 15:41–47

Cooper DG, Goldenberg BG (1987) Surface active agents from two Bacillus species. Appl Environ Microbiol 53:224–229

De Vuyst L, Vandamme EJ (1992) Influence of the carbon source on nisin production in Lactococcus lactis subsp. lactis batch fermentations. J Gen Microbiol 138:571–578

De Vuyst L, Vandamme EJ (1993) Influence of the phosphorus and nitrogen source on nisin production in Lactococcus lactis subsp. lactis batch fermentations using a complex medium. Appl Microbiol Biotechnol 40:17–22

Dienstag J, Nue HC (1972) In vitro studies of tobramycin and aminoglycoside antibiotic. J Antimicrob Ag Chem 1:41–45

Dixit VS, Pant A (2000) Hydrocarbon degradation and protease production by Nocardiopsis sp. NCIM 5124. Lett Appl Microbiol 30:67–69

Fenical W, Baden D, Burg M, de Goyet CV, Grimes JD, Katz M, Marcus NH, Pomponi S, Rhines P, Tester P, Vena J (1999) Marine-derived pharmaceuticals and related bioactive compounds. In: Fenical W (ed) From Monsoons to Microbes:Understanding the Ocean's Role in Human Health. National Academic Press, Washington, DC

Fguira LFB, Fotso S, Mehdi RBA, Mellouli L, Laatsch H (2005) Purification and structure elucidation of antifungal and antibacterial activities of newly isolated Streptomyces sp. strain US80. Res Microbiol 156:341–347

Fieseler L, Horn M, Wagner M, Hentschel U (2004) Discovery of the novel candidate phylum "Poribacteria" in marine sponges. Appl Environ Microbiol 70:3724–3732

Forbes BA, Sahm DF, Weissfeld AS, Trevino EA (1990) Methods for testing antimicrobial effectiveness. In: Baron EJ et al. (eds) Bailey and Scott' Diagnostic Microbiology. Mosby Co, St Louis, Missouri

Gottenbos B, Grijpma DW, Van der Mei HC, Jan Feijen, Busscher HJ (2001) Antimicrobial effects of positively charged surfaces on adhering Gram-positive and Gram-negative bacteria. J Antimicrob Chemother 48:7–13

Gross E, Morell JL (1971) The structure of nisin. J Am Chem Soc 93:4634–4635

Haan R, Heng RNY, Poynter S (in press) Extraction and analysis of bioactive agents from Tasmanian marine organisms. Journal of undergraduate science and Technology

Hentschel U, Fieseler L, Wehrl M, Gernert C, Steinert M, Hacker J, Horn M (2003) Microbial diversity of marine sponges. Prog Mol Subcell Biol 37:59–88

Hentschel U, Usher KM, Taylor MW (2006) Marine sponges as microbial fermenters. FEMS Microbiol Ecol 55(2):167–77

Kanagasabhapathy M, Sasaki H, Nakajima K, Nagata K, Nagata S (2005) Inhibitory Activities of surface associated bacteria isolated from the marine sponge Pseudoceratina purpurea. Microbes Environ 20:178–185

Lechevalier HA (1989) The actinomycetes III. A practical guide to generic identification of actinomycetes. In: Williams ST et al. (eds) Bergey's Manual Systematic Bacteriology. Volume 4. Williams & Wilkins, pp. 2344–2347

Lima-Filho JVM, Carvalho AFFU, Freitas SM (2002) Antibacterial activity of extracts of six macroalgae from the Northeastern Brazillian coast. Brazilian J Microbiol 33:311–333

Manachini PL, Fartina MG, Parini C (1988) Thermostable alkaline protease produced by Bacillus thermoruber a new species of Bacillus. Appl Microbiol Biotechnol 28:409–413

Masuda M, Abe T, Sato S (1997) Diversity of halogenated secondary metabolites in the red algae Laurencia nipponica (Rhodomelaceae Ceramiales). J Phycol 33:196–208

Mehdi RBA, Sioud S, Fguira LFB, Bejar S, Mellouli L (2006) Purification and structure determination of four newly isolated Streptomyces sp. TN97 strain. Process Biochem 41:1506–1513

Miller GL (1959) Use of dinitrosalicylic acid reagent for determination of reducing sugars. Anal Chem 31:426–428

Motta AS, Brandelli A (2008) Evaluation of environmental conditions for production of bacteriocin-like substance by Bacillus sp. strain P34. World J Microbiol Biotechnol 24:641–646

Narayana JP, Prabhakar P, Vijayalakshmi M, Venkateswarlu Y, Krishna SJ (2008) Study of bioactive compounds from Streptomyces sp. ANU 6277. Pol J Microbiol 57:35–39

Ohnishi K, Yoshida Y, Sekiguchi J (1994) Lipase production of Aspergillus oryzae. J Ferment Bioeng 77:490–495

Pinkner JS (2006) Rationally designed small compounds inhibit pilus biogenesis in uropathogenic bacteria. Proc Natl Acad Sci U S A 103:17897–17902

Roy RN, Laskar S, Sen SK (2006) Dibutyl phthalate the bioactive compound produced by S. albidoflavus 321.2. Microbiol Res 161:121–126

Selvin J, Soniya J, Asha KRT, Manjusha WA, Sangeetha VS, Jayaseema DM, Antony MC, Vinitha DAJ (2004) Antibacterial potential of antagonistic Streptomyces sp. isolated from the marine sponge Dendrilla nigra. FEMS Microbiol Ecol 50:117–122

Svensson A (2001) Design and evaluation of pilicides: potential novel antibacterial agents directed against uropathogenic Escherichia coli. ChemBioChem 2:915–918

Thakur NL, Anil AC, Müller WEG (2004) Culturable epibacteria of the marine sponge Ircinia fusca: temporal variations and their possible role in the epibacterial defense of the host. Aqua Microb Ecol 37:295–304

Vessonipenna TC, Moraes DA (2002) Optimisation of nisin prodcution by Lactococcus lactis. Applied Biochem Biotech 98–100:775–789

Waksman SA, Woodruff HB (1940) Bacteriostatic and bactericidal substance produced by a soil Actinomyces. Proc Soc Ex Biol Med 45:609–614

Walsh JA, Warren KS (1974) Selective primary healthcare: an interim strategy for disease control in developing countries. N Engl J Med 301:367–370
Acknowledgements
RG is thankful to Council of Scienctific and Industrial Research (CSIR) for Senior Research Fellowship. SS and TRR are thankful to Ministry of Earth Sciences (MoES) for the award of Junior Research Fellowship in MoES funded research project. JS is thankful to CSIR, New Delhi and MoES, New Delhi for research grants.
About this article
Cite this article
Selvin, J., Shanmughapriya, S., Gandhimathi, R. et al. Optimization and production of novel antimicrobial agents from sponge associated marine actinomycetes Nocardiopsis dassonvillei MAD08. Appl Microbiol Biotechnol 83, 435–445 (2009). https://doi.org/10.1007/s00253-009-1878-y
Received:

Revised:

Accepted:

Published:

Issue Date:
Keywords
Marine-Actinomycetes

Nocardiopsis

Antimicrobial agents

Anticandidal protein

Optimization