Abstract
The co-culture of the suspension cells of Taxus chinensis var. mairei and its endophytic fungi, Fusarium mairei, in a 20-L co-bioreactor was successfully established for paclitaxel production. The co-bioreactor consists of two-unit tanks (10 L each) with a repairable separate membrane in the center, culturing Taxus suspension cells in one tank and growing fungi in another. By optimizing the co-culture conditions, there was a desirable yield of paclitaxel in Taxus cell cultures. The Taxus cell cultures by co-culture produced 25.63 mg/L of paclitaxel within 15 days; it was equivalent to a productivity of 1.71 mg/L per day and 38-fold higher than that by uncoupled culture (0.68 mg/L within 15 days). The optimum conditions for co-culture in the co-bioreactor were: B5 medium, inoculating fungi when Taxus cells had grown for 5 days in the co-bioreactor, hydrophilic separate membrane in the center of the co-bioreactor, and air flow rate of 1:0.85 v/v/m in fungus cultures.
This is a preview of subscription content, log in to check access.
Access options
Buy single article
Instant access to the full article PDF.
US$ 39.95
Price includes VAT for USA
Subscribe to journal
Immediate online access to all issues from 2019. Subscription will auto renew annually.
US$ 199
This is the net price. Taxes to be calculated in checkout.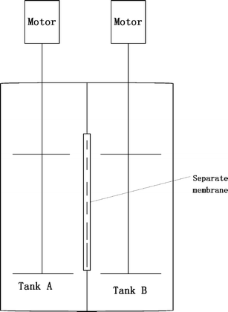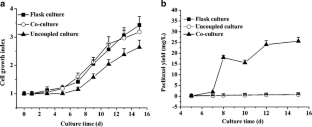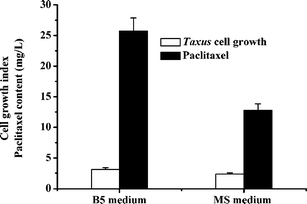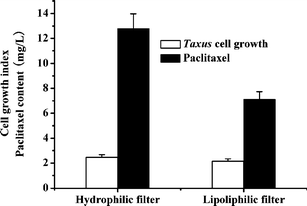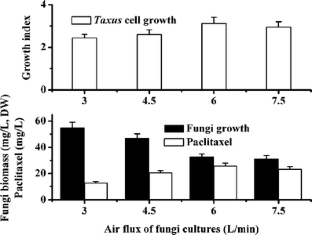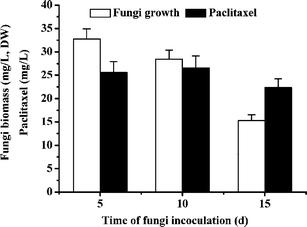 References
Akiyama K, Hayashi H (2002) Arbuscular mycorrhizal fungus-promoted accumulation of two new triterpenoids in cucumber roots. Biosci Biotechnol Biochem 66:762–769

Alvarez MM, Guzmán A, Elías M (2005) Experimental visualization of mixing pathologies in laminar stirred tank bioreactors. Chem Eng Sci 60:2449–2457

Barker SJ, Tagu D (2000) The roles of auxins and cytokinins in mycorrhizal symbioses. J Plant Growth Reg 19:144–154

Bentebibel S, Moyano T, Palazon J, Cusidó RM, Bonfill M, Eibl R, Piñol T (2005) Effects of immobilization by entrapment in alginate and scale-up on paclitaxel and baccatin III production in cell suspension cultures of Taxus baccata. Biotechnol Bioeng 89:647–655

Chávez-Gómez B, Quintero R, Esparza-García F, Mesta-Howard AM, Zavala Díaz de la Serna FJ, Hernández-Rodríguez CH, Gillén T, Poggi-Varaldo HM, Barrera-Cortés J, Rodríguez-Vázquez R (2003) Removal of phenanthrene from soil by co-cultures of bacteria and fungi pregrown on sugarcane bagasse pith. Bioresour Technol 89:177–183

Commercn A, Bourzat JD, Didier E, Lavelle F (1995) Practical semisynthesis and antimitotic activity of docetaxel and side-chain analogs. ACS Symp Ser 583:233–246

Furmanowa M, Olędzka H, Sykłowska-Baranek K, Józefowicz J, Gieracka S (2000) Increased taxane accumulation in callus cultures of Taxus cuspidata and Taxus x media by some elicitors and precursors. Biotechnol Lett 22:1449–1452

Gamborg OL, Miller RA, Ojima K (1968) Nutrient requirements of suspension cultures of soybean root cells. Exp Cell Res 50:151–158

Gibson DM, Ketchum REB, Vance NC, Christen AA (1993) Initiation and growth of cell lines of Taxus brevifolia (Pacific yew). Plant Cell Rep 12:479–482

Goleniowski ME (2000) Cell lines of Taxus species as source of the anticancer drug taxol. Biocell 24:139–144

Holton RA, Somoza C, Kim HB, Liang F, Biediger RJ, Boatman PD, Shindo M, Smith CC, Kim S, Nadizadeh H, Suzuki Y, Tao C, Vu P, Tang S, Zhang P, Murthi KK, Gentile LN, Liu JH (1994) First total synthesis of taxol. I. Functionalization of the B ring. J Am Chem Soc 116:1597–1598

Ketchum REB, Gibson DM, Croteau RB, Shuler ML (1999) The kinetics of taxoid accumulation in cell suspension cultures of Taxus following elicitation with methyl jasmonate. Biotechnol Bioeng 62:97–105

Khosroushahi AY, Valizadeh M, Ghasempour A, Khosrowshahli M, Naghdibadi H, Dadpour MR, Omidi Y (2006) Improved taxol production by combination of inducing factors in suspension cell culture of Taxus baccata. Cell Biology Int 30:262–269

Li JY, Sidhu RS, Ford EJ, Long DM, Hess WM, Strobel GA (1998) The induction of taxol production in the endophytic fungus—Periconia sp from Torreya grandifolia. J Indust Microbiol Biotechnol 20:259–264

Linden JC, Phisalaphong M (2000) Oligosaccharides potentiate methyl jasmonate-induced production of paclitaxel in Taxus canadensis. Plant Sci 158:41–51

Łuczkiewicz M, Kokotkiewicz A (2005) Co-cultures of shoots and hairy roots of Genista tinctoria L. for synthesis and biotransformation of large amounts of phytoestrogens. Plant Sci 169:862–871

Nicolaou KC, Yang Z, Liu JJ, Ueno H, Nantermet PG, Guy RK, Claiborne CF, Renaud J, Couladouros EA, Paulvannan K, Sorensen EJ (1994) Total synthesis of taxol. Nature 367:630–634

Patel RN (1998) Tour de paclitaxel: biocatalysis for semisynthesis. Annu Rev Microbiol 98:361–395

Rojas-Andrade R, Cerda-Garcia-Rojas CM, Frias-Hernandez JT, Dendooven L, Olalde-Portugal V, Ramos-Valdivia AC (2003) Changes in the concentration of trigonelline in a semi-arid leguminous plant (Prosopis laevigata) induced by an arbuscular mycorrhizal fungus during the presymbiotic phase. Mycorrhiza 13:49–52

Seki M, Ohzora C, Takeda M, Furusaki S (1997) Taxol (paclitaxel) production using free and immobilized cells of Taxus cuspidata. Biotechnol Bioeng 53:214–219

Son SH, Choi SM, Lee YH, Choi KB, Yun SR, Kim JK, Park HJ, Kwon OW, Noh EW, Seon JH, Park YG (2000) Large-scale growth and taxane production in cell cultures of Taxus cuspidata (Japanese yew) using a novel bioreactor. Plant Cell Rep 19:628–633

Strobel G, Yang X, Sears J, Kramer R, Sidhu RS, Hess WM (1996) Taxol from Pestalotiopsis microspora, an endophytic fungus of Taxus wallichiana. Microbiol 142:435–440

Vatsala TM, Mohan Raj S, Manimaran A (2008) A pilot-scale study of biohydrogen production from distillery effluent using defined bacterial co-culture. Int J Hydrogen Energy 33:5404–5415

Wang ZY, Zhong JJ (2002) Repeated elicitation enhances taxane production in suspension cultures of Taxus chinensis in bioreactors. Biotechnol Lett 24:445–448

Wang CG, Wu JY, Mei XG (2001) Enhancement of taxol production and excretion in Taxus chinensis cell culture by fungal elicitation and medium renewal. Appl Microbiol Biotechnol 55:404–410

Wu J, Lin L (2003) Enhancement of taxol production and release in Taxus chinensis cell cultures by ultrasound, methyl jasmonate and in situ solvent extraction. Appl Microbiol Biotechnol 62:151–155

Xu F, Tao WY, Cheng L, Guo LJ (2006) Strain improvement and optimization of the media of taxol-producing fungus Fusarium mairei. Biochem Eng J 31:67–73

Yuan YJ, Li C, Hu ZD, Wu JC (2002) A double oxidative burst for taxol production in suspension cultures of Taxus chinensis var. mairei induced by oligosaccharide from Fusarium oxysporum. Enzyme Microb Technol 30:774–778

Yukimune Y, Tabata H, Higashi Y, Hara Y (1996) Methyl jasmonate-induced over-production of paclitaxel and baccatin III in Taxus cell suspension cultures. Nat Biotechnol 14:1129–1132

Zhang CH, Wu JY (2003) Ethylene inhibitors enhance elicitor-induced paclitaxel production in suspension cultures of Taxus spp. cells. Enzyme Microb Technol 32:71–77

Zhao J, Davis LC, Verpoorte C (2005) Elicitor signal transduction leading to production of plant secondary metabolites. Biotechnol Adv 23:283–333

Zhong JJ (2002) Plant cell culture for production of paclitaxel and other taxanes. J Biosci Bioeng 94:591–599
Acknowledgements
This work was financially supported by the National Natural Science Foundation of China (grant nos. 30370044 and 30470016) and National "863" High-Tech Project of China (grant no. 2007AA021501).
About this article
Cite this article
Li, Y., Tao, W. & Cheng, L. Paclitaxel production using co-culture of Taxus suspension cells and paclitaxel-producing endophytic fungi in a co-bioreactor. Appl Microbiol Biotechnol 83, 233–239 (2009). https://doi.org/10.1007/s00253-009-1856-4
Received:

Revised:

Accepted:

Published:

Issue Date:
Keywords
Biochemical engineering

Co-bioreactor

Co-culture

Endophytic fungi

Paclitaxel

Plant cell suspension culture