Abstract
The net effect of increased wort osmolarity on fermentation time, bottom yeast vitality and sedimentation, beer flavor compounds, and haze was determined in fermentations with 12° all-malt wort supplemented with sorbitol to reach osmolarity equal to 16° and 20°. Three pitchings were performed in 12°/12°/12°, 16°/16°/12°, and 20°/20°/12° worts. Fermentations in 16° and 20° worts decreased yeast vitality measured as acidification power (AP) by a maximum of 10%, lowered yeast proliferation, and increased fermentation time. Repitching aggravated these effects. The 3rd "back to normal" pitching into 12° wort restored the yeast AP and reproductive abilities while the extended fermentation time remained. Yeast sedimentation in 16° and 20° worts was delayed but increased about two times at fermentation end relative to that in 12° wort. Third "back-to-normal" pitching abolished the delay in sedimentation and reduced its extent, which became nearly equal in all variants. Beer brewed at increased osmolarity was characterized by increased levels of diacetyl and pentanedione and lower levels of dimethylsulfide and acetaldehyde. Esters and higher alcohols displayed small variations irrespective of wort osmolarity or repitching. Increased wort osmolarity had no appreciable effect on the haze of green beer and accelerated beer clarification during maturation. In all variants, chill haze increased with repitching.
This is a preview of subscription content, log in to check access.
Access options
Buy single article
Instant access to the full article PDF.
US$ 39.95
Price includes VAT for USA
Subscribe to journal
Immediate online access to all issues from 2019. Subscription will auto renew annually.
US$ 199
This is the net price. Taxes to be calculated in checkout.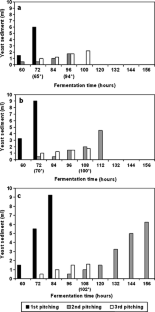 References
Arnold WN, Lacy JS (1977) Permeability of the cell envelope and osmotic behavior in Saccharomyces cerevisiae. J Bacteriol 131(2):564–571

Beney L, Marechal PA, Gervais P (2001) Coupling effects of osmotic pressure and temperature on the viability of Saccharomyces cerevisiae. Appl Microbiol Biotechnol 56:513–516

Cahill G, Murray DM, Walsh PK, Donnelly D (2000) Effect of the concentration of propagation wort on yeast cell volume and fermentation performance. J Am Soc Brew Chem 58(1):14–20

Casey GP, Ingledew WM (1983) High-gravity brewing: influence of pitching rate and wort gravity on early yeast viability. J Am Soc Brew Chem 41(4):148–152

Casey GP, Magnus CA, Ingledew WM (1984) High-gravity brewing: effects of nutrition on yeast composition, fermentative ability, and alcohol production. Appl Environ Microbiol 48(3):639–646

Conway EJ, Armstrong WMCD (1961) The total intracellular concentration of solutes in yeast and other plant cells and the distensibility of the plant-cell wall. Biochem J 81:631–639

Gabriel P, Dienstbier M, Sladký P, Černý L (1994) The use of two angle turbidimeter for the differentiation of some haze-forming particles. Kvas Prum 40(7):203–207

Gabriel P, Dienstbier M, Matoulková D, Kosař K, Sigler K (2008) Optimized acidification power test of yeast vitality and its use in brewing practice. J Inst Brew 114(3):270–276

Gibson BR, Lawrence SJ, Leclaire JPR, Powell CD, Smart KA (2007) Yeast responses to stresses associated with industrial brewery handling. FEMS Microbiol Rev 31:535–569

Jackson AP (1988) Control of process time and beer quality in high gravity fermentations. MBAA Tech Quart 25:104–107

Jakobsen M, Piper JU (1989) Performance and osmotolerance of different strains of lager yeast in high gravity fermentation. MBAA Tech Quart 26:56–61

Levin RL (1979) Water permeability of yeast cells at sub-zero temperatures. J Membr Biol 46:91–124

Marañon IM, Marechal PA, Gervais P (1996) Passive response of Saccharomyces cerevisiae to osmotic shifts: cell volume variations depending on the physiological state. Biochem Biophys Res Commun 227:519–523

Marechal PA, Gervais P (1994) Yeast viability related to water potential variation: influence of the transient phase. Appl Microbiol Biotechnol 42:617–622

Meikle AJ, Reed RE, Gadd GM (1988) Osmotic adjustment and the accumulation of organic solutes in whole cells and protoplasts of Saccharomyces cerevisiae. J Gen Microbiol 134:3049–3060

Meilgaard MC (1995) Flavour chemistry of beer. Part II. Flavour and threshold of 239 aroma volatiles. MBAA Tech Quart 12:151–168

Morris TM (1987) The relationship between haze and the size of particles in beer. J Inst Brew 93:13–17

Morris GJ, Winters L, Coulson GE, Clarke KJ (1986) Effect of osmotic stress on the ultrastructure and viability of the yeast Saccharomyces cerevisiae. J Gen Microbiol 129:2023–2034

Opekarová M, Sigler K (1982) Acidification power: indicator of metabolic activity and autolytic changes in Saccharomyces cerevisiae. Folia Microbiol 27:395–403

Pratt PL, Bryce JH, Stewart GG (2003) The effects of osmotic pressure and ethanol on yeast viability and morphology. J Inst Brew 109(3):218–228

Sigler K, Janáček K (1971a) The effect of non-electrolyte osmolarity on frog oocytes. I. Volume changes. Biochim Biophys Acta 241:528–538

Sigler K, Janáček K (1971b) The effect of non-electrolyte osmolarity on frog oocytes. II. Intracellular potential. Biochim Biophys Acta 241:539–546

Sigler K, Mikyška A, Kosař K, Gabriel P, Dienstbier M (2006) Factors affecting the outcome of the acidification power test as a measure of yeast quality: critical reassessment. Folia Microbiol 51(6):525–534

Sladký P, Dienstbier M (2001) Improved procedure for complex monitoring of beer colloidal stability by means of dual angle turbidimetric and titration system DATTS. Kvas Prum 47:122–126

Stewart GG (2001) Yeast management—the balance between fermentation efficiency and beer quality. MBAA Tech Quart 38(1):47–53

Stewart GG, Russell I (1993) Fermentation—the "black box" of the brewing process. MBAA Tech Quart 30:159–168

Stewart GG, D'Amore T, Panchal CJ, Russell I (1988) Factors that influence the ethanol tolerance of brewer's yeast strains during high gravity wort fermentations. MBAA Tech Quart 25:47–53

Takahashi S, Yoshioka K, Hashimoto N, Kimura Y (1997) Effect of wort plato and fermentation temperature on sugar and nitrogen compound uptake and volatile compound formation. MBAA Tech Quart 34(3):156–163

Wainwright T (1973) Diacetyl—a review. J Inst Brew 79:451–470
Acknowledgment
This work was supported by Research Center 1M0570 and by the Institutional Research Concepts AV0Z50200510, MSM0021620835, and MSM6019369701.
About this article
Cite this article
Sigler, K., Matoulková, D., Dienstbier, M. et al. Net effect of wort osmotic pressure on fermentation course, yeast vitality, beer flavor, and haze. Appl Microbiol Biotechnol 82, 1027–1035 (2009). https://doi.org/10.1007/s00253-008-1830-6
Received:

Revised:

Accepted:

Published:

Issue Date:
Keywords
Wort osmolarity

High-gravity brewing

Fermentation course

Yeast vitality

Flavor compounds

Beer haze