Abstract
Multiple xylanolytic enzymes of Streptomyces thermonitrificans NTU-88 were induced by oat-spelt xylan and separated by two-dimensional polyacrylamide and zymogram gels. Nineteen clear spots differed in pI and molecular weight values were found on the zymogram, and only spot one was seen on the corresponding silver-stained gel. These results revealed that multiple xylanases were secreted when S. thermonitrificans NTU-88 was induced and the spot (STXF10), identified as being a glycosyl hydrolase family 10 xylanase, was the predominant one among xylanases. STXF10 showed a tolerance for high temperatures and broad pH ranges and high affinity and hydrolysis efficiency for xylans. Furthermore, it also featured the minor ability to degrade different lignocellulosic substrates. Although S. thermonitrificans NTU-88 possesses multiple xylanases, our results suggest that the major form of xylanase might be selectively and specifically induced depending on the type of substrate to which the microorganism is exposed.
This is a preview of subscription content, log in to check access.
Access options
Buy single article
Instant access to the full article PDF.
US$ 39.95
Price includes VAT for USA
Subscribe to journal
Immediate online access to all issues from 2019. Subscription will auto renew annually.
US$ 199
This is the net price. Taxes to be calculated in checkout.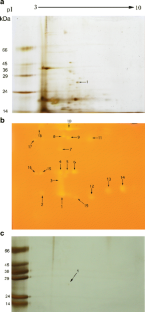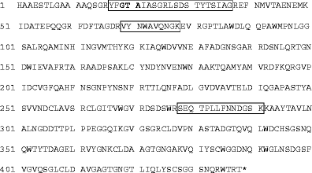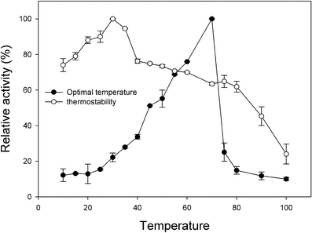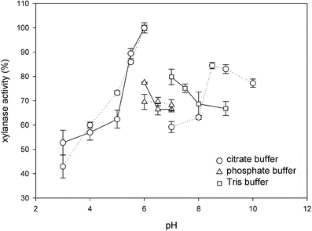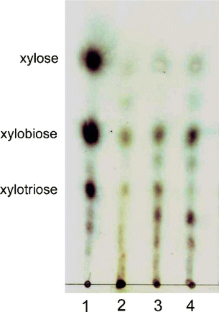 References
Arias E, Li H, Morosoli R (2007) Effect of protease mutations on the production of xylanases in Streptomyces lividans. Can J Microbiol 53:695–701

Biely P, Markovic O, Mislovicova D (1985) Sensitive detection of endo-1,4-beta-glucanases and endo-1,4-beta-xylanases in gels. Anal Biochem 144:147–151

Calero-Nieto F, Di Pietro A, Roncero MI, Hera C (2007) Role of the transcriptional activator xlnR of Fusarium oxysporum in regulation of xylanase genes and virulence. Mol Plant Microbe Interact 20:977–985

Chen YL, Tang TY, Cheng KJ (2001) Directed evolution to produce an alkalophilic variant from a Neocallimastix patriciarum xylanase. Can J Microbiol 47:1088–1094

Chen YC, Tsai CY, Wang PM, Chiang YC, Huang HK, Yang SS, Cheng HL (2006) The studies of xylanases produced by Streptomyces thermonitrificans NTU-88. J Biomass Energy Soc China 25:33–39

Cheng HL, Tsai LC, Lin SS, Yuan HS, Yang NS, Lee SH, Shyur LF (2002) Mutagenesis of Trp(54) and Trp(203) residues on Fibrobacter succinogenes 1,3-1,4-beta-d-glucanase significantly affects catalytic activities of the enzyme. Biochemistry 41:8759–8766

Cheng HL, Wang PM, Chen YC, Yang SS, Chen YC (2008) Cloning, characterization and phylogenetic relationships of stxI, a endoxylanase-encoding gene from Streptomyces thermonitrificans NTU-88. Bioresour Technol 99:227–231

Collins T, Gerday C, Feller G (2005) Xylanases, xylanase families and extremophilic xylanases. FEMS Microbiol Rev 29:3–23

Ducros V, Charnock SJ, Derewenda U, Derewenda ZS, Dauter Z, Dupont C, Shareck F, Morosoli R, Kluepfel D, Davies GJ (2000) Substrate specificity in glycoside hydrolase family 10. Structural and kinetic analysis of the Streptomyces lividans xylanase 10A. J Biol Chem 275:23020–23026

Elegir G, Szakacs G, Jeffries TW (1994) Purification, characterization, and substrate specificities of multiple xylanases from Streptomyces sp. strain B-12-2. Appl Environ Microbiol 60:2609–2615

Henrissat B, Davies G (1997) Structural and sequence-based classification of glycoside hydrolases. Curr Opin Struct Biol 7:637–644

Jang HD, Chen KS (2003) Production and characterization of thermostable cellulases from Streptomyces transformant T3-1. World J Microbiol Biotechnol 19:263–268

Jun HS, Ha JK, Malburg LM Jr., Verrinder GA, Forsberg CW (2003) Characteristics of a cluster of xylanase genes in Fibrobacter succinogenes S85. Can J Microbiol 49:171–180

Kluepfel D, Vats-Mehta S, Aumont F, Shareck F, Morosoli R (1990) Purification and characterization of a new xylanase (xylanase B) produced by Streptomyces lividans 66. Biochem J 267:45–50

Li XL, Zhang ZQ, Dean JF, Eriksson KE, Ljungdahl LG (1993) Purification and characterization of a new xylanase (APX-II) from the fungus Aureobasidium pullulans Y-2311-1. Appl Environ Microbiol 59:3212–3218

Lin J, Ndlovu LM, Singh S, Pillay B (1999) Purification and biochemical characteristics of beta-d-xylanase from a thermophilic fungus, Thermomyces lanuginosus-SSBP. Biotechnol Appl Biochem 30:73–79

Liu L, Zhang J, Chen B, Shao W (2004) Principle component analysis in F/10 and G/11 xylanase. Biochem Biophys Res Commun 322:277–280

Oda K, Kakizono D, Yamada O, Iefuji H, Akita O, Iwashita K (2006) Proteomic analysis of extracellular proteins from Aspergillus oryzae grown under submerged and solid-state culture conditions. Appl Environ Microbiol 72:3448–3457

Pason P, Kyu KL, Ratanakhanokchai K (2006) Paenibacillus curdlanolyticus strain B-6 xylanolytic-cellulolytic enzyme system that degrades insoluble polysaccharides. Appl Environ Microbiol 72:2483–2490

Perkins DN, Pappin DJ, Creasy DM, Cottrell JS (1999) Probability-based protein identification by searching sequence databases using mass spectrometry data. Electrophoresis 20:3551–3567

Peters S, Koschinsky S, Schwieger F, Tebbe CC (2000) Succession of microbial communities during hot composting as detected by PCR-single-strand-conformation polymorphism-based genetic profiles of small-subunit rRNA genes. Appl Environ Microbiol 66:930–936

Polizeli ML, Rizzatti AC, Monti R, Terenzi HF, Jorge JA, Amorim DS (2005) Xylanases from fungi: properties and industrial applications. Appl Microbiol Biotechnol 67:577–591

Ruiz-Arribas A, Zhadan GG, Kutyshenko VP, Santamaria RI, Cortijo M, Villar E, Fernandez-Abalos JM, Calvete JJ, Shnyrov VL (1998) Thermodynamic stability of two variants of xylanase (Xys1) from Streptomyces halstedii JM8. Eur J Biochem 253:462–468

Ryckeboer J, Mergaert J, Vaes K, Klammer S, de Clercq D, Coosemans J, Insam H, Swings J (2003) A survey of bacteria and fungi occurring during composting and self-heating processes. Ann Microbiol 53:349–410

Sabounchi-Schutt F, Astrom J, Olsson I, Eklund A, Grunewald J, Bjellqvist B (2000) An immobiline DryStrip application method enabling high-capacity two-dimensional gel electrophoresis. Electrophoresis 21:3649–3656

Sachslehner A, Nidetzky B, Kulbe KD, Haltrich D (1998) Induction of mannanase, xylanase, and endoglucanase activities in Sclerotium rolfsii. Appl Environ Microbiol 64:594–600

Saha BC (2003) Hemicellulose bioconversion. J Ind Microbiol Biotechnol 30:279–291

Saraswat V, Bisaria VS (2000) Purification, characterization and substrate specificities of xylanase isoenzymes from Melanocarpus albomyces IIS 68. Biosci Biotechnol Biochem 64:1173–1180

Theather RM, Wood PJ (1982) Use of Congo red–polysaccharide interactions in enumeration and characterization of cellulolytic bacteria from the bovine rumen. Appl Environ Microbiol 37:777–780

Wong KK, Tan LU, Saddler JN (1988) Multiplicity of beta-1,4-xylanase in microorganisms: functions and applications. Microbiol Rev 52:305–317

Yang X, Chen H, Gao H, Li Z (2001) Bioconversion of corn straw by coupling ensiling and solid-state fermentation. Bioresour Technol 78:277–280
Acknowledgement
The financial support of the National Science Council of Taiwan (Grant No. NSC 96-2313-B-020-011-MY3) is greatly appreciated.
About this article
Cite this article
Cheng, H., Tsai, C., Chen, H. et al. The identification, purification, and characterization of STXF10 expressed in Streptomyces thermonitrificans NTU-88. Appl Microbiol Biotechnol 82, 681–689 (2009). https://doi.org/10.1007/s00253-008-1803-9
Received:

Revised:

Accepted:

Published:

Issue Date:
Keywords
Endo-β-1

4 xylanase

Glycosyl hydrolase family 10

Streptomyces thermonitrificans NTU-88

Two-dimensional zymogram