Abstract
A Candida antarctica lipase B (CALB)-displaying yeast whole-cell biocatalyst was constructed with the integration of the CALB cell-surface display expression cassette in the yeast genome and cell fusion by mating. Lipase hydrolytic activity of the yeast whole-cell biocatalyst subsequently increased, in both a- and α-type yeast cells, with the number of copies of the CALB cell-surface display expression cassette introduced, and reached 43.6 and 32.2 U/g-dry cell at 168 h cultivation, respectively. The lipase hydrolytic activity of whole cells in diploid yeast cells containing eight copies of the CALB cell-surface expression cassette reached 117 U/g-dry cell, and this value is approximately ninefold higher than that of the previously reported haploid CALB cell-surface displaying yeast using a multi-copy plasmid (Tanino et al. Appl. Microbial Biotechnol 75:1319–1325, 2007). This improved novel CALB-displaying yeast whole-cell biocatalyst could repeatedly catalyze the polyester, polybutylene adipate, synthesis reaction, using adipic acid and 1, 4-butandiol as the monomer molecules, four times in succession. This is the first report of the polymer synthesis using enzyme displaying yeast as the catalyst. The ratios of cyclic compounds in the polybutylene adipates synthesized with the CALB-displaying yeast whole-cells were lower than that in the polybutylene adipate synthesized with conventional metal catalysis. From these results, it appears that the use of CALB-displaying yeast cells could be useful for the polyester synthesis reaction, with reduced by-product production.
This is a preview of subscription content, log in to check access.
Access options
Buy single article
Instant access to the full article PDF.
US$ 39.95
Price includes VAT for USA
Subscribe to journal
Immediate online access to all issues from 2019. Subscription will auto renew annually.
US$ 199
This is the net price. Taxes to be calculated in checkout.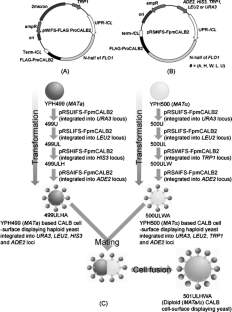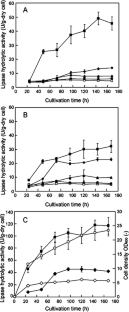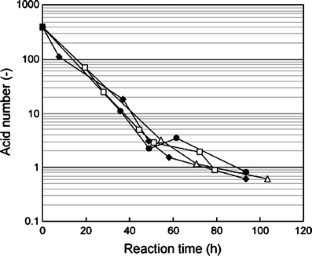 References
Albertsson AC, Srivastava RK (2008) Recent development in enzyme-catalyzed ring-opening polymerization. Adv Drug Deliv Rev 60:1077–1093

Binns F, Harffey P, Roberts SM, Taylor A (1997) Studies of lipase-catalyzed polyesterification of an unactivated diacid/diol system. J Polym Sci, Part A: Polym Chem 36:2069–2080

Gai SA, Wittrup KD (2007) Yeast surface display for protein engineering and characterization. Curr Opin Struct Biol 17:467–473

Hilker I, Schaafsma AEJ, Peters RAH, Heise A, Nijenhuis AJ (2007) Insight into lipase-catalyzed formation of macrocyclic oligoesters. European Polymer Journal 44:1441–1450

Kanai T, Atomi H, Umemura K, Ueno H, Teranishi Y, Ueda M, Tanaka A (1996) A novel heterologous gene expression system in Saccharomyces cerevisiae using the isocitrate lyase gene promoter from Candida tropicalis. Appl Microbiol Biotechnol 44:759–765

Kondo A, Ueda M (2004) Yeast cell-surface display—applications of molecular display. Appl Microbiol Biotechnol 64:28–40

Kondo A, Sugihara S, Kuwahara M, Toshima K, Matsumura S (2008) Lipaase-catalyzed ring-opening polymerization of molecularly pure cyclic oligomers for use in synthesis and chemical recycling of aliphatic polyesters. Macromol Biosci 11:533–539

Kumer A, Kalra B, Dekhterman A, Gross RA (2000) Efficient ring-opening polymerization and copolymerization of e-caprolactone and w-pentadecalactone catalyzed by Candida antarctica lipase B. Macromolecules 33:6303–6309

Mahapatro A, Kalra B, Kumar A, Gross RA (2003) Lipase-catalyzed polycondensations: effect of substrates and solvent on chain formation dispersity, and end-group structure. Biomacromoleculers 4:544–551

Mahapatro A, Kumer A, Gross RA (2004) Mild, solvent-free omega-hydroxy acid polycondensations catalyzed by Candida antarctica lipase B. Biomacromoleculers 5:62–68

Matsumoto T, Fukuda H, Ueda M, Tanaka A, Kondo A (2002) Construction of yeast strains with high cell surface lipase activity by using novel display systems based on the Flo1p flocculation functional domain. Appl Environ Microbiol 68:4517–4522

Mesiano AJ, Beckman EJ, Russell AJ (2000) Biocatalytic synthesis of fluorinated polyesters. Biotechnol Prog 16:64–68

Mezoul G, Lalot T, Brigodiot M, Marechal E (1996) Enzyme-catalyzed synthesis of poly(1,6-hexanediyl isophthalate) and poly(1,6-hexanediyl terephthalate). Polym Bull 36:541–548

Tanino T, Ohno T, Aoki T, Fukuda H, Kondo A (2007) Development of yeast cells displaying Candida antarctica lipase B and their application to ester synthesis reaction. Appl Microbial Biotechnol 75:1319–1325

Ueda M, Tanaka A (2000a) Genetic immobilization of proteins on the yeast cell surface. Biotechnol Adv 18:121–140

Ueda M, Tanaka A (2000b) Cell surface engineering of yeast: construction of arming yeast with biocatalyst. L Biosci Bioeng 90:125–136

Ugolini S, Bruschi CV (1996) The red/white color assay in the yeast Saccharomyces cerevisiae: epistatic growth advantage of white ade8–18, ade2 cells over red ade2 cells. Curr Genet 30:485–492

Umemura K, Atomi H, Kanai T, Teranishi Y, Ueda M, Tanaka A (1995) A novel promoter, derived from the isocitrate lyase gene of Candida tropicalis, inducible with acetate in Saccharomyces cerevisiae. Appl Microbiol Biotechnol 43:489–492
About this article
Cite this article
Tanino, T., Aoki, T., Chung, W. et al. Improvement of a Candida antarctica lipase B-displaying yeast whole-cell biocatalyst and its application to the polyester synthesis reaction. Appl Microbiol Biotechnol 82, 59–66 (2009). https://doi.org/10.1007/s00253-008-1764-z
Received:

Revised:

Accepted:

Published:

Issue Date:
Keyword
Cell-surface display

Candida antarctica

lipase B

Polyester

Synthesis

Diploid