Abstract
We examined the relationship between distribution of actinomycetes and antagonistic behaviour with the physico-chemical characteristics of the Sundarbans, off the Bay of Bengal, India. Soil/sediment samples were collected from three regions: near to the sea, intertidal regions and mangrove forests. For the enumeration of actinomycetes, four treatments combining dilution with distilled or sea water with or without heating followed by plating onto starch-casein, glycerol-arginine and starch-nitrate media were done. Dilution with seawater, heating and plating onto starch-casein yielded maximum number of actinomycetes. The highest number of actinomycetes was isolated from an intertidal region having alluvial soil and the lowest from a site containing sandy sediments. Antimicrobial activity was dependent upon seawater. Antimicrobial score of an actinomycetes strain was calculated allotting maximum points to the isolate showing activity against all the test bacteria, next lower point to the isolate showing activity against one less the total and so on. The antagonistic potential (AP) of a sampling site was the ratio of total antimicrobial score of the isolates and their number. The high AP sites were influenced by tides, while the low AP sites were not. Pearson's correlation between soil chemical parameters and microbiological parameters revealed soil nitrogen as the key factor determining the antagonistic activity.
This is a preview of subscription content, log in to check access.
Access options
Buy single article
Instant access to the full article PDF.
US$ 39.95
Price includes VAT for USA
Subscribe to journal
Immediate online access to all issues from 2019. Subscription will auto renew annually.
US$ 199
This is the net price. Taxes to be calculated in checkout.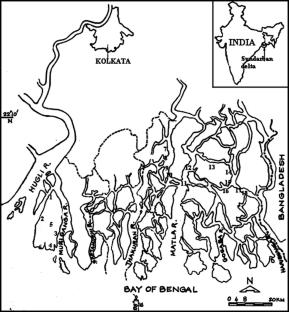 References
Alongi DM, Ramanathan AL, Kannan L, Tirendi F, Trott L, Prasad MBK (2005) Influence of human-induced disturbance on benthic microbial metabolism in the Pichavaram mangroves, Vellar–Coleroon estuarine complex, India. Mar Biol 147:1033–1044

American Public Health Association (APHA) (1998) Standard methods for the examination of water and wastewater, 20th edn. In: Franson MAH, Clesceri LS, Greenberg A, Eaton AD (eds) American Public Health Association, Washington. DC, USA

Ara I, Kudo T, Matsumoto A, Takahashi Y, Omura S (2007) Nonomuraea maheshkhaliensis sp. nov., a novel actinomycete isolated from mangrove rhizosphere mud. J Gen Appl Microbiol 53:159–166

Atlas RM, Bartha R (2000) Microbial ecology-fundamentals and applications, 4th edn. Cummings Science, California, USA, pp 83–85

Bandyopadhyay BK, Maji B, Sen HS, Tyagi NK (2003) Coastal soils of West Bengal—their nature, distribution and characteristics. Bulletin No. 1/2003. Central Soil Salinity Research Institute, Regional Research Station, Canning Town, West Bengal, India. pp. 1–62

Bergey DH, Krieg NR, Holt JG (1989) Bergey's manual of systematic bacteriology. Williams & Wilkins, Baltimore, MD, USA ISBN:ISBN 0-683-09061-5

Bredholdt H, Galatenko OA, Engelhardt K, Fjærvik E, Terekhova LP, Zotchev SB (2007) Rare actinomycete bacteria from the shallow water sediments of the Trondheim fjord, Norway: isolation, diversity and biological activity. Environ Microbiol 9:2756–2764

Bull AT, Stach JEM, Ward AC, Goodfellow M (2005) Marine actinobacteria: perspectives, challenges, future directions. Anton Leeuw Int J G 87:65–79

Fenical W, Jensen PR (2006) Developing a new resource for drug discovery: marine actinomycete bacteria. Nat Chem Biol 2:666–673

Fenical W, Sethna KM, Lloyd GK (2002) Marine microorganisms as a developing resource for drug discovery. Pharmaceutical News 9:489–494

Ghanem NB, Sabry SA, El-Sherif ZM, El-Ela GAA (2000) Isolation and enumeration of marine actinomycetes from seawater and sediments in Alexandria. J Gen Appl Microbiol 46:105–111

Hardoyo YK, Muramatsu A, Anbe Y, Kato J, Ohtake H (1994) Molecular genetics of polyphosphate accumulation in Escherichia coli. In: Torriani-Gorini A, Yagil E, Silver S (eds) Phosphate in microorganisms: cellular and molecular biology. ASM, Washington, DC, pp 209–214

Imada C, Koseki N, Kamata M, Kobayashi T, Sato NH (2007) Isolation and characterization of antibacterial substances produced by marine actinomycetes in the presence of seawater. Actinomycetologica 21:27–31

Jensen PR, Fenical W (1994) Strategies for the discovery of secondary metabolites from marine bacteria: Ecological perspectives. Annu Rev Microbiol 48:559–584

Jensen PR, Mafnas C (2006) Biogeography of the marine actinomycete Salinispora. Environ Microbiol 8:1881–1888

Jensen PR, Dwight R, Fenical W (1991) Distribution of actinomycetes in near-shore tropical marine sediments. Appl Environ Microbiol 57:1102–1108

Jensen PR, Mincer JT, Williams GP, Fenical W (2005) Marine actinomycete diversity and natural product discovery. Anton Leeuw Int J G 87:43–48

Kriss AE, Mishustina IE, Mitskevich N, Zemtsova EV (1967) Microbial populations of oceans and seas. Arnold, London

Lam KS (2006) Discovery of novel metabolites from marine actinomycetes. Curr Opin Microbiol 9:245–251

Maldonado LA, Stach JEM, Pathom-Aree W, Ward AC, Bull AT, Goodfellow M (2005) Diversity of cultivable actinobacteria in geographically widespread marine sediments. Anton Leeuw Int J G 87:11–18

Maniatis T, Fritsch EF, Sambrook J (1989) Molecular cloning: a laboratory manual, 2nd edn. Cold Spring Harbour Laboratory, Cold Spring Harbor, NY

Mincer TJ, Jensen PR, Kauffman CA, Fenical W (2002) Widespread and persistent populations of a major new marine actinomycete taxon in ocean sediments. Appl Environ Microbiol 68:5005–5011

Olsen SR, Cole CV, Watanabe FS, Dean LA (1954) Estimation of available phosphorus in soils by extraction with sodium bicarbonate. US Dep of Agric Circ 939

Peela S, Kurada VVSNB, Terli R (2005) Studies on antagonistic marine actinomycetes from the Bay of Bengal. World J Microbiol Biotechnol 21:583–585

Saha M, Ghosh D Jr, Ghosh D, Garai D, Jaisankar P, Sarkar KK, Dutta PK, Das S, Jha T, Mukherjee J (2005) Studies on the production and purification of an antimicrobial compound and taxonomy of the producer isolated from the marine environment of the Sundarbans. Appl Microbiol Biotechnol 66:497–505

Saha M, Jaisankar P, Das S, Sarkar KK, Roy S, Besra SE, Vedasiromani JR, Ghosh D, Sana B, Mukherjee J (2006) Production and purification of a bioactive substance inhibiting multiple drug resistant bacteria and human leukemia cells from a salt-tolerant marine Actinobacterium sp. isolated from the Bay of Bengal. Biotechnol Lett 28:1083–1088

Sana B, Ghosh D, Saha M, Mukherjee J (2006) Purification and characterization of a salt, solvent, detergent and bleach tolerant protease from a new gamma-Proteobacterium isolated from the marine environment of the Sundarbans. Process Biochem 41:208–215

Sana B, Ghosh D, Saha M, Mukherjee J (2007) Purification and characterization of an extremely dimethylsulfoxide tolerant esterase from a salt-tolerant Bacillus species isolated from the marine environment of the Sundarbans. Process Biochem 42:1571–1578

Sana B, Ghosh D, Saha M, Mukherjee J (2008) Purification and characterization of an extracellular, uracil specific ribonuclease from a Bizionia species isolated from the marine environment of the Sundarbans. Microbiol Res 163:31–38

Sarkar S, Saha M, Jaisankar P, Das S, Roy D, Roy LG, Gachhui R, Sen T, Mukherjee J (2008) Enhanced production of antimicrobial compounds by three salt tolerant actinobacterial strains isolated from the Sundarbans in a niche-mimic bioreactor. Mar Biotechnol. doi:https://doi.org/10.1007/s10126-008-9090-0

Shirling EB, Gottlieb D (1966) Methods for characterization of Streptomyces species. Int J Syst Bacteriol 16:312–340

Takizawa M, Colwell RR, Hill RT (1993) Isolation and diversity of actinomyetes in the Chesapeake Bay. Appl Environ Microbiol 59:997–1002

Tripathi S, Kumari S, Chakraborty A, Gupta A, Chakrabarti K, Bandyapadhyay BK (2006) Microbial biomass and its activities in salt-affected coastal soils. Biol Fert Soils 42:273–277

Tsueng G, Lam KS (2008) A low-sodium-salt formulation for the fermentation of salinosporamides by Salinispora tropica strain NPS21184. Appl Microbiol Biotechnol 78:821–826

Waksman SA (1961) The actinomycetes, vol. II. Williams and Wilkins, Baltimore

Walkley A, Black IA (1934) An examination method of Degtjareff method for determining soil organic matter and a proposed modification of the chromic acid titration method. Soil Sci 37:29–38

Ward AC, Bora N (2006) Diversity and biogeography of marine actinobacteria. Curr Opin Microbiol 9:279–286

Weyland H (1981) Distribution of actinomycetes on the sea floor. Zentbl Bakteriol Suppl 11:85–193
Acknowledgement
Financial support to AM through University of Kalyani Junior Research Fellowship is thankfully acknowledged.
Additional information
Dedicated to the common people of the Sundarbans whose lives have not been touched by Science.
About this article
Cite this article
Mitra, A., Santra, S.C. & Mukherjee, J. Distribution of actinomycetes, their antagonistic behaviour and the physico-chemical characteristics of the world's largest tidal mangrove forest. Appl Microbiol Biotechnol 80, 685–695 (2008). https://doi.org/10.1007/s00253-008-1626-8
Received:

Revised:

Accepted:

Published:

Issue Date:
Keywords
Actinomycetes

Sundarbans

Intertidal

Antagonistic potential

Soil nitrogen