Abstract
We recently described the development of a potassium-chloride-based salt formulation containing low sodium concentration (5.0 mM) to support the growth of Salinispora tropica strain NPS21184 and its production of salinosporamide A (NPI-0052). In order to determine whether the above low-sodium salt formulation can also support the growth of other S. tropica strains, we examined the growth of the type strain CNB440 and the parent strain CNB476, from which strain NPS21184 was derived as a single colony isolate. We demonstrated that good growth rate and yield of S. tropica strains CNB440 and CNB476, similar to S. tropica strain NPS21184 reported earlier, were detected in both agar and liquid media containing the potassium-chloride-based salt formulation with sodium concentration of 5.0 mM. Furthermore, we also detected good growth rate and yield of all three S. tropica strains on potassium-sulfate-based salt formulation agar medium containing both low-sodium (5.7 mM) and low-chloride (14 mM) content. This finding confirms the observation that the species of S. tropica does not have a seawater growth requirement but requirement for a specific combination of salts to provide a balance of salts and maintain a high enough ionic strength for growth.
This is a preview of subscription content, log in to check access.
Access options
Buy single article
Instant access to the full article PDF.
US$ 39.95
Price includes VAT for USA
Subscribe to journal
Immediate online access to all issues from 2019. Subscription will auto renew annually.
US$ 199
This is the net price. Taxes to be calculated in checkout.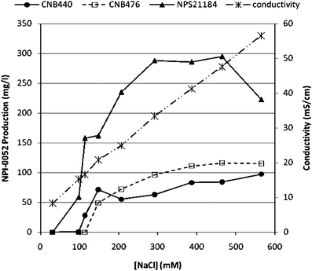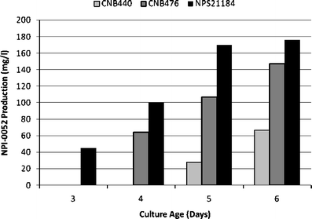 References
Boder GB, Hull RN (1986) Introduction to techniques of mammalian cell culture. In: Demain AL, Solomon NA (eds) Manual of industrial microbiology and biotechnology. American Society for Microbiology, Washington, DC, pp 248–262

Bull AT, Stach JEM (2007) Marine actinobacteria: new opportunities for natural product search and discovery. Trends Microbiol 15:491–499

Chauhan D, Catley L, Li G, Podar K, Hideshima T, Velankar M, Mitsiades C, Mitsiades N, Yasui H, Letai A, Ovaa H, Berkers C, Nicholson B, Chao TH, Neuteboom STC, Richardson P, Palladino MA, Anderson KC (2005) A novel orally active proteasome inhibitor induces apoptosis in multiple myeloma cells with mechanisms distinct from Bortezomib. Cancer Cell 8:407–419

Chauhan D, Hideshima T, Anderson KC (2006) A novel proteasome inhibitor NPI-0052 as an anticancer therapy. Brit J Cancer 95:961–996

Cusack JC, Liu R, Xia L, Chao T-H, Pien C, Niu W, Palombella VJ, Neuteboom ST, Palladino MA (2006) NPI-0052 enhances tumoricidal response to conventional cancer therapy in a colon cancer model. Clin Cancer Res 12:6758–6764

Feling RH, Buchanan GO, Mincer TJ, Kauffman CA, Jensen PR, Fenical W (2003) Salinosporamide A: a highly cytotoxic proteasome inhibitor from a novel microbial source, a marine bacterium of the new genus Salinispora. Chem Int Ed 42:355–357

Fenical W, Jensen PR (2006) Developing a new resource for drug discovery: marine actinomycete bacteria. Nat Chem Biol 2:666–673

Groll M, Huber R, Potts BCM (2006) Crystal structures of salinosporamide A (NPI-0052) and B (NPI-0047) in complex with the 20S proteasome reveal important consequences of beta-lactone opening and a mechanism for irreversible binding. J Am Chem Soc 128:5136–5141

Jensen PR, Dwight R, Fenical W (1991) Distribution of actinomycetes in near-shore tropical marine sediments. Appl Environ Microbiol 57:1102–1108

Lam KS (2006) Discovery of novel metabolites from marine actinomycetes. Curr Opin Microbiol 9:245–251

Macherla VR, Mitchell SS, Manam RR, Reed KA, Chao T, Nicholson B, Deyanat-Yazdi G, Mai B, Jensen PR, Fenical W, Neuteboom STC, Lam KS, Palladino MA, Potts BCM (2005) Structure-activity relationship studies of NPI-0052, a novel marine derived 20S proteasome inhibitor. J Med Chem 48:3684–3687

Maldonado LA, Fenical W, Jensen PR, Kauffman CA, Mincer TJ, Ward AC, Bull AT, Goodfellow M (2005) Salinispora arenicola gen. nov., sp. nov. and Salinispora tropica sp. nov., obligate marine actinomycetes belonging to the family Micromonosporaceae. Int J Syst Evol Microbiol 55:1759–1766

Mincer TJ, Jensen PR, Fenical W (2002) Widespread and persistent populations of a major new marine actinomycete taxon in ocean sediments. Appl Environ Microbiol 61:3695–3700

Nagodawithana T (1998) Introduction. In: Nagodawithana TW, Reed G (eds) Nutritional requirements of commercially important microorganisms. Esteekay, Milwaukee, WI, pp 1–17

Oh D-C, Williams PG, Kauffman CA, Jensen PR, Fenical W (2006) Cyanosporasides A and B, chloro- and cyano-cyclopenta[a]indene glycosides from the marine actinomycete "Salinispora pacifica". Org Lett 8:1021–1024

Reed RA, Manam RR, Mitchell SS, Xu J, Teisan S, Chao TH, Deyanat-Yazdi G, Neuteboom STC, Lam KS, Potts BCM (2007) Salinosporamides D-J from the marine actinomycete Salinispora tropica, bromosalinosporamide, and thioester derivatives are potent inhibitors of the 20S proteasome. J Nat Prod 70:269–276

Shirling EB, Gottlieb D (1966) Methods for characterization of Streptomyces species. Int J Syst Bacteriol 18:313–340

Sieburth JM (1979) Sea microbes. Oxford University Press, New York, NY

Tsueng G, Lam KS (2008) A low-sodium-salt formulation for the fermentation of salinosporamides by Salinispora tropica strain NPS21184. Appl Microbiol Biotechnol 78:821–826

Tsueng G, McArthur KA, Potts BCM, Lam KS (2007) Unique butyric acid incorporation patterns for salinosporamides A and B reveal distinct biosynthetic origins. Appl Microbiol Biotechnol 75:999–1005

Tsueng G, Teisan S, Lam KS (2008) Defined salt formulations for the growth of Salinispora tropica strain NPS21184 and the production of salinosporamide A (NPI-0052) and related analogs. Appl Microbiol Biotechnol 78:827–832

Udwary DW, Zeigler L, Asolkar RN, Singan V, Lapidus A, Fenical W, Jensen PR, Moore BS (2007) Genome sequence reveals complex secondary metabolome in the marine actinomycete Salinispora tropica. Proc Natl Acad Sci USA 104:10376–10381

Ward AC, Bora N (2006) Diversity and biogeography of marine actinobacteria. Curr Opin Microbiol 9:1–8
About this article
Cite this article
Tsueng, G., Lam, K.S. Growth of Salinispora tropica strains CNB440, CNB476, and NPS21184 in nonsaline, low-sodium media. Appl Microbiol Biotechnol 80, 873–880 (2008). https://doi.org/10.1007/s00253-008-1614-z
Received:

Revised:

Accepted:

Published:

Issue Date:
Keywords
Salinosporamide A

NPI-0052

Salinispora tropica

Low-sodium salt formulation

Nonsaline fermentation

Marine actinomycete