Abstract
The diverse morphology of the filamentous organism Streptomyces hygroscopicus var. geldanus was characterised by image analysis under various environmental conditions. In the presence of surfactant compounds, a significant decrease in the mean pellet diameter was observed. Cell aggregation was also influenced by spore inoculum level, with high concentrations reducing pellet size. In addition, the dispersion of pellets was found to increase with the inclusion of glass beads to submerged shake-flask cultures. In all cases, production of the secondary metabolite geldanamycin was determined to be dependent on the morphological profile of the organism, with a concomitant increase of 88% in geldanamycin yield observed as the mean pellet diameter was reduced by 70%. Thus, to maximise the yield of geldanamycin, it is necessary to limit pellet formation in Streptomyces hygroscopicus var. geldanus to an appropriate size.
This is a preview of subscription content, log in to check access.
Access options
Buy single article
Instant access to the full article PDF.
US$ 39.95
Price includes VAT for USA
Subscribe to journal
Immediate online access to all issues from 2019. Subscription will auto renew annually.
US$ 199
This is the net price. Taxes to be calculated in checkout.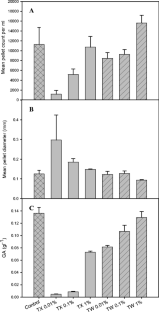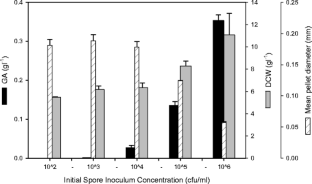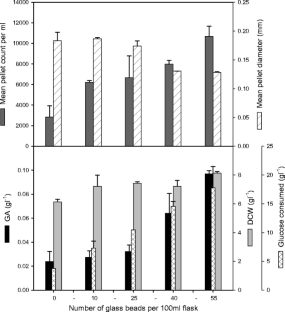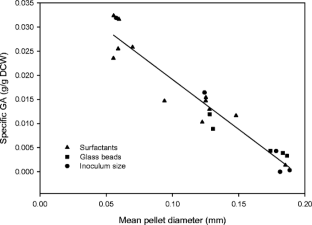 References
Bellgardt K (1998) Process models for production of beta-lactam antibiotics. Adv Biochem Eng Biotechnol 60:153–194

Davoust N, Hansson G (1992) Identifying the conditions for development of beneficial mycelium morphology for chitosan-producing Absida spp. in submerged cultures. Appl Microbiol Biotechnol 36:618–620

El-Enshasy H, Farid M, El-Sayed S (2000) Influence of inoculum type and cultivation conditions on natamycin production by Streptomyces natalensis. J Basic Microbiol 40:333–342

Elibol M, Ulgen K, Kamaruddin K, Mavituna F (1995) Effect of inoculum type on actinorhodin production by Streptomyces coelicolor a3(2). Biotechnol Lett 17:579–582

Fazeli M, Cove J, Baumberg S (1995) Physiological factors affecting streptomycin production by Streptomyces griseus in batch and continuous culture. FEMS Microbiol Lett 126:55–61

Fujita M, Iwahori K, Tatsuta S, Yamakawa K (1994) Analysis of pellet formation of Aspergillus niger based on shear stress. J Ferment Bioeng 78:368–373

Glazebrook M, Vining L, White R (1992) Growth morphology of Streptomyces akiyoshiensis in submerged culture—influence of ph, inoculum, and nutrients. Can J Microbiol 38:98–103

Hobbs G, Frazer C, Gardner D, Cullum J, Oliver S (1989) Dispersed growth of Streptomyces in liquid culture. Appl Microbiol Biotechnol 31:272–277

Hotop S, Moller J, Niehoff J, Schugerl K (1993) Influence of the preculture conditions on the pellet size distribution of Penicillium chrysogenum cultivations. Process Biochem 28:99–104

Jonsbu E, McIntyre M, Nielsen J (2002) The influence of carbon sources and morphology on nystatin production by Streptomyces noursei. J Biotech 95:133–44

Justen P, Paul G, Nienow A, Thomas C (1996) Dependence of mycelial morphology on impeller type and agitation intensity. Biotechnol Bioeng 52:672–684

Kim J, Hancock I (2000) Pellet forming and fragmentation in liquid culture of Streptomyces griseus. Biotechnol Lett 22:189–192

Lu S, Ding Y, Guo J (1998) Kinetics of fine particle aggregation in turbulence. Adv Colloid Interface Sci 78:197–235

Makagiansar H, Shamlou P, Thomas C, Lilly M (1993) The influence of mechanical forces on the morphology and penicillin production of Penicillium chrysogenum. Bioprocess Eng 9:83–90

McIntyre M, Muller C, Dyneson J, Nielsen J (2001) Metabolic engineering of the morphology of Aspergillus. Adv Biochem Eng Biotechnol 73:103–28

Morrin M, Ward O (1990) Relationships between fungal growth, morphology and fumaric acid production by Rhizopus arrhizus. Mycol Res 94:505–510

Neckers L, Schulte T, Mimnaugh E (1999) Geldanamycin as a potential anti-cancer agent: its molecular target and biochemical activity. Invest New Drugs 17:361–373

Nielsen J (1996) Modelling the morphology of filamentous microorganisms. TIBTECH 14:438–443

Nielsen J, Johansen C, Jacobsen M, Krabben P, Villadsen J (1995) Pellet formation and fragmentation in submerged cultures of Penicillium chrysogenum and its relation to penicillin production. Biotechnol Progr 11:93–98

Nienow A (1990) Agitators for mycelial fermentations. TIBTECH 8:224–233

O'Cleirigh C, Walsh P, O'Shea D (2003) Morphological quantification of pellets in Streptomyces hygroscopicus var. geldanus fermentation broths using a flatbed scanner. Biotechnol Lett 25:1677–1683

O'Cleirigh C, Casey J, Walsh P, O'Shea D (2005) Morphological engineering of Streptomyces hygroscopicus var. geldanus: regulation of pellet morphology through manipulation of broth viscosity. Appl Microbiol Biotechnol 68:305–310

Okba A, Ogata T, Matsubara H, Matsuo S, Doi K, Ogata S (1998) Effects of bacitracin and excess Mg2+ on submerged mycelial growth of Streptomyces azureus. J Ferment Bioeng 86:28–33

Papagianni M (2004) Fungal morphology and metabolite production in submerged mycelial processes. Biotech Adv 22:189–259

Prosser J, Tough A (1991) Growth mechanisms and growth-kinetics of filamentous microorganisms. Crit Rev Biotechnol 10:253–274

Tamura S, Park Y, Toriyama M, Okabe M (1997) Change of mycelial morphology in tylosin production by batch culture of Streptomyces fradiae under various shear conditions. J Ferment Bioeng 83:523–528

Tucker K, Thomas C (1992) Mycelial morphology—the effect of spore inoculum level. Biotechnol Lett 14:1071–1074

Vecht-Lifshitz S, Magdassi S, Braun S (1989) Effects of surface active agents on pellet formation in submerged fermentations of Streptomyces tendae. J Dispers Sci Technol 10:265–275

Vecht-Lifshitz S, Magdassi S, Braun S (1990) Pellet formation and cellular aggregation in Streptomyces tendae. Biotechnol Bioeng 35:890–896

Wang L, Ridgway D, Gu T, Moo-Young M (2005) Bioprocessing strategies to improve heterologous protein production in filamentous fungal fermentations. Biotechnol Adv 23:115–129

Whitaker A (1992) Actinomycetes in submerged culture. Appl Biochem Biotechnol 32:23–35

Wittler R, Baumgartl H, Lubbers D, Schugerl K (1986) Investigations of oxygen transfer into Penicillium chrysogenum pellets by microprobe measurements. Biotechnol Bioeng 28:1024–1036

Znidarsic P, Pavko A (2001) The morphology of filamentous fungi in submerged cultivations as a bioprocess parameter. Food Tech Biotechnol 39:237–252
Acknowledgements
The authors wish to thank the Irish Research Council for Science, Engineering and Technology (IRCSET) for funding provided under the Embark Postgraduate Research Scholarship Scheme.
About this article
Cite this article
Dobson, L.F., O'Cleirigh, C.C. & O'Shea, D.G. The influence of morphology on geldanamycin production in submerged fermentations of Streptomyces hygroscopicus var. geldanus . Appl Microbiol Biotechnol 79, 859–866 (2008). https://doi.org/10.1007/s00253-008-1493-3
Received:

Revised:

Accepted:

Published:

Issue Date:
Keywords
Geldanamycin

Morphology

Pellet

Streptomyces hygroscopicus