Abstract
A set of filamentous fungi (42 strains) was screened for α-N-acetylgalactosaminidase activity, and a series of inducers and different cultivation conditions were tested. Enzyme production by the best producer Aspergillus niger CCIM K2 was optimized and scaled up. α-N-Acetylgalactosaminidase was purified to apparent homogeneity by cation exchange chromatography, gel filtration, and chromatofocusing, and basic biochemical data of the enzyme were determined: The native molecular weight was estimated by gel filtration to be approximately 440 kDa, the molecular weight of the subunit was determined to be 76 kDa and the pI = 4.8. The K M was 0.73 mmol/l for o-nitrophenyl 2-acetamido-2-deoxy-α-D-galactopyranoside (o-NP-α-GalNAc), and optimum enzyme activity was achieved at pH 1.8 and 55 °C. This α-N-acetylgalactosaminidase is a retaining-type glycosidase, and it was N-deglycosylated without any loss of activity.
This is a preview of subscription content, log in to check access.
Access options
Buy single article
Instant access to the full article PDF.
US$ 39.95
Price includes VAT for USA
Subscribe to journal
Immediate online access to all issues from 2019. Subscription will auto renew annually.
US$ 199
This is the net price. Taxes to be calculated in checkout.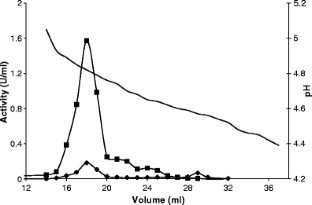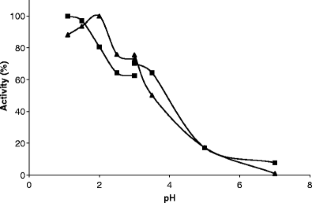 References
Ashida H, Tamaki H, Fujimoto T, Yamamoto K, Kumagai H (2000) Molecular cloning of cDNA encoding α-N-acetylgalactosaminidase from Acremonium sp. and its expression in yeast. Arch Biochem Biophys 384:305–310

Borzova NV, Malanchuk VM, Varbanets LD, Seĭfullina II, Zubkov SV (2001) Optimization of culture conditions of Aspergillus niger for the synthesis of α-N-acetylgalactosaminidase and α-galactosidase. Mikrobiol Zhurnal 63:27–46 (in Russian)

Bradford MM (1976) A rapid and sensitive method for the quantitation of microgram quantities of protein utilizing the principle of protein–dye binding. Anal Biochem 72:248–54

Garman SC, Hannick L, Zhu A, Garboczi DN (2002) The 1.9 Å structure of α-N-acetylgalactosaminidase: molecular basis of glycosidase deficiency diseases. Structure 10:425–434

Hsieh HY, Calcutt MJ, Chapman LF, Mitra M, Smith DS (2003) Purification and characterization of a recombinant α-N-acetylgalactosaminidase from Clostridium perfringens. Protein Expr Purif 32:309–316

Hsieh HY, Mitra M, Wells DCh, Smith DS (2000) Purification and characterization of α-N-acetylgalactosaminidase from Clostridium perfringens. Life 50:91–97

Kadowaki S, Ueda T, Yamamoto K, Kumagai H, Tochikura T (1989) Isolation and characterization of a blood group A substance degrading α-N-acetylgalactosaminidase from an Acremonium sp. Agric Biol Chem 53:111–120

Liu QP, Sulzenbacher G, Yuan H, Bennett EP, Pietz G, Saunders K, Spence J, Nudelman E, Levery SB, White T, Neveu JM, Lane WS, Bourne Y, Olsson ML, Henrissat B, Henrik Clausen H (2007) Bacterial glycosidases for the production of universal red blood cells. Nat Biotechnol 25:454–464

Naundorf A, Ajisaka K (1999) Purification of α-N-acetylgalactosaminidase from Aspergillus niger and its use in the synthesis of GalNAc-α-(1→O)-serine. Enzyme Microb Technol 25:483–488

Nakajima H, Kurosaka A, Fujisawa A, Kawasaki T, Matsuyana M, Nagayo T, Yamashina I (1983) Isolation and characterization of a glycoprotein from a human rectal adenocarcinoma. J Biochem (Tokyo) 93:651–659

Pel HJ, de Winde JH, Archer DB, Dyer PS, Hofmann G, Schaap PJ, Turner G, de Vries RP, Albang R, Albermann K, Andersen MR, Bendtsen JD, Benen JAE, van den Berg M, Breestraat S, Caddick MX, Contreras R, Cornell M, Coutinho PM, Danchin EGJ, Debets AJM, Dekker P, van Dijck PWM, van Dijk A, Dijkhuizen L, Driessen AJM, d'Enfert C, Geysens S, Goosen C, Groot GSP, de Groot PWJ, Guillemette T, Henrissat B, Herweijer M, van den Hombergh JPTW, van den Hondel CAMJJ, van der Heijden RTJM, van der Kaaij RM, Klis FM, Kools HJ, Kubicek CP, van Kuyk PA, Lauber J, Lu X, van der Maarel MJEC, Meulenberg R, Menke H, Mortimer MA, Nielsen J, Oliver SG, Olsthoorn M, Pal K, van Peij NNME, Ram AFJ, Rinas U, Roubos JA, Sagt CMJ, Schmoll M, Sun JB, Ussery D, Varga J, Vervecken W, de Vondervoort PJJV, Wedler H, Wosten HAB, Zeng AP, van Ooyen AJJ, Visser J, Stam H (2007) Genome sequencing and analysis of the versatile cell factory Aspergillus niger CBS 513.88. Nat Biotechnol 25:221–231

Seto NOL, Palcic MM, Compston CA, Li H, Bundle DR, Narang SA (1997) Sequential interchange of four amino acids from blood group B to blood group A glycosyltransferase boosts catalytic activity and progressively modifies substrate recognition in human recombinant enzymes. J Biol Chem 272:14133–14138

Seto NOL, Compston CA, Evans SV, Bundle DR, Narang SA, Palcic MM (1999) Donor substrate specifity of recombinant human blood group A, B and hybrid A/B glycosyltransferases expressed in Escherichia coli. Eur J Biochem 259:770–775

Wu AM (2002) Carbohydrate structural units in glycosphingolipids as receptors for Gal and GalNAc reactive lectins. Neurochem Res 78:593–600

Wu AM, Wu JH, Chen YY, Tsai MS, Herp A (1999) Forssman pentasaccharide and polyvalent Galβ1→4GlcNAc as major ligands with affinity for Caragana arborescens agglutinin. FEBS Lett 463:223–230
Acknowledgment
This project was supported in part by the Ministry of Education, Czech Republic, project LC 06010; by the Grant Agency of the Czech Republic, grant no. 203/05/0172; and by institutional research concept (Institute of Microbiology) AV0Z50200510. Thanks are due to Dr. M. Kuzma (Institute of Microbiology, Prague) for the NMR measurements.
About this article
Cite this article
Weignerová, L., Filipi, T., Manglová, D. et al. Induction, purification and characterization of α-N-acetylgalactosaminidase from Aspergillus Niger . Appl Microbiol Biotechnol 79, 769–774 (2008). https://doi.org/10.1007/s00253-008-1485-3
Received:

Revised:

Accepted:

Published:

Issue Date:
Keywords
α-N-Acetylgalactosaminidase

α-GalNAc

Aspergillus niger

Glycosidase library