Abstract
Tween-80, dimethyl sulfoxide (DMSO), and glycerol could be used as novel materials to regulate the central carbon metabolic pathway and improve γ-PGA biosynthesis by Bacillus subtilis CGMCC 0833. With glycerol in the medium, the activity of 2-oxoglutarate dehydrogenase complex at the key node of 2-oxoglutarate was depressed, more carbon flux distribution was directed to synthesize glutamate, the substrate of γ-PGA, which led to overproducing of γ-PGA, reached 31.7 g/l, compared to the original value of 26.7 g/l. When Tween-80 or DMSO was in the medium, the activity of isocitrate dehydrogenase was stimulated, the branch flux from 2-oxoglutarate to glutamate was also enhanced due to the increasing of total flux from iso-citrate to 2-oxoglutarate, then a large amount of glutamate was produced, and formation of γ-PGA was also improved, which was a different process compared with that of glycerol. Moreover, with the addition of Tween-80 or DMSO, cell membrane permeability was increased, which facilitated the uptake of extracellular substrates and the secretion of γ-PGA by this strain; therefore, γ-PGA production was further stimulated, and 34.4 and 32.7 g/l γ-PGA were obtained, respectively. This work firstly employed additives to improve the biosynthesis of γ-PGA and would be helpful in understanding the biosynthesis mechanism of γ-PGA by Bacillus species deeply.
This is a preview of subscription content, log in to check access.
Access options
Buy single article
Instant access to the full article PDF.
US$ 39.95
Price includes VAT for USA
Subscribe to journal
Immediate online access to all issues from 2019. Subscription will auto renew annually.
US$ 199
This is the net price. Taxes to be calculated in checkout.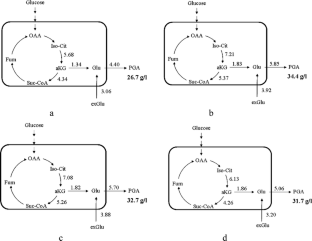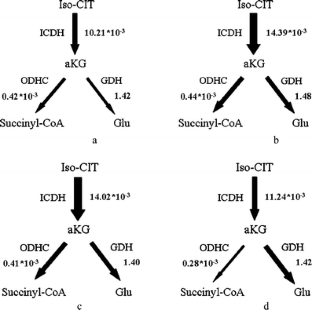 References
Ashiuchi M, Kamei T, Misono H (2003) Poly-γ-glutamate synthetase of Bacillus subtilis. J Mol Catal B-Enzym 23:101–106

Bradford MM (1976) A rapid and sensitive method for the quantitation of microgram quantities of protein utilizing the principle of protein–dye binding. Anal Biochem 72:248–254

Dauner M, Sonderegger M, Hochuli M, Szyperski T, Wüthrich K, Hohmann HP, Sauer U, Bailey JE (2002) Intracellular carbon fluxes in riboflavin-producing Bacillus subtilis during growth on two-carbon substrate mixtures. Appl Environ Microb 68:1760–1771

Du G, Yang G, Qu Y, Chen J, Lun S (2005) Effects of glycerol on the production of poly(γ-glutamic acid) by Bacillus licheniformis. Process Biochem 40:2143–2147

Kawahara Y, Takahashi-Fuke K, Shimizu E, Nakamatsu T, Nakamori S (1997) Relationship between the glutamate production and the activity of 2-oxoglutarate dehydrogenase in Brevibacterium lactofermentum. Biosci Biotech Bioch 61(7):1109–1112

Klapa MI, Aon JC, Stephanopoulos G (2003) Systematic quantification of complex metabolic flux networks using stable isotopes and mass spectrometry. Eur J Biochem 270:3525–3542

Ko YH, Gross RA (1998) Effects of glucose and glycerol on γ-poly(glutamic acid) formation by Bacillus licheniformis ATCC 9945a. Biotechnol Bioeng 57:430–437

Laouar L, Bernard JM, Lowe KC (1992) Yeast permeabilization with surfactants. Biotechnol Lett 14:719–720

Mikhaleva NI, Santini CL, Giordano G, Nesmeyanova MA, Wu LF (1999) Requirement for phospholipids of the translocation of the trimethylamine N-oxide reductase through the Tat pathway in Escherichia coli. FEBS Lett 463:331–335

Reddy RM, Reddy PG, Seenayya G (1999) Enhanced production of thermostable β-amylase and pullulanase in the presence of surfactants by Clostridium thermosulfurogenes SV2. Process Biochem 34:87–92

Richard A, Margaritis A (2003) Optimization of cell growth and poly(glutamic acid) production in batch fermentation by Bacillus subtilis. Biotechnol Lett 25:465–468

Shi N, Xu H, Yao J, Wang J (2007) Investigation of metabolic routes to g-poly(glutamic acid) by 13C-labeled glucose as medium carbon source. Chin J Process Eng 7:145–148

Shih IL, Van YT (2001) The production of poly-(γ-glutamic acid) from microorganisms and its various applications. Bioresource Technol 79:207–225

Shimizu H, Tanaka H, Nakato A, Nagahisa K, Kimura E, Shioya S (2003) Effects of the changes in enzyme activities on metabolic flux redistribution around the 2-oxoglutarate branch in glutamate production by Corynebacterium glutamicum. Bioprocess Biosyst Eng 25:291–298

Shirai T, Nakato A, Izutani N, Nagahisa K, Shioya S, Kimura E, Kawarabayasi Y, Yamagishi A, Gojobori T, Shimizu H (2005) Comparative study of flux redistribution of metabolic pathway in glutamate production by two coryneform bacteria. Metab Eng 7:59–69

Sonesson A, Jantzen E, Bryn K, Tangen T, Eng J, Zahringer U (1994) Composition of 2,3-dihydroxy fatty acid-containing lipopolysaccharides from Legionella israelensis, Legionella maceachernii and Legionella micdadei. Microbiology 140:1261–1271

Tanford C, Reynolds JA (1976) Characterization of membrane proteins in detergent solutions. Biochim Biophys Acta 457:133–170

Tomita Y, Watanabe T, Takeuchi T, Nanbu A, Shinozaki N, Ikemi T, Fukushima K (1998) Effects of surfactants on glucosyltransferase production and in vitro sucrose-dependent colonization by Streptococcus mutans. Arch Oral Biol 43:735–740

Wen Q, Liu D, Chen J, Du G (2006) Enhancement of hyaluronic acid production by Streptococcus zooepidemicus H24 through supplement of CTAB. Chemical Industry and Engineering Progress 25:1089–1094

Wollenweber HW, Rietschel ET (1990) Analysis of lipopolysaccharide (lipid A) fatty acids. J Microbiol Meth 11:195–211

Wu Q, Xu H, Xu L, Ouyang P (2006) Biosynthesis of poly(γ-glutamic acid) in Bacillus subtilis NX-2: Regulation of stereochemical composition of poly(g-glutamic acid). Process Biochem 41:1650–1655

Xu H, Jiang M, Li H, Lu D, Ouyang P (2005) Efficient production of poly(γ-glutamic acid) by newly isolated Bacillus subtilis NX-2. Process Biochem 40:519–523

Yanagimachi KS, Stafford DE, Dexter AF, Sinskey AJ, Drew SW, Stephanopoulos G (2001) Application of radiolabeled tracers to biocatalytic flux analysis. Eur J Biochem 268:4950–4960

Yoon SH, Do JH, Lee SY, Chang HN (2000) Production of poly-γ-glutamic acid by fed-batch culture of Bacillus licheniformis. Biotechnol Lett 22:585–588
Acknowledgments
This work was supported by the National Basic Research Program of China (973 Program, 2003CB716004, 2007CB714304), the National Nature Science Foundation of China (20674038, 20336010), the Graduate Student Innovation Project of Jiangsu Province and the College Industrialization Project of China (JHB06-10).
Appendices
Appendices
1. Central metabolic pathway in B. subtilis CGMCC 0833 grown aerobically on glucose and glutamate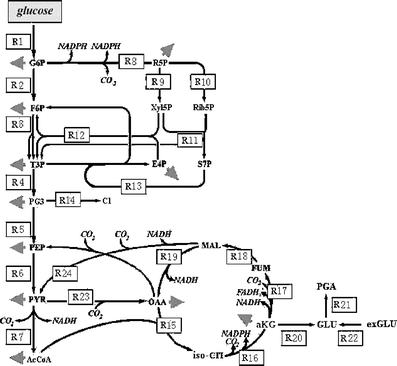 2. Matrix A
$$A = \left[ {\begin{array}{*{20}c} { - 1} \quad 0 \quad 0 \quad 0 \quad 0 \quad 0 \quad 0 \quad 0 \quad 0 \quad 0 \quad 0 \quad 0 \quad 0 \quad 0 \quad 0 \quad 0 \quad 0 \quad 0 \quad 0 \quad 0 \quad 0 \quad 0 \quad 0 \quad 0 \quad 0 \quad 0 \quad 0 \quad 0 \\ 1 \quad { - 1} \quad 0 \quad 0 \quad 0 \quad 0 \quad 0 \quad { - 1} \quad 0 \quad 0 \quad 0 \quad 0 \quad 0 \quad 0 \quad 0 \quad 0 \quad 0 \quad 0 \quad 0 \quad 0 \quad 0 \quad 0 \quad 0 \quad 0 \quad 0 \quad 0 \quad 0 \quad { - 0.154} \\ 0 \quad 1 \quad { - 1} \quad 0 \quad 0 \quad 0 \quad 0 \quad 0 \quad 0 \quad 0 \quad 0 \quad 1 \quad 1 \quad 0 \quad 0 \quad 0 \quad 0 \quad 0 \quad 0 \quad 0 \quad 0 \quad 0 \quad 0 \quad 0 \quad 0 \quad 0 \quad 0 \quad { - 0.19} \\ 0 \quad 0 \quad 2 \quad { - 1} \quad 0 \quad 0 \quad 0 \quad 0 \quad 0 \quad 0 \quad 1 \quad 1 \quad { - 1} \quad 0 \quad 0 \quad 0 \quad 0 \quad 0 \quad 0 \quad 0 \quad 0 \quad 0 \quad 0 \quad 0 \quad 0 \quad 0 \quad 0 \quad { - 0.194} \\ 0 \quad 0 \quad 0 \quad 1 \quad { - 1} \quad 0 \quad 0 \quad 0 \quad 0 \quad 0 \quad 0 \quad 0 \quad 0 \quad { - 1} \quad 0 \quad 0 \quad 0 \quad 0 \quad 0 \quad 0 \quad 0 \quad 0 \quad 0 \quad 0 \quad 0 \quad 0 \quad 0 \quad { - 1.395} \\ 0 \quad 0 \quad 0 \quad 0 \quad 1 \quad { - 1} \quad 0 \quad 0 \quad 0 \quad 0 \quad 0 \quad 0 \quad 0 \quad 0 \quad 0 \quad 0 \quad 0 \quad 0 \quad 0 \quad 0 \quad 0 \quad 0 \quad 0 \quad 0 \quad 0 \quad 0 \quad 0 \quad { - 0.711} \\ 0 \quad 0 \quad 0 \quad 0 \quad 0 \quad 1 \quad { - 1} \quad 0 \quad 0 \quad 0 \quad 0 \quad 0 \quad 0 \quad 0 \quad 0 \quad 0 \quad 0 \quad 0 \quad 0 \quad 0 \quad 0 \quad 0 \quad { - 1} \quad 1 \quad 0 \quad 0 \quad 0 \quad { - 2.492} \\ 0 \quad 0 \quad 0 \quad 0 \quad 0 \quad 0 \quad 1 \quad 0 \quad 0 \quad 0 \quad 0 \quad 0 \quad 0 \quad 0 \quad { - 1} \quad 0 \quad 0 \quad 0 \quad 0 \quad 0 \quad 0 \quad 0 \quad 0 \quad 0 \quad 0 \quad 0 \quad 0 \quad { - 2.132} \\ 0 \quad 0 \quad 0 \quad 0 \quad 0 \quad 0 \quad 0 \quad 1 \quad { - 1} \quad { - 1} \quad 0 \quad 0 \quad 0 \quad 0 \quad 0 \quad 0 \quad 0 \quad 0 \quad 0 \quad 0 \quad 0 \quad 0 \quad 0 \quad 0 \quad 0 \quad 0 \quad 0 \quad { - 0.816} \\ 0 \quad 0 \quad 0 \quad 0 \quad 0 \quad 0 \quad 0 \quad 0 \quad 1 \quad 0 \quad { - 1} \quad { - 1} \quad 0 \quad 0 \quad 0 \quad 0 \quad 0 \quad 0 \quad 0 \quad 0 \quad 0 \quad 0 \quad 0 \quad 0 \quad 0 \quad 0 \quad 0 \quad 0 \\ 0 \quad 0 \quad 0 \quad 0 \quad 0 \quad 0 \quad 0 \quad 0 \quad 0 \quad 1 \quad { - 1} \quad 0 \quad 0 \quad 0 \quad 0 \quad 0 \quad 0 \quad 0 \quad 0 \quad 0 \quad 0 \quad 0 \quad 0 \quad 0 \quad 0 \quad 0 \quad 0 \quad 0 \\ 0 \quad 0 \quad 0 \quad 0 \quad 0 \quad 0 \quad 0 \quad 0 \quad 0 \quad 0 \quad 1 \quad 0 \quad { - 1} \quad 0 \quad 0 \quad 0 \quad 0 \quad 0 \quad 0 \quad 0 \quad 0 \quad 0 \quad 0 \quad 0 \quad 0 \quad 0 \quad 0 \quad 0 \\ 0 \quad 0 \quad 0 \quad 0 \quad 0 \quad 0 \quad 0 \quad 0 \quad 0 \quad 0 \quad 0 \quad { - 1} \quad 1 \quad 0 \quad 0 \quad 0 \quad 0 \quad 0 \quad 0 \quad 0 \quad 0 \quad 0 \quad 0 \quad 0 \quad 0 \quad 0 \quad 0 \quad { - 0.308} \\ 0 \quad 0 \quad 0 \quad 0 \quad 0 \quad 0 \quad 0 \quad 0 \quad 0 \quad 0 \quad 0 \quad 0 \quad 0 \quad 2 \quad 0 \quad 0 \quad 0 \quad 0 \quad 0 \quad 0 \quad 0 \quad 0 \quad 0 \quad 0 \quad 0 \quad 0 \quad 0 \quad { - 0.156} \\ 0 \quad 0 \quad 0 \quad 0 \quad 0 \quad 0 \quad 0 \quad 0 \quad 0 \quad 0 \quad 0 \quad 0 \quad 0 \quad 0 \quad { - 1} \quad 0 \quad 0 \quad 0 \quad 1 \quad 0 \quad 0 \quad 0 \quad 1 \quad 0 \quad 0 \quad 0 \quad 0 \quad { - 1.923} \\ 0 \quad 0 \quad 0 \quad 0 \quad 0 \quad 0 \quad 0 \quad 0 \quad 0 \quad 0 \quad 0 \quad 0 \quad 0 \quad 0 \quad 1 \quad { - 1} \quad 0 \quad 0 \quad 0 \quad 0 \quad 0 \quad 0 \quad 0 \quad 0 \quad 0 \quad 0 \quad 0 \quad 0 \\ 0 \quad 0 \quad 0 \quad 0 \quad 0 \quad 0 \quad 0 \quad 0 \quad 0 \quad 0 \quad 0 \quad 0 \quad 0 \quad 0 \quad 0 \quad 1 \quad { - 1} \quad 0 \quad 0 \quad { - 1} \quad 0 \quad 0 \quad 0 \quad 0 \quad 0 \quad 0 \quad 0 \quad { - 1.071} \\ 0 \quad 0 \quad 0 \quad 0 \quad 0 \quad 0 \quad 0 \quad 0 \quad 0 \quad 0 \quad 0 \quad 0 \quad 0 \quad 0 \quad 0 \quad 0 \quad 1 \quad { - 1} \quad 0 \quad 0 \quad 0 \quad 0 \quad 0 \quad 0 \quad 0 \quad 0 \quad 0 \quad 0 \\ 0 \quad 0 \quad 0 \quad 0 \quad 0 \quad 0 \quad 0 \quad 0 \quad 0 \quad 0 \quad 0 \quad 0 \quad 0 \quad 0 \quad 0 \quad 0 \quad 0 \quad 1 \quad { - 1} \quad 0 \quad 0 \quad 0 \quad 0 \quad { - 1} \quad 0 \quad 0 \quad 0 \quad 0 \\ 0 \quad 0 \quad 0 \quad 0 \quad 0 \quad 0 \quad 0 \quad 0 \quad 0 \quad 0 \quad 0 \quad 0 \quad 0 \quad 0 \quad 0 \quad 0 \quad 0 \quad 0 \quad 0 \quad 1 \quad { - 1} \quad 1 \quad 0 \quad 0 \quad 0 \quad 0 \quad 0 \quad 0 \\ 0 \quad 0 \quad 0 \quad 0 \quad 0 \quad 0 \quad 0 \quad 0 \quad 0 \quad 0 \quad 0 \quad 0 \quad 0 \quad 0 \quad 0 \quad 0 \quad 0 \quad 0 \quad 0 \quad 0 \quad 0 \quad { - 1} \quad 0 \quad 0 \quad 0 \quad 0 \quad 0 \quad 0 \\ 0 \quad 0 \quad 0 \quad 0 \quad 0 \quad 0 \quad 0 \quad 0 \quad 0 \quad 0 \quad 0 \quad 0 \quad 0 \quad 0 \quad 0 \quad 0 \quad 0 \quad 0 \quad 0 \quad 0 \quad 1 \quad 0 \quad 0 \quad 0 \quad 0 \quad 0 \quad 0 \quad 0 \\ 0 \quad 0 \quad 0 \quad 1 \quad 0 \quad 0 \quad 1 \quad 0 \quad 0 \quad 0 \quad 0 \quad 0 \quad 0 \quad 1 \quad 0 \quad 0 \quad 1 \quad 0 \quad 1 \quad 0 \quad 0 \quad 0 \quad 0 \quad 1 \quad 0 \quad 0 \quad { - 1} \quad {3.595} \\ 0 \quad 0 \quad 0 \quad 0 \quad 0 \quad 0 \quad 0 \quad 2 \quad 0 \quad 0 \quad 0 \quad 0 \quad 0 \quad { - 1} \quad 0 \quad 1 \quad 0 \quad 0 \quad 0 \quad { - 1} \quad 0 \quad 0 \quad 0 \quad 0 \quad 0 \quad { - 1} \quad 0 \quad { - 16.333} \\ 0 \quad 0 \quad 0 \quad 0 \quad 0 \quad 0 \quad 0 \quad 0 \quad 0 \quad 0 \quad 0 \quad 0 \quad 0 \quad 0 \quad 0 \quad 0 \quad 1 \quad 0 \quad 0 \quad 0 \quad 0 \quad 0 \quad 0 \quad 0 \quad { - 1} \quad 0 \quad 0 \quad 0 \\ 0 \quad 0 \quad 0 \quad 0 \quad 0 \quad 0 \quad 1 \quad 1 \quad 0 \quad 0 \quad 0 \quad 0 \quad 0 \quad 1 \quad 0 \quad 1 \quad 1 \quad 0 \quad 0 \quad 0 \quad 0 \quad 0 \quad 1 \quad 2 \quad 0 \quad 0 \quad 0 \quad {2.205} \\ 0 \quad 0 \quad 0 \quad 0 \quad 0 \quad 0 \quad 0 \quad 0 \quad 0 \quad 0 \quad 0 \quad 0 \quad 0 \quad 0 \quad 0 \quad 0 \quad 0 \quad 0 \quad 0 \quad 0 \quad 0 \quad 0 \quad 0 \quad 0 \quad { - 0.5} \quad { - 0.5} \quad { - 0.5} \quad 0 \\ 0 \quad 0 \quad 0 \quad 0 \quad 0 \quad 0 \quad 0 \quad 0 \quad 0 \quad 0 \quad 0 \quad 0 \quad 0 \quad 0 \quad 0 \quad 0 \quad 0 \quad 0 \quad 0 \quad 0 \quad 0 \quad 0 \quad 0 \quad 0 \quad 0 \quad 0 \quad 0 \quad 1 \\ \end{array} } \right]$$
About this article
Cite this article
Wu, Q., Xu, H., Shi, N. et al. Improvement of poly(γ-glutamic acid) biosynthesis and redistribution of metabolic flux with the presence of different additives in Bacillus subtilis CGMCC 0833. Appl Microbiol Biotechnol 79, 527 (2008). https://doi.org/10.1007/s00253-008-1462-x
Received:

Revised:

Accepted:

Published:
Keywords
Bacillus subtilis CGMCC 0833

Cell membrane permeability

Flux redistribution

Metabolic engineering

Poly(γ-glutamic acid)

Additive