Abstract
The fungus Clonostachys rosea (syn. Gliocladium roseum) is a potential biocontrol agent. It can suppress the sporulation of the plant pathogenic fungus Botrytis cinerea and kill pathogenic nematodes, but the process of nematode pathogenesis is poorly understood. To help understand the underlying mechanism, we constructed recombinant strains containing a plasmid with both the enhanced green fluorescent protein gene egfp and the hygromycin resistance gene hph. Expression of the green fluorescent protein (GFP) was monitored using fluorescence microscopy. Our observations reveal that the pathogenesis started from the adherence of conidia to nematode cuticle for germination, followed by the penetration of germ tubes into the nematode body and subsequent death and degradation of the nematodes. These are the first findings on the infection process of the fungal pathogen marked with GFP, and the developed method can become an important tool for studying the molecular mechanisms of nematode infection by C. rosea.
This is a preview of subscription content, log in to check access.
Access options
Buy single article
Instant unlimited access to the full article PDF.
US$ 39.95
Price includes VAT for USA
Subscribe to journal
Immediate online access to all issues from 2019. Subscription will auto renew annually.
US$ 199
This is the net price. Taxes to be calculated in checkout.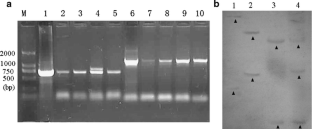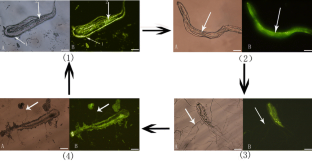 References
Åhman J, Johanson T, Olsson M, Punt PJ, van den Hondel CAMJJ, Tunlid AS (2002) Improving the pathogenicity of a nematode-trapping fungus by genetic engineering of a subtilisin with nematotoxic activity. Appl Environ Microbiol 689:3408–3415

Atkins SD, Mauchline TH, Kerry BR, Hirsch PR (2004) Development of a transformation system for the nematophagous fungus Pochonia chlamydosporia. Mycol Res 108:654–661

Barker KR (1998) Introduction and synopsis of advancements in nematology. In: Barker KR, Pederson GA, Windham GL (eds) Plant and nematode interactions. Am. Soc. of Agronomy, Inc., Crop Sci. Am. Inc., & Soil Sci. Soc. Am. Inc, Madison, WI

Barron GL (1977) The nematode-destroying fungi. Canadian Biological, Guelph, Ontario

Borrebaeck CA, Mattlasson B, Nordbring-Hertz B (1984) Isolation and partial characterization of a carbohydrate-binding protein from a nematode-trapping fungus. J Bacteriol 159:53–56

Cantone FA, Vandenberg JD (1999) Use of the green fluorescent protein for investigations of Paecilomyces fumosoroseus in insect hosts. J Invertebr Pathol 74:193–197

Casper SJ, Holt CA (1996) Expression of the green fluorescent protein-encoding gene from a tobacco mosaic virus-based vector. Gene 173:69–73

Chalfie M, Tu Y, Euskirchen G, Ward WW (1994) Green fluorescent protein as a marker for gene expression. Science 5148:802–805

Cormack BP, Valdivia RH, Falkow S (1996) FACS-optimized mutants of the green fluorescent protein (GFP). Gene 173:33–38

Dong JY, Zhao ZX, Cai L, Liu SQ, Zhang HR, Duan M, Zhang KQ (2004) Nematicidal effect of freshwater fungal cultures against the pine-wood nematode Bursaphelenchus xylophilus. Fungal Divers 15:125–135

Gao RH, Lei LP, Liu XZ (1996) A simple method for inducing and observing predacious device of nematode-trapping fungi. Acta Mycol Sin 15:304–305

Gan ZW, Yang JK, Tao N, Yu ZF, Zhang KQ (2007) Cloning and expression analysis of a chitinase gene Crchi1 from the mycoparasitic fungus Clonostachys rosea (syn. Gliocladium roseum). J Microbiol 45:422–430

Inglis PW, Aragão FJL, Frazão H, Magalhães BP, Valadares-Inglis MC (2000) Biolistic co-transformation of Metarhizium anisopliae var. acridum strain CG423 with green fluorescent protein and resistance to glufosinate ammonium. FEMS Microbiol Lett 191:249–254

Jansson HB, Persson C, Odeslius R (2000) Growth and capture activities of nematophagous fungi in soil visualized by low temperature scanning electron microscopy. Mycologia 92:10–15

Jensen C, Neumeister-Kemp H, Lysek G (1998) Fluorescence microscopy for the observation of nematophagous fungi inside soil. Mycologist 12:107–111

Jiang Q, Ying SH, Feng MG (2007) Enhanced frequency of Beauveria bassiana blastospore transformation by restriction enzyme-mediated integration and electroporation. J Microbiol Methods 69:512–517

Li J, Yang JK, Huang XW, Zhang KQ (2006) Purification and characterization of an extracellular protease from Clonostachys rosea and its potential as a pathogenic factor. Process Biochem 41:925–929

Lopez-Llorca LV, Olivares-Bernabeu C, Salinas J, Jansson HB, Kolattukudy PE (2002) Prepenetration events in fungal parasitism of nematode eggs. Mycol Res 106:499–506

Lu S, Lyngholm L, Yang G, Bronson C, Yoder OC, Turgeon BG (1994) Tagged mutations at the Toxl locus of Cochliobolus heterostrophus by restriction enzyme-mediated integration. Proc Natl Acad Sci U S A 91:12649–12653

Lu ZX, Tombolini R, Woo S, Zeilinger S, Lorito M, Jansson JK (2004) In vivo study of Trichoderma–pathogen–plant interactions, using constitutive and inducible green fluorescent protein reporter systems. Appl Environ Microbiol 70:3073–3081

Morandi MAB, Maffia LA, Mizubuti ESG, Alfenas AC, Barbosa JG (2003) Suppression of Botrytis cinerea sporulation by Clonostachys rosea on rose debris: a valuable component in Botrytis blight management in commercial greenhouses. Biol Control 26:311–317

Nordbring-Hertz B, Chet I (1986) Fungal lectins and agglutinins. In: Mirelman D (ed) Microbial lectins and agglutinins: properties and biological activity. Wiley, New York, NY, pp 393–408

Nordbring-Hertz B, Mattiasson B (1979) Action of a nematode-trapping fungus shows lectin-mediated host–microorganism interaction. Nature 281:477–479

Nordbring-Hertz B, Jansson HB, Tunlid A (2000) Nematophagous fungi. In: Encyclopedia of life sciences. Macmillan, Basingstoke

Raeder U, Broda P (1985) Rapid preparation of DNA from filamentous fungi. Lett Appl Microbiol 1:17–20

Saxena G, Lysek G (1993) Observation of nematophagous fungi in natural soils by fluorescence microscopy and their correlation with isolation. Mycol Res 97:1005–1011

Schroers HJ, Samuels GJ, Seifert KA, Gams W (1999) Classification of the mycoparasite Gliocladium roseum in Clonostachys as C. rosea, its relationship to Bionectria ochroleuca, and notes on other Gliocladium-like fungi. Mycologia 91:365–385

Siddiqui ZA, Mahmood I (1996) Biological control of plant parasitic nematodes by fungi: a review. Bioresour Technol 58:229–239

Spellig T, Bottin A, Kahmann R (1996) Green fluorescent protein (GFP) as a new vital marker in the phytopathogenic fungus Ustilago maydis. Mol Gen Genet 16:503–509

Stirling GR, Smith LJ, Licastro KA, Lois Eden M (1998) Control of root-knot nematode with formulations of the nematode-trapping fungus Arthrobotrys dactyloides. Biol Control 11:224–230

Tunlid A, Åhman J, Oliver RP (1999) Transformation of the nematode-trapping fungus Arthrobotrys oligospora. FEMS Microbiol Lett 173:111–116

Tunlid A, Rosen S, Ek B, Rask L (1994) Purification and characterization of an extracellular serine protease from the nematode-trapping fungus Arthrobotrys oligospora. Microbiology 140:1687–1695

Xu J, Mo MH, Huang XW, Zhang KQ (2005) Improvement on genetic transformation in the nematode-trapping fungus Arthrobotrys oligospora and its quantification on dung samples. Mycopathologia 159:533–538

Yang TT, Cheng LZ, Kain SR (1996) Optimized coden usage and chromophore mutations provide enhanced sensitivity with the green fluorescent protein. Nucleic Acids Res 24:4592–4593

Yang JK, Tian BY, Liang LM, Zhang KQ (2007) Extracellular enzymes and the pathogenesis of nematophagous fungi. Appl Microbiol Biotechnol 75:21–31

Ying SH, Feng MG (2006) Novel blastospore-based transformation system for integration of phosphinothricin resistance and green fluorescence protein genes into Beauveria bassiana. Appl Microbiol Biotechnol 72:206–210

Zhao ML, Huang JS, Mo MH, Zhang KQ (2005) A potential virulence factor involved in fungal pathogenicity: serine-like protease activity of nematophagous fungus Clonostachys rosea. Fungal Divers 19:217–234
Acknowledgments
We sincerely thank Dr. PJ Punt (TNO Nutrition and Food Research Institute, Netherlands) and Dr. Zhang YJ (Biotechnology Research Center of Southwest University, China) for providing plasmids pAN52 and pBS/Sk-hph. This work was funded by the National Basic Research Program of China (approved no. 2007CB411600), by projects from the National Natural Science Foundation of China (approved nos. 30630003, 30570059 and 30660107), and by the Department of Science and Technology of Yunnan Province (approval nos. 2004C0001Z, 2005NG05).
Additional information
Lin Zhang and Jinkui Yang contributed equally to this work.
Electronic supplementary material
Below is the link to the electronic supplementary material.
About this article
Cite this article
Zhang, L., Yang, J., Niu, Q. et al. Investigation on the infection mechanism of the fungus Clonostachys rosea against nematodes using the green fluorescent protein. Appl Microbiol Biotechnol 78, 983–990 (2008) doi:10.1007/s00253-008-1392-7
Received:

Revised:

Accepted:

Published:

Issue Date:
Keywords
Clonostachys rosea

Green fluorescent protein (GFP)

Protoplast transformation

Nematode

Infection