Abstract
Hyperosmotic stress (OS, created with 50 g/L sorbitol) and a yeast elicitor (YE, polysaccharide fraction of yeast extract) applied to Salvia miltiorrhiza hairy root cultures had a synergistic effect on the diterpenoid tanshinone production. With a single OS+YE treatment and nutrient feeding, the total tanshinone content of roots was increased by sevenfold (from 0.2 to 1.6 mg/g dry weight (dw)) and the volumetric yield by 13-fold (from 1.95 to 27.4 mg/L) compared to the batch control culture. With repeated feeding of OS and nutrient medium in an extended fed-batch culture process (i.e., 10 mL fresh medium with 50 g/L sorbitol 25 mg/L YE, every 5 days from day 21 to day 60), the total tanshinone content of roots was increased to 18.1 mg/g dw (or 1.8 wt.%) and the volumetric tanshinone yield to 145 mg/L, which were about 100-fold and 70-fold of those, respectively, in the batch control. Another interesting finding was the presence of root fragments (fine particles) with extremely high tanshinone content in the OS+YE treated cultures. It was also possible to reuse the sorbitol medium for the hairy root growth and tanshinone production to reduce the medium expenses.
This is a preview of subscription content, log in to check access.
Access options
Buy single article
Instant access to the full article PDF.
US$ 39.95
Price includes VAT for USA
Subscribe to journal
Immediate online access to all issues from 2019. Subscription will auto renew annually.
US$ 199
This is the net price. Taxes to be calculated in checkout.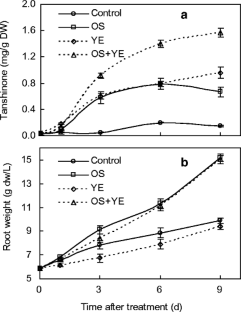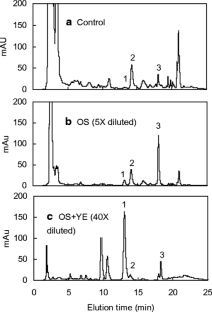 References
Bozhkov PV, von Arnold S (1998) Polyethylene glycol promotes maturation but inhibits further development of Picea abies somatic embryos. Physiol Plant 104:211–224

Chen Z (1991) Danshen. In: Institute of Medicinal Plant Development, Chinese Academy of Medical Sciences (eds) Cultivation of Chinese medicinal plants (in Chinese). Agricultural, Beijing, pp 455–461

Chen L, Zhu J (2004) Determination of four fat-soluble ingredients in Radix Salviae miltiorrhizae. Zhongguo Yao Shi (in Chinese) 18:749–751

Chen H, Chen F, Zhang YL, Song JY (1999) Production of lithospermic acid B and rosmarinic acid in hairy root cultures of Salvia miltiorrhiza. J Ind Microbiol Biotechnol 22:133–138

Do CB, Cormier F (1990) Accumulation of anthocyanins enhanced by a high osmotic potential in grape (Vitis vinifera L.) cell suspensions. Plant Cell Rep 9:143–146

Dombrowski JE (2003) Salt stress activation of wound-related genes in tomato plants. Plant Physiol 132:2098–2107

Fujita M, Fujita Y, Noutoshi Y, Takahashi F, Narusaka Y, Yamaguchi-Shinozaki K, Shinozaki K (2006) Crosstalk between abiotic and biotic stress responses: a current view from the points of convergence in the stress signalling networks. Curr Opin Plant Biol 9:436–442

Furze JM, Rhodes MJC, Parr AJ, Robins RJ, Withehead IM, Threlfall DR (1991) Abiotic factors elicit sesquiterpenoid phytoalexin production but not alkaloid production in transformed root cultures of Datura stramonium. Plant Cell Rep 10:111–114

Giri A, Narasu L (2000) Transformed hairy roots: recent trends and applications. Biotechnol Adv 18:1–22

Guillon S, Trémouillaux-Guiller J, Pati PK, Rideau M, Gantet P (2006) Hairy root research: recent scenario and exciting prospects. Curr Opin Plant Biol 9:341–346

Hu ZB, Alfermann AW (1993) Diterpenoid production in hairy root cultures of Salvia miltiorrhiza. Phytochemistry 32:699–703

Kim SI, Choi HK, Kim JH, Lee HS, Hong SS (2001) Effect of osmotic pressure on paclitaxel production in suspension cell cultures of Taxus chinensis. Enzyme Microb Technol 28:202–209

Kim Y, Wyslouzil B, Weathers P (2002) Secondary metabolism of hairy root cultures in bioreactors. In Vitro Cell Dev Biol Plant 38:1–10

Linden JC, Phisalaphong M (2000) Oligosaccharides potentiate methyl jasmonate-induced production of paclitaxel in Taxus canadensis. Plant Sci 158:41–51

Pitta-Alvarez SI, Spollansky TC, Giulietti AM (2000) The influence of different biotic and abiotic elicitors on the production and profile of tropane alkaloids in hairy root cultures of Brugmansia candida. Enzyme Microb Technol 26:252–258

Qian ZG, Zhao ZJ, Xu YF, Qian XH, Zhong JJ (2005) Highly efficient strategy for enhancing taxoid production by repeated elicitation with a newly synthesized jasmonate in fed-batch cultivation of Taxus chinensis cells. Biotechnol Bioeng 90:516–521

Ramakrishnan D, Curtis WR (2004) Trickle-bed root culture bioreactor design and scale-up: growth, fluid dynamics, and oxygen mass transfer. Biotechnol Bioeng 88:248–260

Shi M, Kwok KW, Wu JY (2007) Enhancement of tanshinone production in Salvia miltiorrhiza hairy root culture by hyperosmotic stress and yeast elicitor. Biotechnol Appl Biochem 46:191–196

Singh G, Gavrieli J, Oakey JS, Curtis WR (1998) Interaction of methyl jasmonate, wounding and fungal elicitation during sesquiterpene induction in Hyoscyamus muticus in root cultures. Plant Cell Rep 17:391–395

Tang W, Eisenbrand G (1992) Chinese drugs of plant origin: chemistry, pharmacology, and use in traditional and modern medicine. Springer, Berlin, pp 891–902

Wu JY, Wong K, Ho KP, Zhou LG (2005) Enhancement of saponin production in Panax ginseng cell culture by osmotic stress and nutrient feeding. Enzyme Microb Technol 36:133–138

Yan Q, Hu Z, Tan RX, Wu J (2005) Efficient production and recovery of diterpenoid tanshinones in Salvia miltiorrhiza hairy root cultures with in situ adsorption, elicitation and semi-continous operation. J Biotechnol 119:416–424

Zhang C, Yan Q, Cheuk WK Wu J (2004) Enhancement of tanshinone production in Salvia miltiorrhiza hairy root culture by Ag elicitation and nutrient feeding. Planta Med 70:147–151

Zhao J, Hu Q, Zhu WH (2001) Enhanced catharanthine production in Catharanthus roseus cell cultures by combined elicitor treatment in shake flasks and bioreactors. Enzyme Microb Technol 28:673–681

Zhao J, Davis LCT, Verpoorte R (2005) Elicitor signal transduction leading to production of plant secondary metabolites. Biotechnol Adv 23:283–333

Zhao J, Matsunaga Y, Fujita K, Sakai K (2006) Signal transduction and metabolic flux of beta-thujaplicin and monoterpene biosynthesis in elicited Cupressus lusitanica cell cultures. Met Eng 8:14–29

Zhong JJ, Yue CJ (2005) Plant cells: secondary metabolite heterogeneity and its manipulation. Adv Biochem Eng Biotechnol 100:53–88

Zhou LG, Wu JY (2006) Development and application of medicinal plant tissue cultures for production of drugs and herbal medicinals in China. Nat Prod Rep 23:789–810
Acknowledgments
This work was supported by grants from The Hong Kong Polytechnic University (G-U150, G-U268, and 1-BB80).
About this article
Cite this article
Wu, J., Shi, M. Ultrahigh diterpenoid tanshinone production through repeated osmotic stress and elicitor stimulation in fed-batch culture of Salvia miltiorrhiza hairy roots. Appl Microbiol Biotechnol 78, 441–448 (2008). https://doi.org/10.1007/s00253-007-1332-y
Received:

Revised:

Accepted:

Published:

Issue Date:
Keywords
Salvia miltiorrhiza

Hairy root

Tanshinones

Osmotic stress

Yeast elicitor

Fed-batch culture