Abstract
In this study, adsorption of dirhamnolipid biosurfactant on a Gram-negative Pseudomonas aeruginosa, two Gram-positive Bacillus subtilis, and a yeast, Candida lipolytica, was investigated, and the causality between the adsorption and change of cell surface hydrophobicity was discussed. The adsorption was not only specific to the microorganisms but also depended on the physiological status of the cells. Components of the biosurfactant with different rhamnosyl number or aliphatic chain length also exhibited slight difference in adsorption manner. The adsorption indeed caused the cell surface hydrophobicity to change regularly; however, the changes depended on both the concentrations of rhamnolipid solutions applied and the adsorbent physiological conditions. Orientation of rhamnolipid monomers on cell surface and micelle deposition are supposed to be the basic means of adsorption to change cell hydrophobicity at low and high rhamnolipid concentrations, respectively. This study proposed the possibility to modify cell surface hydrophobicity with biosurfactant of low concentrations, which may be of importance in in situ soil remediation.
This is a preview of subscription content, log in to check access.
Access options
Buy single article
Instant access to the full article PDF.
US$ 39.95
Price includes VAT for USA
Subscribe to journal
Immediate online access to all issues from 2019. Subscription will auto renew annually.
US$ 199
This is the net price. Taxes to be calculated in checkout.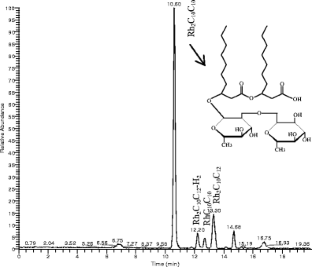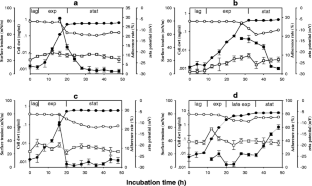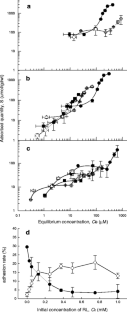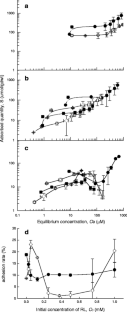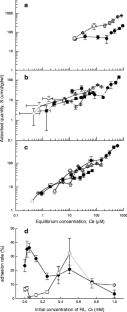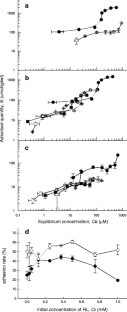 References
Ahimou F, Jacques P, Deleu M (2000) Surfactin and iturin A effects on Bacillus subtilis surface hydrophobicity. Enzyme Microb Tech 27:749–754

Al-Tahhan RA, Sandrin TR, Bodour AA, Maier RM (2000) Rhamnolipid-induced removal of lipopolysaccharide from Pseudomonas aeruginosa: effect on cell surface properties and interaction with hydrophobic substrates. Appl Environ Microbiol 66:3262–3268

Arino S, Marchal R, Vandecasteele JP (1996) Identification and production of a rhamnolipidic biosurfactant by a Pseudomonas species. Appl Microbiol Biotechnol 45:162–168

Bai GY, Brusseau ML, Miller RM (1997) Influence of rhamnolipid biosurfactant on the transport of bacteria through a sandy soil. Appl Environ Microbiol 63:1866–1873

Bouchez-Naїtali M, Rakatozafy H, Marchal R, Leveau JY, Vandecasteele JP (1999) Diversity of bacterial strains degrading hexadecane in relation to the mode of substrate uptake. J Appl Microbiol 86:421–428

Gallego JLR, Loredo J, Llamas JF, Vázquez F, Sánchez J (2001) Bioremediation of diesel-contaminated soils: evaluation of potential in situ techniques by study of bacterial degradation. Biodegradation 12:325–335

Herman DC, Zhang YM, Miller RM (1997) Rhamnolipid (biosurfactant) effects on cell aggregation and biodegradation of residual hexadecane under saturated flow conditions. Appl Environ Microbiol 63:3622–3627

Hiemenz PC (1977) Electrophoresis and other electrokinetic phenomena. In: Lagowski J (ed) Principles of colloid and surface chemistry. Marcel Dekker, New York, pp 452–487

Hommel RK (1990) Formation and physiological role of biosurfactants produced by hydrocarbon-utilising microorganisms. Biodegradation 1:107–119

Hua ZZ, Chen J, Lun SY, Wang XR (2003) Infuence of biosurfactants produced by Candida antarctica on surface properties of microorganism and biodegradation of n-alkanes. Water Res 37:4143–4150

Husain DR, Goutx M, Bezac C, Gilewicz M, Bertrand JC (1997) Morphological adaptation of Pseudomonas nautica strain 617 to growth on eicosane and modes of eicosane uptake. Lett Appl Microbiol 24:55–58

Ishigami Y, Gama Y, Nagahora H, Yamaguchi M, Nakahara H, Kamata T (1987) The pH-sensitive conversion of molecular aggregates of rhamnolipid biosurfactant. Chem Lett 5:763–766

Johnsen AR, Karlson U (2004) Evaluation of bacterial stratigies to promote the bioavailability of polycyclic aromatic hydrocarbons. Appl Microbiol Biotechnol 63:452–459

Maget-Dana R, Ptak M (1995) Interactions of surfactin with membrane models. Biophys J 68:1937–1943

Mata-Sandoval JC, Karnsb J, Torrents A (1999) High-performance liquid chromatography method for the characterization of rhamnolipid mixtures produced by Pseudomonas aeruginosa UG2 on corn oil. J Chromatogr A 864:211–220

Neu TR (1996) Significance of bacterial surface-active compounds in interaction of bacteria with interfaces. Microbiol Mol Biol R 60:151–166

Noordman WH, Janssen DB (2002) Rhamnolipid stimulates uptake of hydrophobic compounds by Pseudomonas aeruginosa. Appl Environ Microbiol 68:4502–4508

Noordman WH, Brusseau ML, Janssen DB (2000) Adsorption of a multicomponent rhamnolipid surfactant to soil. Environ Sci Technol 34:832–838

Noordman WH, Wachter JHJ, de-Boer GJ, Janssen DB (2002) The enhancement by surfactants of hexadecane degradation by Pseudomonas aeruginosa varies with substrate availability. J Biotechnol 94:195–212

Prabhu Y, Phale PS (2003) Biodegradation of phenanthrene by Pseudomonas sp. strain PP2: novel metabolic pathway, role of biosurfactant and cell surface hydrophobicity in hydrocarbon assimilation. Appl Microbiol Biotechnol 61:342–351

Ron EZ, Rosenberg E (2001) Natural roles of biosurfactants. Environ Microbiol 3:229–236

Ron EZ, Rosenberg E (2002) Biosurfactants and oil bioremediation. Curr Opin Biotech 13:249–252

Rosenberg E (1993) Exploiting microbial growth on hydrocarbon: new markets. Trends Biotechnol 11:419–424

Rosenberg E, Gottlieb A, Rosenberg M (1983) Inhibition of bacterial adherence to hydrocarbons and epithelial cells by emulsan. Infect Immun 39:1024–1028

Southam G, Whitney M, Knickerbocker C (2001) Structural characterization of the hydrocarbon degrading bacteria-oil interface: implications for bioremediation. Int Biodeterior Biodegrad 47:197–201

Wagner F, Behrendt U, Bock H, Kretschmer A, Lang S, Syldatk C (1983) Production and chemical characterization of surfactants from Rhodococcus erythropolis and Pseudomonas sp. MUB grown on hydrocarbons. In: Zajic JE, Cooper DG, Jack TR, Kosaric N (eds) Microbial enhanced oil recovery. PennWell, Tulsa, Okla, pp 55–60

Van-Dyke MI, Couture P, Brauer M, Lee H, Trevors JT (1993) Pseudomonas aeruginosa. UG2 rhamnolipid biosurfactants: structural characterization and their use in removing hydrophobic compounds from soil. Can J Microbiol 39:1071–1078

Yuan XZ, Ren FY, Zeng GM, Zhong H, Fu HY, Liu J, Xu XM (2007) Adsorption of surfactants on a Pseudomonas aeruginosa strain and the effect on cell surface lypohydrophilic property. Appl Microbiol Biotechnol 76:1189–1198

Zeng GM, Zhong H, Huang GH, Fu HY (2005) Physicochemical and microbiological effects of biosurfactant on the remediation of HOC-contaminated soil. Prog Nat Sci 15:578–585

Zeng GM, Fu HY, Zhong H, Yuan XZ, Fu MX, Wang W, Huang GH (2007) Co-degradation with glucose of four surfactants, CTAB, Triton X-100, SDS and rhamnolipid, in liquid culture media and compost matrix. Biodegradation 18:303–310

Zhang YM, Miller RM (1994) Effect of a Pseudomonas rhamnolipid biosurfactant on cell hydrophobicity and biodegradation of octadecane. Appl Environ Microbiol 60:2101–2106

Zhang YM, Maier WJ, Miller RM (1997) Effect of rhamnolipids on the dissolution, bioavailability, and biodegradation of phenanthrene. Environ Sci Technol 31:2211–2217

Zhong H, Zeng GM, Huang GH, Yuan XZ, Fu HY, Shi JG (2003) Effect of rhamnolipid broth on vegetatle substrate biodegradation process. In: Zeng GM, Huang GH, Li CT, Tian TJ (eds) Energy & Environment—a world of challenges and opportunities. Proceedings of the ENERENV 2003 Conference, Changsha, China. Science Press, Beijing, pp 841–848
Acknowledgments
The authors thank the Center for Analysis and Testing, Hunan University, for the work on rhamnolipid HPLC-MS analysis. The study was financially supported by the National 863 High Technologies Research Foundation of China (no. 2004AA649370), the National Basic Research Program (973 Program; no. 2005CB724203), the Natural Foundation for Distinguished Young Scholars (no. 50425927, no. 50225926), the Doctoral Foundation of Ministry of Education of China, Fujian Technology Foundation for Creative Young Scholars (2007F3102) and the Teaching and Research Award Program for Outstanding Young Teachers in Higher Education Institutions of MOE, People' Republic of China (TRAPOYT) in 2000.
Electronic supplementary material
Below is the link to the electronic supplementary material.
About this article
Cite this article
Zhong, H., Zeng, G.m., Yuan, X.Z. et al. Adsorption of dirhamnolipid on four microorganisms and the effect on cell surface hydrophobicity. Appl Microbiol Biotechnol 77, 447–455 (2007). https://doi.org/10.1007/s00253-007-1154-y
Received:

Revised:

Accepted:

Published:

Issue Date:
Keywords
Biosurfactant

Dirhamnolipid

Micelle

Adsorption

Cell surface hydrophobicity