Abstract
In this study, we focused our investigation on two strains of Lactobacillus curvatus, L442 and LTH1174, which are able to produce bacteriocins. L. curvatus LTH1174 is widely studied for its capability to produce curvacin A, while L. curvatus L442 was isolated from traditional Greek fermented sausages and was shown to possess a strong inhibitory activity toward Listeria monocytogenes. By polymerase chain reaction, we were able to target in both strains the genes for the production of sakacin P and sakacin Q, sppA and sppQ, respectively, both encoded chromosomally. While sppA was found to be conserved when compared with other sakacin P genes, sppQ showed a deletion of about 15 nucleotides when aligned with sequences obtained from Lactobacillus sakei. This difference did not affect the activity of sakacin Q as determined by testing sensitive strains. Expression analysis highlighted that sakacin P was expressed in L. curvatus L442 but not in L. curvatus LTH1174. Curing experiments were performed on L. curvatus LTH1174 to study the effect of the megaplasmid, present in this strain. In the plasmid-cured strain, expression of the sppA gene was detected. sppQ was expressed in both plasmid-cured and wild-type L. curvatus LTH1174, although expression was higher in the plasmid-cured strain.
This is a preview of subscription content, log in to check access.
Access options
Buy single article
Instant access to the full article PDF.
US$ 39.95
Price includes VAT for USA
Subscribe to journal
Immediate online access to all issues from 2019. Subscription will auto renew annually.
US$ 199
This is the net price. Taxes to be calculated in checkout.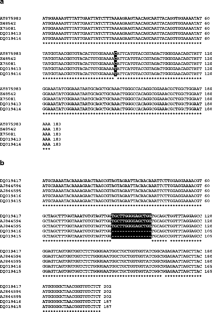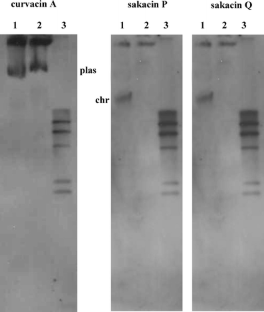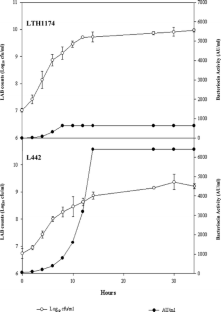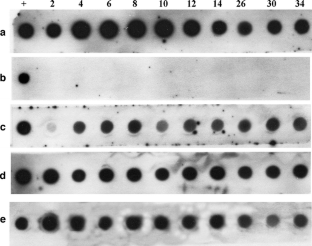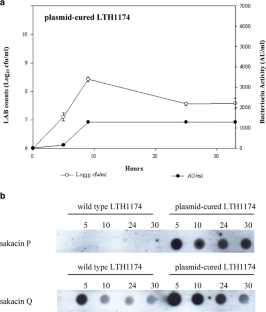 References
Altschul SF, Madden TL, Shaffer AA, Zhang J, Zhang Z, Miller W, Lipman DJ (1997) Gapped BLAST and PSI-BLAST: a new generation of protein database search programs. Nucleic Acids Res 25:3389–3402

Anderson DG, McKay LL (1983) Simple and rapid method for isolating large plasmid DNA from lactic streptococci. Appl Environ Microbiol 46:549–552

Aymerich MT, Garriga M, Monfort JM, Nes I, Hugas M (2000) Bacteriocin producing lactobacilli in Spanish-styled fermented sausages: characterization of bacteriocins. Food Microbiol 17:33–45

Barefoot SF, Klaenhammer TR (1983) Detection and activity of lactacin B, a bacteriocin produced by Lactobacillus acidophilus. Appl Environ Microbiol 45:1808–1815

Cocolin L, Rantsiou K, Iacumin L, Urso R, Cantoni C, Comi G (2004) Study of the ecology of fresh sausages and characterization of populations of lactic acid bacteria by molecular methods. Appl Environ Microbiol 70:1883–1894

Dunny GM, Leonard BAB (1997) Cell–cell communication in Gram-positive bacteria. Annu Rev Microbiol 51:527–564

Eijsink VGH, Axelsson L, Diep DB, Havarstein LS, Holo H, Nes IF (2002) Production of class II bacteriocins by lactic acid bacteria: an example of biological warfare and communication. Antonie van Leeuwenhoek 81:639–654

Ganzle MG, Hertel C, Hammes WP (1997) Modelling of the effect of pH, NaCl and nitrite concentrations on the antimicrobial activity of sakacin P against Listeria ivanovii DSM20750. Fleischwirtschaft Int 4:22–25

Holck A, Axelsson L, Birkeland SE, Aukrust T, Blom H (1992) Purification and aminoacid sequence of sakacin A, a bacteriocin from Lactobacillus sakei Lb706. J Gen Microbiol 138:2715–2720

Hugas M (1998) Bacteriocinogenic lactic acid bacteria for the biopreservation of meat and meat products. Meat Sci 49:S139–S150

Hugas M, Garriga M, Aymerich T, Monfort JM (1993) Biochemical characterization of lactobacilli from dry fermented sausages. Int J Food Microbiol 18:107–113

Huhne K, Axelsson L, Holck A, Krockel L (1996) Analysis of the sakacin P gene cluster from Lactobacillus sake Lb674 and its expression in sakacin-negative Lb. sake strains. Microbiol 142:1437–1448

Jack RW, Tagg JR, Ray B (1995) Bacteriocins of gram-positive bacteria. Microbiol Rev 59:171–200

Larsen AG, Vogensen FK, Josephsen J (1993) Antimicrobial activity of lactic acid bacteria isolated from sour doughs: purification and characterization of bavaricin A, a bacteriocin roduced by Lactobacillus bavaricus MI401. J Appl Bacteriol 75:113–122

Maniatis T, Fritsch EF, Sambrook J (1982) Molecular cloning. Cold Spring Harbor Laboratory, Cold Spring Harbor, NY

Mataragas M, Metaxopoulos J, Galiotou M, Drosinos EH (2003) Influence of pH and temperature on growth and bacteriocin production by Leuconostoc mesenteroides L124 and Lactobacillus curvatus L442. Meat Sci 64:265–271

Mathiesen G, Huehne K, Kroeckel L, Axelsson L, Eijsink VGH (2005) Characterization of a new bacteriocin operon in sakacin P-producing Lactobacillus sakei, showing strong translational coupling between the bacteriocin and immunity genes. Appl Environ Microbiol 71:3565–3574

Messens W, Verluyten J, Leroy F, De Vuyst L (2003) Modelling growth and bacteriocin production by lactobacillus curvatus LTH1174 in response to temperature and pH values used for European sausage fermentation processes. Int J Food Microbiol 81:41–52

Moretro T, Naterstad K, Wang E, Aasen IM, Chaillou S, Zagorec M, Axelsson L (2005) Sakacin P non-producing Lactobacillus sakei strains contain homologues of the sakacin P gene cluster. Res Microbiol 156:949–960

Nes IF, Eijsink VGH (1999) Regulation of group II peptide bacteriocin synthesis by quorum-sensing mechanisms. In: Dunny GM, Winans SC (eds) Cell–cell signaling in bacteria. American Society for Microbiology, Washington, DC, pp 175–192

Quadri LEN (2002) Regulation of antimicrobial peptide production by autoinducer-mediated quorum sensing in lactic acid bacteria. Antonie van Leeuwenhoek 82:133–145

Remiger A, Ehrmann MA, Vogel RF (1996) Identification of bacteriocin-encoding genes in lactobacilli by polymerase chain reaction (PCR). Syst Appl Microbiol 19:28–34

Schillinger U, Lücke FK (1989) Antibacterial activity of Lactobacillus sake isolated from meat. Appl Environ Microbiol 55:1901–1906

Simon L, Fremaux C, Cenatiempo Y, Berjeaud JM (2002) Sakacin G, a new type of antilisterial bacteriocin. Appl Environ Microbiol 68:6416–6420

Sobrino OJ, Rodriguez JM, Moreira WL, Fernandez MF, Sanz B, Hernandez PE (1992) Sakacin M, a bacteriocin-like substance from Lactobacillus sakei 148. Int J Food Microbiol 16:215–225

Tichaczek PS, Nissen-Meyer J, Nes IF, Vogel RF, Hammes WP (1992) Characterization of the bacteriocins curvacin A from Lactobacillus curvatus LTH1174 and sakacin P from L. sake LTH673. Syst Appl Microbiol 15:460–468

Tichaczek PS, Vogel RF, Hammes WP (1993) Cloning and sequencing of the curA encoding curvacin A, the bacteriocin produced by Lactobacillus curvatus LTH1174. Arch Microbiol 160:279–283

Tichaczek PS, Vogel RF, Hammes WP (1994) Cloning and sequencing of sakP encoding sakacin P, the bacteriocin produced by Lactobacillus sake LHT673. Microbiol 140:361–367

Trevors JT (1986) Plasmid curing in bacteria. FEMS Microbiol Rev 32:149–157

Urso R, Rantsiou K, Cantoni C, Comi G, Cocolin L (2006a) Sequencing and expression analysis of the sakacin P bacteriocin produced by a Lactobacillus sakei strain isolated from naturally fermented sausages. Appl Microbiol Biotechnol 71:480–485

Urso R, Rantsiou K, Cantoni C, Comi G, Cocolin L (2006b) Technological characterization of a bacteriocin-producing Lactobacillus sakei and its use in fermented sausage production. Int J Food Microbiol 110:232–239

Vandenbergh PA (1993) Lactic acid bacteria, their metabolic products and interference with microbial growth. FEMS Microbiol Rev 12:221–237

Varabioff Y (1992) Incidence of Listeria in small goods. Lett Appl Microbiol 14:167–169

Vaughan A, O'Mahony J, Eijsink VGH, O'Connell-Motherway M, van Sinderen D (2004) Transcriptional analysis of bacteriocin production by malt isolate Lactobacillus sakei 5. FEMS Microbiol Lett 235:377–384

Verluyten J, Messens W, Vuyst L (2003) Sodium chloride reduces production of curvacin A, a bacteriocin produced by Lactobacillus curvatus strain LTH 1174, originating from fermented sausage. Appl Environ Microbiol 70:2271–2278

Verluyten J, Messens W, De Vuyst L (2004a) The curing agent sodium nitrite, used in the production of fermented sausages, is less inhibiting to the bacteriocin-producing meat starter culture Lactobacillus curvatus LTH1174 under anaerobic conditions. Appl Environ Microbiol 69:3833–3839

Verluyten J, Leroy F, De Vuyst L (2004b) Effect of different spices used in production of fermented sausages on growth of and curvacin A production by Lactobacillus curvatus LTH1174. Appl Environ Microbiol 70:4807–4813

Verluyten J, Leroy F, De Vuyst L (2004c) Influence of complex nutrient source on growth of and curvacin A production by sausage isolate Lactobacillus curvatus LTH1174. Appl Environ Microbiol 70:5081–5088

Xiraphi N, Georgalaki M, Van Driessche G, Devreese B, Van Beeumen J, Tsakalidou E, Metaxopoulos J, Drosinos EH (2005) Purification and characterization of curvaticin L442, a bacteriocin produced by Lactobacillus curvatus L442. Antonie van Leeuwenhoek 22:1–8
Acknowledgments
This research has been funded by the E. C. within the framework of the specific research and technological development program "Confirming the International Role of the Community Research," (contract no. ICA4-CT-2002-10037). We are grateful to Prof. Walter P. Hammes, University of Hohneheim, Stuttgart, Germany, and to Prof. John Metaxopoulos, Agricultural University of Athens, Greece, for the strains L. curvatus LTH1174 and 442, respectively.
About this article
Cite this article
Cocolin, L., Rantsiou, K. Sequencing and expression analysis of sakacin genes in Lactobacillus curvatus strains. Appl Microbiol Biotechnol 76, 1403–1411 (2007). https://doi.org/10.1007/s00253-007-1120-8
Received:

Revised:

Accepted:

Published:

Issue Date:
Keywords
Bacteriocins

Expression analysis

Gene sequencing

Bioprotection