Abstract
Based on our previous study evaluating the in vivo cure efficacy of chitosan on bovine mastitis, a more water-soluble chitosan-oligosaccharide (OCHT) with a high degree of deacetylation and low molecular weight was prepared to obtain high antibiotic efficacy. The growth of Staphylococcus aureus isolated from bovine mastitis was inhibited within 10 min of treatment with OCHT in concentrations ranging from 0.0001 to 0.5%. Additionally, electron microscopic observation indicated that the surface of the OCHT-treated bacteria was expanded, distorted, and lysed compared to that of the control bacteria. In mice, the proportion of monocytes was elevated, and the levels of interleukin-6 and interferon-γ sharply increased l h after the peritoneal inoculation of the OCHT (0.5 to 1 mg per mouse). Mice challenged intraperitoneally with S. aureus (2.5 × 108 colony forming units) after oral treatment with OCHT (0.5 to 2 mg per day) for 7 days showed a higher survival rate (70–100%) than that of the control (10%). We suggest that the OCHT prepared in this study is a potential agent for the prevention and treatment of bovine mastitis based on its strong antibacterial activity against S. aureus as well as the immunostimulative effect it exhibits on murine infection by S. aureus.
This is a preview of subscription content, log in to check access.
Access options
Buy single article
Instant access to the full article PDF.
US$ 39.95
Price includes VAT for USA
Subscribe to journal
Immediate online access to all issues from 2019. Subscription will auto renew annually.
US$ 199
This is the net price. Taxes to be calculated in checkout.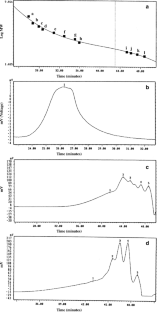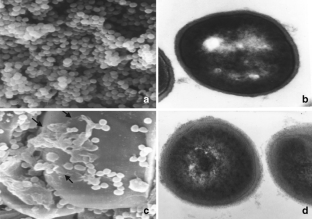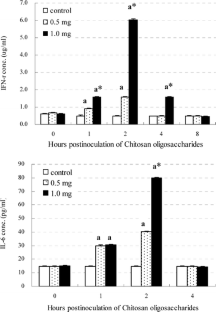 References
Allan CR, Hadwiger LA (1979) The fungicidal effects of chitosan on fungi and varying in cell wall composition. Exp Mycol 3:285–287

Alluwaimi AM (2004) The cytokines of bovine mammary gland; prospects for diagnosis and therapy. Res Vet Sci 77:211–222

Belardelli F, Ferrantini M (2002) Cytokines as a link between innate and adaptive antitumor immunity. Trends Immunol 23:201–208

Brouillette E, Malouin F (2005) The pathogenesis and control of Staphylococcus aureus-induced mastitis: study models in the mouse. Microbes Infect 7:560–568

Castellanos-Perez N, Maldanando-Vega M, Fernandez-Villagomez G, Cafferal-Mendez S (1988) An evaluation of coagulating ability of chitosans from different crustacea species and fungi. In: Skjak-Break G, Anthonson T, Sandford P (eds) Chitin and chitosan. Elsevier, London, pp 567–576

Choi BK, Kim KY, Yoo YJ, Oh SJ, Choi JH, Kim CY (2001) In vitro antimicrobial activity of a chitooligosaccharide mixture against Actinobacillus actinomycetemcomitans and Streptococcus mutans. Int J Antimicrob Agents 18:553–557

Chung YC, Su YP, Chen CC, Jia G, Wang HL, Wu JCG, Lin JG (2004) Relationship between antibacterial activity of chitosan and surface characteristics of cell wall. Acta Pharmacol Sin 27:932–936

Darmadji P, Izumimoto M (1994) Effect of chitosan in meat preservation. Meat Sci 38:243–254

EI-Ghaouth A, Arul J, Asselin A, Benhamou N (1992) Antifungal activity of chitosan on two post-harvest pathogen of strawberry fruits. Phytopathology 82:398–402

Feng J, Zhao L, Yu Q (2004) Receptor-mediated stimulatory effect of oligochitosan in macrophages. Biochem Biophys Res Commun 317:414–420

Fletcher TC, White A (1973) Lysozyme activity in the plaice (Pleuronectes platessa L). Experientia 29:1283–1285

Hadwiger LA, Fristensky BW, Rigglman RC (1984) Chitosan, a natural regulator in plant-fungal pathogen interaction, increases crop yields. In: Zikakis JP (ed) Chitin, chitosan and related enzymes. Academic, New York, NY, pp. 291–302

Illum L (1998) Chitosan and its use as a pharmaceutical excipient. Pharm Res 15:1326–1331

Isenberg HD, Sampson-Scherer J, Cleeland R, Titsworth E, Beskid G, Christenson JG, DeLorenzo WF, Unowsky J (1982) Correlation of the results of antibiotic synergy and susceptibility testing in vitro with results in experimental mouse infections. Crit Rev Microbiol 10:1–76

Jeon YJ, Kim SK (2000) Production of chitooligosaccharide using an ultrafiltration membrane reactor and their antibacterial activity. Carbohydr Polym 41:133–141

Jeon YJ, Kim SK (2001) Potential immuno-stimulating effect of antitumoral fraction of chitooligosaccharide. J Chitin Chitosan 6:163–167

Jeong HJ, Koo HN, Oh EY, Chae HJ, Kim HR, Suh SB, Kim CH (2000) Nitric oxide production by high molecular weight water-soluble chitosan via nuclear factor-kB activation. Int J Immunopharmacol 22:923–933

Jung BO, Chung SJ, Lee GW (2002) Effect of molecular weight of chitosan on its antimicrobial activity. J Chitin Chitosan 7:231–236

Kaplanski G, Marin V, Montero-Julian F, Mantovani A, Farnarier C (2003) IL-6: a regulator of the transition from neutrophil to monocyte recruitment during inflammation. Trends Immunol 24:25–29

Kim HK (1998) Production of chitosan oligosaccharides and their antibacterial effect to pathogenic Escherichia coli. Pukyung National University, Busan, South Korea

Kina K, Tamura K, Ishibashi J (1974) The fungicidal effect of chitosan on fungi of varying cell wall composition. Bunseki Kagaku 23:1082–1100

Kosaka T, Kaneko Y, Nakada Y, Matsuura M, Tanaka S (1996) Effect of chitosan implantation on activation of canine macrophages and polymorphonuclear cells after surgical stress. J Vet Med Sci 58:963–967

Minami S, Egawa T, Ohira J, Okamoto Y, Matsuhashi A (1997) Effects of chitosan with intramammary administration on phagocytes in udder secretion. J Jpn Vet Med Assoc 50:143–146

Moon JS, Joo YS, Ku BK, J Kim Y, Park YH, Hahn TW (1998) A study on efficacy of chitosan on bovine mastitis. Korean J Vet Res 38:71–76

Mori T, Murakami M, Okumura M, Kadosaw T, Uede T, Fujinaga T (2005) Mechanism of macrophage activation by chitin derivatives. J Vet Med Sci 67:51–56

Nishimura K, Nishimura S, Nishi N, Saiki I, Tokura S, Azuma I (1984) Immunologic activity of chitin and its derivatives. Vaccine 2:93–99

No HK, Park NY, Lee SH, Meyers SP (2002) Antibacterial activity of chitosans and chitosan oligomers with different molecular weights. Int J Food Microbiol 74:65–72

Okada H, Ohtsuka H, Kon Nai S, Kirisawa R, Yokomizo Y, Yoshino T, Rosol TJ (1999) Effects of lipopolysaccharide on production of interleukin-1 and interleukin-6 by bovine mammary epithelial cells in vitro. J Vet Med Sci 61:33–35

Okamoto Y, Minami S, Matsuhashi A, Hamada K, Yanagiya G, Ohira J, Fukumoto Y, Murakami C (1996) Effects of chitosan on bovine wound healing. J Jpn Vet Med Assoc 49:22–27

Papineau AM, Hoover DG, Knorr D, Farkas DF (1991) Antimicrobial effect of water-soluble chitosans with high hydrostatic pressure. Food Biotechnol 5:45–57

Park PJ, Kim SK, Lee HK (2002) Antimicrobial activity of chitooligosaccharides on Vibrio parahaemolyticus. J Chitin Chitosan 7:225–230

Peluso G, Petillo O, Ranieri M, Santin M, Ambrosio I, Calabro D, Avallone B (1994) Chitosan-mediated stimulation of macrophage function. Biomaterials 15:1215–1220

Riollet C, Ranard P, Poutrel B (2000) Cells and cytokines in inflammatory secretions of bovine mammary gland. Adv Exp Med Biol 480:247–258

Ruegg PL (2003) Investigation of mastitis problems on farms. Vet Clin North Am Food Anim Pract 19:47–73

Saito K, Shimojoh M, Fukushima K (1994) Growth inhibition of chitosan from squid pen against oral Streptococci. Annual Report of Chitin and Chitosan Research. Japanese Society for Chitin and Chitosan, Yokohama, Japan, pp 77–79

Sears PM, McCarthy KK (2003) Management and treatment of staphylococcal mastitis. Vet Clin North Am Food Anim Pract 19:171–185

Senel S, McClure SJ (2004) Potential applications of chitosan in veterinary medicine. Adv Drug Deliv Rev 56:1467–1480

Seo H, Mitsuhash K, Tanibe H (1992) Antibacterial and antifungal fiber blended by chitosan. In: Brine CJ, Sandford PA, Zikakis JP (eds) Advances in chitin and chitosan. Elsevier, London, pp 34–40

Shuster DE, Kehrli ME, Rainard P, Paape M (1997) Complement fragment C5a and inflammatory cytokines in neutrophil recruitment during intramammary infection with Escherichia coli. Infect Immun 65:3286–3292

Singla AK, Chawla M (2001) Chitosan: some pharmaceutical and biological aspects—an update. J Pharm Pharmacol 53:1047–1067

Stossel P, Leuba JL (1984) Effect of chitosan, chitin, some amino sugars on growth of various soil-borne phytopathogenic fungi. Phytopathol Z 111:82–90

Sudarshan NR, Hoove DG, Knorr D (1992) Antibacterial action of chitosan. Food Biotechnol 6:257–272

Suzuki K, Okawa Y, Hashimoto K, Suzuki S, Suzuki M (1984) Protecting effect of chitin and chitosan on experimentally induced murine candidiasis. Microbiol Immunol 28:903–912

Tokro A, Suzuki K, Mikami T (1998) Growth-inhibitory effect of hexa-N-acetylchitohexaose and chitohexaose against Meth-A solid tumor. Chem Pharm Bull 36:784

Tsai GJ, Wu ZY, Su WH (2000) Antibacterial activity of a chitooligosaccharide mixture prepared by cellulase digestion of shrimp chitosan and its application to milk preservation. J Food Prot 63:747–752

Uchida Y, Izume M, Ohtakara A (1989) Preparation of chitosan oligomers with purified chitosanase and its application. In: Skjak-Brak G, Anthonsen T, Sandford P (eds) Chitin and chitosan: source, chemistry, biochemistry, physical properties and application. Elsevier, London, pp 372–382

Usami Y, Okamoto Y, Minami S, Matsuhashi A, Kumazawa NH, Tanioka S, Shigemasa Y (1994) Migration of canine neutrophils to chitin and chitosan. J Vet Med Sci 56:761–762

Wang GH (1992) Inhibition and inactivation of five species of foodborne pathogens by chitosan. J Food Prot 55:916–919

Wang SH, Chen JC (2005) The protective effect of chitin and chitosan against Vibrio alginolyticus in white shrimp Litopenaeus vannamei. Fish Shellfish Immunol 19:191–204

Wedlock DN, Doolin EF, Parlane N, Lacy-Hulbert S, Woolford MW (2000) Effects of yeast expressed recombinant interleukin-2 and interferon-γ on physiological changes in bovine mammary glands and on bacterial activity of neutrophils. J Dairy Res 67:189–197

Yang TC, Chou CC, Li CF (2005) Antibacterial activity of N-alkylated disaccharide chitosan derivatives. Int J Food Microbiol 97:237–245

Yun YS, Kim KS, Lee YN (1999) Antibacterial and antifungal effect of chitosan. J Chitin Chitosan 4:8–14
Acknowledgments
This work was supported by a grant from the National Veterinary Research and Quarantine Services, Republic of Korea. Dr. Hye Cheong Koo and Dr. Yong Ho Park were supported by the Korea Research Foundation Grant (KRF-2006-005-J02903), the Technology Development Program for Agriculture and Forestry provided by the Ministry of Agriculture and Forestry (grant no. 305003031HD110), and the Research Institute of Veterinary Science, Department of Veterinary Microbiology, College of Veterinary Medicine and the BK21 Program for Veterinary Science, Seoul National University.
Jin-San Moon and Hee-Kyung Kim contributed equally to this study.
Electronic supplementary material
About this article
Cite this article
Moon, J., Kim, H., Koo, H.C. et al. The antibacterial and immunostimulative effect of chitosan-oligosaccharides against infection by Staphylococcus aureus isolated from bovine mastitis. Appl Microbiol Biotechnol 75, 989–998 (2007). https://doi.org/10.1007/s00253-007-0898-8
Received:

Revised:

Accepted:

Published:

Issue Date:
Keywords
Chitosan-oligosaccharides

Staphylococcus aureus

Antibacterial activity

Immunostimulative effect