Abstract
Xylitol is the first rare sugar that has global markets. It has beneficial health properties and represents an alternative to current conventional sweeteners. Industrially, xylitol is produced by chemical hydrogenation of d-xylose into xylitol. The biotechnological method of producing xylitol by metabolically engineered yeasts, Saccharomyces cerevisiae or Candida, has been studied as an alternative to the chemical method. Due to the industrial scale of production, xylitol serves as an inexpensive starting material for the production of other rare sugars. The second part of this mini-review on xylitol will look more closely at the biotechnological production and future applications of the rare sugar, xylitol.
This is a preview of subscription content, log in to check access.
Access options
Buy single article
Instant access to the full article PDF.
US$ 39.95
Price includes VAT for USA
Subscribe to journal
Immediate online access to all issues from 2019. Subscription will auto renew annually.
US$ 199
This is the net price. Taxes to be calculated in checkout.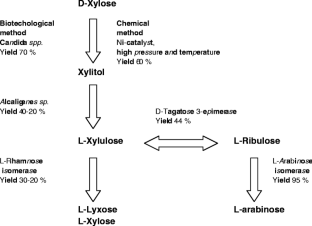 References
Choi J-H, Moon K-H, Ryu Y-W, Seo J-H (2000) Production of xylitol in cell recycle fermentations of Candido tropicalis. Biotechnol Lett 22:1625–1628

Granström T (2002) Biotechnological production of xylitol with Candida yeasts, PhD thesis, Helsinki University of Technology, Finland

Granström TB, Takata G, Tokuda M, and Izumori K (2004) A novel and complete strategy for bioproduction of rare sugars. J Biosci Bioeng 97:89–94

Granström TB, Takata G, Morimoto K, Leisola M, Izumori K (2005) l-Lyxose and l-xylose production from xylitol using Alcaligenes 701B strain and immobilized l-rhamnose isomerase enzyme. Enzyme Microb Technol 36:976–981

Guo C, Zhao C, He P, Lu D, Shen A, Jiang N (2006) Screening and characterization of yeasts for xylitol production. J Appl Microbiol 101:1096–1104

Hallborn J, Walfridsson M, Airaksinen U, Ojamo H, Hahn-Hägerdal B, Penttila M, Keränen S (1991) Xylitol production by recombinant Saccharomyces cerevisiae. Biotechnology (NY) 9:1090–1095

Hallborn J, Gorwa M-F, Meinander N, Penttilä M, Keränen S, Hahn-Hägerdahl B (1994) The influence of cosubstrate and aeration on xylitol formation by recombinant Saccharomyces cerevisiae expressing XYL1 gene. Appl Microbiol Biotechnol 42:326–333

Härkönen M, Nuojua P (1979) Eri tekijöiden vaikutus ksyloosin katalyyyttiseen hydraukseen ksylitoliksi. Kemia-Kemi 6:445–447

Itoh H, Okaya H, Khan AR, Tajima S, Hayakawa S, Izumori K (1994) Purification and characterization of d-tagatose 3-epimerase from Pseudomonas sp. ST-24. Biosci Biotechnol Biochem 58:2168–2171

Izumori K, Ueda Y, Yamanaka K (1997) Pentose metabolism in Micrococcus smegmatis: comparison of l-arabinose isomerases induced by l-arabinose and d-galactose. J Bacteriol 133:413–414

Kim JH, Han KC, Koh YH, Ryu YW, Seo JH (2002) Optimization of fed-batch fermentation for xylitol production by Candida tropicalis. J Ind Microbiol Biotech 29:16–19

Kwon SG, Park SW, Oh DK (2006) Increase of xylitol productivity by cell-recycle fermentation of Candida tropicalis using submerged membrane bioreactor. J Biosci Bioeng 101:13–18

Leang K, Takada G, Fukai Y, Morimoto K, Granström TB, and Izumori K (2004) Novel reactions of l-rhamnose isomerase from Pseudomonas stutzeri and its relation with d-xylose isomerase via substrate specificity. Biochim Biophys Acta 1674:68–77

Lopez F, Delgado OD, Martinez MA, Spencer JF, Figueroa LI (2004) Characterization of a new xylitol-producer Candida tropicalis strain. Antonie van Leeuwenhoek 85:281–286

Mayer G, Kulbe KD, Nidetzky B (2002) Utilization of xylitol dehydrogenase in a combined microbial/enzymatic process for production of xylitol from d-glucose. Appl Biochem Biotechnol 98–100:577–589

Melaja A, Hämäläinen L, Heikkilä HO (1981) Menetelmä ksylitolin suhteen rikastuneen polyolin vesiliuoksen valmistamiseksi. FI 589388 (Finnish patent)

Nigam P, Singh D (1995) Process for fermentative production of xylitol—a sugar substitute. Proc Biochem 30:117–124

Ojamo H (1994) Yeast xylose metabolism and xylitol production, PhD thesis, Helsinki University of Technology, Finland

Onishi H, Suzuki T (1966) The production of xylitol, L-arabinitol and ribitol by yeast. Agr Biol Chem 30:1139–1144

Onishi H, Suzuki T (1969) Microbial production of xylitol from glucose. Appl Environ Microbiol 18:1031–1035

Povelainen M and Miasnikov AN (2006) Production of xylitol by metabolically engineered strains of Bacillus subtilis. J Biotechnol doi.org/10.1016/j.jbiotec.2006.09.008

Roberto IC, de Mancilha IM, Sato S (1999) Influence of kLa on bioconversion of rice straw hemicellulose hydrolysate to xylitol. Bioprocess Eng 21:505–508

Suzuki S, Sugiyama M, Mihara Y, Hashiguchi K, Yokozeki K (2002) Novel enzymatic method for the production of xylitol from d-arabitol by Gluconobacter oxydans. Biosci Biotechnol Biochem 66:2614–2620
About this article
Cite this article
Granström, T.B., Izumori, K. & Leisola, M. A rare sugar xylitol. Part II: biotechnological production and future applications of xylitol. Appl Microbiol Biotechnol 74, 273–276 (2007). https://doi.org/10.1007/s00253-006-0760-4
Received:

Revised:

Accepted:

Published:

Issue Date:
Keywords
Xylitol

Xylitol Production

Xylitol Dehydrogenase

Xylitol Yield

Rare Sugar