Abstract
Based on the comparative 16S rRNA gene sequence analysis of fecal DNAs, we identified one human-, three cow-, and two pig-specific Bacteroides–Prevotella 16S rRNA genetic markers, designed host-specific real-time polymerase chain reaction (real-time PCR) primer sets, and successfully developed real-time PCR assay to quantify the fecal contamination derived from human, cow, and pig in natural river samples. The specificity of each newly designed host-specific primer pair was evaluated on fecal DNAs extracted from these host feces. All three cow-specific and two pig-specific primer sets amplified only target fecal DNAs (in the orders of 9–11 log10 copies per gram of wet feces), showing high host specificity. This real-time PCR assay was then applied to the river water samples with different fecal contamination sources and levels. It was confirmed that this assay could sufficiently discriminate and quantify human, cow, and pig fecal contamination. There was a moderate level of correlation between the Bacteroides–Prevotella group-specific 16S rRNA gene markers with fecal coliforms (r 2 = 0.49), whereas no significant correlation was found between the human-specific Bacteroides 16S rRNA gene with total and fecal coliforms. Using a simple filtration method, the minimum detection limits of this assay were in the range of 50–800 copies/100 ml. With a combined sample processing and analysis time of less than 8 h, this real-time PCR assay is useful for monitoring or identifying spatial and temporal distributions of host-specific fecal contaminations in natural water environments.
This is a preview of subscription content, log in to check access.
Access options
Buy single article
Instant access to the full article PDF.
US$ 39.95
Price includes VAT for USA
Subscribe to journal
Immediate online access to all issues from 2019. Subscription will auto renew annually.
US$ 199
This is the net price. Taxes to be calculated in checkout.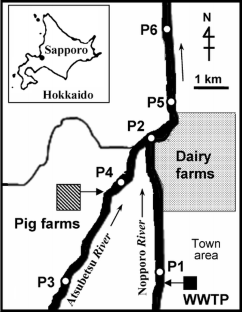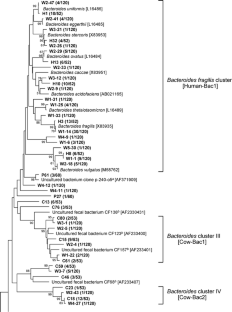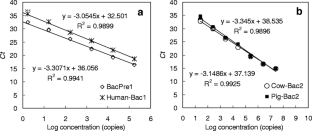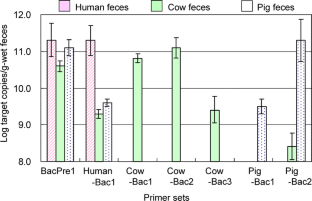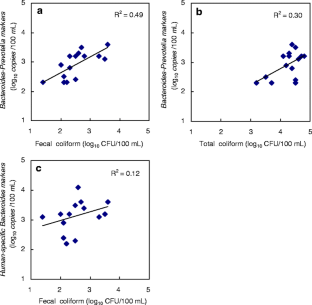 References
Altschul SF, Gish W, Miller W, Myers EW, Lipman DJ (1990) Basic local alignment search tool. J Mol Biol 215:403–410

American Public Health Association (1995) Standard methods for examination of water and wastewater, 19th edn. American Public Health Association, Washington, DC

Bernhard AE, Field KG (2000a) Identification of nonpoint sources of fecal pollution in coastal waters by using host-specific 16S rDNA markers from fecal anaerobes. Appl Environ Microbiol 66:1587–1594

Bernhard AE, Field KG (2000b) A PCR assay to discriminate human and ruminant feces on the basis of host differences in Bacteroides–Prevotella gene encoding 16S ribosomal RNA. Appl Environ Microbiol 66:4571–4574

Cho J-C, Kim S-J (2000) Increase in bacterial community diversity in subsurface aquifers receiving livestock wastewater input. Appl Environ Microbiol 66:956–965

Daly K, Stewart CS, Flint HJ, Shirazi-Beechey SP (2001) Bacterial diversity within the equine large intestine as revealed by molecular analysis of cloned 16S rRNA genes. FEMS Microbiol Ecol 38:141–151

Desmarais TR, Solo-Gabriele HM, Palmer CJ (2002) Influence of soil on fecal indicator organisms in a tidally influenced subtropical environment. Appl Environ Microbiol 68:1165–1172

Dick LK, Field KG (2004) Rapid estimation of numbers of fecal Bacteroidetes by use of a quantitative PCR assay for 16S rRNA genes. Appl Environ Microbiol 70:5695–5697

Dick LK, Bernhard AE, Brodeur TJ, Santo Domingo JW, Simpson JM, Walters SP, Field KG (2005a) Host distributions of uncultivated fecal Bacteroides bacteria reveal genetic markers for fecal source identification. Appl Environ Microbiol 71:3184–3191

Dick LK, Simonich MT, Field KG (2005b) Microplate subtractive hybridization to enrich for Bacteroidales genetic markers for fecal source identification. Appl Environ Microbiol 71:3179–3183

Field KG, Bernhard AE, Brodeur TJ (2003) Molecular approaches to microbiological monitoring: fecal source detection. Environ Monit Assess 81:313–326

Hold GL, Pryde SE, Russell VJ, Furrie E, Flint HJ (2002) Assessment of microbial diversity in human colonic samples by 16S rDNA sequence analysis. FEMS Microbiol Ecol 39:33–39

Klappenbach JA, Saxman PR, Cole JR, Schmidt TM (2001) rrndb: the Ribosomal RNA Operon Copy Number Database. Nucleic Acids Res 29:181–184

Kreader CA (1998) Persistence of PCR-detectable Bacteroides distasonis from human feces in river water. Appl Environ Microbiol 64:4103–4105

Labrenz M, Brettar I, Christen R, Flavier S, Botel J, Hofle MG (2004) Development and application of a real-time PCR approach for quantification of uncultured bacteria in the central Baltic Sea. Appl Environ Microbiol 70:4971–4979

Leser TD, Amenuvor JZ, Jensen TK, Lindecrona RH, Boye M, Moller K (2002) Culture-independent analysis of gut bacteria: the pig gastrointestinal tract microbiota revisited. Appl Environ Microbiol 68:673–690

Ludwig W, Strunk O, Westram R, Richter L, Heier H, Yadhukumar, Buchner A, Lai T, Steppi S, Jobb G, Forster W, Brettske L, Gerber S, Ginhart AW, Gross O, Grumann S, Hermann S, Jost R, Konig A, Liss T, Lubmann R, May M, Nonhoff B, Reichel B, Strehlow R, Stamatakis A, Stuckmann N, Vilbig A, Lenke M, Ludwig T, Bode A, Schleifer KH (2004) ARB: a software environment for sequence data. Nucleic Acids Res 32:1363–1371

Maidak BL, Olsen GL, Larsen N, Overbeek R, McCaughey MJ, Woese CR (1997) The RDP (Ribosomal Database Project). Nucleic Acids Res 25:109–110

Matsuki T, Watanabe K, Fujimoto J, Miyamoto Y, Takada T, Matsumoto K, Oyaizu H, Tanaka R (2002) Development of 16S rRNA-gene-targeted group-specific primers for the detection and identification of predominant bacteria in human feces. Appl Environ Microbiol 68:5445–5451

Matsuki T, Watanabe K, Fujimoto J, Takada T, Tanaka R (2004) Use of 16S rRNA gene-targeted group-specific primers for real-time PCR analysis of predominant bacteria in human feces. Appl Environ Microbiol 70:7220–7228

Meays CL, Broersma K, Nordin R, Mazumder A (2004) Source tracking fecal bacteria in water: a critical review of current methods. J Environ Manag 73:71–79

Ramsak A, Peterka M, Tajima K, Martin JC, Wood J, Johnston MEA, Aminov RI, Flint HJ, Avgustin G (2000) Unravelling the genetic diversity of ruminal bacteria belonging to the CFB phylum. FEMS Microbiol Ecol 33:69–79

Roslev P, Bjergbak LA, Hesselsoe M (2004) Effect of oxygen on survival of faecal pollution indicators in drinking water. J Appl Microbiol 96:938–945

Saito N, Nei M (1987) The neighbor joining method: a new method for constructing phylogenetic trees. Mol Biol Evol 4:406–425

Scott TM, Rose JB, Jenkins TM, Farrah SR, Lukasik J (2002) Microbial source tracking: Current methodology and future directions. Appl Environ Microbiol 68:5796–5803

Seurinck S, Deforidt T, Verstraete W, Siciliano SD (2004) Detection and quantification of the human-specific HF183 Bacteroides 16S rRNA genetic marker with real-time PCR for assessment of human faecal pollution in freshwater. Environ Microbiol 7:249–259

Simpson JM, Santo Domingo JW, Reasoner DJ (2002) Microbial source tracking: state of the science. Environ Sci Technol 24:5279–5288

Simpson JM, Santo Domingo JW, Reasoner DJ (2004) Assessment of equine fecal contamination: the search for alternative bacterial source-tracking targets. FEMS Microbiol Ecol 47:65–75

Solo-Gabriele HM, Wolfert MA, Desmarais, TR, Palmer CJ (2000) Sources of Escherichia coli in a coastal subtropical environment. Appl Environ Microbiol 66:230–237

Thompson JD, Higgins DG, Gibson TJ (1994) CLUSTAL W: improving the sensitivity of progressive multiple sequence alignment through sequence weighting, position-specific gap penalties, and weight matrix choice. Nucleic Acids Res 22:4673–4680
Acknowledgment
This work was partially supported by a grant-in-aid (13650593) for developmental scientific research from the Ministry of Education, Science and Culture of Japan.
About this article
Cite this article
Okabe, S., Okayama, N., Savichtcheva, O. et al. Quantification of host-specific Bacteroides–Prevotella 16S rRNA genetic markers for assessment of fecal pollution in freshwater. Appl Microbiol Biotechnol 74, 890–901 (2007). https://doi.org/10.1007/s00253-006-0714-x
Received:

Revised:

Accepted:

Published:

Issue Date:
Keywords
Fecal pollution

Bacteroides–Prevotella 16S rRNA genetic markers

RTQ-PCR